Don't let homemade sausage intimidate you. If you've ever wanted to make your own German Bratwurst, this easy Homemade Bratwurst recipe is for you!

Disclosure: We were provided with a copy of the cookbook mentioned in this article for review. We were not compensated for our time. As always, all opinions are our own.
What is a German Bratwurst?
What kind of question is that, you ask?
Really. Think about it.
What makes a bratwurst, a bratwurst?
Many of us have VERY specific things that we think of when we hear the word bratwurst.
If you're in Wisconsin, the spicing is very particular and they're probably boiled in beer and then grilled. That's called a Sheboygan brat.
It's German-inspired. But is it traditional German? Does anyone care?
To us, it's a curious conundrum. So we're going to dive a bit into what makes a traditional German bratwurst.
The different shapes of German Bratwurst
Wurst is the German word for sausage. And, brät means minced or finely chopped meat. (Although, it can also be tied to the verb braten, which means to pan fry or roast.)
So, basically, what we have in a bratwurst is simply a sausage made of minced meat (or a sausage that has been pan-fried).
Quite simple. And, quite open to interpretation.
And interpreted it has been. In Germany, there are over 40 different versions of bratwurst! Here are a few:
Nürnberger Rostbratwurst (from Nuremberg) are small, thin, and heavily seasoned with marjoram.

Fränkische Bratwurst (from Franconia) are long and thin.

Kulmbacher Bratwurst (from Kulmbach) are made mostly of veal.

Thüringer Rostbratwurst (from Thuringia) are long and spicy.

Würzburger Bratwurst (from Würzburg) use local wine.
What makes up a German bratwurst
Traditional German bratwurst are made up of a finely ground mixture of pork and veal. The fine grind and meat mixture gives the sausages a lighter, almost fluffy texture.
Some German recipes will use milk and eggs to enhance that fluffy, light texture.
The spices used to flavor a traditional German bratwurst typically include salt, pepper, nutmeg, and marjoram. Other seasonings like coriander, cardamom, ginger, caraway, and garlic are sometimes used, depending on the region and the butcher.
(In case you're curious, the Sheboygan bratwurst that is popular in Wisconsin is made of pork that has been coarsely ground. While the seasonings are much the same as a traditional German bratwurst, they tend to include more of the "other" seasonings listed above.)
The Art and Science of Sausage Making
We received a copy of Tonia Reinhard's "The Complete Art and Science of Sausage Making" cookbook as we were starting our exploration of homemade sausages.
In her book, Reinhard breaks sausage making down into easy to understand concepts and steps, taking all the mystery out of making homemade sausage.
We will be using her guide to make many sausages in the future, but when we received her book, we knew that her homemade bratwurst recipe was the first one we wanted to tackle.
Our Homemade Bratwurst Recipe
If you're new to homemade sausage making, you'll want to check out our post on African Boerewors sausage. Towards the end of the post, right above the recipe, we share three key essentials of homemade sausage making.
Like I mentioned before, there are MANY ways to put together a bratwurst, and everyone has their own idea of what the perfect bratwurst is.
Our idea of a "perfect bratwurst" comes from our travels in Germany, paired with the undeniable fact that we do live in Wisconsin, where the Sheboygan brat reigns supreme. Because of this, we like to think that our preference for bratwurst embodies a nice balance between the two.
While Reinhard's homemade bratwurst recipe gave us a great start towards creating our perfect bratwurst, we did find that we wanted to tweak her seasonings just a bit, to better capture the flavor profile we were craving.
But, with just a few tweaks, we had beautiful homemade bratwurst that rivaled any store-bought versions we had tasted.
Are you ready to dive in?

(While you can always serve your bratwurst on a bun, like we do in Wisconsin, a more traditional German way to serve the sauce is as a part of a plated meal. Don't forget a good, grainy mustard, sauerkraut, German potato salad, and a hearty rustic bread. And definitely don't forget the beer.)
Yield: 8 (1/4 lb) bratwurst
Homemade Bratwurst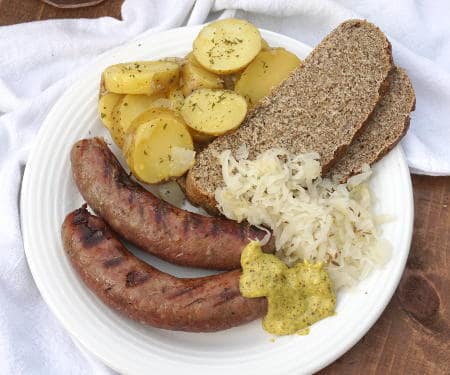 If you've ever wanted to make your own German Bratwurst, this easy Homemade Bratwurst recipe is for you!
This easy homemade bratwurst recipe was adapted from "The Complete Art and Science of Sausage Making" by Tonia Reinhard.
Prep Time
1 hour
30 minutes
Total Time
1 hour
40 minutes
Ingredients
1 ¾ lb boneless pork shoulder, cubed
¼ lb boneless beef shoulder, or veal stew meat, cubed
½ c powdered milk
1 tsp salt
1 tsp nutmeg
½ tsp ground black pepper
½ tsp marjoram
¼ tsp ground mace
¼ tsp ground ginger
1 egg
1/3 c milk
4-5 feet hog casing for fresh sausage, rinsed
Instructions
To Make the Bratwurst
Grind the pork and beef cubes in your meat grinder using a fine grinding plate.
Place the ground meat into a large bowl and add the powdered milk and seasonings. Using your hands, mix the seasonings into the meat.
Add the egg and milk. Mix, with your hands, until the mixture is evenly moist.*
Prepare your sausage stuffer and your hog casings. Stuff your sausage mixture into the casings as directed by your sausage stuffer.
Once all the sausage meat has been used, twist the sausage into 8 links and tie off the end of the casing.
Prepared sausage can be stored for up to one week in the refrigerator before cooking.
Cooking the Bratwurst
These bratwurst can be cooked however you traditionally cook store-bought sausages: on a medium heat grill, in a skillet, or boiled.
We do recommend cooking the sausages while the links are still connected. Separate the sausages to serve.
Notes
*At this point you can test your sausage for flavor. Heat a small skillet over medium-high heat. Sauté a small portion of the sausage mixture until no longer pink. Once cooked, remove the pan from the heat. Taste the sausage once cool and adjust the seasonings of the raw meat if desired.
Recommended Products
As an Amazon Associate and member of other affiliate programs, We earn from qualifying purchases.
Nutrition Information:
Yield:
8
Serving Size:
1 sausage
Amount Per Serving:
Calories:

434
Total Fat:

29g
If you liked this recipe, here are some similar dishes you may enjoy!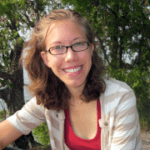 Sarah is one of Curious Cuisiniere's founding duo. Her love for cultural cuisines was instilled early by her French Canadian Grandmother. Her experience in the kitchen and in recipe development comes from years working in professional kitchens. She has traveled extensively and enjoys bringing the flavors of her travels back to create easy-to-make recipes.