What is coriander? What is cilantro? Are they the same, or different? If you've ever wondered about this herb and spice that are used around the world, you're in the right place. Read on as we take a look at what they are and how to use cilantro and coriander in cultural cooking.
Is Coriander The Same As Cilantro?
Yes!
And no.
Both coriander and cilantro come from the same plant.
This plant as a whole is called coriander and the seeds are known as coriander in most places.
Generally, when someone says coriander it's the seeds they are referring to.
The leaves are where there is a variation in the name – in the US, they are known as cilantro, while in the UK they are also called coriander (or coriander leaves, to differentiate from the seeds).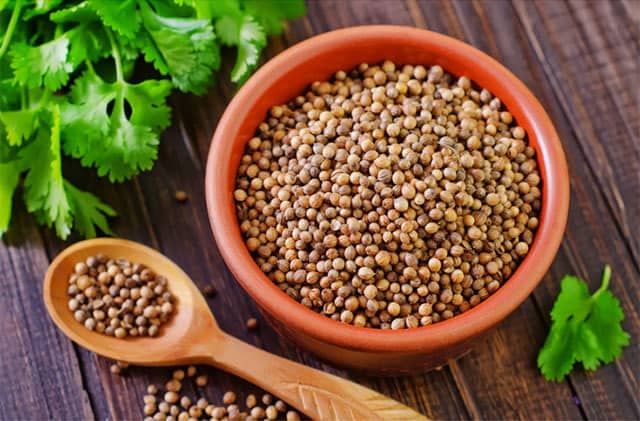 Are Cilantro And Culantro The Same?
No, cilantro and culantro are different plants.
But they are part of the same family of plants, which also includes celery, parsley and carrots.
Culantro has a stronger flavor and the leaves are larger and more spikey.
Where Does Coriander/Cilantro Come From?
It is believed that coriander originated in Iran, but it is grown in many different countries and is incorporated into cuisines across the world.
What Does Cilantro Taste Like?
Cilantro is an herb that adds a savory freshness to dishes, as well as a lovely green color.
It has a taste that has a slight citrus undertone to it and is slightly tart.
Some people are unable to eat more than a tiny amount of cilantro without it feeling like they have soap in their mouths, but this is only a small fraction of the population.
How To Use Cilantro
Cilantro is a common ingredient in many cultures' cooking, especially in Southeast Asia and Central America.
Since the flavor becomes lighter and less potent as it is cooked, it is most commonly used in raw dishes or as a garnish. If used in a cooked dish, it is typically put in at the end of cooking.
Cilantro In Sauces
Cilantro is one of the herbs in the North African sauce, chermoula, which is common with fish, vegetables and other foods, as well as used as a marinade.
It is also often in the South American sauce, chimichurri, which is common with grilled meats.
Using Fresh Cilantro
Since the flavor of cilantro can diminish with heat, it is often added to dishes that are either cold or uncooked.
Some of the best known uses are in the Mexican favorites salsa and guacamole.
It's also one of the fresh flavors added to what's often consider Laos's national dish, larb/larp and sometimes it is found in South/Central American ceviche.
Cilantro adds freshness and color to Vietnamese fresh spring rolls and to the side dish and garnish from Trinidad, chow (which is made with various tropical fruit, but pineapple chow is one of the most common).
How To Cook With Cilantro
While the flavor can lessen, cilantro is sometimes added both during cooking and then also at the end to add freshness to the dish.
You find it in some Indian curries and in dishes like Vietnamese pho.
It's added to the Brazilian fish stew, moqueça, and Portuguese soup açorda.
It is also used in a number of Persian dishes, especially dishes common for Nowruz, like Persian herb rice with fish, sabzi polow mahi, and Persian herb fritatta, kuku sabzi.
Cilantro As A Garnish
The list of dishes where cilantro is used as a garnish could go on and on, but some that are most common include fish tacos, Indian curries like keema matar and many Thai and Vietnamese dishes.
What Do Coriander Seeds Taste Like?
Coriander seeds have a floral flavor that brings a burst of citrus and a light sweetness.
In many dishes, coriander seeds are first toasted, which brings forth a deeper, nutty aroma.
How To Use Coriander Seeds
Coriander seeds are used pretty much as widely as the plant's leaves.
Coriander seeds are typically ground into a powder, sometimes after toasting/roasting, to add a rounded, aromatic flavor to dishes.
They are commonly mixed into sauces, and they are often used as part of spice blends, as well as being used in pickling vegetables.
Coriander In Spice Blends
Coriander is a key component of a number of spice blends in different parts of the world.
Some of the most well known are the Indian blends, curry powder and garam masala, which is added to many more aromatic dishes, as well as to curries often along with curry powder.
It is also used in the Moroccan blend, ras el hanout, which is common in tagines and can also be used as part of a marinade, for example with chicken.
Creating Complex Flavors With Coriander
While the spice blends help to speed up adding a range of spices in some dishes, in other dishes coriander is added by itself to create a greater depth and complexity of flavor.
Examples include many Indian curries, such as lamb rogan josh, paneer makhani and vegetable korma.
While it's less common in Mexican dishes than cumin, it is used in mole sauces, whether that's a more traditional chicken mole or a more unique strawberry mole.
More Unusual Uses For Coriander
Coriander's distinctly aromatic spice is also used in many pickling blends, such as those for corned beef and often for pickling vegetables.
It's commonly added in Belgian wheat beer, and in the traditional South African sausages, boerewors.
Coriander roots are also used in some countries, being particularly used in Thai cooking, especially curry pastes and soups.
If you've never tried cooking with coriander or cilantro, don't be afraid of these aromatic spices and herbs. While the names may at times get confusing, they add a wonderful flavor and aroma to many different types of dishes!
Do you have a favorite dish that uses coriander or cilantro? Let us know in the comments below!
If you liked this recipe, here are some similar dishes you may enjoy!