Curry powder is a blend of spices that come together to give a warm and robust flavor to whatever dish it is used in.
Traditional Indian curries get their flavor from whole spices that are toasted and ground as needed for cooking (and vary depending on the dish). But, our simple homemade curry powder is an easy way to have easy, instant access to a great starting place for curry flavor. And it uses spices that you probably already have in your pantry!

Is Curry Powder Indian?
You've probably seen jars of curry powder in the spice aisle and figured this mix was essential in creating Indian dishes. The interesting thing is that you won't find curry powder in India.
The concept of "curry powder'" is actually a Bristish invention by the Indian spice merchants. It was an attempt to bring the flavor of Indian dishes that British colonists came to love home.
Where Does The Term "Curry" Come From?
In fact, the term "curry" is a British take on the Tamil word "Kari" which means 'sauce'.
From the British colonizers to American useage, the word curry has now become common to describe many types of seasoned dishes with South Asian origin.
Really, the term "curry" could be used as a substitute for the word "masala" which means a "mix of spices".
All Indian dishes start start with a specific masala (spice mix). These mixes can vary from region to region and household to household, as well as from dish to dish.
What Is Curry Powder?
The spice blend that the British created was loosely based on the North Indian spice mix garam masala.
As the mix became popular in America, unfortunately, "curry powder" became synonymous with Indian curry, which is quite a misrepresentation of the vast array of Indian curries and flavors that they bring.
However, a pantry curry powder is a great way to easily lend some Indian-inspired flavors to your cooking.
As we dive into the possible ingredients below, you will see that the list is quite varied, which will hopefully encourage you to try adding some new spices to your curry powder, or try out a curry that uses toasted spices.
What Is In Curry Powder?
Since the term "curry" is so general and not well defined, you will find the spice mixture used to make up a "standard" curry powder differs greatly from jar to jar.
In India, each family has their own preference for how they put spices together for their masalas.
Think about it like the way an Italian Grandmother would season her meatballs or pasta sauce. There's no ONE gold standard Italian recipe for either of those. The flavors will vary from region to region and chef to chef.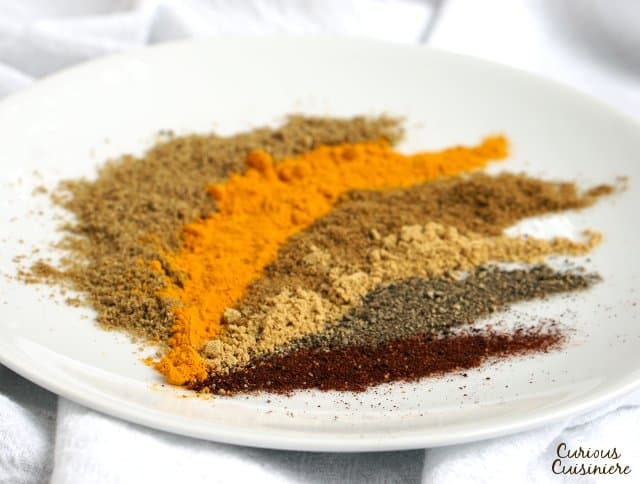 Most curry powder recipes do include a few common ingredients:
turmeric
cumin
chili peppers
Other spices that could be added are:
fenugreek
ginger
garlic
fennel
caraway
cinnamon
clove
mustard
nutmeg
black pepper
And the list goes on.
Each region in India, each family, and each dish have their own twist on what spices are commonly used. While you won't find ALL of these spices in any one Indian masala, they appear in different combinations throughout the country.
As you can see, once you have the basics, there are SO MANY ways you could tweak your own curry powder recipe to make it your own.
How To Make Homemade Curry Powder From Scratch
Traditionally, a masala (spice mix) is made by first toasting whole spices. Toasting releases some of the oils in the spices and makes the mixture more fragrant.
The toasted and cooled spices are then ground finely in to a powder or pounded into a paste.
Typically, this spice mixture is made fresh for each dish. That way, Indian chefs and home cooks really aren't tied to any one flavor combination. (Like a set "Italian seasoning blend".) They can vary the flavors, sweetness, heat, and so on, of their curry powder spice mix depending on what flavors they are looking for in their dish.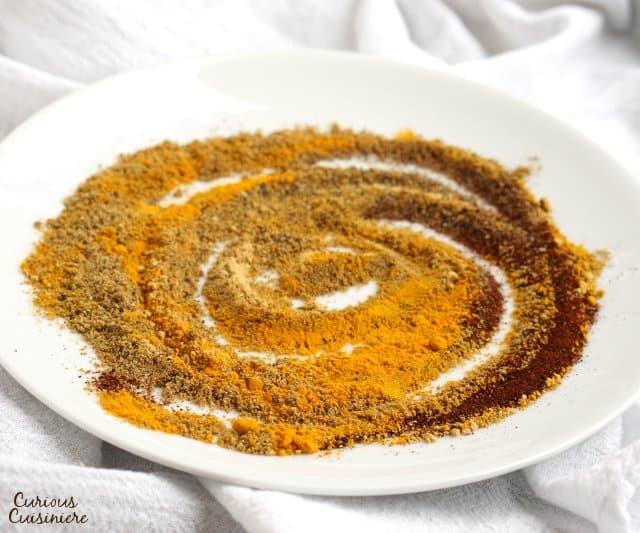 Easy Homemade Curry Powder Recipe
While toasting whole spices and grinding them fresh will give you the most fragrant and flavorful curry powder, sometimes you just want easy access to curry powder, without the extra steps.
That's why we came up with this easy homemade curry powder recipe.
It's made from spices that you probably already have ground in your pantry.
coriander
cumin
turmeric
black pepper
chili powder
ginger
We take a shortcut and use each of these spices in their already ground form, so all you have to do is mix them together.
Seriously, we told you this curry powder was really easy to make!
If you do find yourself wanting a bit of a different flavor in your curry powder, feel free to use our recipe as a springing off point.
Add some of the other ingredients we mentioned earlier. Whichever sound like they'll go well with the dish you're making.
With this easy curry powder recipe, making curry powder isn't much of a commitment at all. So you can add a pinch of this and a dash of that and not have to worry about re-toasting and re-grinding small additions of spices as you find your perfect curry powder.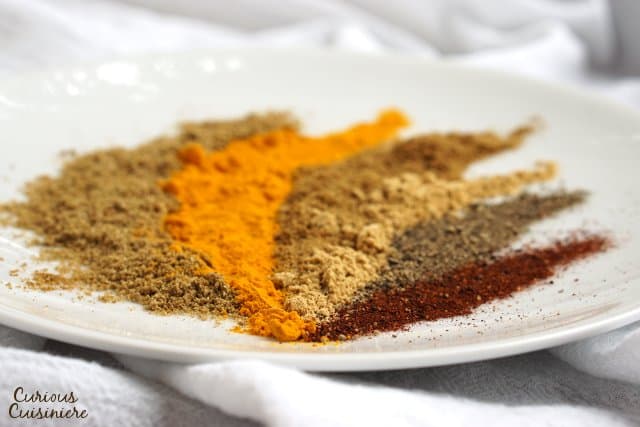 How To Use Curry Powder
Curry powder is truly a unique combination of spices. It's slightly sweet, slightly savory, quite earthy, with a bit of heat.
The nice thing about curry is that you can use pretty much anything you have on hand to make a delicious curry. Here are some of our favorite, easy curry recipes:
And, you can't talk about curry powder without mentioning the classic German take on curry: currywurst!
So the next time you find yourself craving curry with no curry powder in sight, don't worry. Just whip up a quick batch of this easy curry powder!
Easy Homemade Curry Powder (Small Batch)
Our simple homemade curry powder is an easy way to have instant access to curry powder, using spices that you probably already have in your pantry.
Yield: 7 tsp curry powder
(We have found that 2 Tbsp (6 tsp) of curry powder is typically enough to season one recipe of curry for 4 people.)
Instructions
In a small bowl, mix all the ground spices.

Use immediately, or store in an air-tight container in a cool, dry place for up to 3 months.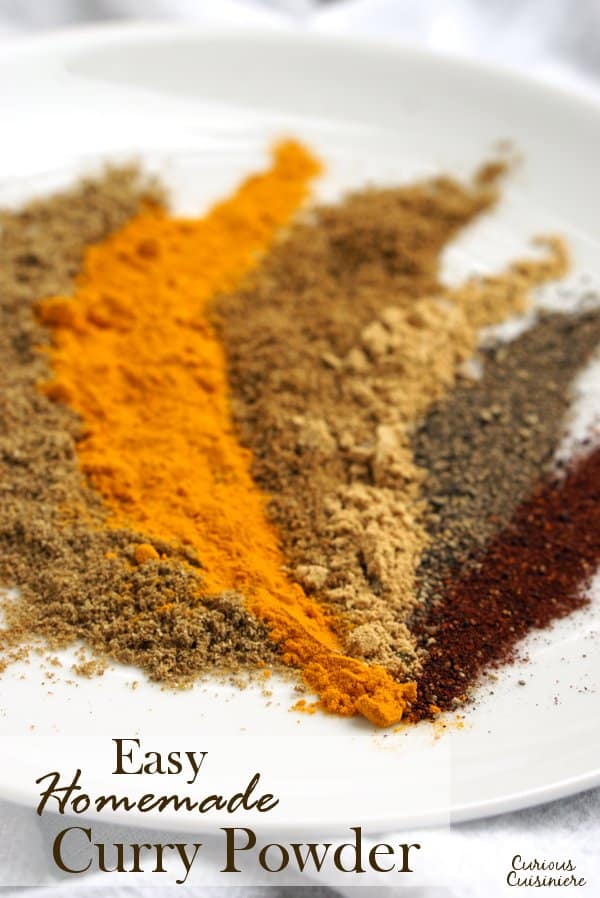 If you liked this recipe, here are some similar dishes you may enjoy!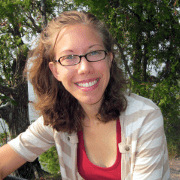 Sarah is one of Curious Cuisiniere's founding duo. Her love for cultural cuisines was instilled early by her French Canadian Grandmother. Her experience in the kitchen and in recipe development comes from years working in professional kitchens. She has traveled extensively and enjoys bringing the flavors of her travels back to create easy-to-make recipes.