This Madras Curry is a warming dish that is perfect for a cool evening. This slow cooker beef curry recipe brings deep, comforting flavors and tender meat with little effort.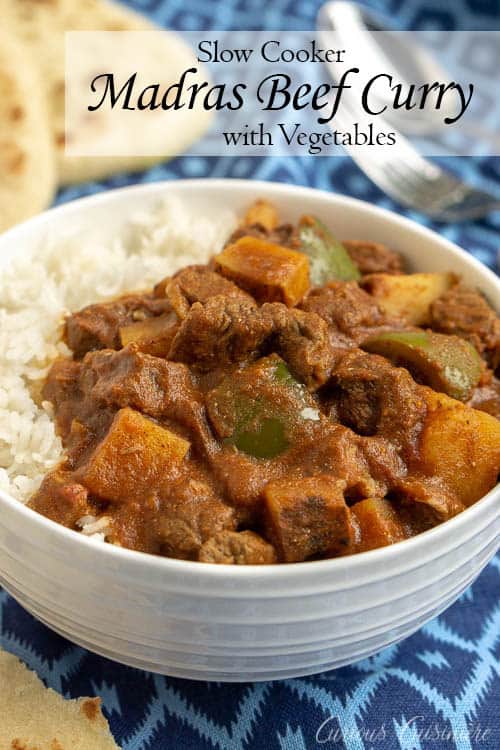 Disclosure: This post is sponsored by the Certified Angus Beef ® brand in conjunction with a social media campaign through Sunday Supper LLC. All opinions are our own.
How To Make Indian Curry
Curry is such a broad label. Ingredients and nuances don't just vary between regions, but even between households. We've heard it described like pasta sauce in Italy or BBQ sauce in the States.
All curries are not alike, and they don't all have the same spice level.
So, if you thought you wouldn't be a fan of curry because they're too spicy, think again!
(In fact, my "mild-salsa-is-too-spicy" father was quite impressed when we had him try his first curry.)
If you love heat, you can definitely dial the heat up to your heart's content.
But, if you're not a heat lover, you can just as easily dial the heat down to a quite comfortable level of flavorful, yet not even glowing.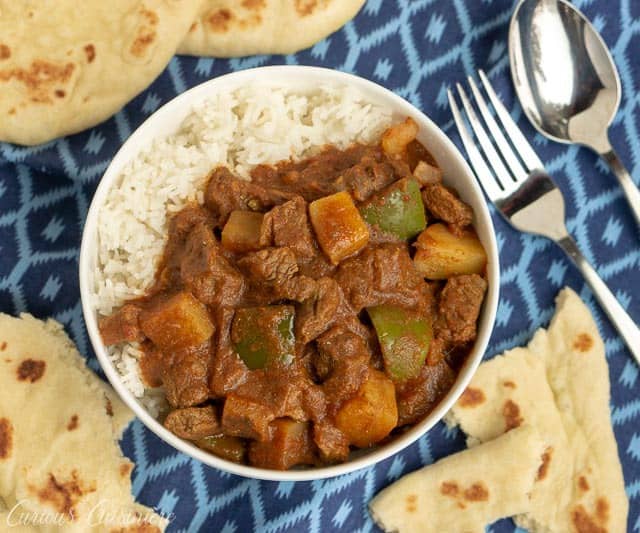 Different Types of Indian Curry
Indian curries are characterized by the use of a blend of dry spices. (Where Thai curries use a spice and chili paste.)
These spices can include anise, bay, cardamom, cinnamon, chilies, cloves, coriander, cumin, fennel, garlic, ginger, mustard seed, nutmeg and turmeric, among others.
In Northern India, you will find it common to serve curries with flatbread, like naan. These are the types of curries often found in the US as well, containing a variety of meats and vegetables with dairy (cream, yogurt or butter) to give them a creamy texture.
Southern Indian curries lean a bit on the spicier side, with more emphasis on chilies. Lentils are often used, and curries are commonly served with rice.
Eastern Indian curries are more savory than spicy and rely heavily on onions for flavor and texture.
And, Western Indian curries tend towards the spicy and sweet category, favoring a pinch of sugar to curb the heat. These are often served alongside dal, a lentil soup.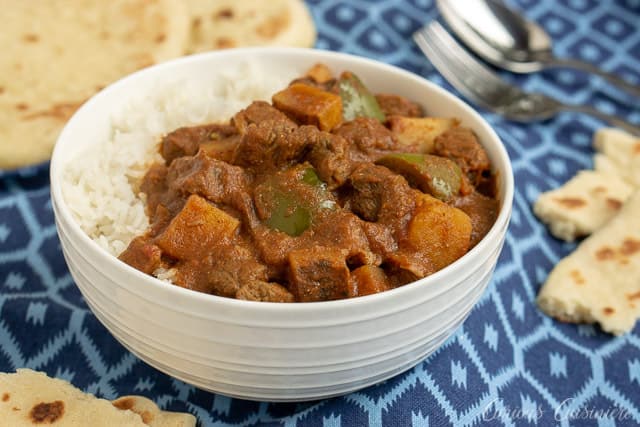 Madras Curry
While our Potato Curry with Paneer is more of a North Indian style curry, a Madras curry hails from the southern region, where curries do tend to have a bit more heat.
For our Madras Beef Curry, we start by toasting the spices to really bring out the flavor and fragrance.
Could you just throw them into the slow cooker if you're short on time?
We're already skipping a step by using ground spices rather than toasting whole spices here, so sure, you could just skip the toasting all together. But, it really does add a depth of flavor to the dish, so if you have the time, we highly recommend it.
You're going to be getting out the skillet to sear your meat and saute your onions anyway, so you may as well!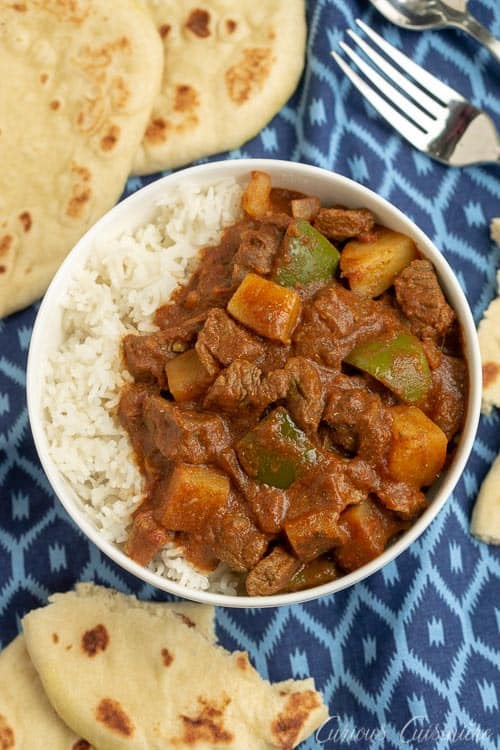 What Beef To Use In The Slow Cooker
For our slow cooker beef curry we're using Certified Angus Beef® brand chuck roast.
We always look for the Certified Angus Beef® brand logo when we're buying beef, because we know that they are the only brand of beef that must meet an additional 10 regulations for marbling, size, and uniformity, above USDA grading for Choice and Prime beef.
Marbling (the white flecks in the lean muscle of the meat) is key to getting great flavor and juiciness. More marbling means a higher quality!
Chuck roast is the classic roast you would choose for pot roast. It becomes super moist and tender when braised low and slow.
Even though we're cutting our roast into bite-sized chunks for this curry, we want it to be super tender after the time in the slow cooker, and a chuck roast is the perfect (and quite economical) choice here.
To really add to the flavor of our curry, we sear the cubes of beef before putting them into the slow cooker. This seals the juices into each piece, and adds another layer of caramelized flavor to the dish.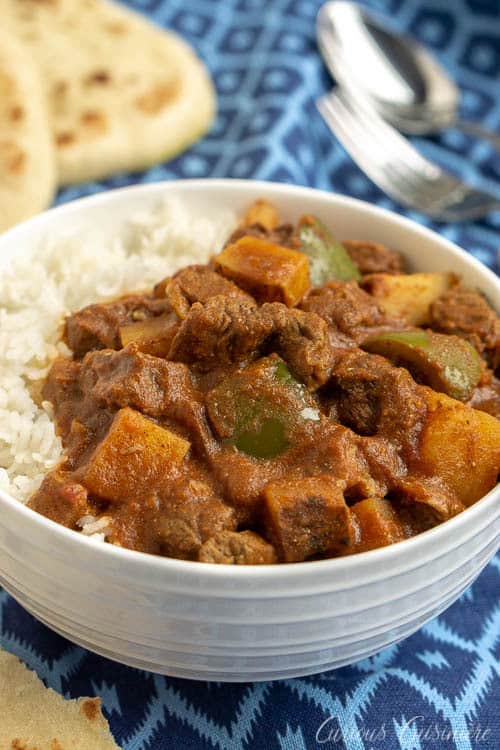 An Easy Slow Cooker Beef Curry
After just a few prep work steps in your skillet, the crock pot takes over, letting all the flavors of this beef curry simmer and stew together.
And, while it cooks the aroma of all those warming spices makes the house smell WONDERFUL!
Just before serving, we stir in some yogurt and a little lemon juice into the curry to add a pop of bright flavor to the deep spices and bring a creaminess to the dish that contrasts nicely with the spice of the chili powder.
Slow Cooker Madras Beef Curry with Vegetables
This Madras Curry is a warming dish that is perfect for a cool evening. This slow cooker beef curry brings deep flavors and tender meat with little effort.
Ingredients
4

tsp

paprika

1

- 2 Tbsp

chili powder*

1

Tbsp

garam masala

1

Tbsp ground

ginger

2

tsp

cumin

1

tsp

turmeric

½

tsp

cinnamon

2 ½

lb

chuck roast,

cubed 3/4"

1

Tbsp

oil

or ghee

1

onion,

diced

2

cloves

garlic,

minced

3

lbs

potatoes,

(russet or Yukon Gold) scrubbed and cut into 3/4" chunks

2

large

green peppers,

cut into 3/4" chunks

1

(14 oz) can

diced tomatoes,

undrained

1 ½

tsp

salt

½

tsp

ground black pepper

½

tsp

brown sugar

2

c

beef stock

(we prefer low sodium)

2

Tbsp

tomato paste

½

c

plain yogurt,

room temperature

2

Tbsp

lemon juice
Instructions
In a medium skillet, toast spices (paprika, chili powder, garam masala, ginger, cumin, turmeric, and cinnamon) over medium high heat until fragrant, 3-4 minutes. Remove from the heat into a bowl to avoid burning the spices.

Place half of the beef cubes in the skillet and brown on all sides over high heat, 4-5 minutes. Place the browned cubes in the bowl of your crock pot, and repeat with the remaining cubes.

Add oil or ghee to the skillet along with the diced onion and garlic. Sauté over medium high heat until golden, 3-4 min. Place in the crock pot over the beef.

Add the toasted spices, potatoes, green peppers, tomatoes, salt, pepper, and brown sugar to the slow cooker.

Mix the beef stock with the tomato paste, to dissolve the paste. Pour over the ingredients in the slow cooker.

Cover and cook over high heat for 3-4 hours or low heat for 6-7 hours, until simmering nicely.

Before serving, mix in the yogurt and lemon juice. Cook for an additional 10 minutes to warm through.
Notes
*1 Tbsp of chili powder gives this curry a light, warming heat. If you love spice, feel free to dial it up to your preferred spice level. 
This recipe from  2014 was updated in January 2019. We made a few tweaks to make the curry even better. Enjoy!
Nutrition
Calories:
447
kcal
|
Protein:
43.7
g
|
Fat:
10.3
g
|
Saturated Fat:
3.6
g
|
Fiber:
7.7
g
---
We've updated our pictures since we first shared this recipe on Curious Cuisiniere, but we've left some originals here, in case you've found us in the past and are looking for that old, familiar image.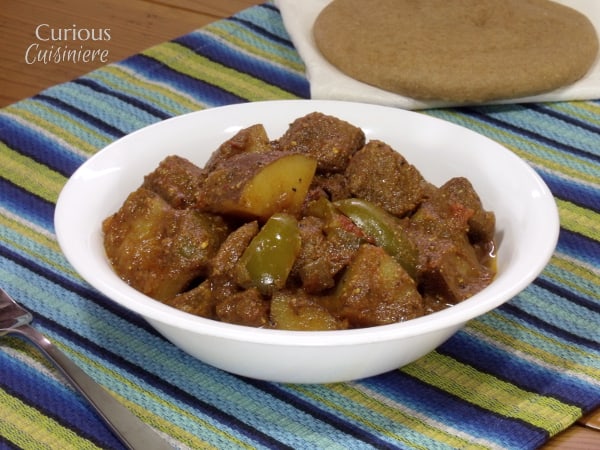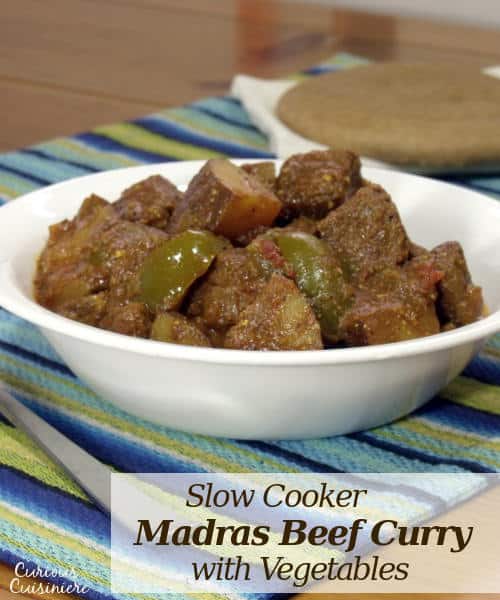 If you liked this recipe, here are some similar dishes you may enjoy!