Bunny chow is a unique South African street food made up of a spicy curry served in a hollowed out loaf of bread. You don't have to be in Durban to enjoy this fun recipe!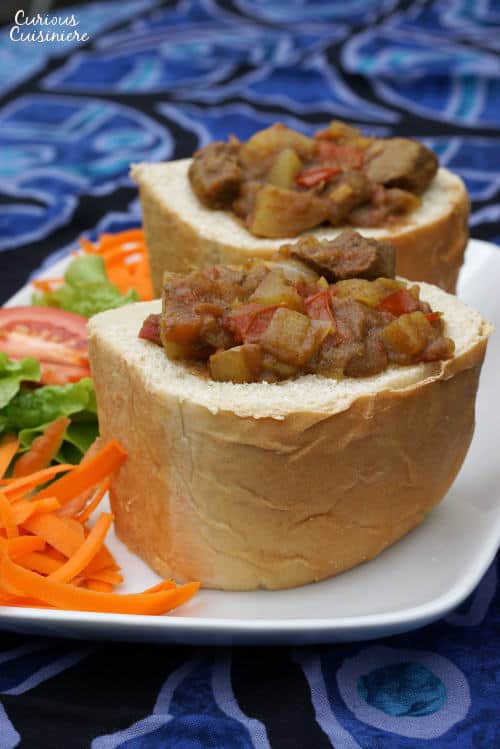 DISCLAIMER: NO bunnies were harmed in any way during the the making of this recipe.
Now that we have that out of the way…
What is Bunny Chow?
The person who decided to turn curry into a street food was a genius. It might be messy, but this South African street food is delicious and well worth the mess!
Early "takeaway"
The dish is a fusion of Indian and African flavors and originates from Durban, a coastal town in eastern South Africa.
There are many stories as to how bunny chow came about, but most of them include Indian workers in the early 1900s. These workers desired a hearty curry to take with them for a quick lunch, and, with no takeaway containers or disposable cutlery, Indian food shop owners began serving them their curry in "takeaway" bowls made of bread. The bread served a double function, since it was also useful for dipping and eating the curry.
Why "Bunny"?
The curries were made and served by an Indian caste of merchants who were called banias. During this time in Durban there were many Indian and Chinese workers in the city, and Chinese food was typically called chow. These two words came together as bania chow. Over time, bania chow became bunny chow.
If you're ever in Durban and desire a taste of this local classic, just remember one thing: locals never call it "bunny chow". It's is simply known as "bunny".
Our Beef Bunny Chow
While lamb, mutton, chicken, or beans are most common for the Durban curry, we've used beef in the curry for our bunny today. Feel free to substitute another meat of your choosing or even turn this vegetarian by using cooked beans instead of meat.
One word of warning. Classic Durban bunny chow features a fiery hot curry. While our curry does have a bit of heat to it, it is still very manageable. You can adjust the amount of chili powder in the recipe to suit your family's taste for spice.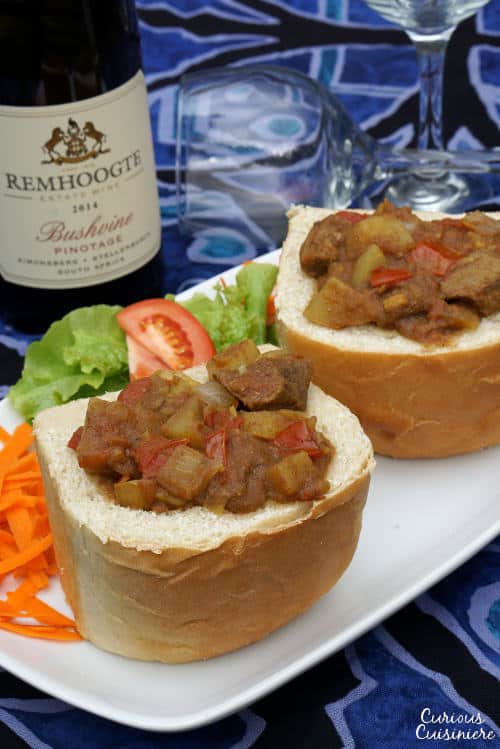 So, what are you waiting for? Tell your family they're having "bunnies" for dinner, and have a good laugh when they stare back in disbelief.
---
Bunny Chow
A flavorful African curry that is served in a hollowed out loaf of bread. Perfect for dipping!
Ingredients
2

lbs

beef roast,

cut into 1 inch cubes

1

tsp

olive oil

1

onion,

diced

2

garlic cloves,

1 tsp dry, ground, minced

½

inch

fresh ginger,

peeled and minced or (1/8 tsp dry, ground ginger)

2

bay leaves

2

green cardamom pods,

split

2

small whole cloves

or 1/8 tsp ground cloves

1

cinnamon stick

2

tomatoes,

diced (roughly 2 c)

1

Tb

curry powder

1 ½

tsp

chilli powder

1 ½

tsp

garam masala

1

tsp

ground coriander seeds

½

tsp

cumin

½

tsp

turmeric

4

medium Russet potatoes,

peeled and diced

½

c

water

1

Tbsp

white wine vinegar

½

tsp

salt

2

loaves

white bread,

un-sliced
Instructions
Heat a large sauté pan with high sides or a Dutch oven over high heat. Add the beef chunks a few at a time, as to not over-crowd the pan. Sear the beef cubes on all sides and remove from the pan. Set aside.

Reduce the heat to medium and add the oil. Once the oil is hot, add the oinions and sauté until golden, 5-7 min.

Add the garlic, ginger, bay, cardamom, cloves, and cinnamon stick. Sauté until the mixture is fragrant, 1-2 min.

Add the diced tomatoes along with the curry powder, chili powder, garam masala, coriander, cumin, and turmeric. Cook for 4-5 min, until the tomatoes start to break down.

Add the seared meat and diced potatoes to the pan along with ½ c of water. Bring the mixture to a simmer.

Cover and simmer over low heat for 30-40 min, until potatoes are cooked and the meat is tender. Check the curry occasionally during cooking and add a little water if it seems to be getting too dry.

Towards the end of cooking time, mix in the vinegar and salt.
Assembling the Bunny
While the curry is cooking, slice the loaves of bread in half and hollow each half out, creating two cube-shaped bowls out of each loaf. (Be careful to leave enough bread around the edges to keep the structure of the 'bowl'.)

To serve, spoon the curry into each half loaf bowl.

Serve the bunny with extra bread, if desired, and a side salad.
---
If you liked this recipe, here are some similar dishes you may enjoy!