Frikkadel are a lightly spiced South African meatball that are often served with a sweet and herby tomato sauce, making a wonderfully comforting dinner that pairs perfectly with a South African Cabernet Sauvignon.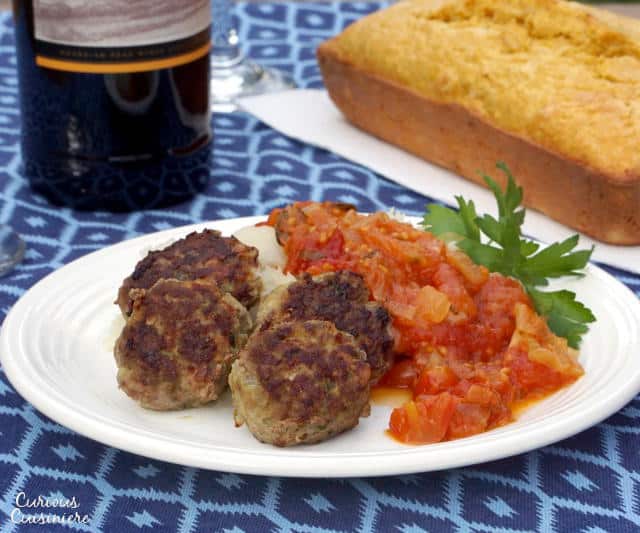 During our recent trip to South Africa, we fell in love with their wine, so much so that we wanted to share what we learned with the Wine Pairing Weekend Group. So today, we're celebrating South African wine and wine pairings. Be sure to read to the end to see what the other members of the group tasted and paired!
The meal that we are sharing really captures some important elements of South Africa's history. Let's take a look!
The meatballs tell a story
The Dutch played a huge role in the colonization of South Africa, starting in the 1600s, and you can see the strong Dutch influence in these Frikkadel.
Frikadeller or frikadellen is the term for small, pan-fried, meat patties that are popular in Germany and the Netherlands (and other European countries). These simple meat patties have a short list of ingredients and are minimally seasoned. They are typically served as a main dish with potatoes and gravy.
Frikkadel: South African Meatballs
You can see the ways the Dutch influence has evolved in the present day culture of South Africa by the way these meat patties have evolved and taken on new flavors.
In South Africa, these Dutch meat patties take on Indian and Indonesian spices as they meet with the Cape Malay influence. Corriander, turmeric, and cloves give the frikkadel a deeper, more robust flavor.
One thing that is very unique about the South African frikkadel is the use of soaked white bread as a binder. While we may think of adding breadcrumbs to our meatballs, the soaked white bread adds a soft quality to the texture of the frikkadel, keeping them incredibly tender and juicy.
Sheba Sauce: So much more than tomato sauce
South African frikkadel are most often served with mashed potatoes or rice and a tomato sauce, called sheba sauce.
While we may think of meatballs paired with a robust, herby, Italian tomato sauce, sheba sauce is much sweeter and more subtle than a classic Italian tomato sauce.
Using diced tomatoes and onions, this sauce is incredibly chunky. It gains a sweetness from the onions and the addition of sugar, and it is rounded out with the light addition of herbs.
It is a beautiful sauce for pairing with nearly any meat, from poultry to beef, and makes a great sauce for potatoes or rice. While on safari, we had a tasty dish of grilled lamb and potatoes accompanied by sheba sauce, and we knew we needed to recreate the sauce when we returned home.
We absolutely loved the way the sauce complemented the flavors of the frikkadel. One bite and we were instantly transported back to our time in South Africa!
Guardian Peak: Frontier Cabernet Sauvignon
We made this meal to pair with a Guardian Peak Frontier Cabernet Sauvignon that we were given during our time on safari. Guardian Peak was the house wine were we stayed, at Motswari Private Game Reserve, and we thoroughly enjoyed many of their wines while we were there.
Guardian Peak is a wine estate in the Stellenbosch region of South Africa. Their goal is to strike a balance of the "Old World" and "New World" of wine styles to create wines that are easily accessible and very enjoyable to a range of palates.
Their Frontier Cabernet Sauvignon was incredibly juicy, like many of the Stellenbosh wines we tasted. We love this fruity quality about South African wines, and we picked out distinct notes of black cherry and blackberry in this Cabernet. The wine was dry, but it had a nice, balanced acidity that created an incredibly smooth finish.
The dryness of the wine paired incredibly well with the beef meatballs and the sweetness and acidity of the sheba sauce brought out the wine's fruit notes. All in all, it was quite a successful pairing that instantly transported us back to our time exploring the Stellenbosch region.
---
South African Frikkadel
Ingredients
2

slices

white bread,

soaked in water and squeezed dry

1

tsp

unsalted butter

2

garlic cloves,

minced

1

onion,

minced

1

lb

ground beef

(85% lean)

1

tsp

salt

½

tsp

ground black pepper

2

Tbsp

parsley

1

tsp

ground coriander seeds

½

tsp

turmeric

pinch

ground cloves

1

egg
Instructions
Tear the slices of bread and place them in a bowl. Cover the bread with water and set aside to soak.

In a medium skillet, heat the butter. Add the onion and garlic and sauté over medium high heat until golden, 5-6 min. Remove the onion mixture from the pan and set aside.

In a large bowl, combine ground beef with the seasonings. Squeeze the soaked bread as dry as you can get it and add it to the beef mixture along with the egg. Mix well, using your hands. Shape the meat mixture into balls, using roughly 2 Tbsp of meat for each. Place the shaped meat onto a plate and flatten the balls slightly.

Heat the skillet over medium heat and fry the meat patties 5-6 minutes on the first side and 3-5 minutes on the second side, until golden and firm.

Remove the patties from the skillet onto a clean, paper towel lined platter. Continue until all the frikkadel have been cooked.

Serve the frikkadel with mashed potatoes and sheba sauce (see recipe below).
---
Sheba Sauce
Ingredients
1

Tbsp

unsalted butter

2

onions,

diced

2

garlic cloves,

minced

4

tomatoes,

diced (or 2-14.5 oz cans, slightly drained)

1

Tbsp

fresh oregano,

chopped, or 1 tsp dry

1

Tbsp

fresh parsley,

chopped, or 1 tsp dry

½

tsp

salt

¼

tsp

sugar
Instructions
Heat the butter in a large skillet. Add the onions and garlic. Sauté over medium high heat until the onions have softened, 3-4 minutes.

Add the remaining ingredients, stir and bring the mixture to a simmer.

Cook, uncovered, 15-20 minutes until the sauce has thickened slightly.

Sheba sauce makes a great accompaniment to mashed or boiled potatoes, rice, chicken, or any red meat.
---

If you liked this recipe, here are some similar dishes you may enjoy!