This sweet and sticky chutney chicken recipe is a classic South African preparation. It only has a few ingredients (one may be surprising) and it comes together so quickly for an oven baked chicken dinner that is sure to impress the whole family! We're pairing it with a South African Chenin Blanc wine today for our Wine Pairing Weekend exploration of South African wines.
South African Chutney Chicken
This classic South African dish is called vra na meer hoender in Afrikaans, which means "ask for more hands". And more hands is what you'll want when you taste this addicting baked chicken.
The dish uses an unlikely combination of mayonnaise and chutney to create a saucy, sticky, baked chicken dish that will keep you coming back for more.
If you love a sweet BBQ chicken, you'll love the way a sweet and slightly spicy chutney becomes almost like a barbecue sauce, coating these chicken legs and thighs in a blanket of flavorful sauce.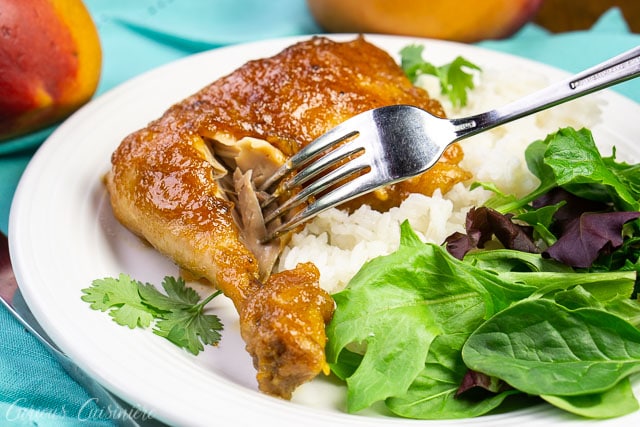 Chenin Blanc Wine
Chenin Blanc is the most common white grape varietal to find in South Africa. And South Africa leads the world in Chenin Blanc production. Even so, in the States it's more common to see a Chenin Blanc from France's Loire Valley.
Chenin Blanc can be made in a range of wine styles (from crisp/dry to sweet) and flavors (from fresh and minerally to rich and fruity even with some floral notes).
This means that it's easy to find a Chenin Blanc that fits your tastes!
What Does Chenin Blanc Go With?
Chenin Blanc does have a nice acidity and often a sweetness, so it goes well with sweet and sour foods or even just sweet and savory combos that have a bit of tartness to them.
It is best to serve Chenin Blanc slightly chilled, around 45F. The bottle should feel cool to the touch.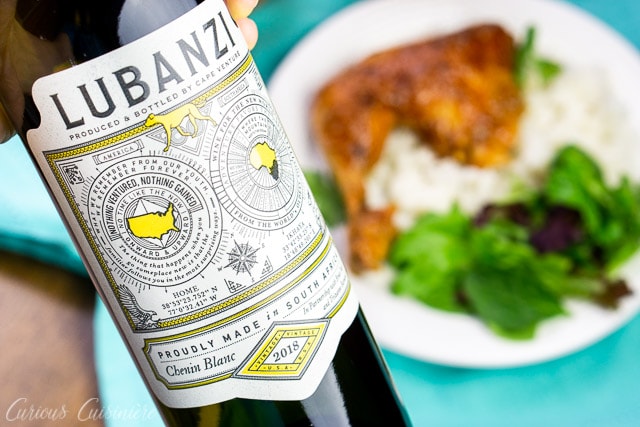 DISCLOSURE: We received samples of the wine mentioned below from Wines of South Africa. As always, all opinions are our own.
Lubanzi South African Chenin Blanc
The wine that we're pairing with our chutney chicken today is a South African Chenin Bland by Lubanzi Wines.
Hailing from Cape Town, South Africa, Lubanzi was created by Americans who were struck by South Africa during their time there as exchange students. They wanted to create a business that would bring a bit of South Africa to the States while also giving back to the wine-making community in South Africa.
Lubanzi produces two wines, a Chenin Blanc and a Red Blend. Both are available in bottles as well as cans.
We found their Chenin Blanc to be quite refreshing with notes of lemon and peach on the nose. It had a distinct acidity and dryness with a slight minerality, paired with a rich mouthfeel and a hint of green apple sweetness.
While we were expecting more sweetness from the wine to pair with our chutney chicken, it still paired incredibly well. The acidity of the wine cleansed the palate after the richness of the chicken legs and thighs. And the richness of the wine stood up quite nicely to the sweet flavors of the chutney.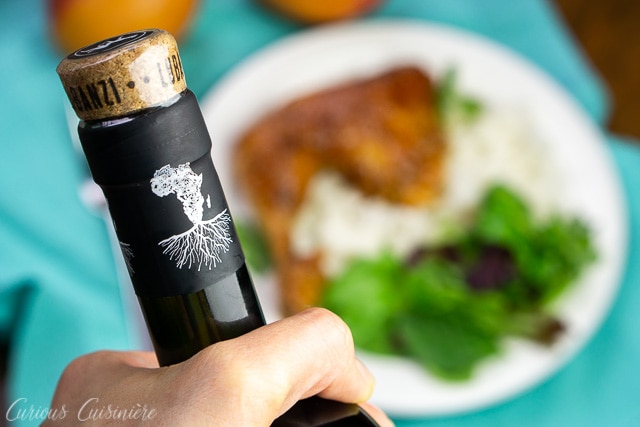 This is definitely a wonderful summer sipper wine, perfectly refreshing for enjoying chilled on a warm day!
Other South African Food and Wine Pairings
A few years ago, we traveled to South Africa, and we were blown away by the people, the flavors, and the sights. We've shared a lot of our favorite dishes so you can enjoy a taste of South Africa as well!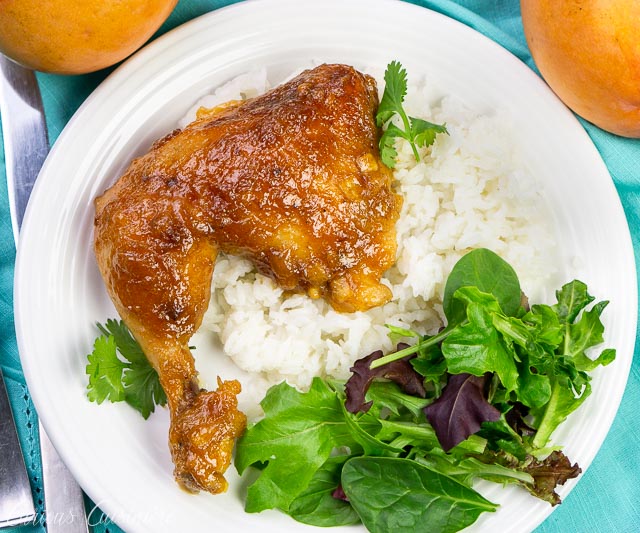 Yield: 4-6 servings
South African Chutney Chicken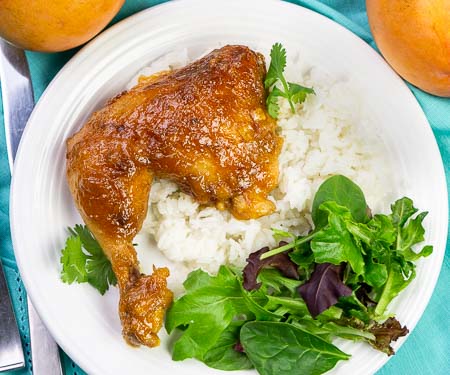 This sweet and sticky chutney chicken recipe is a South African classic. This easy to prepare baked chicken dish is sure to be a family favorite!
Cook Time
1 hour
30 minutes
Total Time
1 hour
45 minutes
Ingredients
4 chicken leg quarters (or 8 chicken legs)
Salt and pepper
1 Tbsp oil
1 onion, diced
2 cloves garlic, minced
Red chili flakes (optional, if your chutney isn't already spicy)
¼ c water
1 Tbsp Worcestershire sauce
1c peach or mango chutney*
½ c mayonnaise
Instructions
Preheat your oven to 325F.

Place the chicken in a greased, oven-proof casserole dish and season generously with salt and pepper.

Heat oil in a medium skillet over medium high heat. Add onions, garlic and red chili flakes (if using), saute over medium high heat until the onions are soft, 3-4 min.

Remove the skillet from the heat. Carefully add the water and Worcestershire sauce. Mix in the chutney and mayonnaise. Taste your sauce, and season with additional salt and pepper if desired.

Pour the sauce over the chicken in the casserole dish.

Bake for 1 ½ hours, removing the dish from the oven halfway through and spooning some sauce back over the chicken. (If the chicken starts to brown too much near the end of the cooking time, tent loosely with foil.

Serve with rice and a fresh salad.
Recommended Products
As an Amazon Associate and member of other affiliate programs, I earn from qualifying purchases.
More South African Wine Pairings
If you're looking for more food to pair with Chenin Blanc, be sure to check out the other Wine Pairing Weekend (#WinePW) participants and what food they paired with their South African Chenin Blanc wines. Thanks to Jennifer from Vino Travels for hosting this exploration!
If you liked this recipe, here are some similar dishes you may enjoy!