The Dutch pancake, Pannenkoek, is a thin pancake that can be served sweet or savory. There are so many ways to enjoy this easy treat for breakfast or a fun snack!
Dutch Pannenkoeken
A pannenkoek (plural pannenkoeken and pannekoek in Old Dutch) is a pancake that comes from the Netherlands. They are typically large, whole-pan size and are much thinner than a traditional American pancake (but not quite as thin as a French crepe).
(And definitely don't confuse these guys with the Dutch Baby, which isn't even Dutch.)
Pannenkoeken are made from a simple batter of eggs, milk, flour, and a bit of salt. (Traditionally you would often find them using buckwheat flour, however not so much any more.)
Topping and Fillings For Dutch Pancakes
They can be eaten plain with a dark, thick apple syrup, called stroop and powdered sugar.
But, you will often find them filled as well. The fillings can be sweet or savory. Thinnly sliced bacon, apples, cheese, or raisins are most common. But feel free to get a little crazy.
We loved the combo of mushrooms and bacon, Gouda and apples, apples and raisins, bacon and cheddar.
You get the picture.
While with French crepes, the fillings are wrapped into the pancake, with pannekoeken, the fillings are typically added to the batter during cooking.
How To Eat Pannenkoeken
With a pancake so large, the question might come up, how should you dive in?
Traditionally these Dutch pancakes, filled or not, are rolled and then eaten. Slice them and use a fork and knife if you're feeling civilized, or just grab a bite if you're eating them on the go!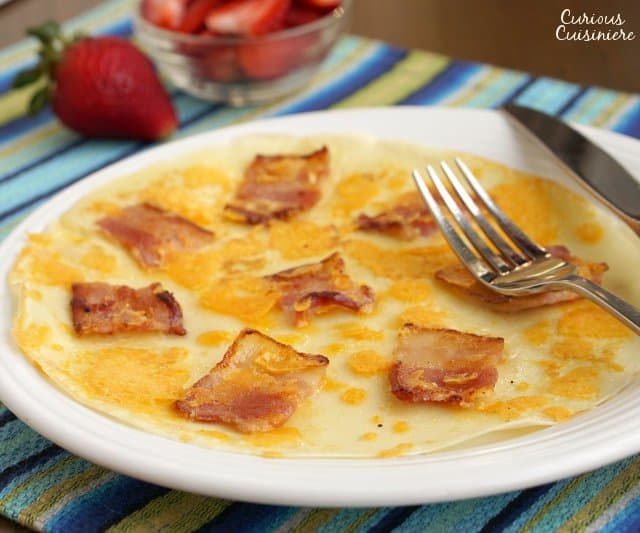 South African Pannekoek
With the Dutch colonization of South Africa, pannekoek are often seen as "South African pancakes" as well. In South Africa, the singular "pannekoek" is most often used, even if you're talking about a stack of pannekoek.
The one difference we find in South Africa is that they are most commonly served sprinkled with cinnamon sugar and rolled.
We tried a couple of our pannekoek this way, and the cinnamon sugar melts into the warm pannekoek, creating a delicious, warm and sweet treat.
Plain. Sweet. Savory. Which will you try first??
More pancakes from around the world
Nearly every culture loves pancakes in one form or another. Here are some other sweet and savory pancake recipes from around the world that are worth a try.
Yield: 8 (10 inch) pannenkoeken
Pannenkoek (Dutch Pancake)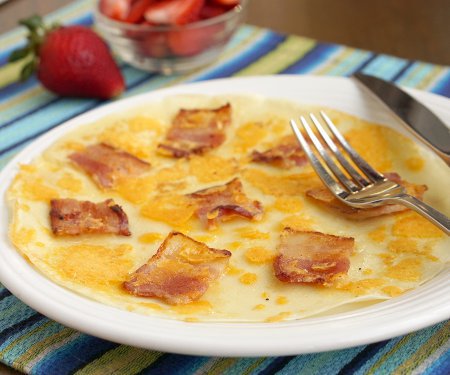 The Dutch pancake, Pannenkoek, is a thin pancake that can be served sweet or savory. There are so many ways to enjoy this easy treat for breakfast or a fun snack!
Ingredients
For The Batter
2 eggs
2 c milk
½ tsp salt
Butter, for cooking
Optional Add Ins
Chopped bacon, (thinly sliced)
Mushrooms, (thinly sliced)
Shredded cheese
Apples, (thinly sliced)
Raisins
Cinnamon sugar
Instructions
In a large bowl, beat the egg until slightly foamy. Add the milk and salt, whisking to combine. Add the flour, slowly, whisking as you add, until the batter is smooth.
Heat a 10 inch skillet over medium heat. Add a little butter to coat the skillet.
Add ½ cup of batter to the pan and swirl it around to coat the pan. (If using add-ins, sprinkle them over top of the wet batter.) Cook the pannekoek over medium heat until it is just getting dry on the top and releases from the pan, 2-3 minutes.
Flip the pannenkoek and cook for 1-2 minute on the second side, until lightly golden.
Remove the pannenkoek from the plan and place on a platter. Keep your stack of pannekoeken warm in a warm oven while you coat the skillet again with butter and cook up the rest of the batter.
Notes
Leftover pannenkoeken keep well in the refrigerator for up to 2 days.
Nutrition Information:
Yield:
4
Serving Size:
2 pannenkoeken
Amount Per Serving:
Calories:

414
If you liked this recipe, here are some similar dishes you may enjoy!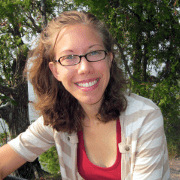 Sarah is one of Curious Cuisiniere's founding duo. Her love for cultural cuisines was instilled early by her French Canadian Grandmother. Her experience in the kitchen and in recipe development comes from years working in professional kitchens. She has traveled extensively and enjoys bringing the flavors of her travels back to create easy-to-make recipes.