Moroccan Preserved lemons are easy to make and have many uses in traditional African and Middle Eastern cooking as well as unique modern twists.
Moroccan Preserved Lemons
How did people preserve food before refrigeration?
Salt!
We see the magic happen with sauerkraut, where cabbage, once packed with salt, can last for months.
It's pretty incredible.
While the Germans were preserving cabbage with salt, those in Morocco, in North Africa, were preserving their lemons the same way.
What originated in the northwestern area of Africa, slowly made its way to other Middle Eastern regions and even India. More recently, these gems have found their way to the States, and American chefs are starting to play around with their unique flavor.
How To Preserve Lemons
Making preserved lemons is so incredibly easy to do. All you need are lemons (preferably Meyer lemons) and salt.
And, then a little time.
Like anything preserved, it takes some time for the fermentation process to do its thing. In this case, the lemons are left to ferment on the counter for 3-4 weeks, until they are nice and soft.
After that, the preserved lemons will stay good in the refrigerator for 8-12 months.
Meyer lemons are ideal for preserving because of their thin skin.
As the lemons ferment, the peel softens and the becomes less bitter. Once soft and well-preserved, the lemons are perfect for using in a number of dishes, like the traditional Moroccan Chicken and Preserved Lemon Tagine.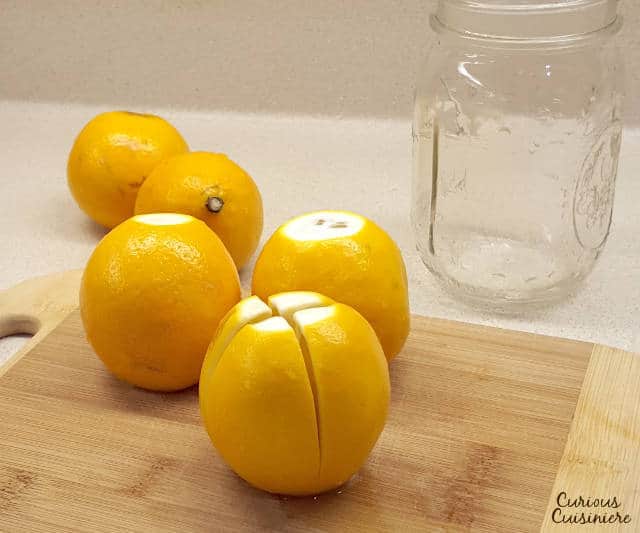 How Do Preserved Lemons Taste?
With all that salt, you might be a bit off-put by the idea of using preserved lemons. But, you have to remember that the goal here is the soft, preserved lemon, not the salt. Most recipes call for preserved lemons to be rinsed of excess salt before using.
The pulp and rind of Moroccan preserved lemons are both edible. And the end result of this fermentation process is a lightly salty, bright, lemon flavor that is softer around the edges than a fresh lemon. It doesn't have all that tart bite or bitter flavor you would get from sucking on a fresh lemon wedge or biting into fresh lemon rind.
Some Preserved Lemon Uses
Preserved lemons are a great way to add a mild brightness to whatever dish you cook them with.
We love using them with chicken and olives, but they also pair wonderfully with salmon and other fish. They make a great accent to roasted potatoes, couscous, or chickpeas. They can add a fun brightness to Indian curries. And, they add a nice citrus burst to salads, whether you use the chopped up fruit, or simply use some of the brine to make a vinaigrette.
We've heard talk of using the brine in Bloody Mary's, and while we haven't tried it yet, it's on our list!
While substituting fresh lemon in a dish that calls for preserved lemons really won't do the dish justice, using preserved lemons when a recipe calls for fresh lemons will give the dish a new, tasty life!
Spiced Preserved Lemons
After you master the basic preserved lemon, you can start to get creative!
Indian preserved lemons sometimes will call for turmeric, fenugreek, and chili powder. Moroccan Jews will add olive oil and herbs after the lemons are preserved. Other recipes we have seen have added warm spices like cloves to the jar.
Have fun and enjoy this new way to appreciate lemons!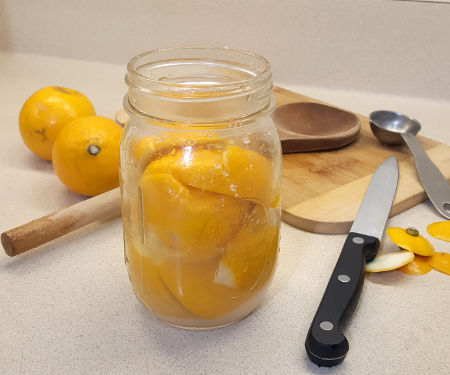 Moroccan Preserved Lemons
Moroccan Preserved lemons are easy to make and have many uses in traditional African and Middle Eastern cooking as well as unique modern twists.
Preserved lemons should be left on the counter to ferment for 3 weeks before they are ready to use.
Cuisine:
African, Moroccan
Servings
:
1
pint of preserved lemons
---
Ingredients
4-5

lemons

(preferably Meyer lemons)

¼

c

sea salt
Instructions
Wash lemons well.

Carefully slice the very tips off of the lemons, exposing the white pith.

Stand the lemon on one cut side. On the other cut side, make two large cuts through the lemon, like you are cutting it in quarters, stopping about 1 inch from the bottom. (So, you are not slicing all the way through.)

Pack sea salt into the X cut in the lemon. Place the salt-filled lemons into a clean, glass pint jar with a tight fitting lid.

Press the lemons firmly with the bottom of a wooden spoon (or other kitchen utensil) to pack them down and start the juices flowing. Cover the jar and let stand on the counter overnight.

The next day, press the lemons down again, helping them to release more juice as they begin to soften.

Repeat this process for 2-3 days until the lemons are completely covered with liquid. (If after 2-3 days your lemons aren't covered in liquid, add enough freshly squeezed lemon juice to cover them.)

Let the lemons ferment on the counter for 3-4 weeks, until they are very soft and ready to use.

Once ready to use, the lemons can be stored in the refrigerator for 8-12 months.
To Use Your Preserved Lemons
Remove the lemons from their liquid and rinse them of the salt. Use as directed in your dish.
---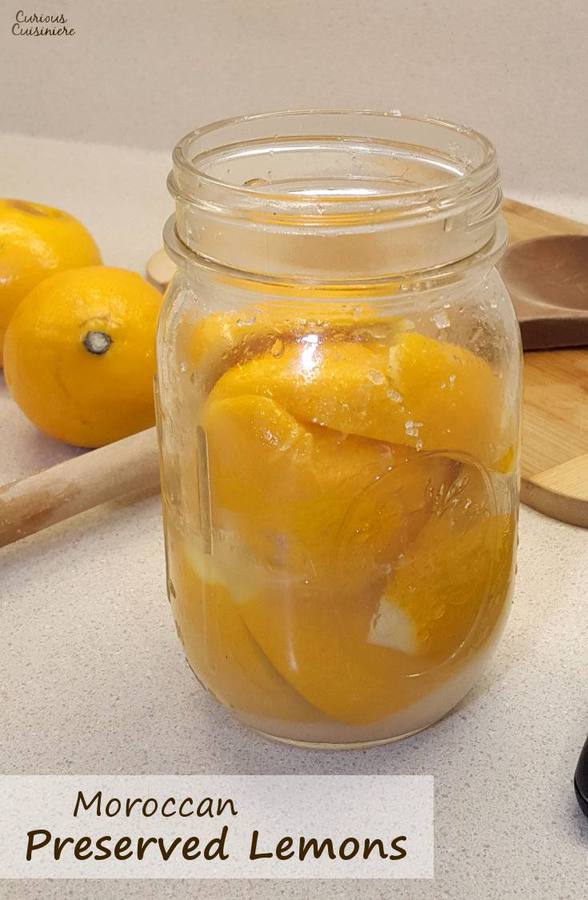 If you liked this recipe, here are some similar dishes you may enjoy!