If you love warm and comforting flavors, then you need to dive into Moroccan cuisine and give the Moroccan spice mix, Ras el Hanout a try. This blend of spices is robust in flavor, but not too spicy. It is wonderful to use with meat and veggies alike!
What Is Ras El Hanout?
Ras el hanout is a spice blend from North Africa, where it is used heavily in Moroccan cooking. The blend is full of warm spices that give it a robust, but slightly sweet flavor.
The name translates from Arabic to "head of the shop". What the name tells us is that this spice blend is basically a mingling of some of the best spices that the spice shop has to offer.
It makes sense then, that no two recipes for ras el hanout will be the same, since each spice shop will have their own opinion on what their "top" spices are. And, each shop measures out different quantities of the spices, creating their signature blend. In fact, this blend can have 20-30 or more spices included in it!
In essence, ras el hanout is the "house" spice blend of Moroccan spice shops.
How Do You Make Ras El Hanout?
So, if there are so many ways to make ras el hanout, how do you make your own?
There are a number of ingredients that are typically found in the spice blend, and these give you a good starting point to crafting your own mix.
allspice
black pepper
cinamon
cloves
cumin
ginger
nutmeg
turmeric
Other spices that may find their way into the blend include anise, cardamom, cayenne pepper (or other chiles), fennel, fenugreek, mace, and paprika. You can also find some more exotic spices, that are quite uncommon in the States, included, like ash berries, grains of paradise, orris root, dried rosebuds, or galangal.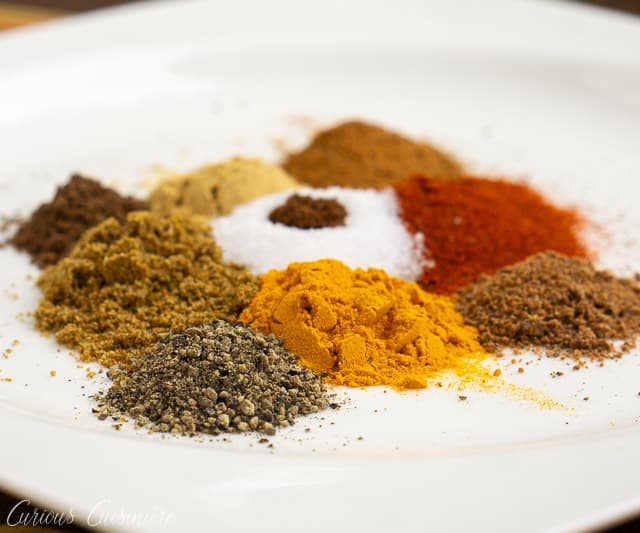 What Is A Substitute For Ras El Hanout?
Since ras el hanout is a blend that varies from shop to shop, it is really difficult to give one, easy substitution for it.
In our recipe for ras el hanout, we have tried to bring together the essential flavor of the blend, using spices you probably already have in your pantry.
If you are missing one or two spices we call for, go ahead and omit them. You'll get a better flavor in your dish if you use a blend of spices (like the one below) rather than trying to substitute one seasoning for this complex blend.
Recipes Using Ras El Hanout
Ras el hanout is often used as a marinade  or rub for meats. It is also often found seasoning soups, stews, and tagines.
But don't stop there. It is a wonderful seasoning for rice or couscous. It goes well with chicken, red meat, or fish. And, it's even tasty as a seasoning for vegetables!
Here are a few recipes to get you started! (Disclosure: We were compensated to feature some of the links below. But, they all do look incredibly tasty!)
Our Ras El Hanout Recipe
For our recipe for ras el hanout, we have used some of the more commonly found spices that appear in the blend, and we have created a mix which for us really speaks to the complexity of flavors of North African cuisine.
While it is not always common, we have included salt in our ras el hanout recipe. But, if you would prefer to salt your dishes on their own, feel free to leave the salt out of the mix.
When you're mixing up your ras el hanout blend, use our recipe as a starting point!
If you like one spice in particular, add a little more to give that one a bit more of a starring role. If you like another of the common ingredients that we didn't add, go ahead and add some it.
Remember, you're creating your own "head of the shop" mix. It's up to you and your taste buds to decide what direction to go!
Ras el Hanout (Moroccan Spice Blend)
This Moroccan blend of spices, ras el hanout, is robust in flavor, but not too spicy. It is wonderful to use with meat and veggies alike!
Yield: roughly 2 Tbsp of spice mix
Servings:
4
(1 1/2 tsp) servings
Ingredients
1

tsp

cumin

1

tsp

turmeric

1

tsp

paprika

½

tsp

dry ginger

½

tsp

salt

½

tsp

nutmeg

½

tsp

ground black pepper

½

tsp

cinnamon

½

tsp

ground coriander seeds

½

tsp

ground allspice

¼

tsp

ground cloves
Instructions
In a small bowl, mix the spices together, until evenly distributed.

Store the spice blend in an air tight, glass jar in the pantry until ready to use.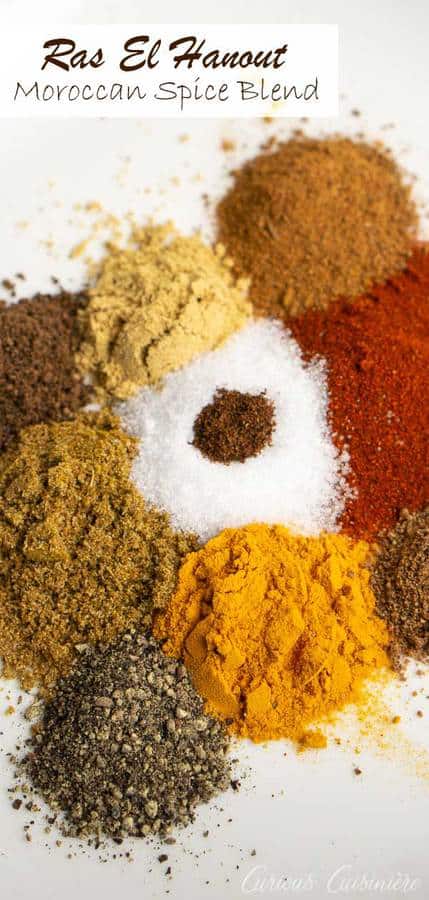 If you liked this recipe, here are some similar dishes you may enjoy!