If you've ever wondered how to make apricot jam without pectin, look no further! With just three ingredients, this jam brings all the classic flavor!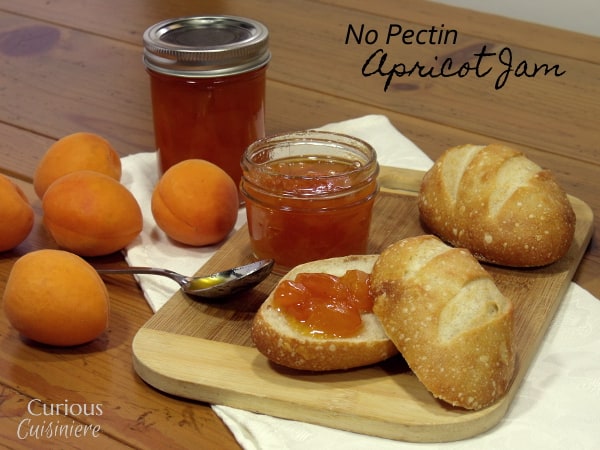 Maybe it is because we have spent this past year eating mostly mulberry jam that was the result of last year's bumper crop. Or, maybe it is a childhood craving coming back to haunt us.
Either way, Tim and I have both been dealing with some crazy hankerings for apricot jam.
A few days after realizing that something needed to be done to remedy the situation, I took a trip to the grocery store. There, right in the middle of the produce section, was a huge basin of apricots.
ON SALE!
It was fate.
Sweet, sweet fate.
No Pectin! What to do?
As I started making the jam, I realized I was almost out of pectin.
Not a big deal really, since I've been making jams with and without pectin for the past few years. Last year, my jams were turning out well with pectin, so I stuck with it.
This year, however jams have been a bit of a struggle, even with the pectin, so I decided to do some research, and try my hand at jamming the way grandmas have jammed for ages (any time prior to the 1900s in fact): without commercial pectin.
What is Pectin?
Pectin is a naturally occurring carbohydrate that is concentrated in fruit's skin and the core.
In the fruit, pectin actually helps to build and form the cell walls.
When cooked, acid draws the pectin out of the fruit. The released pectin then binds with itself, causing jams and jellies to gel.
Apples, crab apples, raspberries, blackberries, currants, cranberries, concord grapes, plums and the skin of any citrus fruit have more than enough natural pectin and acid to gel with only added sugar.
Apricots, blueberries, cherries, peaches, and strawberries typically need some sort of added pectin or acid.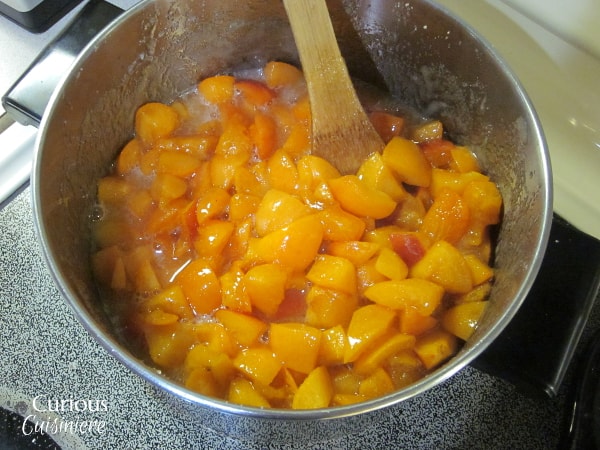 Do you see a problem?
Apricots fall in the "need more pectin" group.
This was quite curious, since many of the recipes I found for apricot jam did not add pectin or high pectin fruits.
The only way to tell was to plunge forward.
No Pectin Apricot Jam
We chopped the fruit, mixed it with sugar and lemon juice and started to cook.
Cooking a jam without pectin does require a longer cooking time. For us, it took about a half hour to reach 220F, the jellying point.
While the longer cooking time does result in less jam (more time for liquid to evaporate), it also starts to caramelize the sugars, giving the jam a nice, deep flavor.
So, what was the jelling verdict?
This definitely isn't a hold-its-shape kind of jam.
It is incredibly spreadable and fruity, a natural feeling jam, with an overwhelming amount of that classic apricot jam flavor.
For us, it was a winner!
Canning apricot jam
Our recipe for apricot jam below makes 6 1/2 pint (8 oz) jars (and one 4 oz jar), so it's the perfect recipe to do some canning and save a few jars for later. (Or to make and give as gifts!)
If you are new to canning, you might want to check out our guide to water bath canning.
However, when making jam there is often enough heat, sugar content, and acid that we have had luck doing a simplified canning version that is often called the French Canning Method.
It simply involves turning the (tightly sealed) jars upside down on a cooling rack, and uses the heat of the jam to activate the seal. We leave the jars upside down for 20-30 minutes, or until we hear the seal pop. Then we turn them back right side up to finish cooling.
It is important to note that (while used for ages by grandmothers) this method is not recognized by the USDA. So, use it at your own risk. If you are concerned at all, definitely follow our instructions for water bath canning.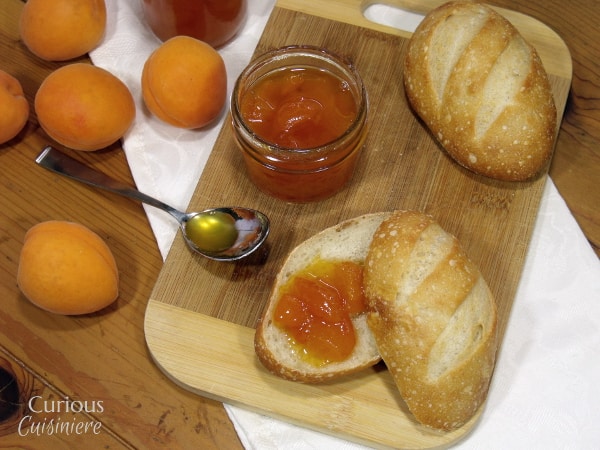 Are apricot kernels safe?
At one point we offered the option that you could take a hammer to the apricot pits to remove the outer husk and revel the inner noyaux or kernel. One of these kernels can be placed in each jar with the jam to add a slight almond flavor. (This kernel should be for flavoring only, and we do not recommend that you consume it.)
We have received many comments about the safety of apricot kernels, so we wanted to take a moment here to address the issue.
Sweet apricot kernels are often used in European baking and sweets-making. For example, crushed kernels are a key component in Italian Amaretti cookies.
There is some concern about the safety of consuming apricot kernels because they contain high levels of amygdalin, which contains cyanide. But, before you get scared away from amaretti cookies and using apricot kernels for flavoring, you should know that there are two different types of apricot kernels: sweet and bitter.
Sweet apricot kernels are sweeter in flavor and are significantly lower in amygdalin. These are the ones used in baked goods that would be consumed.
Bitter apricot kernels do contain enough amygdalin to be considered potentially toxic. Studies have shown that eating 30 bitter apricot kernels could cause cyanide poisoning (information from this SFGate article).
For more information about the difference between sweet and bitter apricot kernels, we found this article from Smart Kitchen to give a lot of good information.
As always, please use your best judgement. We feel that apricot kernels are safe if used only to add flavoring and not intended for consumption. You definitely won't find us munching down handfuls of kernels, sweet or bitter, for an afternoon snack.
More jam recipes
Toast, biscuits, and scones call for jams, jellies, and curds. Here are some recipes to get you started!
No Pectin Apricot Jam
If you've ever wondered how to make apricot jam without pectin, look no further! With just three ingredients, this jam brings all the classic flavor!
Yield: 6 (1/2 pint) jars and 1 (4 oz) jar
Ingredients
3

lbs

whole apricots

(roughly 8 c chopped, pitted and diced)

4

c

sugar

1

very large

lemon,

juiced (1/4 c of juice)
Instructions
Preparing the Jars
Clean your lids and jars, and place lids and jars, upside down, in a 200F oven.
Making the Apricot Jam
In a 3-4 qt soup pot, mix all of the ingredients. Heat over medium, stirring often, until the mixture begins to bubble and foam. (For us, this was about 20 minutes.)

Place the candy thermometer in the mixture and turn the heat to high. Continue to heat the mixture, stirring constantly. (At this point, you may want to put on an oven mitt. As the jam thickens it will begin to foam, sputter and spit. This is good; it means things are getting jammy. But, it's not too good if you get hit.)

Once the mixture reaches 220-222F, remove the jam from the heat. (For us, it took 8-10 minutes to reach the jamming temperature.)
Canning the Jam
Using oven mitts, remove the hot jars from the oven. Ladle the hot jam into the hot jars, filling to ¼" of the top. ( ¼" is roughly the width of then nail on your little finger.) Wipe the rim of the jar with a damp towel to remove any sticky spillage. Top the jar with a hot lid and band. Tighten the band as tight as you can. Repeat until all the jam has been jarred.

Whichever method you use to process your jam, remove the bands after the jam has cooled. Check the seal on your lids and refrigerate any jars that have not sealed. Wipe the jars down one last time to remove any sticky bits before placing the bands back on the jars and storing the jam.
Notes
* For jam, we like to use the French Canning Method, which, although not recognized by the USDA, simply involves turning the jars upside down on a cooling rack, and uses the heat of the jam to activate the seal. We leave the jars upside down for 20-30 minutes, or until we hear the seal pop. Then we turn them back right side up to finish cooling.
You could also follow our instructions for Water Bath Canning. 
Nutrition
Serving:
1
Tbsp
|
Calories:
36
kcal
|
Carbohydrates:
9
g
|
Fat:
0.1
g
|
Sugar:
9
g
---
If you're looking for preserving recipes – look no further!
Learn how to …
Salsas and sauces
Jellies, jams and preserves
Pickles
If you liked this recipe, here are some similar dishes you may enjoy!