Kaya is a rich and sweet coconut egg jam flavoured with pandan, which also gives it a fun green colour. Try something new on your morning toast!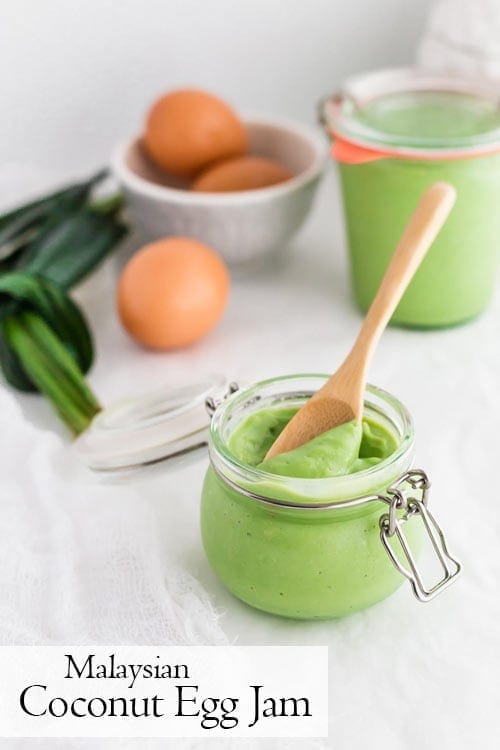 When I was young, I had my fair share of peanut butter and jam sandwiches. But luckily, my parents introduced me to foods that they grew up with, and thus, I became familiar with those tastes and flavours. One of those foods was kaya, also known as coconut jam/spread.
Rich, sweet, and delicious, I always knew kaya came from a tin can. We lived in a predominantly white small town, Asian foods, let alone fresh Asian ingredients, were impossible to come by. The only way we would get cans of kaya was whenever my parents took a trip into Vancouver's Chinatown.
WHAT DOES KAYA MEAN?
Kaya in the Malay language means "rich," with reference to the texture of this coconut jam. It is thick and custard-like, similar to a "khoya," which may have been influenced by the Southern Indians trading with the Malays back in the day.
When I realized that the brightly orange-coloured kaya that came from the tin cans contained artificial colours and preservatives, I thought of how I could make it at home from real ingredients.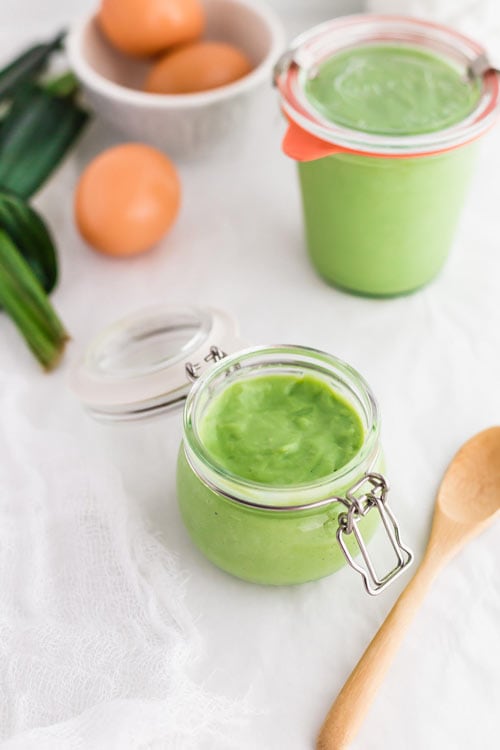 INGREDIENTS IN KAYA: Coconut Egg Jam
Kaya is made of coconut milk, eggs, sugar, and pandan (screwpine) leaf. There are two well-known varieties of kaya:
Nyonya, which is green in colour
Hainanese, which is darker brown in colour and often sweetened with honey
The colour variation depends on the number of eggs, the caramelization of the sugar, and the amount of pandan leaf used.
I find it's best to use canned coconut milk rather than the coconut milk in the cartons as it tends to be more pure (with fewer additives) and much richer in taste.
For this recipe, I used granulated cane sugar, which is readily available. If you want a little more coconut flavour, you can use coconut sugar, which is commonly found in major supermarkets and health food stores.
Pandan (screwpine) leaf is usually found frozen in Asian supermarkets. If you don't have access to pandan leaf, you may be able to find pandan extract which comes in a small tube or pandan leaf powder, which will work perfectly fine.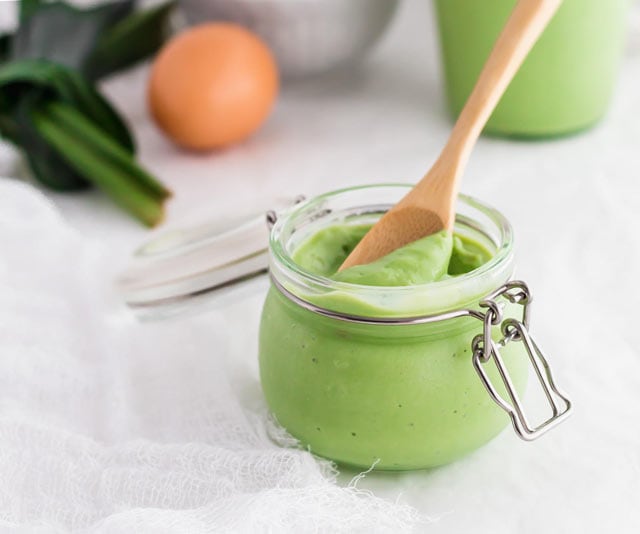 OTHER VARIATIONS
In the Philippines, a variation of this jam is known as matamís sa báo, but it does not contain eggs and is less thick in texture.
In Thailand, it is known as sangkhaya.
HOW IS KAYA EATEN?
Kaya is eaten as a condiment spread on bread or toast, usually as breakfast, but it can be found in most coffee shops (kopitams) all day. Nowadays, it can also be found as a filling in steamed buns as well as in rolled cakes.
This version of kaya is the Nyonya-style one which gets its aromatic fragrance and natural green colour from the pandan leaf.
If you're looking to change up your breakfast condiment selection from the everyday jams and jellies, try this Kaya Pandan Coconut Jam. It will transport you to the tropics with its flavourful, rich and sweet taste.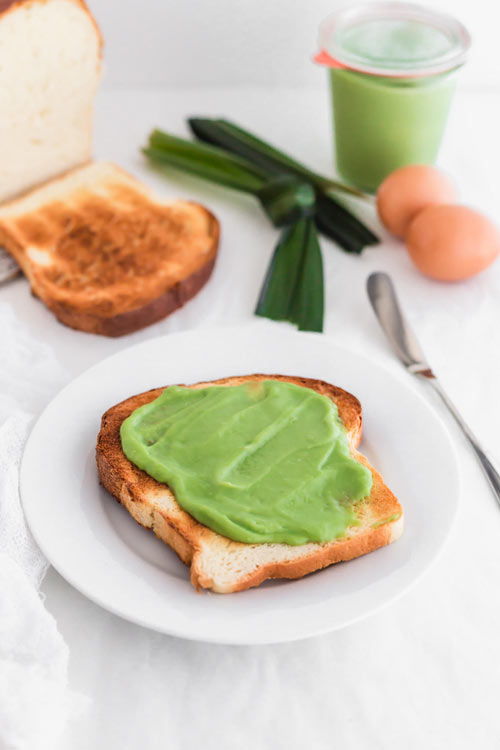 MORE PANDAN RECIPES
Love the flavour of pandan? Try these other pandan recipes:
Yield: 2 medium sized jars
Kaya (Malaysian Pandan Coconut Egg Jam)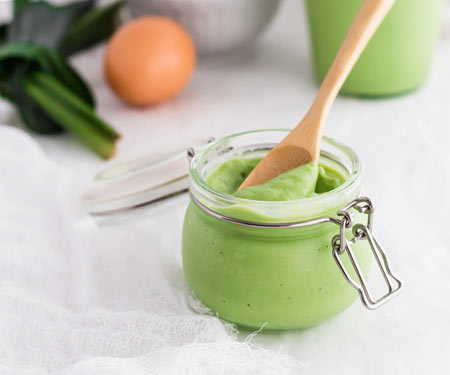 Kaya is a rich and sweet coconut egg jam flavoured with pandan, which also gives it a fun green colour.
Ingredients
180 ml (slightly over 6 oz or ¾ c) coconut milk (canned)
4 large eggs
100 g (roughly ½ c) granulated cane sugar (or coconut sugar, increase by a little as coconut sugar is less sweet)
Instructions
Place pandan leaves in a food processor or heavy-duty blender. Add in the coconut milk and blend for a few minutes until the pandan leaves are pureed finely.
Pour the blended pandan-infused coconut milk over a sieve and into a large bowl. The pandan leaf pulp will remain – be sure to press firmly with the back of a spoon to extract all the coconut milk. Discard the pandan pulp.
In a separate heat-proof bowl, beat together the eggs and sugar, until frothy.
Add in the pandan-infused coconut milk to the eggs and sugar.
Create a bain-marie (double-boiler) by pouring some water into a pot (slightly larger than the heat-proof bowl) and heating it over low-medium heat. (Check to see if your heat-proof bowl can sit on top of the pot without any water touching the bottom of the bowl).
When the water comes to a slight simmer, place the bowl with the coconut milk and eggs over it and gently whisk for 10-15 minutes, ensuring no water escapes from the bottom pot. It's important to keep a low simmer or else the eggs can curdle quickly. **
Transfer the kaya into a clean jar and let cool. Store in the refrigerator for up to 2 weeks.
Notes
*If you don't have access to pandan leaf, you may be able to find pandan extract which comes in a small tube or pandan leaf powder, which will work perfectly fine. This extract is higly concentrated, so a few drops added to your coconut milk will likely do. (Steps 1 and 2 can then be omitted.)
**If your eggs curdle – not to fret: continue to cook for the full 15 minutes, and then transfer the mixture to a blender. Blend until the kaya is smooth.
Recommended Products
As an Amazon Associate and member of other affiliate programs, We earn from qualifying purchases.
If you liked this recipe, here are some similar dishes you may enjoy!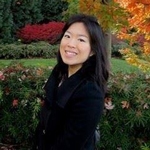 Michelle enjoys learning and discovering different foods from around the world and recreating them in her own kitchen. She is an avid matcha lover and believes that the best food is made from scratch. Michelle develops and photographs recipes at her blog SiftAndSimmer.com.