Kueh dadar is a Southeast Asian snack with a vibrant color. These mini, rolled coconut and pandan crepes are filled with more sweetened coconut, for a tasty sweet treat! If you're asking yourself, "What is pandan?", we've got you covered there too. Read on!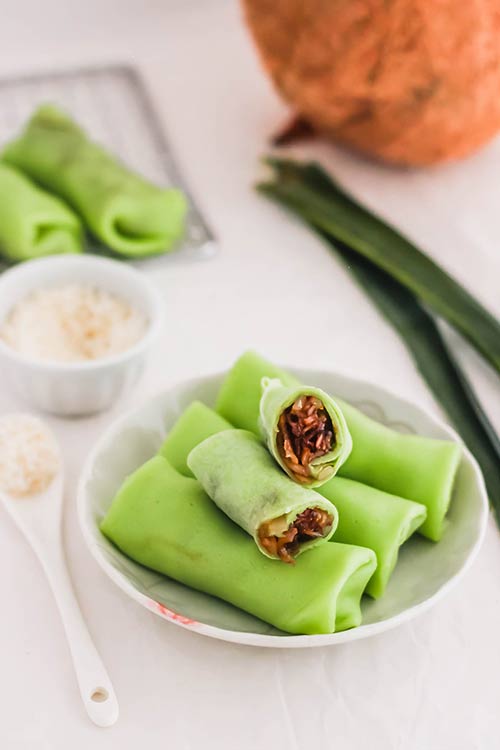 Kueh dadar is a sweetened, rolled-up coconut pancake that's commonly found as a snack in Southeast Asia. In fact, it's known by many names in the region: kueh katayap, dadar gulung, kueh langgang.
But it's all the same thing: a delicious green coloured pandan-flavoured pancake that's filled with grated coconut, and sweetened with palm sugar (also known as gulu melaka).
Kueh/kuih is a broad Malaysian term meaning a snack, or bite-sized dessert, usually made with some type of rice or glutinous rice.
It can be sweet or savoury and eaten at any time of day.
Kueh dadar is made from flour, pandan extract, eggs, and coconut milk. It gets its vibrant green colour from pandan flavouring.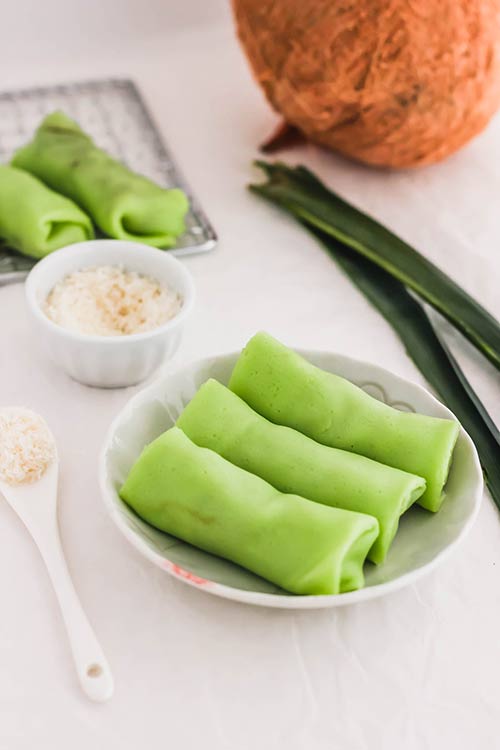 WHAT IS PANDAN?
Pandan is also known as screwpine and is a tropical plant that is native to Southeast Asia and India. It is a plant with blade-like leaves and exhibits a characteristic and pleasant aroma that is shared with jasmine and basmati rice.
Pandan flavouring is very common in Southeast Asian cuisine, sometimes referred to as the "vanilla of Asia" and is used to flavour not only sweet foods, but also savoury foods.
For an Asian riff on waffles using this flavour, I have a recipe for Pandan Mochi Waffles on my blog.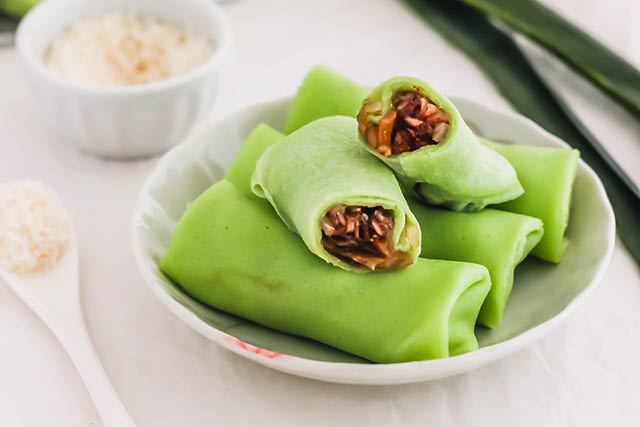 The green pandan leaves are very tough and are used in two ways: tied in a knot and added into a liquid to extract its flavour, or blended up in a blender with liquid and then strained to extract the juice.
As pandan is not native to North America, the leaves are usually found frozen in shrink wrap.
Another way to get this exotic flavour is through pandan extract, which is sold in small bottles at specialty Asian grocery stores.
These pandan extracts do typically contain green food colouring to help with its naturally green hue, although I have seen some that don't have the green colouring.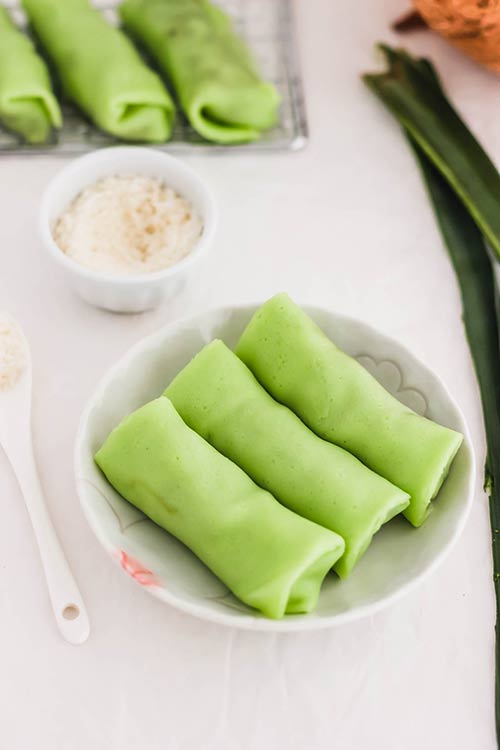 If you're not able to find fresh or frozen pandan extract where you are, you can substitute it with vanilla, or even better, coconut extract. Coconut and pandan go together very well so you will often see recipes with the two flavours combined.
TYPES OF COCONUT USED IN THESE COCONUT CREPES
Speaking of coconut, for this recipe, you can use grated fresh coconut, or frozen coconut that's already grated.
Fresh coconut is the one you typically see with the brown husk in the shape of a small bowling ball. On the inside, the coconut meat is white and firm, and filled with clear-coloured coconut water.
There is also young coconut which is light brown in colour and has more of a cylindrical shape with a pointed top. The meat inside is white, soft and jelly-like. As this recipe calls for grated coconut, the flesh of the young fresh coconut would be too soft for this application.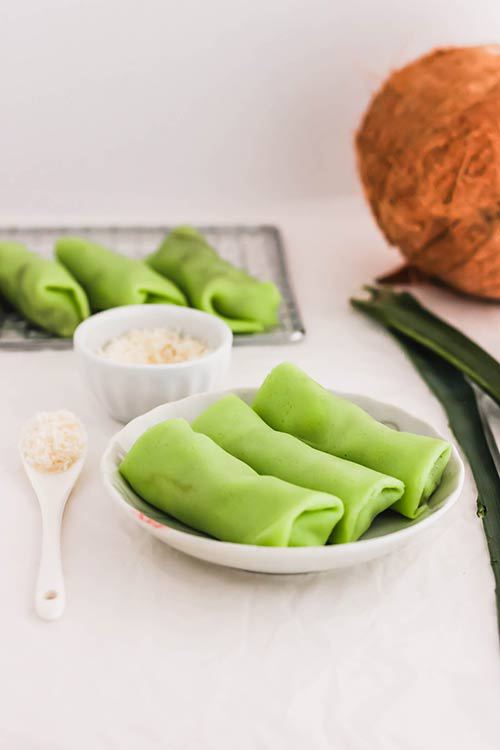 Frozen coconut is usually found packaged in Asian supermarkets. It is usually grated quite thickly.
If you don't have access to fresh or frozen coconut, dried or desiccated unsweetened flake coconut would work as well.
MY KUEH DADAR RECIPE
Traditionally, kueh dadar are large crepes, about 8″ in diameter that are rolled up. But I'm going to make mine mini-sized, because isn't small food cute?
For my mini kueh dadar, we will double up on the pandan flavour by infusing the grated coconut with the pandan leaves tied in a knot while it's simmered for the filling, and then using pandan extract in the crepe batter.
As with crepes, the batter will be cooked on one side in a round 5″ or 6″ frying pan for 2 minutes, and then removed to a cooling rack.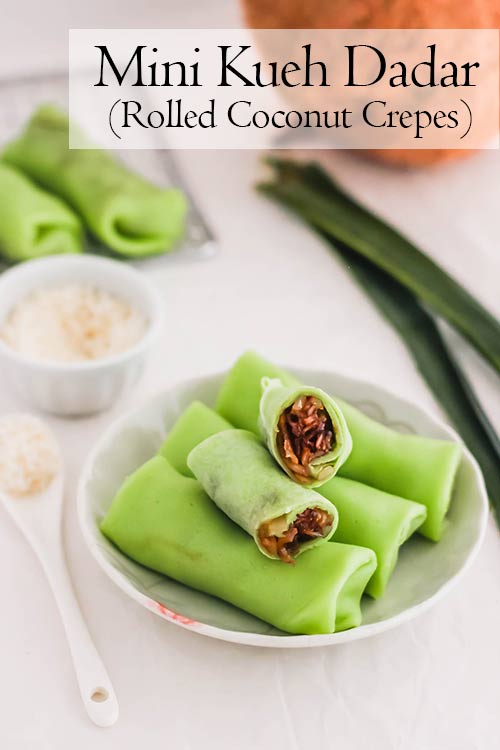 Tip: The trick to getting a smooth surface on the crepe is to only cook it on one side (without flipping).
After cooling, the pandan-infused grated coconut is placed in the middle of the crepe and rolled up like a spring roll.
These are best eaten at room temperature within 1-2 days. You can serve it as a snack on its own, or alongside with tea.
Yield: 4 people
Mini Kueh Dadar (Rolled Coconut Pandan Crepes)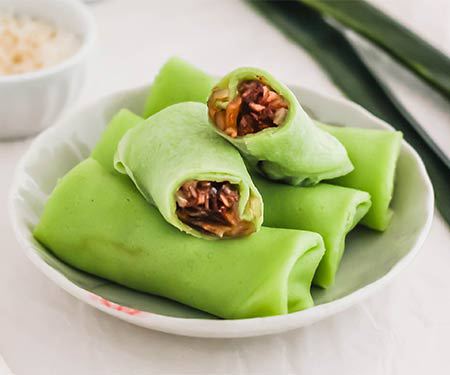 These mini, rolled coconut and pandan crepes are filled with more sweetened coconut, for a tasty sweet treat!
Yield: 8 small rolls
Ingredients
For The Coconut Filling
454 g (1 lb) shredded/grated fresh coconut, (or dried coconut*)
2 discs (100g) palm sugar, (or 1/2 C dark brown sugar)
2 pandan leaves, , knotted (or 1/4 tsp pandan extract**)
1 Tbsp water
pinch salt
Pandan Crepe Batter
1 egg
1/3 C milk
1/3 C coconut milk
1 Tbsp oil
1 tsp pandan extract, **
1 tsp tapioca starch
pinch salt
Instructions
For The Coconut Filling
In a medium saucepan, add the coconut, palm sugar (or brown sugar), knotted pandan leaves (or pandan extract), water, and a pinch of salt.
Bring to a simmer over low heat. Stir until all the coconut has been coated with the sugar and is relatively dry, with not much moisture left behind. Scoop the coconut mixture into a clean bowl and let cool.
For The Pandan Crepes
In a large bowl, whisk together the egg, milks, oil and pandan extract. Add in the flour, tapioca starch, and salt. Stir to combine, but do not overmix.
Heat a small frying pan over medium heat.
Pour approximately 2 Tbsp of batter into the pan and cook only on one side for about 2 minutes. Carefully remove the crepe and cool on a wire rack. Repeat with the remaining batter.
To Assemble
Place a pandan crepe on clean work surface. Take about 1 tsp of coconut filling and place it in the center of the crepe. Roll up the crepe and fold in the sides to enclose the filling. Place seam side down. Repeat with the remaining crepes.
These are best eaten at room temperature within 1-2 days. You can serve it as a snack on its own, or alongside with tea.
Notes
*If using dried/desiccated coconut, be sure it is unsweetened.
** Vanilla or coconut extract can be used in place of pandan extract, but the flavor of the crepes will be slightly different and the crepes will not have the vibrant green color. (The green color could be achieved by adding a couple drops of green food coloring, if desired.)
Recommended Products
As an Amazon Associate and member of other affiliate programs, I earn from qualifying purchases.
If you liked this recipe, here are some similar dishes you may enjoy!