Cool, refreshing, and sweet — cendol is a great Asian dessert for beating the summertime heat.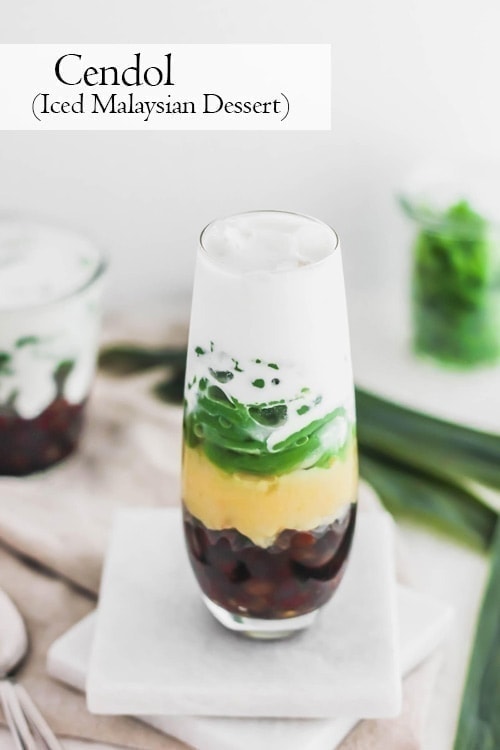 I love delving into the foods that my parents ate growing up in Southeast Asia. Even though I have yet to visit (one day, I will!), I'm just so fascinated with the variations between similar desserts.
Take for example, cendol. Growing up, I always heard my Malaysian parents refer to this icy, sweet dessert with green worm-like textured things as cendol.
But after having had a similar version by a different name at Vietnamese restaurants, I've come to realize that it's basically the same dessert. Different regions just make slight adjustments to the same concept.
CENDOL = 2 DIFFERENT MEANINGS ACCORDING TO GEOGRAPHY
The name cendol is a little confusing.
In Java, where it is purported that cendol came from, the term cendol refers to the green worm-shaped starch jellies. A dessert with the green jellies, coconut milk and palm sugar is known as dawet.
However, in Malaysia/Brunei, cendol refers to the actual dessert as a whole.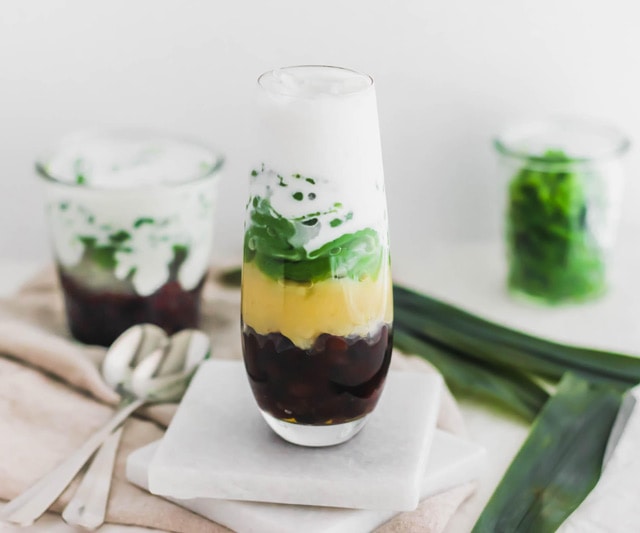 WHAT IS CENDOL?
Cendol is a sweet, layered, iced dessert containing green worm-shaped jellies (made with either rice flour or green bean flour), coconut milk and a sugar syrup known as gulu melaka, or palm sugar.
Cendol has different names depending on where you are:
chè ba màu in Vietnam
lot chong in Thailand
dawet in Java
mont let saung in Burma.
The green jellies are the star of the dish.
In Vietnam, they are known as banh lot. They are soft in consistency with a slight chew, similar to noodles. Their green colour comes from the use of pandan (screwpine) leaf or extract. The flavour of the jellies is not too sweet and the dessert as a whole is sweetened with palm sugar syrup.
Some restaurants take a shortcut and use pandan jellies made with gelatin/agar, rather than making it with traditional rice/bean flour. While just as presentable, I find that the texture is much more tasty with the traditional banh lot.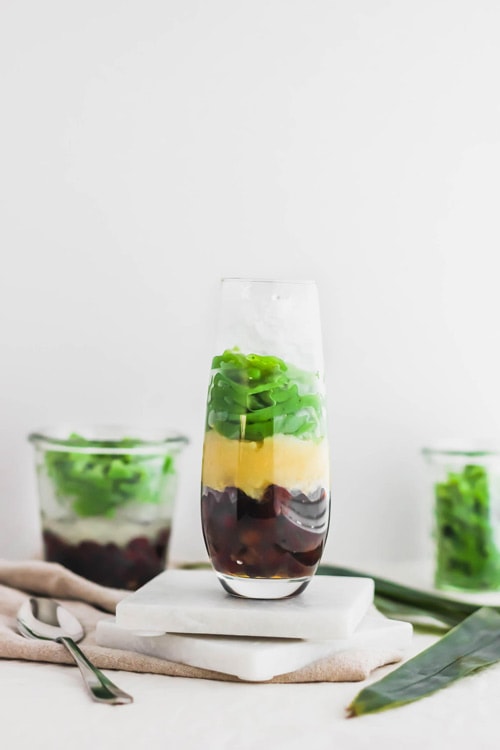 Cendol is often sold as a street food by hawkers and food courts.
Nowadays you can find cendol at dessert shops and even coffee shops.
ADDITIONAL INGREDIENTS IN CENDOL
What makes cendol dessert special is that it is made up of many different textures (crunch from the ice, smoothness from the coconut milk, and softness from the jellies).
Often, it is served with other ingredients such as red azuki beans (my personal favourite), yellow mung beans, grass jelly, or even durian fruit.
It's typically served layered in a tall glass, but can be found presented in bowls in places such as Singapore and Malaysia.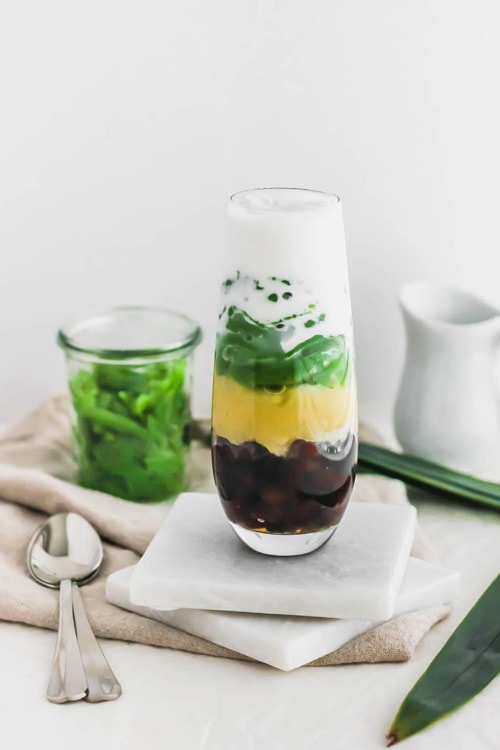 Did you know that Barack Obama even made it his mission to enjoy a bowl of cendol on his Indonesian visit in 2017? Try out this unique dessert and see what the fuss is all about!
MORE PANDAN RECIPES
Love the flavour of pandan? Try these other pandan recipes:
Yield: 4 - 6 people
Cendol (Iced Malaysian Dessert)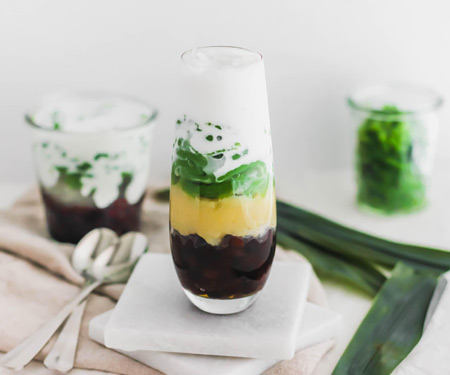 Cool, refreshing, and sweet -- cendol is a great Asian dessert for beating the summertime heat.
A potato ricer (or similar tool) is needed to make the noodle-shaped pandan jellies for cendol
Additional Time
15 minutes
Ingredients
For the Cendol Jellies
50 g cornstarch
10 g mung bean starch , (rice starch may be substituted)
10 g wheat starch , (omit not available)
30 g granulated cane sugar
400 ml water
70 g pandan leaves , (if you can't find fresh or frozen pandan leaves, you can omit and use pandan extract instead)
1/4 tsp green pandan extract
1/4 tsp lye water , (optional)
For the Sugar Syrup
100 g palm sugar
1/4 C water
For The Finished Dessert
cooked red azuki beans
cooked yellow mung beans
coconut milk
crushed ice
Instructions
For the Cendol Jellies
Prepare an ice bath by placing ice into a large bowl filled with water.
Combine all the cendol jelly ingredients in a medium saucepan. Turn on the heat to high, and stir the mixture with a spatula.
Once the mixture starts to thicken, reduce the heat to low and continue to cook until it becomes a translucent paste. Cook for another 2 minutes.
Remove the pan from heat and carefully transfer the paste to a potato ricer -- working in batches, squeeze the paste through the ricer over top of the ice bath, ensuring the "cendol noodles" are submerged in the ice water.
Leave the cendol in the ice water for 15 minutes.
Drain the cendol and set aside in the refrigerator until ready to assemble.
For the Sugar Syrup
In a small saucepan, combine the palm sugar and water and heat until thickened, about 5 minutes.
Transfer to a jar and let cool.
For The Finished Dessert
To assemble, layer azuki red beans, yellow mung beans, cendol jellies, and crushed ice in a bowl or glass.
Drizzle with coconut milk and sugar syrup.
Serve immediately.
Recommended Products
As an Amazon Associate and member of other affiliate programs, We earn from qualifying purchases.
Nutrition Information:
Yield:
4
Serving Size:
1/4 of recipe
Amount Per Serving:
Calories:

412
Total Fat:

13g
If you liked this recipe, here are some similar dishes you may enjoy!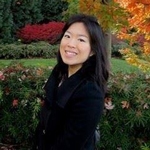 Michelle enjoys learning and discovering different foods from around the world and recreating them in her own kitchen. She is an avid matcha lover and believes that the best food is made from scratch. Michelle develops and photographs recipes at her blog SiftAndSimmer.com.