Natilla is a firm milk custard infused with cinnamon and served with buñuelos (fritters) during Christmas time in Colombia.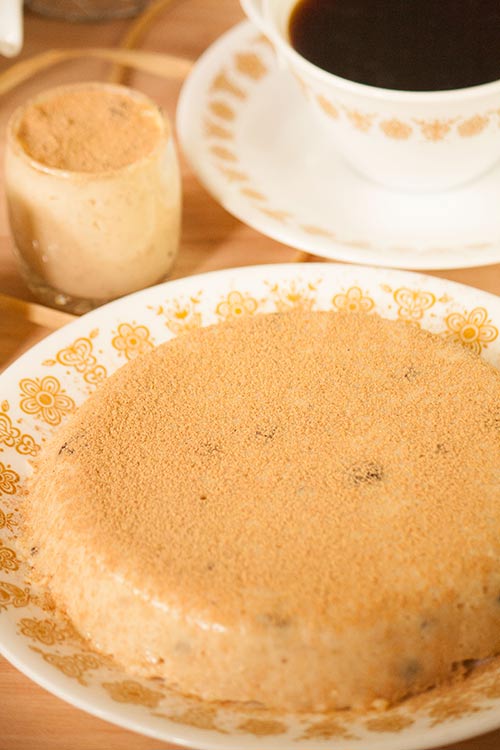 DISCLOSURE: This article contains Amazon affiliate links. These links are provided to help you find some of the more specialty products we mention in the recipe. If you make any purchase after clicking through one of our links, we receive a small commission from Amazon, at no extra cost to you. Thank you for supporting Curious Cuisiniere!
The History Of Natilla
Natillas came to South America with the Spaniards. A milk-based custard, the Spanish version is thickened with egg yolks and sweetened with sugar.
This recipe first appeared in the city of Antioquia, where the recipe was adapted to the most common ingredients in Colombia. Corn flour became the common thickener, and it's color darkened due to the use of panela.
Later, this recipe was extended through the Colonization of Antioquia to other regions of the country, and already with the addition of other ingredients.
Natilla And Buñuelos
Natilla and buñuelos are iconic Christmas food in Colombia.
Both desserts are served as one.
You take a bite of the cold natilla and a bite of the crispy, fluffy, savory buñuelo.
And, because natilla is a very firm custard, these two desserts are enjoyed as finger food.
Christmas In Colombia
The weather during Christmas in Colombia is hot, so many of the activities are outside.
Nine days before December 25th, the Novenas (prayer time) begin. A time where people gather to pray and sing Christmas carols.
The last novena is December 24th. That night, people gather together with family and friends to enjoy Christmas dinner that consists of chicken, lechona (a pork dish), potatoes and tamales. And for the dessert table, some hojaldre (pastries), natilla and buñuelos.
At the end of the dinner (usually midnight), a toast is made, and Christmas greetings are exchanged.
The 25th is a day used for resting and visiting friends and family.
Festivities continue until January 6th. When kids get to open presents and remember the wise men who brought presents for baby Jesus.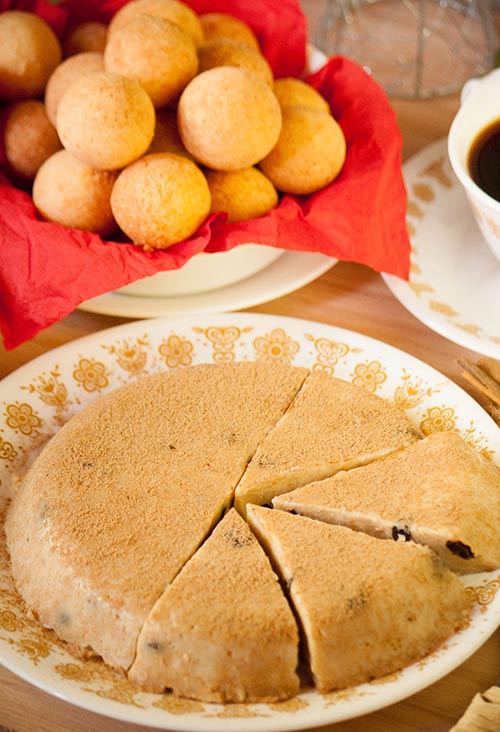 Variations Of Natilla
There are a few variations for making natilla. There is a dark variation and a light colored one.
Lighter natilla is made with white sugar or sweetened condensed milk. To this natilla, some people add shredded coconut to the milk and once the custard is cold, is served with a sprinkle of more shredded coconut and a dollop of blackberry jam.
Our recipe is for the darker version.
My Natilla Recipe
I use a mixture of panela and brown sugar to sweetened my natilla recipe.
Panela (also called piloncillo) gives this dessert a caramel-like flavor and color. If you don't have it, you can use muscovado sugar (or even more brown sugar) instead.
You start by simmering whole milk with sugar and some cinnamon sticks for a few minutes.
This makes your house smell amazing!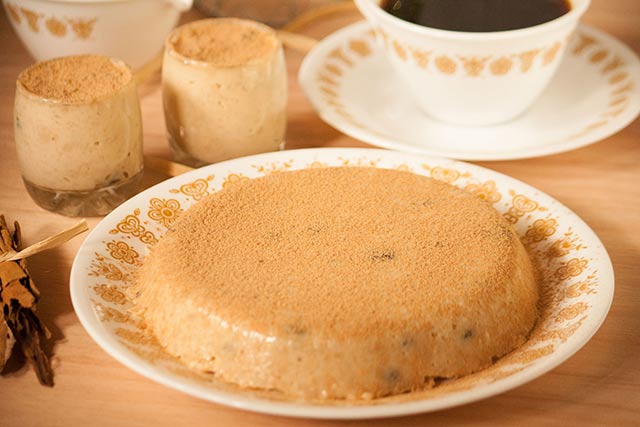 If you like, you can add some cloves too.
While the milk is simmering, mix cornstarch with cold milk. You'll need to pour this slowly while whisking the milk, so it doesn't clump.
Once you added all the cornstarch mixture, stir the mixture constantly so the bottom doesn't burn.
The custard will be thick and will set quickly.
Once your custard is done, turn off the heat and add some raisins and butter. Stir and pour it into a round or square pan.
This custard needs to refrigerate for about 2 hours to set up completely.
To serve, tip the natilla onto a plate and sprinkle with ground cinnamon.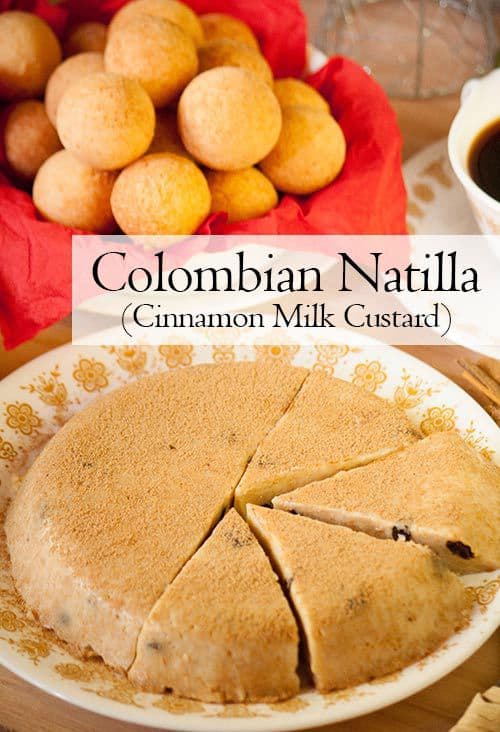 Colombian Natilla (Cinnamon Milk Custard)
Natilla is a firm milk custard infused with cinnamon and served with buñuelos (fritters) during Christmas time in Colombia.
Yield: 1 (9 inch round) Natilla (8 to 10 slices)
Ingredients
2

cups

whole milk

½

cup

shredded panela

or dark muscovado sugar (or more brown sugar)

½

cup

brown sugar

3

cinnamon sticks

or 1 teaspoon ground cinnamon

½

cup

cornstarch

1

cup

whole milk

¼

cup

raisins

2

tablespoons

butter

1

teaspoon

ground cinnamon
Instructions
In a medium saucepan, over low heat, simmer 2 cups of milk, sugars and cinnamon sticks for 5 minutes. Remove cinnamon sticks.

In a small bowl, mix together cornstarch and 1 cup of milk.

Turn the heat to medium-high and add the cornstarch mixture. Stir constantly until the mixture thickens.

Lower the heat and cook for another 5 minutes. Stir constantly so that the cornstarch doesn't clump.

Turn off the heat. Add the raisins and butter. Mix well and pour into a 9-inch round pan. Refrigerate until firm, at least 2 hours.

Before serving, sprinkle with some ground cinnamon.
If you liked this recipe, here are some similar dishes you may enjoy!