Rum and coconut milk give the Puerto Rican twist on eggnog a Caribbean flair. Smooth and creamy, this Coquito recipe is an easy drink to whip up for your holiday party guests!
Many Twists on Holiday Eggnog
While Eggnog may have originated in England, it has been adapted many ways, particularly in the States and Latin America.
Doing a little research on Latin American versions of Eggnog, you'll find that Mexicans have Rompope, Cubans have Crema de Vie, and Puerto Ricans have Coquito.
It's the last one that we're talking about today.
Puerto Rican Eggnog
There is actually very little history or legend available as to the origins of the Puerto Rican version of Eggnog, Coquito (pronounced koh-KEE-toh).
Spanish and English settlers would have most likely brought their version of the drink to the Caribbean, and then started adapting it for what ingredients were readily available.
Literally translated, 'little coconut,' it's no surprise that once in the Caribbean, coconut found its way into the mix.

What also became traditionally included was canned evaporated and condensed milk.
Now, if you're a regular reader here at Curious Cuisiniere, you'll know that we typically try to avoid such tinned concoctions, in favor of making everything from scratch. However, EVERY bit of research we did on Coquito pointed to the fact that the traditional way to make this drink was to pop open three cans: coconut milk, evaporated milk, and sweetened condensed milk.
So, in favor of authenticity, and simplicity, we decided to lay our "everything from scratch" tendencies aside and give this drink a try the traditional way.
It is the Holidays after all!
A Simple Coquito Recipe
When we say simple, we really mean it.
What can be more simple than pouring a few ingredients into the blender, giving it a good whir, until it picks up a little froth, and then pouring into glasses to enjoy?
It's the perfect, easy party drink for this busy time of year.

Eggs Or Not?
There is debate as to whether or not traditional Coquito should contain eggs.
Some say absolutely, others say absolutely not.
We'll leave the final decision up to you, but for this version, we opted to go egg-less to make it easier to serve the drink at a party, where it may set out all evening, or bring it to a gathering to share with friends, where you might not want to lug the cooler around with you, particularly after you are all decked out in your holiday finest.
Our Coquito Recipe
Our Coquito recipe creates a lightly sweet beverage with a wonderful mingling of spices and nutty coconut.
If you like your drinks sweeter, feel free to add more sweetened condensed milk. Have fun with the flavors until they're the way you like them!
How to Serve Coquito
Coquito is traditionally STRONG, and yes, ours follows that traditional tendency.
It's also rich.
So, it is not a drink to fill up a cocktail glass and merrily sip the night away. (Although, if you are so inclined, be our guest.)
Traditionally Coquito is served out of shot glasses (small aperitif glasses would work too).
If you would prefer to serve it in a larger cocktail glass or rocks glass (like we did here) add an ice cube or two into the glass. This will keep the drink delightfully chilled and help cut the richness, just a bit.
Yield: 22 oz of Coquito -- Serves: 7 -10 people
Coquito (Puerto Rican Eggnog)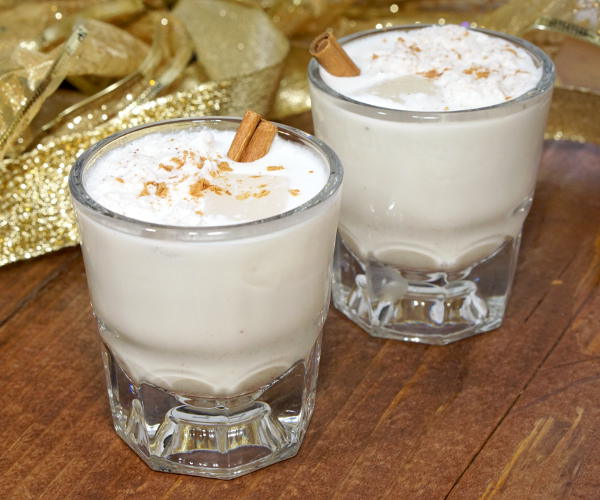 Coquito, Puerto Rican eggnog, is the perfect holiday drink for a crowd!
Ingredients
7 oz canned coconut milk
6 oz white rum
6 oz evaporated milk
2.5 oz sweetened condensed milk, (more to taste)
½ tsp pure vanilla extract
¼ tsp cinnamon, (more to serve)
1/8 tsp nutmeg
Instructions
Place all ingredients into the bowl of your blender. Blend until well mixed and slightly frothy, 2-3 min. Pour into a bottle and refrigerate until cold. Just before serving, blend again or simply shake well to mix and froth. Serve in chilled shot (or aperitif) glasses and sprinkle with cinnamon to serve. If using larger cocktail glasses or rocks glasses, serve over ice.
Coquito will keep in a sealed jar in the refrigerator for 1 week. Shake before serving.
Nutrition Information:
Yield:
7
Serving Size:
3 oz
Amount Per Serving:
Calories:

192
If you liked this recipe, here are some similar dishes you may enjoy!