This recipe for Homemade Cooked Eggnog can be served with alcohol or non alcoholic, making it the perfect Holiday drink for everyone!
A Bit Of Eggnog History
Eggnog literally means 'eggs inside a small cup.' It was a phrase which, at one point, was used to toast to one's health. We first find mention of eggnog as a drink in the early 19th century in both America and Britain (where the common name was an 'egg flip').
Since there was no refrigeration at that time in England, eggnog was a drink of the upper class, reserved for those who could get eggs and milk and have a way to keep them from going bad.
The drink most likely originated from a hot British drink that was a mixture of eggs, milk, and ale, called posset. Nog was the common name at that time for a strong ale. The eggs and ale of posset over time became known as 'egg-nog'.
When the recipe for posset came to the States, the liquor changed from ale to brandy or rum (which was readily available from the Caribbean). Even though the liquor changes, the name 'egg-nog' stuck.
Making Eggnog From Scratch
Come the Christmas season, I always begin to crave eggnog.  It's just one of those festive holiday indulgences that I love.  But, it is an indulgence: heavy cream, eggs, loads of sugar. The real deal is incredibly tasty. How can it not be with all that richness and sugar?
When we make our own homemade eggnog, we like to stray a bit from the traditional recipe in order to lighten things up a bit. The heavy cream gets replaced with 2% milk and we dial the sugar down so that you can really taste the nutmeg.
Cooked Eggnog
Traditional eggnog is made by whisking egg yolks together with brandy (bourbon or rum), nutmeg, and heavy cream (and/or whole milk). Then, the whites from the eggs are beaten to frothy and gently mixed into the milk and liquor mixture to give it that thick texture.
While, now a days, the risk of salmonella from uncooked eggs is very slim, we like to make a cooked eggnog, because it helps us lighten the recipe up a bit.
When you make a cooked eggnog, you are basically making a custard that is then thinned to a drinkable consistency.
Our Non Alcoholic Eggnog Recipe
Making cooked eggnog and starting with a custard also allows us to make our eggnog non alcoholic. We start by making a basic, thin nutmeg custard. As the custard cools, it will thicken up just enough to need a little extra liquid mixed into it before serving.
You can choose to add your favorite eggnog liquor or milk to thin your cooked eggnog out to the perfect consistency for you!
Cheers!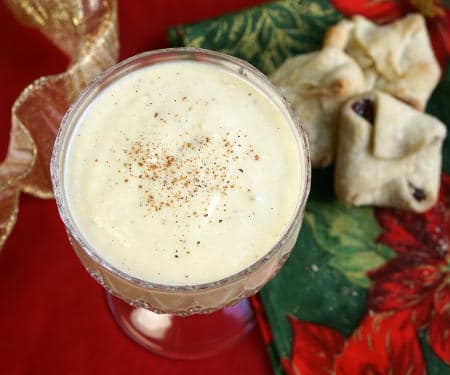 Cooked Eggnog (With or Without Alcohol)
For best results, eggnog should be chilled at least 2 hours before serving.
Yield: 4 c of Eggnog

---
Ingredients
4

c

2% milk

1/2

tsp

nutmeg

6

egg yolks

1/3

c

white sugar

1

Tbsp

cornstarch

1/2

tsp

pure vanilla extract

1/4

tsp

salt
For Serving
Brandy,

bourbon or rum (to taste)

Milk

(to taste, for non-alcoholic eggnog)
Instructions
In a large saucepan, heat milk and nutmeg over medium heat, until it begins to steam and froth slightly around the edges. (About 15-20 min.) Do not let it boil!

In a medium bowl, beat the egg yolks with the sugar.

Pour about half of the warm milk over the egg yolks, mixing constantly with a wire whisk. Once the milk has been incorporated, pour the (now warm) egg mixture into the saucepan (still over medium heat) and whisk to combine. Heat the mixture for 5 min, until it reaches the smoking point again.

Put the cornstarch in small bowl. Ladle a little of the warm custard mixture over the cornstarch and mix until the cornstarch has dissolved. Pour the cornstarch mixture into the pot, stirring well.

Continue to heat your custard mixture over medium heat, whisking often to keep the milk from sticking to the bottom and the eggs from clumping. Reduce the heat as necessary to keep the mixture just below simmering. Heat until your mixture coats the back of a spoon and reaches 160° on a food thermometer, roughly 15 min. (Keep in mind the eggnog will thicken considerably as it cools.)

Stir in the vanilla and salt.

Taste your eggnog (carefully- it will still be very hot) for sweetness and nutmeg flavor. Add more sugar or nutmeg, if you desire.

Remove the eggnog from heat and carefully strain it through a fine mesh sieve to strain out any lumps that might have formed. Pour the strained eggnog into a heatproof pitcher or jar with a lid.

Refrigerate for 2 hours, or until cooled completely.
To Serve
Fill your glass 2/3 full with the eggnog mixture. Add your desired liquor or milk to thin the eggnog to your desired consistency.

Serve garnished with a sprinkle of nutmeg.
---
Recipe Notes
This recipe was updated December 2016. We've made it even better! Enjoy!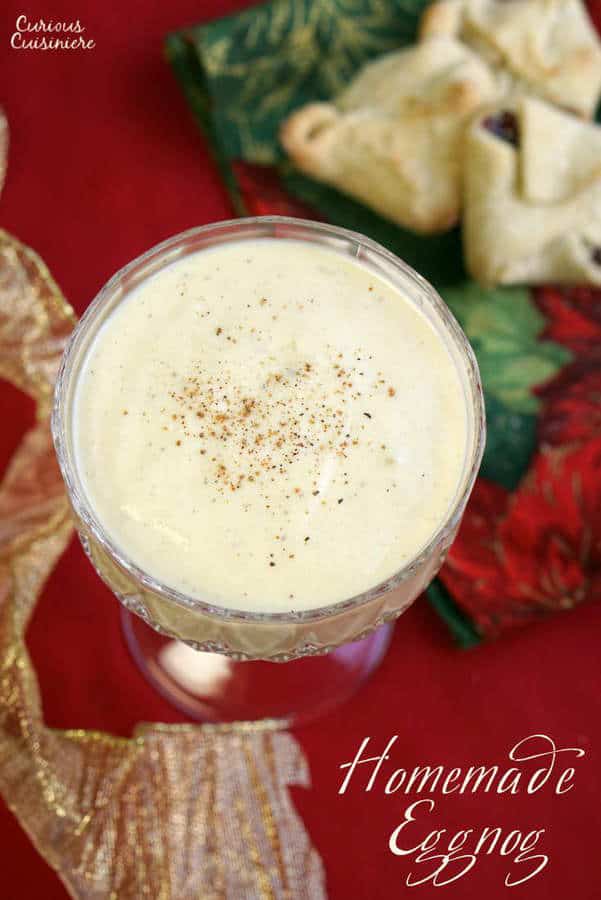 If you liked this recipe, here are some similar dishes you may enjoy!