Sweet French Crepes are the perfect, elegant yet easy dessert recipe. Sometimes we have them as a treat for breakfast with strawberries and bananas. They are pancakes after all!
What Are Crepes?
A crepe (pronounced KREP) is a thin pancake that originated from Brittany, in the northwest of France. While they started as a regional specialty, you'll now find crepes throughout France and around the world.
The word "crepe" is derived from the Latin word "crispus", which means curled. This is quite fitting since the crepe pancakes are typically rolled or folded around any number of sweet or savory fillings.
Crepes came into being after buckwheat was introduced as a crop in Brittany. This cool and rainy region doesn't have the best growing conditions, so it was a happy day when they discovered that buckwheat could grow well (and make delicious crepes!).
Savory crepes are still typically made out of buckwheat flour. Eaten as a meal they might be filled with ham and cheese, mushrooms, spinach, asparagus, a fried egg, or maybe even ratatouille.
Sweet dessert crepes are now made lighter wheat flour and can be filled with jam, fresh fruit, lemon juice and sugar, poached fruit, ice cream, Nutella and bananas, or Grand Marnier. And, it's quite likely it will be topped with whipped cream and a drizzle of syrup.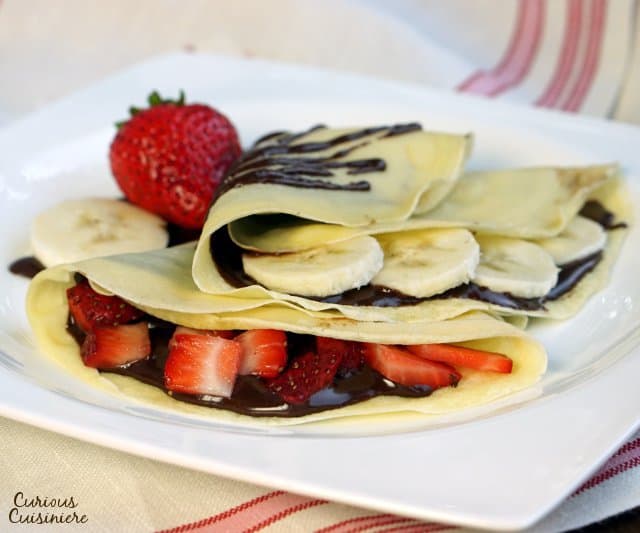 How To Make French Crepes
Crepes are made by pouring a thin batter onto a large, circular hot plate, or for those of us without a crepe making plate, onto a frying pan. The batter is spread thin so that is cooks in 30-60 seconds per side, just until dry and golden, possibly with a slight crispness around the edges.
In France, you'll typically find crepes made 12 inches or more in diameter, and then the large circle of pancake is skillfully folded around the filling.
When we make crepes at home, we typically use a 6 inch nonstick frying pan, because we find it easier to work with.
And smaller crepes mean you can eat more!
Right?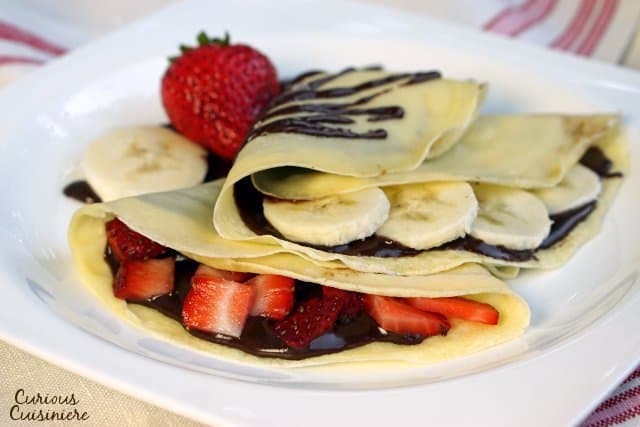 Our Sweet French Dessert Crepe Recipe
To make these sweet crepes we're using all purpose flour and blending it with some other typical pancake ingredients. It's the consistency of your batter that will tell you you're not making an ordinary pancake here. This batter will be very thin and pour-able.
We like to make our crepes using a 6-inch, non-stick skillet. We find 6 inches to be easy enough to spread the batter quickly and flip the crepes easily.
We've listed some of our favorite traditional and not so traditional filling ideas with the recipe, but feel free to get creative with your favorite sweet fillings!
More pancake recipes from around the world
Nearly every culture loves pancakes in one form or another. Here are some other pancake recipes from around the world to try!
Yield: 8-10 (6 inch) crepes
Sweet French Crepes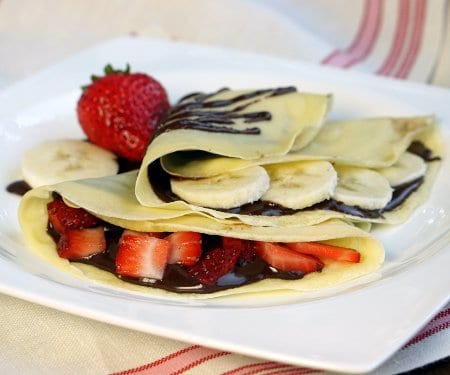 These light and eggy Sweet French Breakfast Crepes are perfect for filling with jam, Nutella and bananas, or fresh berries. 
Ingredients
½ c unbleached all-purpose flour
¼ tsp salt
2 eggs, lightly beaten
½ c milk
1 Tbsp cold water
1 Tbsp unsalted butter, melted and cooled slightly
Classic French fillings
Nutella and banana
Grand Marnier
Butter (or lemon juice) and sugar
Jam or fruit preserves
Whipped cream and berries
Non-traditional, but tasty, fillings
Bananas and peanut butter
Strawberries and chocolate sauce
Butter and cinnamon
Powdered sugar and maple syrup
Instructions
In a medium bowl, mix together flour and salt. In a separate bowl, mix together egg, milk, water and melted butter. Add wet mixture to dry mixture and mix until combined. (Your batter will be much thinner than typical pancake batter.) Set the batter aside to rest for 15 minutes.
When you are ready to cook your crepes, heat an 8" skillet over medium-high heat. Coat the bottom of the skillet with a little butter. Pour enough batter into the hot skillet to just barely coat the skillet, turning the pan so that the batter covers the entire bottom.
Cook the crepes for 1-2 minutes on the first side. (If the skillet has been properly greased, a firm shake will release the crepe from the skillet when it is ready to flip.)
Flip the crepe when the top is starting to look dry, and cook for an additional 10-15 seconds on the second side.
Remove the crepe from the pan and wrap in a tea towel to keep soft and warm. Re-grease the skillet if needed and repeat with the remaining batter.
To serve, place a layer of filling down the middle of the crepe and fold the sides over the filling.
Recommended Products
As an Amazon Associate and member of other affiliate programs, We earn from qualifying purchases.
---
This is one of the recipes from the early days of Curious Cuisiniere. We've updated our pictures since we first made it, but we've left the original images here as a fun throwback and shout out to how far we've come. Enjoy!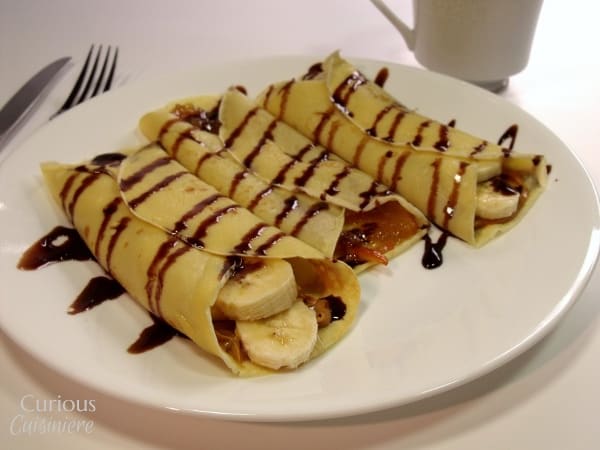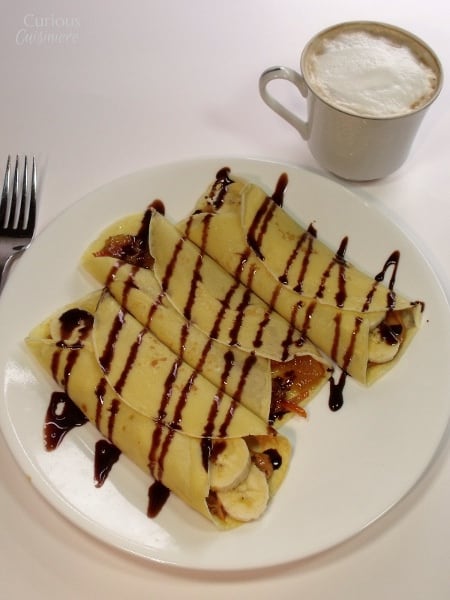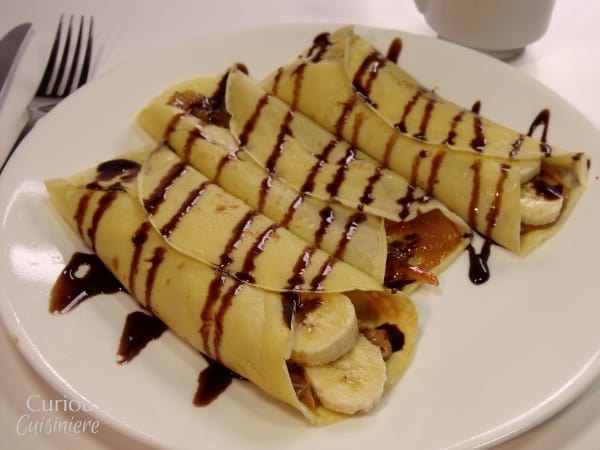 ---
Save
Save
Save
If you liked this recipe, here are some similar dishes you may enjoy!