Apfelpfannkuchen, or German Apple Pancakes, are a light and eggy breakfast treat, full of slices of sweet, caramelized apples.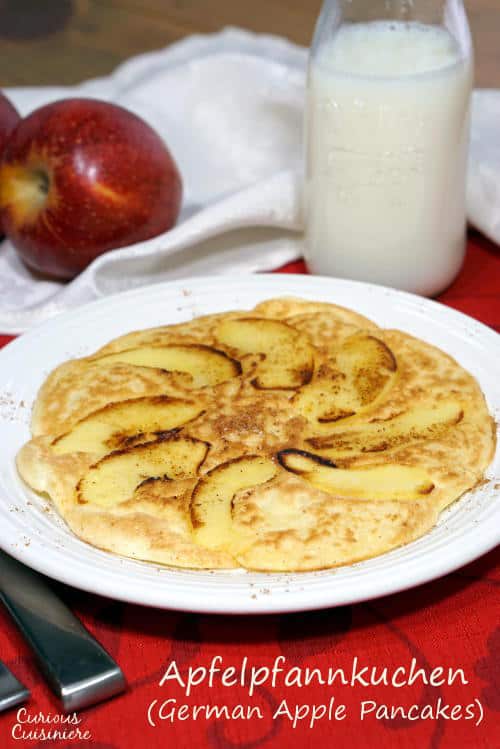 In the States, when we think of a German Pancake we think of another brunch and breakfast dish: the Dutch Baby. The thin batter for these breakfast cakes is poured into a skillet and then baked in the oven. As they bake they puff up like a souffle. We can see the German roots in the American Dutch Baby in the makeup of the batter and the full pan size of traditional German pancakes, called pfannkuchen (pronounced pfahn-KOO-khen).
Apfelpfannkuchen
Apfel (pronounced as it is spelled AP-fel) is the German word for apple, and tacking it onto the front of pfannkuchen get us delicious apple pancakes.
You can find many different recipes for Apfelpfannkuchen. Some use leavening, others don't. Some are baked in the oven, others are cooked on the stove top. What they all have in common is a very eggy batter and a pancake that fills the cooking vessel.
Speaking Of Eggs
The most-used technique we found for the pancake batter surprised us so much we knew we had to make our Apfelpfannkuchen that way. It involved folding stiffly beaten egg whites into a VERY thin batter. The beaten egg whites thicken the batter and create a very unique texture and leavening effect.
The beaten egg white batter resulted in an incredibly light pancake with a texture that reminded us of French crepes, but a thickness like a standard American pancake.
The batter doesn't call for any oil (except for what you use to fry your pancakes), but don't worry. The egg stands in for the fat, giving the end pancakes the richness and texture you would typically get from oil or butter.
German Apple Pancake: A Real "Pan" Cake
We typically make Dutch Babies in a 12 inch cast iron skillet, but when we realized that we would actually need to flip the Apfelpfannkuchen, since we were cooking them stove-top, we decided to shrink our pan size a bit. By using an 8 inch skillet, the Apfelpfannkuchen are much easier to flip and the apple slices arranged very nicely in a single spiral around the pan. (If you have the desire to attempt to flip a 12 inch Apfelpfannkuchen, don't let us stop you. It would be a fun morning challenge, that's for sure!)
Apple-Sweet
The other thing that would seem to be missing from Apfelpfannkuchen batter is the sugar. These pancakes are traditionally not sweetened, or not sweetened very much at all. While this sounds strange to those of us used to super sweet pancakes for breakfast (that we then cover with more sweetness), these pancakes get all of their sweetness from the lightly caramelized apples inside and from the cinnamon sugar topping.
That is why it is incredibly important to use a sweet and crisp apple for your Apfelpfannkuchen. If you use a tart apple, your pancakes will end up tart. And no one wants to bit into a tart pancake for breakfast.
The apples we used for our pancakes were Envy Apples a cross between Braeburn and Royal Gala that originated in New Zealand and can now be found growing in Chile and in the US in Washington State as well.
The apples are nice and crisp and super sweet. They are wonderful for eating straight, but we loved the burst of juicy sweet flavor that they gave the Apfelpfannkuchen.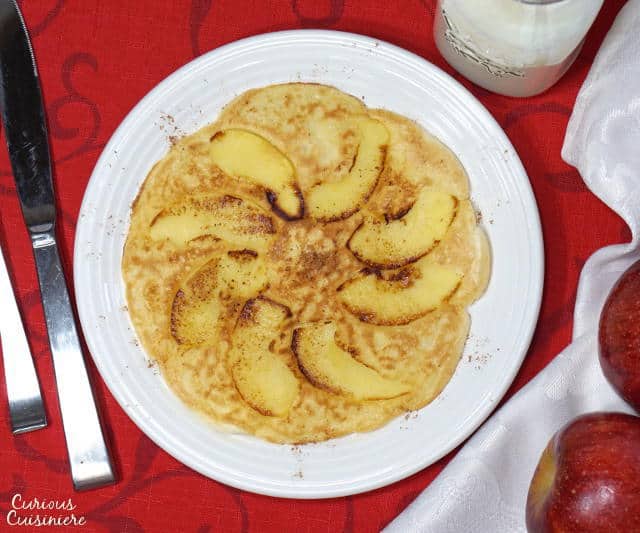 More pancakes from around the world
Nearly every culture loves pancakes in one form or another. Here are some other large and small pancake recipes from around the world to try.
Apfelpfannkuchen (German Apple Pancakes)
Yield: 8 (8 inch) pancakes (cooked in an 8 inch skillet). (Each full-pan pancake takes 6-8 minutes to cook.)
Ingredients
For the Batter
1

c

milk

1

c

water

4

eggs,

separated

Pinch

salt
For the Pancakes
2

sweet and crisp apple

(Envy, Gala, or Honeycrisp) peeled, cored and sliced thinly

2

Tbsp

salted butter,

divided

Cinnamon sugar*

(to serve)
Instructions
In a medium bowl, mix together flour, milk, water, and egg yolks.

In a separate bowl, beat the egg whites with the salt until stiff peaks form. Fold the beaten egg whites into the flour mixture.

Heat roughly ¼ Tbsp of butter in an 8" skillet over medium-high heat.

Arrange some of the apple slices in the hot skillet. Let the apple slices caramelize for 30-45 seconds.

Spoon enough batter into the skillet to fill the entire pan in a ¼ - ½ inch layer. (The batter will be stiff from the egg whites and will need to be spread evenly with a spatula to thin it for consistent cooking.)

When edges start to turn golden and the center is mostly dry, about 4-5 min, carefully flip the pancake. Cook for 2-3 minutes on the second side. Then, slide the pancake onto a serving platter.

Keep the pancakes warm in a low oven while you make the rest of the pancakes, adding a little butter to the skillet before each set of apples and batter. (As the pan gets hotter, you may need to reduce the heat slightly to keep the apples from burning.)

Sprinkle the pancakes with cinnamon sugar to serve.
Notes
* To make cinnamon sugar: Mix 3 tsp sugar with 1 tsp cinnamon.
DISCLOSURE: We received samples of Envy Apples that we used in this recipe. We were not compensated for our time. As always, all opinions are our own.

If you liked this recipe, here are some similar dishes you may enjoy!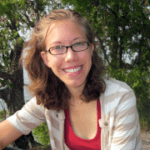 Sarah is one of Curious Cuisiniere's founding duo. Her love for cultural cuisines was instilled early by her French Canadian Grandmother. Her experience in the kitchen and in recipe development comes from years working in professional kitchens. She has traveled extensively and enjoys bringing the flavors of her travels back to create easy-to-make recipes.