Crepes with white wine poached pears add a classy feel and fall flavor to this easy, yet sophisticated breakfast.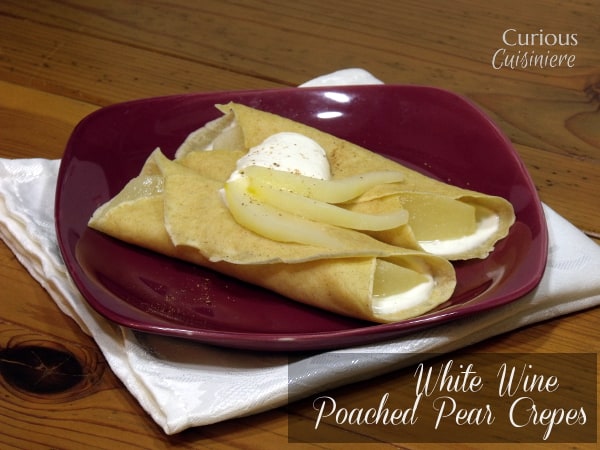 White wine poached pears
Doesn't that just sound like the base for a fancy dessert or a breakfast at some high-end French restaurant?
It sounded fancy to us. Fancy and intimidating.
I don't know if I was more afraid that the pears would turn to mush while they poached, giving me a watery version of pear soup, or that they would (for some reason) turn an awful shade of brown/grey and mock my attempt to create something swanky and beautiful.
But, we finally decided to stand up to our fear. And, guess what?
No pear soup and no discoloration. Poaching pears is actually way easier than getting a poached egg to look pretty and all in one place.
It's literally just a peel, drop and go.
Fancy Poached pears
Your poaching liquid is where the creativity comes in, because the liquid will infuse the delicate flesh of the pear with all sorts of flavorful goodness. We used a mixture of a sweet Riesling seasoned with cinnamon and a splash of lemon juice. But, you could use a stronger, oaked alcohol, like brandy. You could use a rooibos tea or even a heavenly-scented Earl Grey. You could use any number of juices or juice combos. The possibilities are practically endless!
The resulting pears make a beautiful and incredibly classy addition to breakfast. (I could eat these on my pancakes or waffles any day!) Or, you can add them to ice cream, yogurt or even chocolate cake for quite the treat.
A little about pears
The US is one of the world's top pear producing countries. 84% of US pears come from Washington and Oregon, where 10 principal varieties are grown. You may know some of them, but I bet you haven't heard of them all: Green Anjou, Red Anjou, Yellow Bartlett, Red Bartlett, Bosc, Comice, Concorde, Forelle, Seckel and Starkrimson.
We decided to compare three different pears to see how they poached: Yellow Bartlett, Concorde and  Bosc. The pears all poached nicely, with the Concord and Barlett holding their shape the best.
Tips for a perfectly poached pear
Choose a firm, but ripe pear. If the pear is soft, it will soften too quickly in the poaching liquid, not allowing enough time to be infused with the flavor. To tell if a pear is ripe, use your thumb to gently press the narrow "neck" of the pear. If it yields slightly, it's ripe. For poaching, you will want the pear be firm, but not rock hard when you press the "neck".
Don't over-poach. The pears will continue to cook after they leave the poaching liquid. This means, if you wait until the pears are super soft or nearly translucent in the liquid, they will come close to mush as they cool. The best poached pears were the ones we took out of the poaching liquid while they were tender, but still slightly firm. By the time we constructed the dish and sat down to eat, they were nice and soft.
With these two tips in mind, poaching pears is a piece of cake. It is such a simple way to add classy presentation and an infusion of flavor to your breakfast dish or dessert.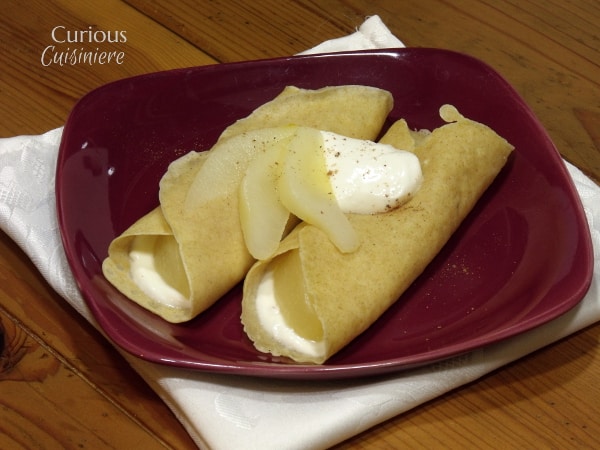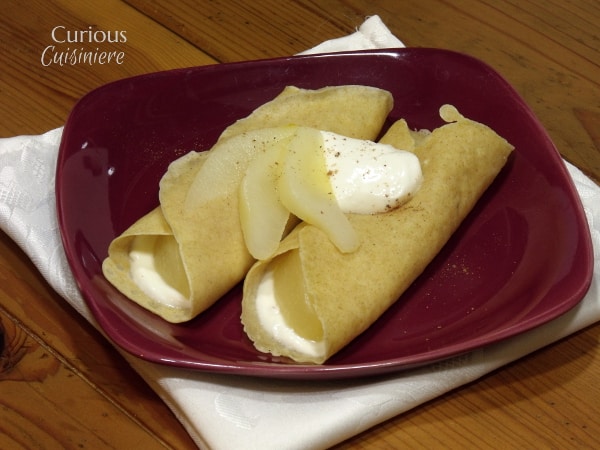 White Wine Poached Pear Crepes
Crepes with white wine poached pears add a classy feel and fall flavor to this easy, yet sophisticated breakfast.
Yield: 6-8 crepes
---
Ingredients
For the Brandy Mascarpone Crème
¼

c

plain, non-fat yogurt

2

tsp

sugar

1

tsp

brandy
For the Crepes
¼

tsp

salt

2

eggs,

lightly beaten

½

c

milk

1

Tbsp

cold water

1

Tbsp

salted butter,

melted and cooled slightly
For the White Wine Poached Pears
2

c

sweet white wine

(Pinot Grigio or Riesling)

2

c

water

¼

c

sugar

1

tsp

lemon juice

½

tsp

pure vanilla extract

1

cinnamon stick

3

pears

(Bartlett and Concord work well), firm but ripe
Instructions
For the Brandy Mascarpone Crème
In a small bowl beat mascarpone and yogurt. Add sugar and brandy, mixing until smooth. Set aside.
For the Crepes
In a medium bowl, mix together flour and salt. In a separate bowl, mix together egg, milk, water and butter. Add wet mixture to dry mixture and mix until combined. (Your batter will be much thinner than typical pancake batter.) Set the batter aside to rest for 15 minutes.

When you are ready to cook your crepes, heat an 8" skillet over medium-high heat. Coat the bottom of the skillet with a little butter. Pour enough batter into the hot skillet to just barely coat the bottom (roughly 3 Tbsp), tilting the pan to coax the batter to coat the pan.

Cook the crepes for 1-2 minutes on the first side. (If the skillet has been properly greased, a firm shake will release the crepe from the skillet when it is ready to flip.)

Flip the crepe when the top is starting to look dry, and cook for an additional 10-15 seconds on the second side.

Re-grease the skillet if needed and repeat with remaining batter. Keep the stack of finished crepes wrapped in a tea towel to let the steam keep them soft.
For the White Wine Poached Pears
In a medium saucepan, mix wine, water, sugar, lemon juice and vanilla. Add cinnamon stick and heat the mixture over medium high heat until sugar has dissolved.

While the mixture is heating, peel and core the pears. Cut each pear into quarters, and slice each quarter in half to create 8 wedges.

Add the pears to the simmering liquid and poach, uncovered 5-7 minutes, until the pear slices have softened slightly.

Remove the pears from the poaching liquid with a slotted spoon and transfer to a plate.
Putting It All Together
Spread roughly 2 Tbsp of Brandy Mascarpone Crème in a line down the center of each crepe. Place a couple of poached pear slices over the cream and fold the sides of the crepe over the filling.

Serve topped with pears and a dollop of Brandy Mascarpone Crème.
---
If you liked this recipe, here are some similar dishes you may enjoy!