Soft and crisp, a Dutch Baby Baked Pancake is stunningly simple to make, and with their unique flavor and texture, they might just transform the way you think about breakfast.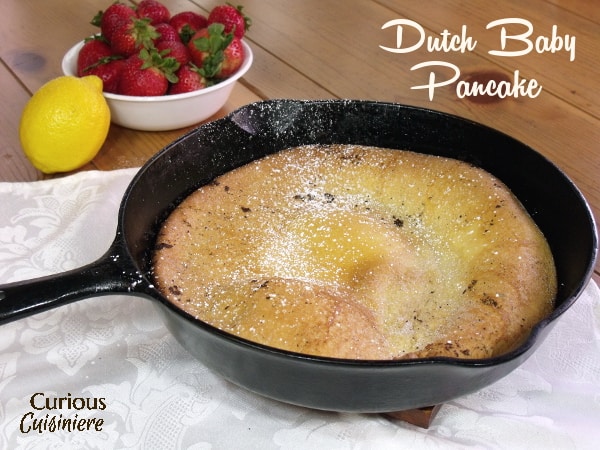 Dutch Baby or German Pancake?
Dutch Babies are sometimes Called German Pancakes, and they fall somewhere between a thin souffle and a thick crepe. They seem to have loose ties to the German Pancakes known as Pfannkuchen (literally Pfanne -"pan," and Kuchen-"cake") which are large crepe-like pancakes that are cooked in an iron skillet and sometimes oven-baked to eliminate the trouble that comes when attempting to flip something pan-sized. (Trust us, it never ends well.)
You will often find German pfannkuchen filled or served with apples in a version know as Apfelpfannkuchen.
Whose Baby?
The name "Dutch Baby" can be traced back to a family-owned restaurant in Seattle called Manca's Cafe. Sometime in the early 1900s, the restaurant served a plate of three small (baby) German pancakes.
However, the owner's young daughter could not pronounce the word Deutsch, which is the German word for "German." So, instead, she said "Dutch." While they first served three smaller, German pancakes, their "Big Dutch Baby" was a full-pan size, and it was so popular that it gained a feature in a 1987 edition of Sunset Magazine.
After that, the name and concept exploded in popularity.
A Crepe-Like Baked Pancake
Although it is called a pancake, a Dutch Baby baked pancake is closer to a crepe in its thickness and eggy consistency.
To make, a thin crepe-like batter is poured into a well-buttered oven-proof skillet and then placed in the oven to allow for even cooking on both sides. It is in the oven that something magical happens: the pancake puffs up like a souffle, high-sided and air-filled.
But, gather the family around when it comes out of the oven, because pretty soon after coming out, it will begin to deflate, leaving crisp, rolled edges and a chewy, crepe-like bottom layer.
How To Serve Your Dutch Baby Baked Pancake
Traditionally, a Dutch Baby is served only with butter, lemon juice, and powdered sugar. We tend to like our toppings, so we thought we might want ours piled with fruit or slathered with jam. But, one bite of that crisp and chewy dough spritzed with lemon juice and dusted with a light powdery sweetness, and we couldn't think of anything better.
These are best served immediately, and one pan really only serves two people. So, if you are cooking them for the family, we'd recommend either making multiples at the same time (if you have the oven space and the skillets) or sharing the first while your second bakes.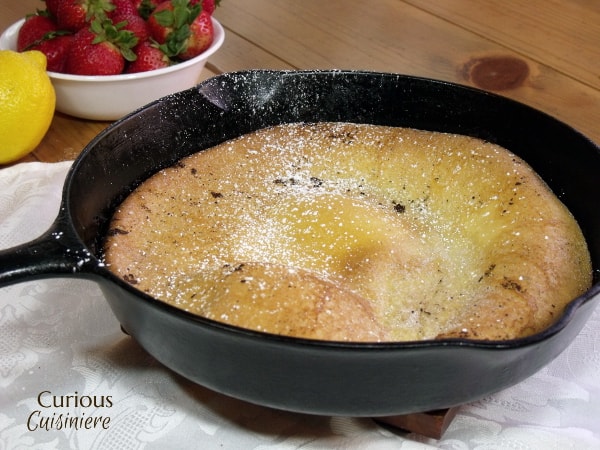 More pancakes from around the world
Many cultures love pancakes in one form or another. Here are some other pancake recipes from around the world to try for your next breakfast.
Dutch Baby Baked Pancake
Soft and crisp, the Dutch Baby Baked Pancake might just transform the way you think about breakfast.
Yield: 1 (9 inch) Dutch Baby Pancakes
Ingredients
1

Tbsp

salted butter

2

eggs

½

c

milk

1

Tbsp

sugar

¼

tsp

salt

½

tsp

pure vanilla extract
Instructions
Preheat your oven to 425F. Place the butter in a 9" cast iron or oven-proof skillet and place the skillet in the oven as it preheats.

Mix the remaining ingredients together in a food processor until smooth and frothy. Pour the batter into the hot, prepared skillet and return it to the oven. Bake the Dutch Baby for 20 minutes.

Remove the Dutch Baby from the oven and slide it onto a large plate. Dust it with powdered sugar and serve with a squirt of lemon juice. (And more butter, if desired.)
Notes
If you are doubling this recipe to make Dutch Babies for more than two people, just be sure to melt new butter in the pan, in the oven, for a minute or two before making another Dutch Baby. This will re-heat your skillet and ensure that your baby doesn't stick.
Nutrition
Serving:
1
g
|
Calories:
284
kcal
|
Carbohydrates:
33.3
g
|
Protein:
10.8
g
|
Fat:
11.7
g
|
Saturated Fat:
5.8
g
|
Cholesterol:
184
mg
|
Sodium:
423
mg
|
Fiber:
0.8
g
|
Sugar:
9.3
g
If you liked this recipe, here are some similar dishes you may enjoy!