Boxty, or Irish Potato Pancakes are incredibly easy to make and perfect dinner side dish or snack!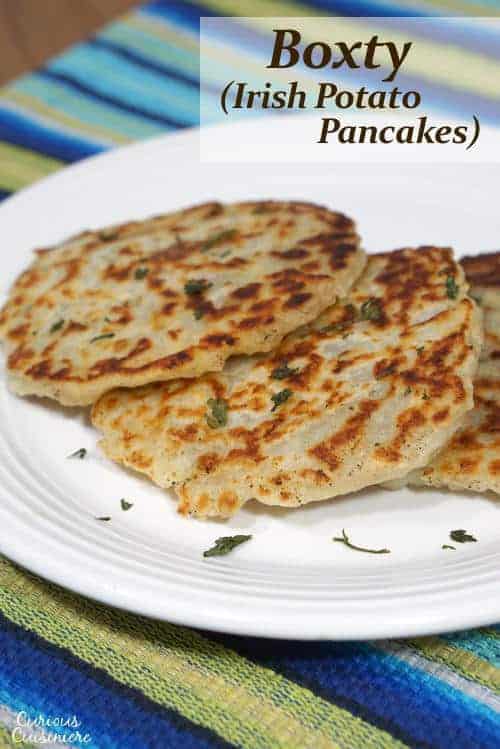 Boxty on the griddle,
Boxty in the pan,
If you can't make boxty,
You'll never get a man.
Boxty on the griddle,
Boxty in the pan,
The wee one in the middle,
That's the one for Mary Anne." -(Traditional Irish Rhyme)
These traditional Irish potato pancakes come from the northern regions of Ireland.
The word "boxty" comes from the Irish phrase 'aran bocht ti' meaning 'poorhouse bread.' This tells us a lot about the origins of the dish, which started out as a peasant food. In the early 1800, before the Great Famine, often potatoes were nearly the only thing the Irish poor and those in the work-houses had to eat.
Boxty were a simple and plain Irish recipe that was filling and made the best use of what they had on hand.
The Best Potatoes to Make Boxty
For the boxty, you will want to choose starchy or floury potatoes, like Russets. (Not waxy potatoes like Red Potatoes or Yukon Golds.) The starchy potatoes really absorb the buttermilk and create a nice pancake batter. Using a combination of mashed potatoes and raw, grated potatoes gives the pancakes a nice texture, something like a cross between a pancake and a hash-brown fritter.
When you grate the raw potatoes, they will start to release a lot of moisture. It is important that you wrap the grated potatoes in a tea towel and wring them out good. The drier the potatoes the better your pancakes will turn out.
Since there are raw potatoes in the pancakes, you need to be sure to cook them low and slow, so that the potatoes cook through. The last thing you want is to bite into raw potatoes! Keep your pancakes at a medium heat, just hot enough that they sizzle in the butter.
Topping Irish Potato Pancakes
Flavor-wise the boxty are very plain. Image a plain pancake, without all the sugar we typically add in the States. This means that they go well with nearly any meal. Breakfast to dinner. Sweet or savory.
When we were reading up on boxty and how it is served, we kept seeing that it was suggested to serve with butter or jam. Jam? On potatoes? Of course, we had to try it. We were actually quite surprised by how well the potato pancakes went with sweeter spreads like jam (or even apple butter). They truly are incredibly versatile.
Seasoning Your Boxty
This recipe is also a great starting off point for getting creative with boxty. Add in some chopped scallions, crumbled bacon, or a bit of cheese and see where the flavors take you!
More potato pancake recipes
If you love the idea of potato pancakes, you need to try Swiss potato rosti, and make sure you don't miss British bubble and squeak!
Yield: 11-12 (3 inch) pancakes
Boxty (Irish Potato Pancakes)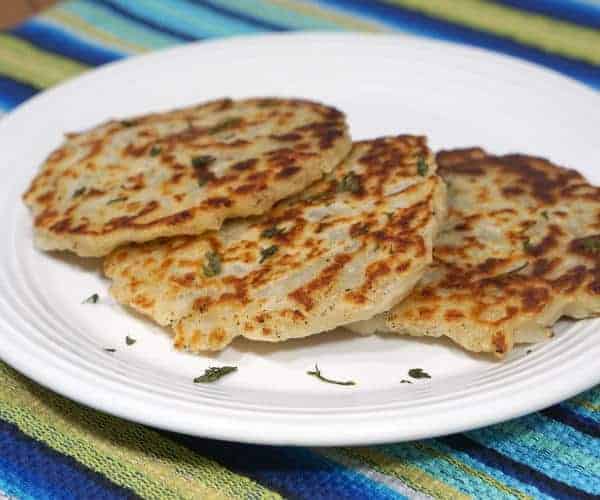 Boxty, or Irish Potato Pancakes are incredibly easy to make and perfect dinner side dish or snack!
Ingredients
1 1/2 cups grated raw potato, 2 potatoes or ½ lb, use starchy potatoes, like Russets
1 cup mashed potatoes, roughly 2 potatoes or ½ lb peeled, cooked, and mashed, use starchy potatoes, like Russets
½ teaspoon baking soda
½ teaspoon salt
¾ c buttermilk
2 Tbsp butter, (for frying)
Instructions
Wrap the grated potato in a cheesecloth or a tea towel and wring out as much excess moisture as you can. Place the dry grated potato in a large bowl and add the mashed potatoes. Mix well.
Add the flour, baking soda, and salt.
Add buttermilk and mix well, the batter will be thick.
Heat a skillet over medium heat. When it is hot, add ½ Tbsp of butter to the skillet and let it melt.
Scoop the potato batter by ¼ cup and place it into the hot butter. Spread the batter out to roughly ¼ to ½ inch thick, making a round that is roughly 3 inches in diameter. Fill the pan with pancakes, being careful not to let them touch.
Fry the pancakes over medium heat for 4-5 min on the first side. Flip the pancakes when they are golden brown. Cook them for 3-4 minutes on the second side, until golden.
Serve immediately with butter or jam. (Or place the finished pancakes on a paper towel lined plate in a warm oven to keep them warm while you finish frying the remaining butter.)
Notes
VARIATIONS – Try one or all of these additional flavors in your boxty!
3 slices bacon, cooked until crispy and crumbled
3 scallions, chopped
½ tsp black pepper or other seasonings
Nutrition Information:
Yield:
4
Serving Size:
4 pancakes
Amount Per Serving:
Calories:

491
If you liked this recipe, here are some similar dishes you may enjoy!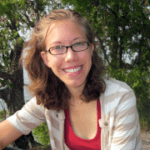 Sarah is one of Curious Cuisiniere's founding duo. Her love for cultural cuisines was instilled early by her French Canadian Grandmother. Her experience in the kitchen and in recipe development comes from years working in professional kitchens. She has traveled extensively and enjoys bringing the flavors of her travels back to create easy-to-make recipes.