If you're looking for serious comfort food, look no further than Dublin Coddle. This dish of slow cooked bacon, sausage, and potatoes is like a warm blanket on a cold winter day.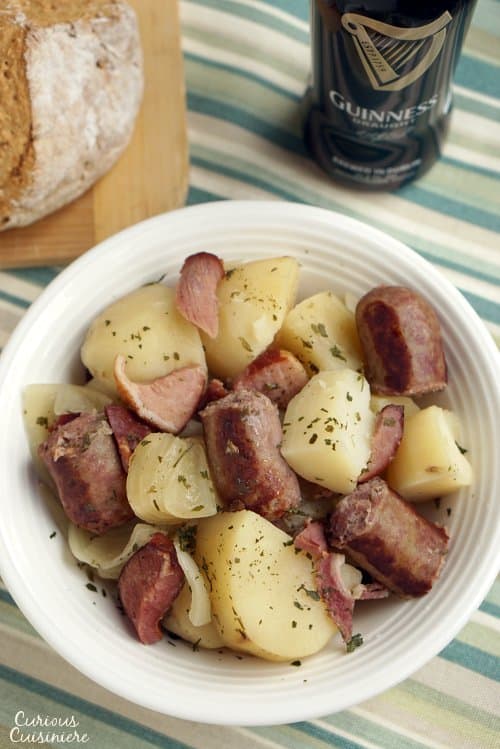 When it comes to St. Patrick's Day cooking, we always find ourselves with a bit of a problem. Do we make the classic American St. Patrick's Day dish: Corned Beef and Cabbage, or do we make something that is actually, authentically Irish?
We may have found the perfect answer to combining the two in the classic and comforting Irish dish that is the Dublin Coddle.
Dublin Coddle: Serious Irish Comfort Food
If you're looking for a wam bowl of comfort food, we have a bowl of Dublin Coddle with your name on it.
The dish originated in the 1700s in Ireland and is still considered a favorite in Dublin and across Ireland.
One story about how coddle became so popular goes like this:  an Irish wife could put a pot of Dublin coddle on the stove in the evening and then go to bed.
The stew would be simmering and hot, ready just in time for her husband when he came home from a long night with his buddies at the local pub.
A Catholic Irish Dish
In the time when Catholics didn't eat meat on Fridays, coddles were often eaten as a Thursday night dinner. They were the perfect dish for the mother of the household to use up any leftover sausages and bacon that she had laying around the pantry.
Nowadays, it's the perfect slow cooking dish when you want to prep a meal ahead of time and forget about it.
Our Slow Cooker Dublin Coddle Recipe
Traditional Dublin coddle is cooked in a Dutch oven, making it a one-pot meal where you can saute your meat, layer your ingredients, and then pop it into the oven on a low heat (around 300F) for 3-5 hours.
If you'd like to make your Dublin coddle this way, go ahead, the ingredients and the rest of the instructions are the same.
But, to make Dublin coddle even easier, we decided to call in the help of our trusty slow cooker.
With just a quick sauteing of the meat, you can dump your ingredients and be on your way.
Dinner will be waiting for you when you return.
Serving Dublin Coddle
As with any classic Irish dish, you'll want to serve your Dublin Coddle with a hearty pint of Guinness and lots of Irish Soda bread!
What else did you think we'd recommend?
Slow Cooker Dublin Coddle
A comforting Irish stew that put dinner on the table with minimal effort.
Ingredients
1

lb

pork sausages

1

lb

thick cut bacon,

chopped

3

onions,

halved and quartered

2

lb

waxy potatoes,

(like red potatoes), peeled and quartered

1 ½

Tbsp

parsley,

dry

4

c

warm water

Salt and pepper

(to taste)
Instructions
In a large skillet, grill the sausages and bacon over medium heat until golden. Remove from the heat and cut each sausage into 3-4 pieces.

In the bowl of your slow cooker layer (in this order) onions, bacon, sausage pieces, and potatoes, sprinkling a little parsley between each layer.

Pour the water over top of the ingredients.

Cover the slow cooker and cook on low for 5-6 hours or on high for 3-4 hours.

Taste the broth before serving and add salt and pepper as desired.
Notes
If you would like to prepare the coddle in the traditional, oven fashion, layer the ingredients into a Dutch oven as directed. Bring the mixture to a boil. Then, place the, covered, coddle into a preheated 300F oven and cook for 3-5 hours.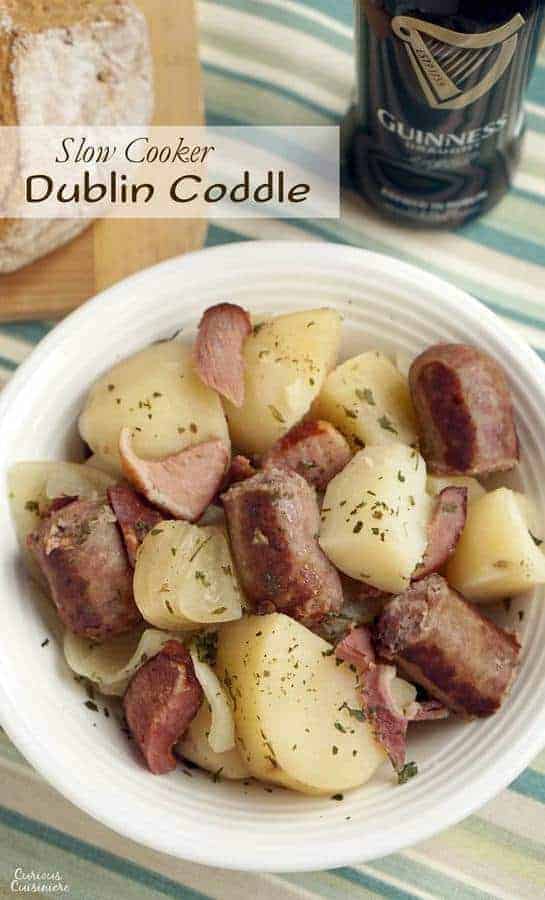 If you liked this recipe, here are some similar dishes you may enjoy!