Leftover ham and turkey get a new life in this unique twist on Shepherd's Pie. With a flavorful meat and veggie bottom and a crusty potato top, St Stephen's Day Pie might just become your new favorite way to eat leftovers! 
What is St Stephen's Day, and why is there a pie named after it?
We're so glad you asked!
Do you know the Christmas carol "Good King Wenceslas"? It starts like this:
Good King Wenceslas looked out
On the feast of Stephen"
It's that same feast that we're talking about today!
St Stephen was a deacon in the early Christian Church, and he was the first Christian martyr. His story can be read about in the New Testament Acts of the Apostles, chapters 6 and 7.
His feast day falls on December 26 and is widely celebrated in Ireland, as well as other countries such as Croatia, Finland, Germany, Italy, Poland, the Ukrain and the Philippines, among others where it is an official public holiday.
The date is the same as the British Boxing Day, so it is common to find this pie served for Boxing Day as well.
St Stephen's Day Pie
The pie has little to do with St Stephen. Rather, it is a wonderful way to make the Christmas leftovers into something new. So, it is traditionally served on the day after Christmas.
It is traditional all over the world to have a turkey (or goose) and/or a ham for Christmas day dinner. This pie takes that cooked turkey and ham, mixes it with some vegetables and a little stock (or leftover gravy). The pie is topped with mashed potatoes, which can be leftovers or made fresh. (I don't know about you, but we rarely have any leftover mashed potatoes!)
Once baked to golden and bubbly, the pie is a tasty spin on the classic Shepherd's Pie, with an easy preparation that puts all those Christmas leftovers to good use!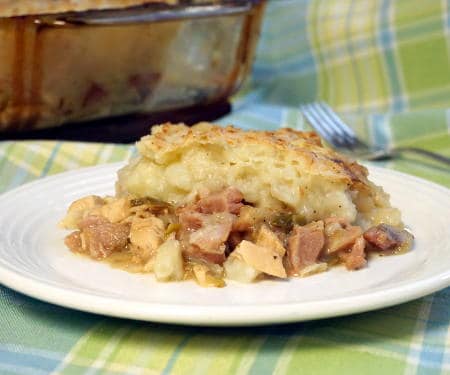 St Stephen's Day Pie (Leftover Ham and Turkey Pie)
Yield: 1 (8x8) baking dish. (Double the recipe to fill a 9x13 dish.)
---
Ingredients
For the Mashed Potato (or use 4c leftover mashed potatoes, loosened with a little milk)
2 ½

lbs

russet potatoes,

washed, peeled, and chopped

1

Tbsp

unsalted butter

1

egg yolk

¼

c

milk

Salt and pepper

(to taste)
For the Filling
1

Tbsp

unsalted butter

1

onion,

finely chopped

1

small leek,

cleaned and sliced

1

garlic clove,

minced

4

oz

mushrooms,

optional, sliced

¼

c

heavy cream

1 ¼

c

chicken or turkey stock

or turkey gravy

2

tsp

marjoram

1

Tbsp

unbleached all purpose flour

(if using stock)

¾

lb

leftover turkey,

cooked, diced

½

lb

leftover ham,

cooked, diced

Salt and pepper

(to taste)
Instructions
Preheat your oven to 375F.
For the Potatoes
If you are making mashed potatoes, place the potatoes in a pot of boiling water and cook them until soft.

Drain the potatoes and return them to the pot, add the butter. Using an electric hand mixer, blend the potatoes until smooth. Add the egg yolk and milk to the potatoes and mix until combined

Season, to taste, with salt and pepper. Set the mashed potatoes aside.
For the Filling
While the potatoes are cooking, make the pie filling.

In a large sauté pan, melt the butter. Add the chopped onion and sauté over medium heat until softened, 5 minutes. Add the leeks and garlic. Sauté for 5 minutes more, until the onions are completely soft.

Add the mushrooms, if using, and sauté 2-3 minutes.

Add the cream, stock or gravy, and marjoram. (If using stock, rather than gravy, sift 1 Tbsp of flour over the mixture in the pan and stir well.) Bring the mixture to a light simmer for 1-2 min.

Add the chopped meat and mix well.

Taste the mixture and adjust the salt and pepper as needed.

Remove the sauté pan from the heat and set aside.
Putting It All Together
Pour the meat mixture into a greased 8x8 baking dish and top it with dollops of the mashed potatoes.

Place the dish in the oven for 40-50 minutes, until the top is nicely golden and the filling is bubbly. (You may want to place a aluminum foil lined baking sheet on the rack under your baking dish to catch any juices that bubble over.)

Remove the pie from the oven and let it rest for 5-10 minutes before serving.
---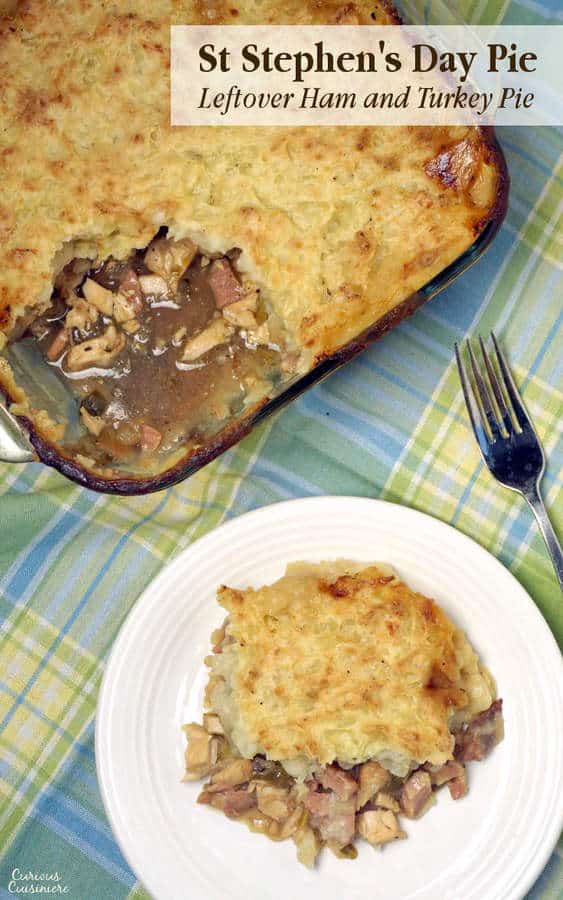 If you liked this recipe, here are some similar dishes you may enjoy!