While it might not be an Irish dish, Corned Beef and Cabbage has become the staple dish of St. Patrick's Day. Find out why! 
Corned Beef and Cabbage for St. Patrick's Day
St Patrick's Day is just around the corner, so now is the perfect time to head out and stock up on corned beef, cabbage, and red potatoes.
For us, mid-March is not complete without a full-fledged Corned Beef and Cabbage Dinner.
And, we always make more corned beef than we need, because leftovers are perfect for Corned Beef Cabbage Rolls, Reubens, and other tasty corned beef-inspired dishes.
An Irish tradition… or not. 
As excited as we get about Corned Beef and Cabbage around St. Patrick's Day, it's a bit of a bummer to find out that it isn't actually an Irish tradition. However, it shouldn't be surprising, since the first St. Patrick's Day parade was actually held in New York, and not anywhere on the Emerald Isle.
Irish immigrants brought their food traditions, like Irish soda bread and Irish stew to America. Back home, their meat of choice was pork  (particularly thick slabs of bacon and sausages), but unfortunately, here in the States, beef was much more affordable for these poor immigrant.
Living alongside Jewish immigrants, the corned beef of Jewish delis had a similar flavor to their beloved Irish bacon, but it was a MUCH cheaper.
Add some nutrient-dense (and cheap!) cabbage, and you've got yourself a comforting meal that was enough of a reminder of home to catch on and become a staple.
What is 'corned' beef? 
Believe it or not, the term 'corned' in 'corned beef' actually has nothing to do with the yellow vegetable that grows in ears.
Rather, 'corned' refers to large rock salt kernels that were used to cure the beef as a method of preservation. Preservation with this type of salt came to be known as 'corning' because the large salt kernels were called 'corns' of salt.
Why is corned beef pink?
The first time we boiled a corned beef brisket and it didn't turn out pink, we thought we had done something seriously wrong.
Turns out, we had just rinsed the brisket before cooking it. (Something we typical don't do.) Rinsing the brisket remove all of the sodium nitrite solution that it comes packaged in.
Sodium nitrite, which is used in the modern day curing process, gives corned beef its characteristic tang, as well as preserves the color of the meat as it cures and as it cooks.
Whether you rinse your corned beef before cooking it or not is up to you. Just know that your color might not be as vibrant if you give the meat a bath first.
If you're curious about the science behind corned beef, check out this Facebook Live video from Certified Angus Beef. 
Choosing A Corned Beef Brisket
If you're heading out to get your first corned beef brisket, you will be met with a big decision: Flat Cut or Point Cut?
CHOOSE THE FLAT!
Is that convincing enough?
The flat cut of the brisket is more lean and uniform in shape and size, leading to a boiled dinner that is not overly fatty, and a cut of meat that will slice up nicely for serving.
The point cut of the brisket may be more tender, but it yields much less meat because it's 50% fat. This is a good cut if you want to smoke some brisket (the fat keeps it juicy during a long smoking time), but not if you're going to boil it. (Unless, of course, you like your veggies coated in a layer of beef fat. That decision is up to you.)
How Much Corned Beef Brisket To Buy
When thinking about how much corned beef to buy, you need to remember that brisket does have a decent amount of fat in it. This fat will be lost in cooking, meaning you always want to buy more corned beef than you think you'll need.
A good estimate is that the edible portion of a flat cut will be between 1/2 and 2/3 of the uncooked weight.
So, a 3 lb brisket will give you roughly 1.75-2 lbs of meat.
Keep in mind, each cut can vary greatly in amount of fat depending on how it was cut. We always buy more than we think we need. There are worse things in the world than leftover corned beef Reuben sandwiches.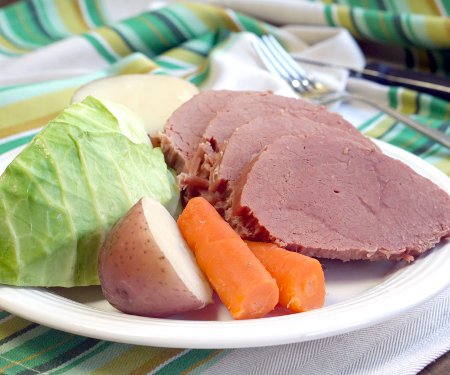 Corned Beef and Cabbage
Corned Beef and Cabbage has become the staple dish of St. Patrick's Day! Let's get cooking!

(A 4 lb flat cut of corned beef will yield slightly over 2 lbs of cooked meat.)
---
Ingredients
4

lb

flat cut corned beef brisket,

with juice and spice packet

1

onion,

quartered

1-2

quarts

water

2.5

lbs

red potatoes,

quartered

1

lb

carrots,

cut into 2" sections

1

small cabbage,

cut into wedges
Instructions
Place the brisket in a large stock pot and cover it with water. Bring the water to a boil and boil, uncovered, for 5-10 minutes. Skim any the foam that forms on the top of the water.

Add the spice packet and onion to the pot. Reduce heat to medium-low. Cover and simmer for 3 hours.

Add the potatoes and carrots (and additional water if necessary so that the veggies are mostly covered.) Cover and continue to simmer for 1 hour.

Add the cabbage. Cover and simmer for an additional 20 minutes, until the cabbage is brightly colored and tender.
---
Recipe Notes
IN THE CROCK POT
Boil your beef for 5 minutes as directed in step 1.
Add the par-boiled beef and remaining ingredients, except the cabbage, to your crock pot, using enough water to nearly cover the ingredients. Cook over low heat for 8-10 hours or high heat for 5-6 hours. Add the cabbage to the top of everything 20 minutes before you will be serving the meal.
---
This is one of the recipes from the early days of Curious Cuisiniere. We've updated our pictures since we first made it, but we've left the original images here as a fun throwback and shout out to how far we've come. Enjoy!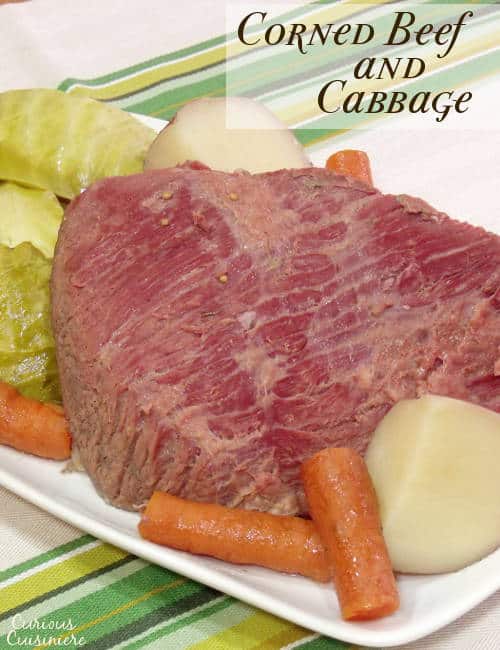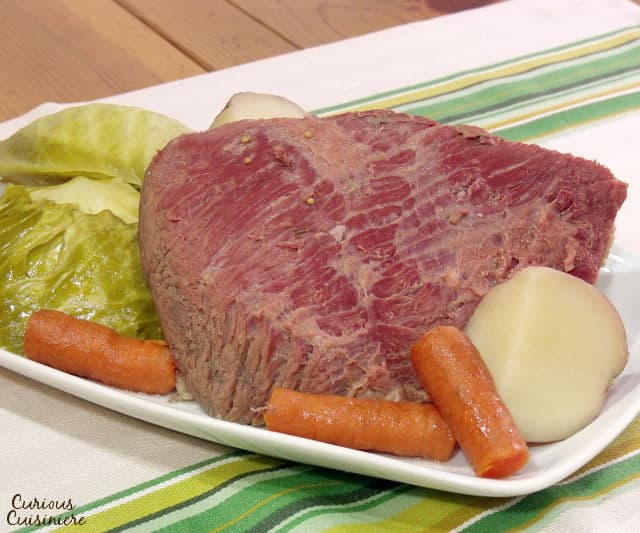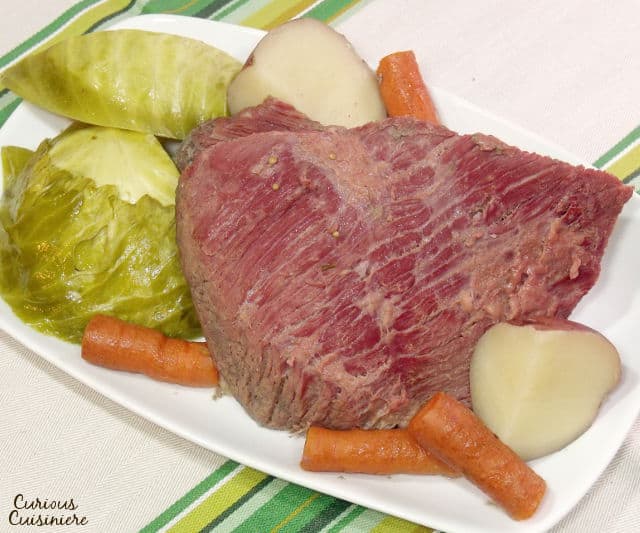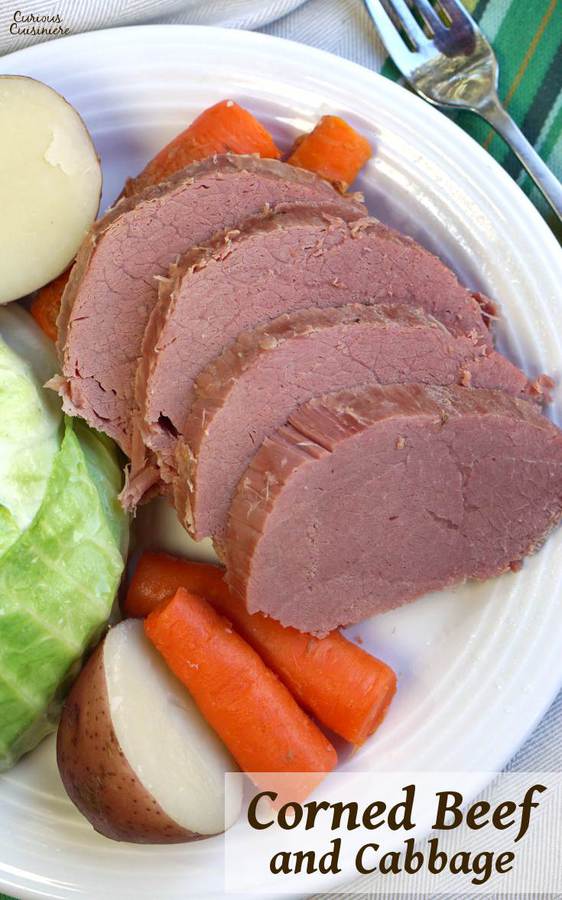 If you liked this recipe, here are some similar dishes you may enjoy!