Hänchen-Schnitzel , or Chicken Schnitzel, is an impressive, yet easy dinner recipe that the whole family will love. Pair your schnitzel with some German Riesling and traditional German sides for a fun German themed dinner!
What Is Schnitzel?
Schnitzel is a dish of thin cutlets of meat that are breaded and fried. It is a simple dish, but the crispy exterior and juicy interior are a combo that have gained it much popularity.
Even though we most often think of schnitzel as a German dish, it actually originated in Austria. We have another article that goes pretty in depth into the history of schnitzel, if you're interested.
Most commonly, you will find veal schnitzel (Wiener-Schnitzel, the most traditional version) and pork schnitzel. But today, we're making another fairly common variation, Hänchen-Schnitzel, or chicken schnitzel.
How Do You Make Chicken Schnitzel?
Schnitzel goes through a very similar process to chicken fried steak (or country fried steak, depending on where you are located).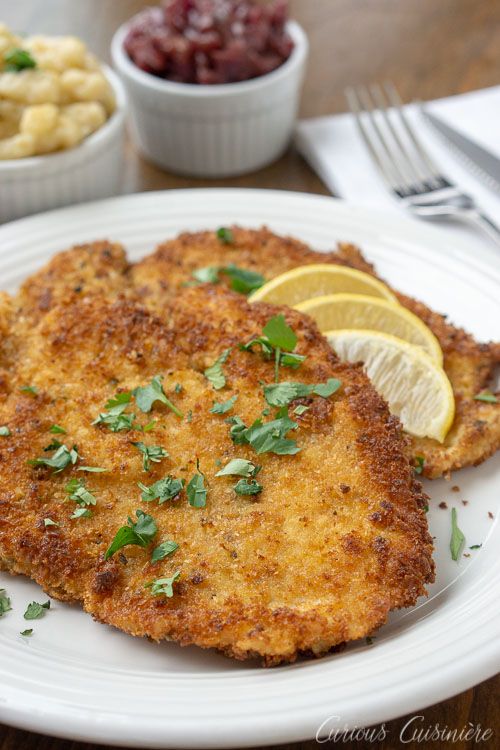 For chicken schnitzel, we cut chicken breasts in half horizontally, creating two, thinner cutlets. These cutlets are then pounded to 1/8 inch thick.
The thinness of the cutlets is very important for making schnitzel because thin cutlets will cook quickly in the hot oil, meaning that the meat will be cooked by the time the crust is golden.
After you have your meat prepared, the cutlets get dipped in flour, egg, and breadcrumbs.
Then, the coated cutlets are fried in a mixture of oil and butter. It might seem unnecessary to add a little butter to the oil, but it is very traditional, and does add some extra flavor to the finished product.
What Is Traditionally Served With Schnitzel?
Traditionally, schnitzel is garnished with slices of lemon and chopped parsley.
Spätzel, french fries and German potato salad are all great, traditional choices for serving with your schnitzel, along with a green salad or some braised cabbage.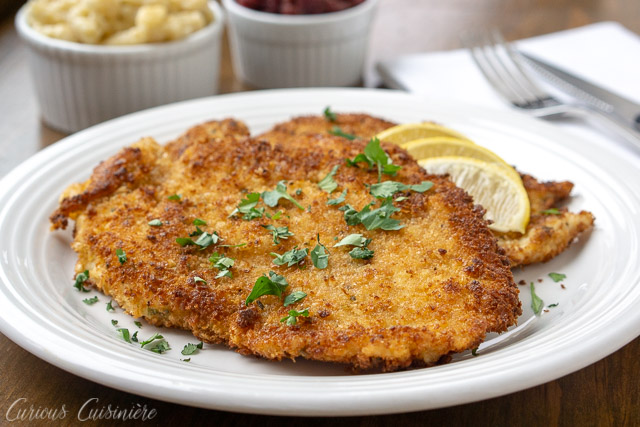 Let's Talk About Wine
DISCLOSURE: We received samples of  the German wine mentioned below. As always, all opinions are our own.
We were fortunate to receive samples of German wine from Winesellers, Ltd, a family-owned importer based in the US. They import wines from all around the world made by family-owned wineries.
As we have traveled, we have sampled some fantastic wines from local, family-owned wineries. It's always a little sad, because there is only so much of this wine that you can bring home with you, and when we do, we want to share it, so years down the road we can't find the wines that we so enjoyed while abroad.
That's one of the reasons we love the business model of Winesellers, Ltd. They really understand the quality and passion that people put into their family-owned wines and they are passionate about bringing those local wines to the US.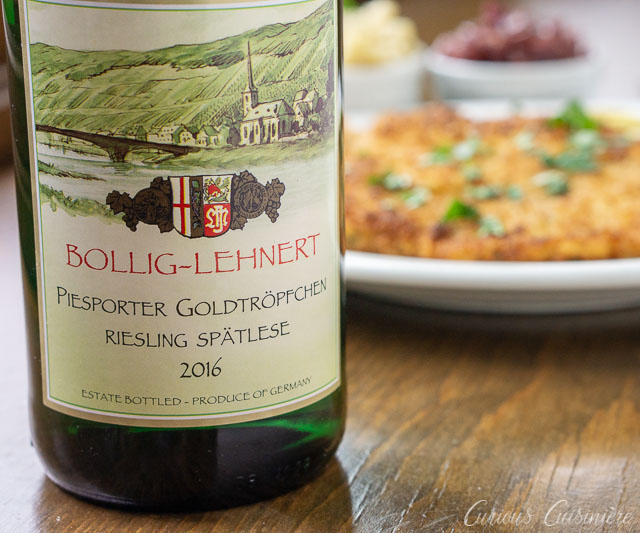 An Introduction To German Riesling
We received a generous selection of German wines form Winesellers, Ltd. The selection included a variety of Riesling, and it has been very interesting to taste them side by side and learn their subtle (and not so subtle) differences. We also received a Blanc de Noir and a Silvaner which we are quite excited to taste. We'll be sure to keep you posted!
But, today we're talking about the Riesling.
I'll be honest, we've never really gravitated towards Riesling in the past because any that we've tried have been way too sweet and heavy for our palates. We were excited for the chance to try some authentic German Riesling, but, I'll admit, a bit cautious. We weren't quite sure what we were in for.
But, we were pleasantly surprised.
Riesling is a very refreshing and crisp wine, typically with hints of apples, peaches, and pears. It is known as being a sweet wine, and while many do have at least a hint of residual sugar, what we learned as we researched the varietal is that it is also possible to have a dry Riesling (particularly if they're coming from Alsace, France).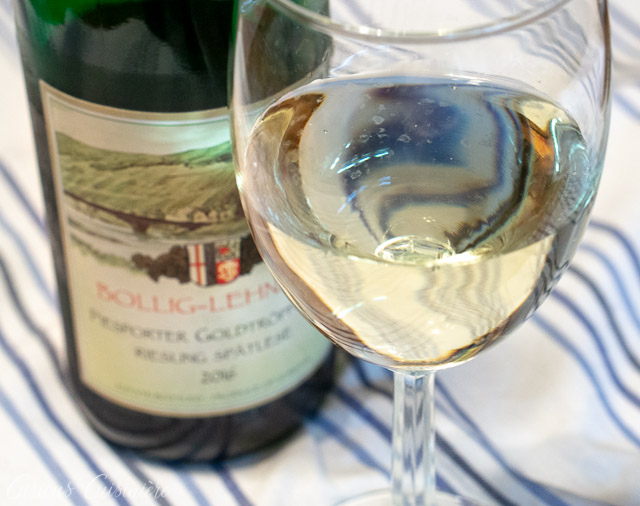 The Riesling varietal originates from the Rhine river wine region in Germany, and you'll find German Rieslings varying from sweeter to more dry, but they do tend to range on the sweeter end.
However, as we found form sampling the wines sent to us by Winesellers, Ltd. even the German Rieslings labeled "sweet" (well, Spätlese, as we'll get to below) were not as sweet as we were expecting. Rather, they were very well balanced with enough acidity that the sweetness didn't weigh down your tongue after each sip.
When looking for German Riesling, there are a few terms that will help you read the labels:
Trocken – Means it's made in a dry style with a higher alcohol content
Kabinett – Is the lightest Riesling, with a sweetness that is considered dry to off-dry (but can still have hints of residual sugars)
Spätlese – Means "late harvest," giving these grapes a bit more sweetness
German Riesling Pairing With Schnitzel
For pairing with our chicken schnitzel, we opened the Wehlener Sonnenuhr Riesling Kabinett from Dr. Pauly-Bergweiler and the Piesporter Goldtröpfchen Riesling Spätlese from Bollig-Lehnert. It was quite interesting to taste a Kabinett and Spätlese side by side, and doing so, we could really tell the subtle differences that we might not have noticed if we were just tasting them alone.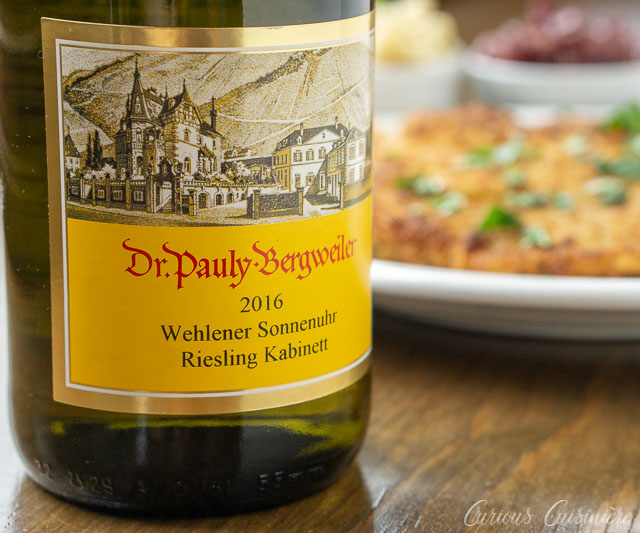 The Wehlener Sonnenuhr Riesling Kabinett from Dr. Pauly-Bergweiler gave us mineral and citrus notes on the nose, which both came through on the palate. True to its style, we found this wine to have a lighter mouthfeel, with a balanced acidity which made it a wonderful palate cleanser. (We brought out this bottle again later in the week, and it paired wonderfully with some pan-seared scallops.)
The Piesporter Goldtröpfchen Riesling Spätlese from Bollig-Lehnert gave us notes of hay and smoke, which was a unique balance to the lemon and lime flavors. It had a heavier mouthfeel than the Kabinett and lingered on our palate with richness and flavor. (We brought out this bottle again the next day with a spicy pasta, and really enjoyed the way it coated and cooled our palates with the spicy dish. And, we found it to be a great pairing for asparagus.)
While both did pair well with our schnitzel, we preferred the lightness of the Kabinett with the fried schnitzel. The lemon notes were more marked, which made it a natural complement, since schnitzel is typically served with lemon to cut through a bit of the fat. The wine's palate cleansing abilities lightened our mouths between each bite of our meal, readying us for another taste of crispy schnitzel.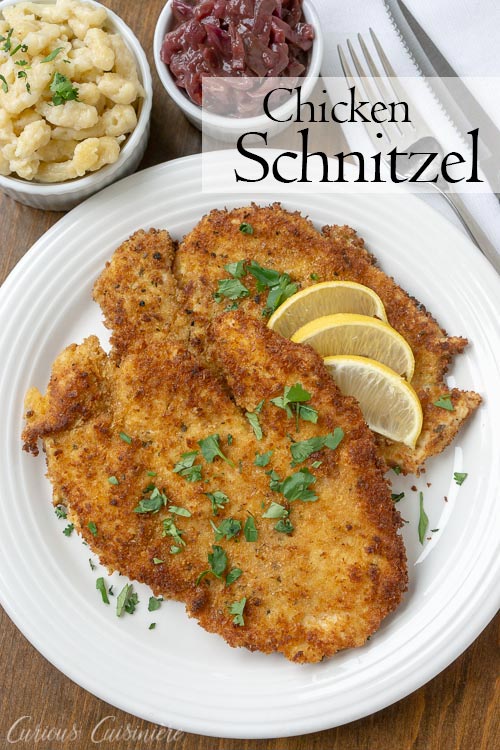 Hänchen-Schnitzel (Chicken Schnitzel)
Chicken Schnitzel is an impressive, yet easy dinner recipe that the whole family will love. Pair your schnitzel with some German Riesling and traditional German sides for a fun German themed dinner!
Ingredients
2

large

chicken breasts

Salt and pepper

4

Tbsp

butter,

divided

Vegetable oil

2

eggs,

beaten lightly

1 ½

c plain, unseasoned

breadcrumbs

Lemon slices and fresh parsley

(to serve)
Instructions
Cut each chicken breast in to two, thin cutlets, by slicing them through the side, as if you were butterflying them, but go ahead and cut right through. Salt and pepper both sides of each of your 4 chicken cutlets. Place them between two sheets of plastic wrap and pound them thin using a meat mallet or rolling pin, to 1/8 inch thick. Set the cutlets aside.

Melt 2 Tbsp of butter in a medium sauté pan and add enough oil to fill the pan to 1/8 inch deep. Heat the oil and butter over high heat until it begins to crackle. (Tip: Toss a pinch of bread crumbs into the hot oil, if crackle and crisp up nicely, but don't burn, then you know your oil is ready.)

While the oil is heating, place the flour and breadcrumbs each in their own shallow dish. Place the beaten eggs in a shallow bowl.

Dip each pounded chicken cutlet in flour, covering it completely.

Then, dip the cutlet in the beaten eggs, moistening it entirely and letting any excess drain off.

Finally, dip the cutlet into the breadcrumbs, covering it completely, but not pressing the breadcrumbs into the cutlet. Let any excess breadcrumbs fall off.

Immediately transfer the breaded cutlet to the hot oil. Fry for 1-2 minutes, each side until golden brown. Transfer the cutlet to a paper towel lined platter or wire rack.

Repeat with another cutlets.

After frying 2 cutlets, add the remaining 2 Tbsp of butter and additional oil if necessary. Heat the oil/butter mixture again to frying temperature, and continue frying your remaining two cutlets.
---
Check out these other wonderful pairings for German Wine from the Wine Pairing Weekend (#WinePW) crew! Thanks to Nancy from Pull That Cork.
If you liked this recipe, here are some similar dishes you may enjoy!