Chicken Fried Venison Steak makes this traditional Southern dish leaner, but just as comforting. Don't have venison? Our recipe works just as well with beef!

What Is Chicken Fried Steak?
Chicken fried steak is a preparation of breaded, pan-fried steak that is traditionally served with gravy.
The concept came to the US with German immigrants who were used to making wiener schnitzel back home.
They brought the concept to Texas and started making schnitzel with tough cuts of Texas beef.
And a Southern staple was born!
Chicken Fried Steak vs Country Fried Steak
Depending on the region of the South you're in, this dish may be called by different names.
Some people will tell you that country fried steak comes with a brown gravy and onions, while chicken fried steak comes with a white pepper gravy.
But, even this rule isn't set in stone.
The name "chicken fried" probably comes from the fact that the meat is treated the same way you would for fried chicken.
Makes sense to us.
No matter what you call it, this dish is crispy, juicy, creamy, and satisfying.
It is Southern comfort food at its best.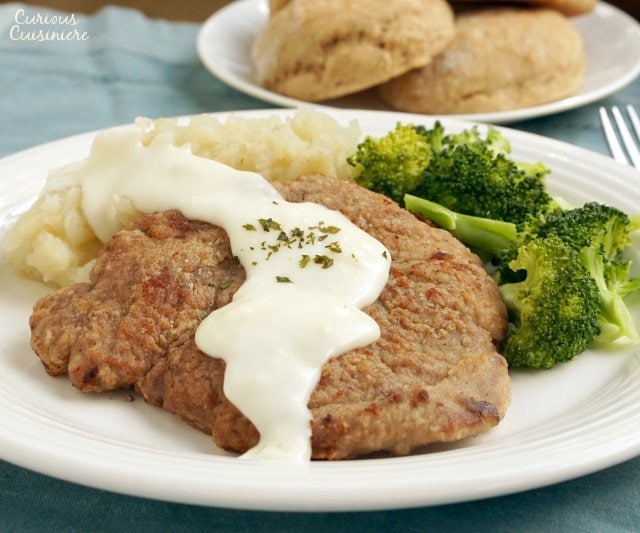 What Meat Do You Use For Chicken Fried Steak?
Don't worry, we aren't breading and frying your New York Strip.
Traditionally tougher cuts of meat are used for making chicken fried or country fried steak.
This works because the meat is heavily tenderized before being breaded.
(If you want to skip the tenderizing process, you can purchase cube steak, which has been pre-tederized by your butcher.)
This is why we decided to give chicken fried steak a go using venison.
Tips for cooking recipes using venison steak
One of the things that makes cooking with venison (venison steaks or venison roast) a bit tricky is that it is a leaner meat. Often that can mean it tends towards being a bit tougher as well.
That is why recipes using venison steak often call for a longer marinading time in an acidic liquid. This will help break down and tenderize the venison steak.
However, give that venison a good encounter with your meat mallet, and it can be fried up quickly and no one will know the difference!
Seriously, if you're looking for a great recipe for venison steak, give this chicken fried steak a try!
And, if you're not into venison, this recipe works just as well with a bottom round roast that you've sliced into 1/2 inch thick steaks or pre-cubed beef steak from your butcher.
Chicken Fried Venison Steak
Chicken Fried Venison Steak makes the traditional Southern dish leaner, but just as comforting.
Don't have venison? Beef works just as well!
Ingredients
1 1/4

tsp

salt

1/4

tsp

ground black pepper

1

lb

venison steak

or roast, sliced 1/2 inch thick (alternately use a bottom round roast cut into 1/2 inch slices)

3

Tbsp

oil

(for frying)
Instructions
In a small bowl, mix together the flour, salt, and pepper.

Dust the steaks with some of the flour mixture. Using a meat mallet, pound them to 1/4 inch thickness, adding more of the flour mixture as needed to keep the meat coated.*

Heat the oil in a large, heavy bottomed skillet over medium heat. Dredge the pounded steaks once more in the flour to coat well, and fry until golden, roughly 3-5 minutes per side.

Remove the cooked steaks to a paper towel lined plate and place in a warm oven while you continue cooking the remaining steaks.
Make the Gravy
Remove the pan from the heat and roughly measure any drippings left in your pan. Then, add butter to equal 2 Tbsp.

Return the pan to the heat over medium. Once the butter has melted, add in 2 Tbsp flour. (If you have some of your seasoned dredging flour left over, go ahead and use 2 Tbsp.) Stir the flour until well moistened.


Add the warm milk slowly, stirring as you add. Heat until the gravy has thickened to slightly thinner than your desired consistency. (The gravy will thicken as it cools.)

Taste the gravy and add salt and pepper to taste.

Serve the chicken fried steak covered in gravy. Enjoy!
Notes
*To save time, use steaks that have already been "cubed". These steaks are pre-tenderized by the butcher, and should already be 1/4 inch thick. 
This recipe from 2013 was updated in October 2017. We made the Chicken Fried Steak even easier and tastier. Enjoy!
Nutrition
Calories:
349
kcal
|
Carbohydrates:
11
g
|
Protein:
35.5
g
|
Fat:
17.2
g
|
Saturated Fat:
10.4
g
|
Cholesterol:
138
mg
|
Sodium:
750
mg
---
This is one of the recipes from the early days of Curious Cuisiniere. We've updated our pictures since we first made it, but we've left the original images here as a fun throwback and shout out to how far we've come. Enjoy!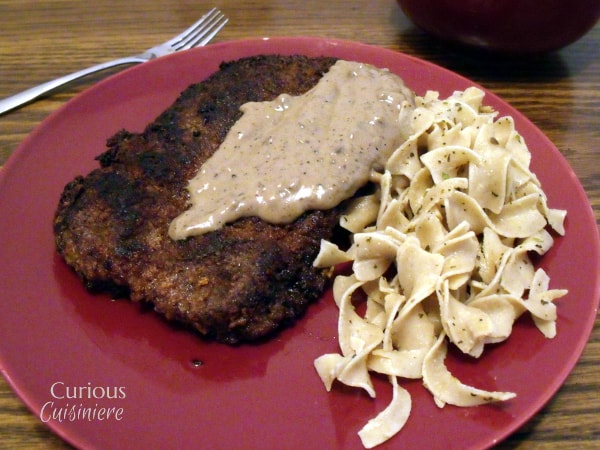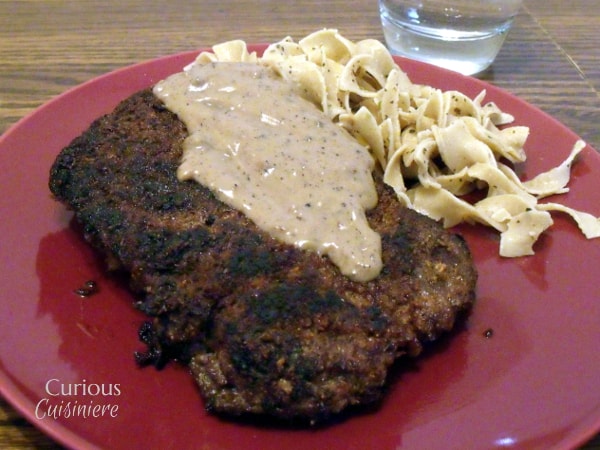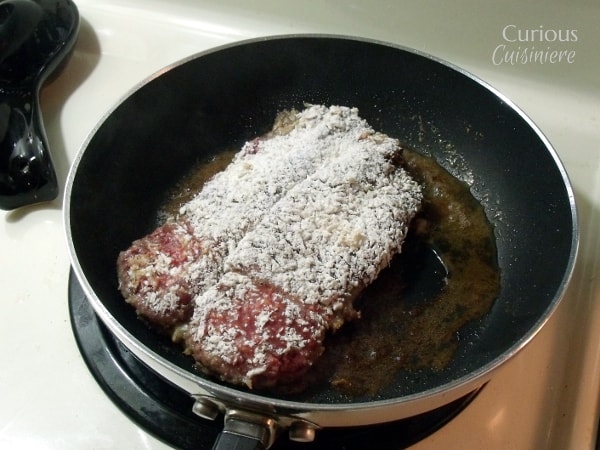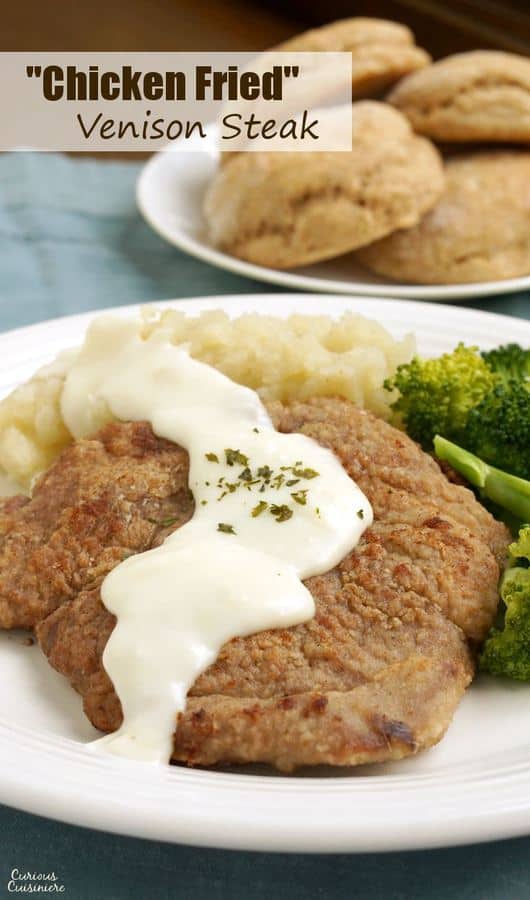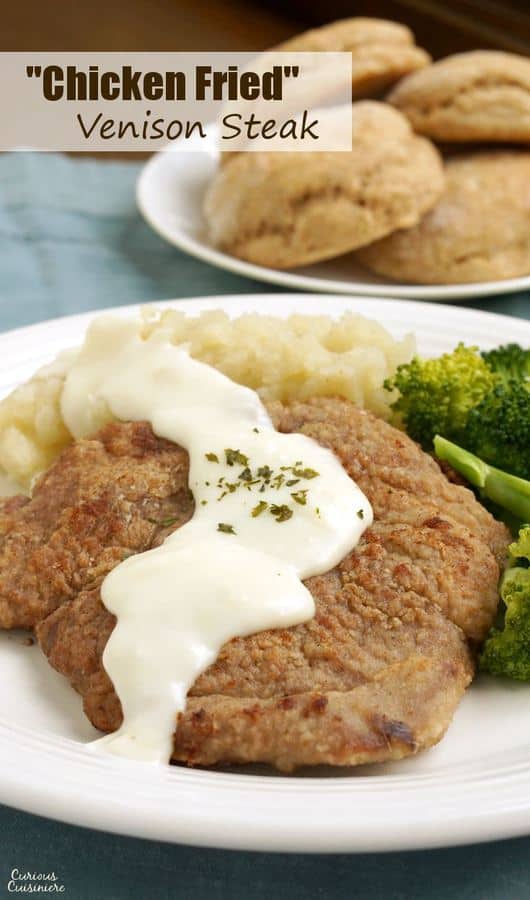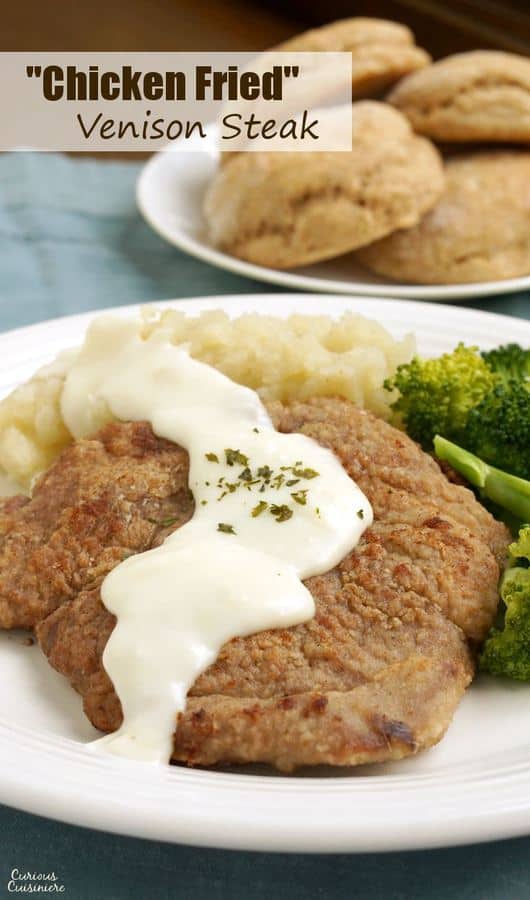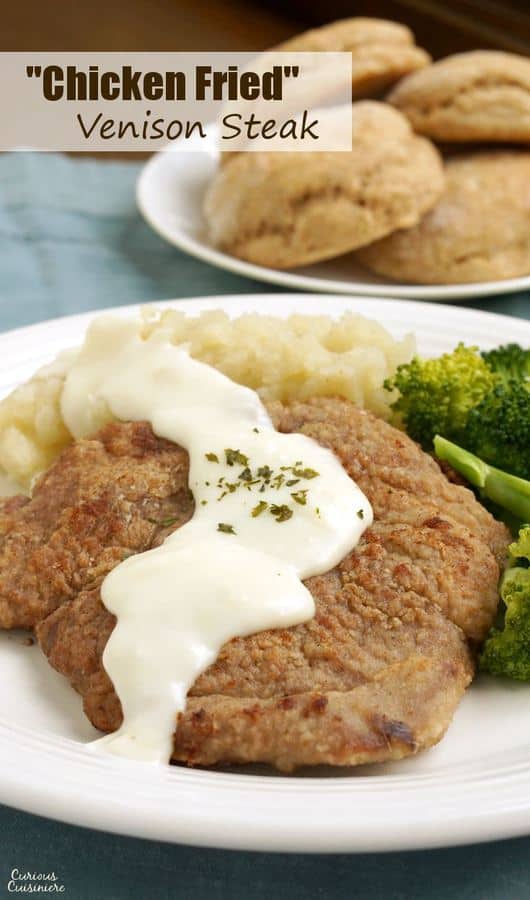 ThiSave
If you liked this recipe, here are some similar dishes you may enjoy!