Braising is the perfect technique for cooking venison roast, and this Beer Braised Venison Roast recipe brings a German flair and intense flavor that are destine to be a family favorite.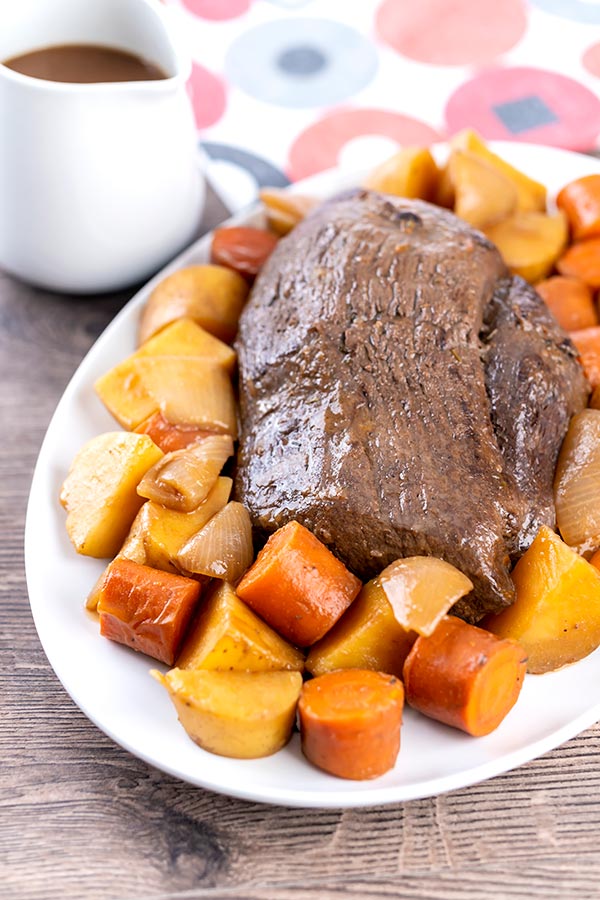 How To Cook A Venison Roast So It Doesn't Taste Gamey
We often run into people who aren't a fan of deer meat. And, while everyone is entitled to their own preferences, we often find that these people have had an unfortunate run-in with some poorly cooked venison.
This one experience often sits firmly in their mind as something that needs not be repeated.
The thing is, venison is a different kind of meat that needs a little extra care in the kitchen.
Venison is lean. Deer don't have the marbling that cattle do, so cooking it like beef isn't going to work too well.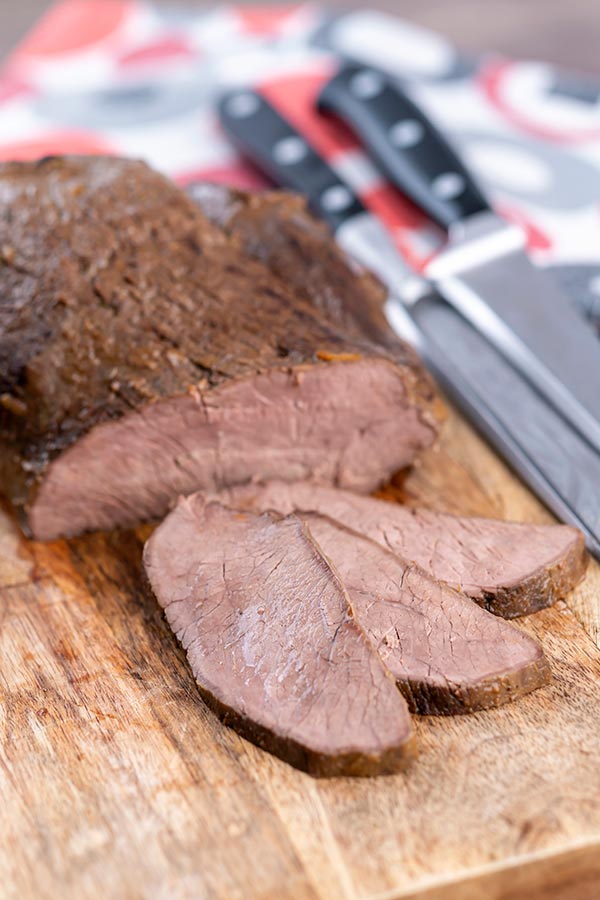 Choosing A Cooking Method For Venison
The cooking method for venison really depends on the cut you are using.
Tenderloins and loins – Quickly sear or grill to 130F and let rest 10 minutes before serving.
Shoulders and roasts – Braise low and slow (around 130F) for several hours.
How To Tenderize Venison
In addition to choosing the right cooking method, it's a good idea to add ingredients to your rub or marinade that will tenderize your venison.
Salt in rubs helps to break down proteins and improve the texture of the venison.
When marinating, you can use any number of acidic ingredients to help tenderize the meat while infusing it with flavor.
Vinegar or alcohol are two of our favorites. (Like this recipe for Red Wine Braised Venison.)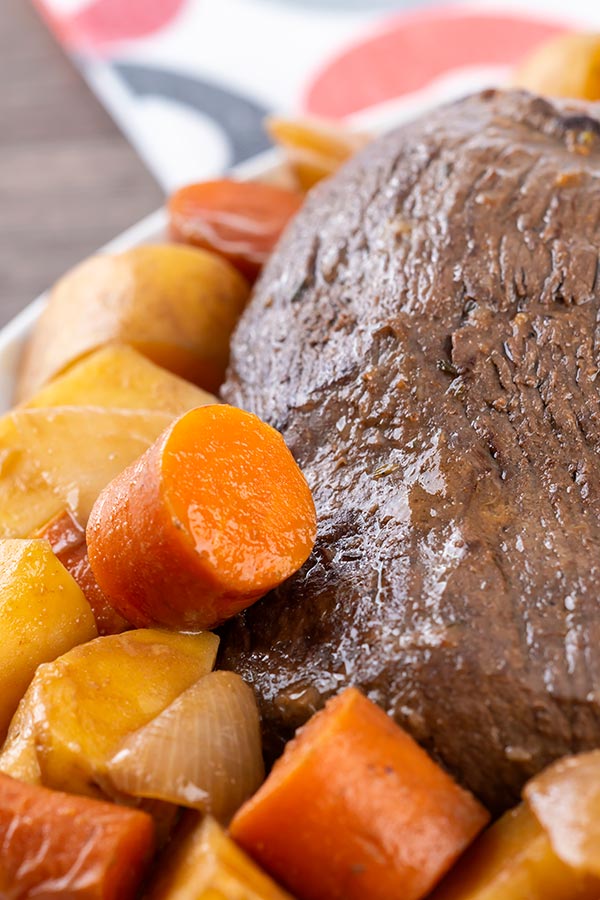 Our Beer Braised Venison Roast Recipe
In this beer braised venison roast recipe we're combining low and slow braising with the acidity of beer to achieve some stellar results.
We slow simmer this venison roast recipe for 3 hours, and the result is tender, fall-apart meat.
The beer and other seasonings infuse the meat with the caramely flavors, a slight tartness from the mustard, and just the perfect hint of sweet from the tomato paste and brown sugar.
We love the way that the mustard and beer in this recipe give the finished venison roast a distinctly German aroma and flavor.
It would be a perfect, hearty recipe to serve along side of your favorite Oktoberfest beer!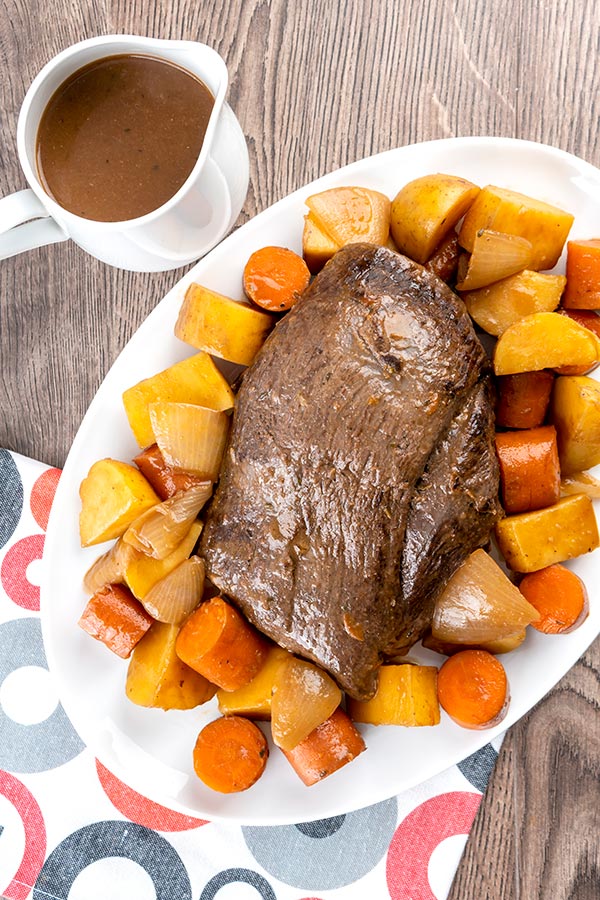 This is the perfect, hearty meal for spending hours at the table, catching up with family and enjoying the company.
And, did I mention, it makes the house smell AMAZING!
If you don't have access to venison, don't worry. This dish is just as tasty if you use a beef chuck roast!
Other Venison Recipes
If you have some venison in your freezer that you're looking to use up, here are some other delicious recipes using venison:
And we have lots more venison recipes too!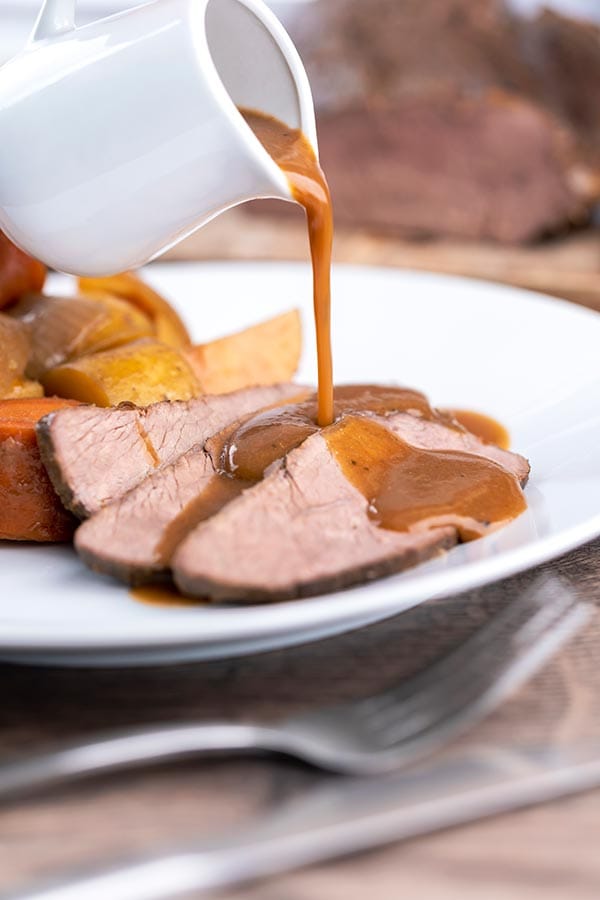 Yield: 6 - 8 servings
Beer Braised Venison Roast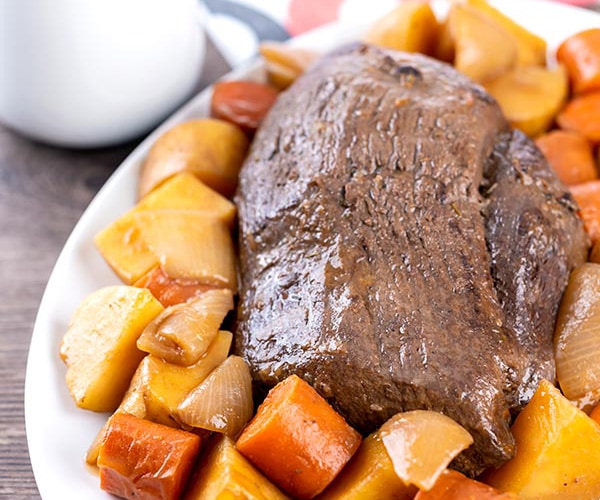 Braising is the perfect technique for cooking venison roast, and this Beer Braised Venison Roast recipe brings a German flair and intense flavor that are destine to be a family favorite.
Cook Time
3 hours
30 minutes
Total Time
3 hours
55 minutes
Ingredients
3 Tbsp unsalted butter
4 lb venison roast, (or beef shoulder roast)
1 Tbsp salt
1 tsp ground black pepper
2 onions,, cut in half and quartered
6 large potatoes, cut into 1" cubes
10 carrots, cut into 1" chunks
2 (12 oz) bottles beer, (dark lager style is best)
2 c vegetable or beef stock, (we prefer low sodium)
1 Tbsp tomato paste
2 Tbsp brown sugar
1 Tbsp mustard powder
1 tsp thyme
Instructions
Season roast with salt and pepper. In a 2 gallon or larger Dutch oven or soup pot melt 1 Tbsp butter. Add the roast and sear on all sides over medium-high heat, 1-2 minutes per side. Remove the roast from pot.
Reduce heat to medium and add the remaining 2 Tbsp butter. Melt butter and add onions. Saute until golden brown, 3-5 minutes. Add potatoes and carrots, saute 1-2 minutes. Add flour and stir until moistened.
Stir in beer, stock, tomato paste, brown sugar, mustard powder, and thyme. Mix well. Add the roast back to pot, nestling it among the vegetables. Bring the mixture to a simmer.
Reduce the heat to maintain a simmer and cover the pot. Simmer for 3 hours.
Thirty minutes before serving, remove the lid from the pot. If the stew looks too brothy, place ¼ c of flour in a small bowl. Ladle ½ – ¾ c of broth from the pot into the flour and whisk until no lumps remain. Pour mixture into the stew and stir to incorporate.
Continue to simmer, uncovered, until sauce thickens slightly.
Notes
This recipe from 2013 was updated in December 2015. We made the roast even better. Enjoy!
Nutrition Information:
Yield:
8
Serving Size:
1/8 of recipe (including sauce)
Amount Per Serving:
Calories:

762
---
This is one of the recipes from the early days of Curious Cuisiniere. We make it often and we have updated our pictures a couple times since we first shared it, but we've left some originals here, in case you've found us in the past and are looking for that old, familiar image.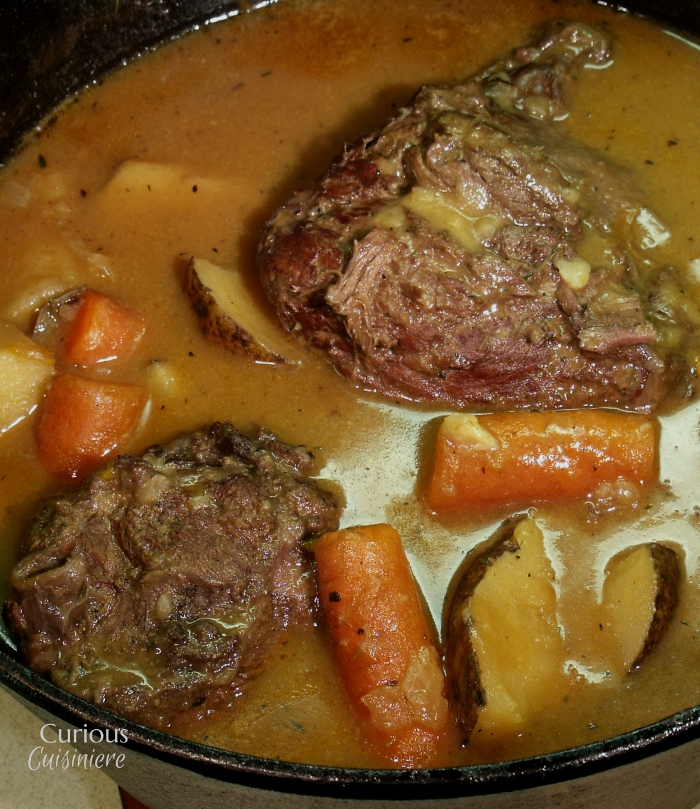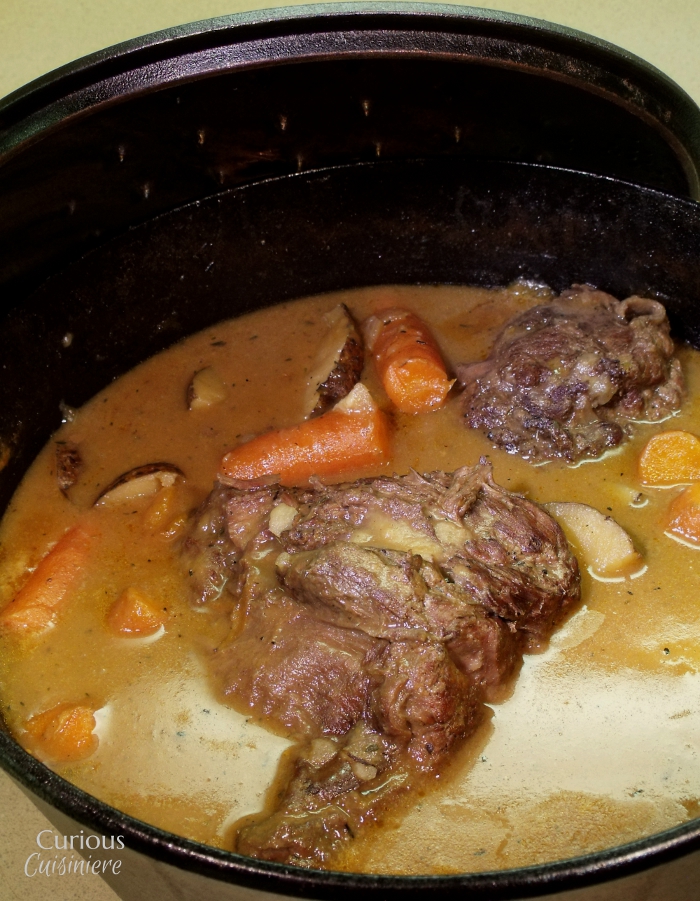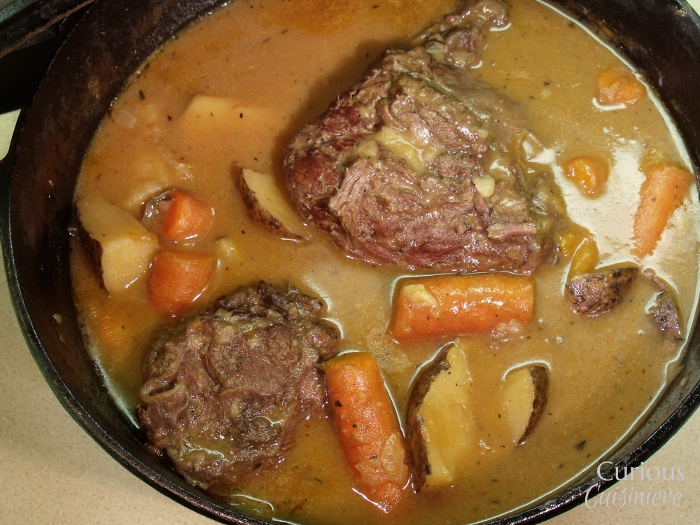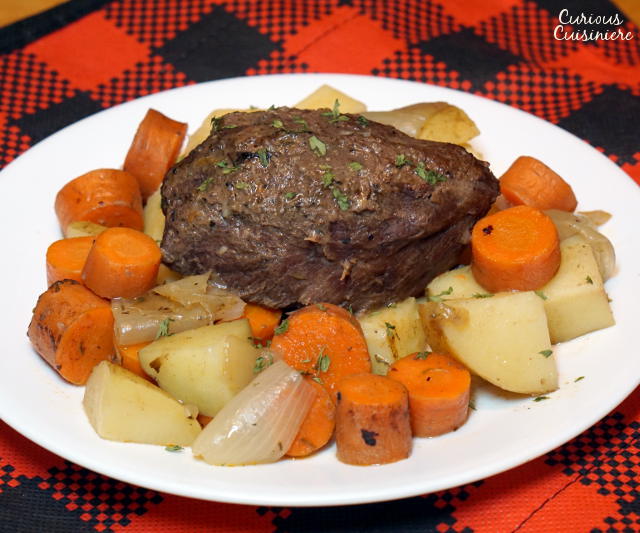 ---
If you liked this recipe, here are some similar dishes you may enjoy!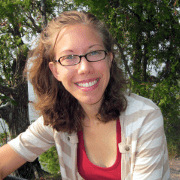 Sarah is one of Curious Cuisiniere's founding duo. Her love for cultural cuisines was instilled early by her French Canadian Grandmother. Her experience in the kitchen and in recipe development comes from years working in professional kitchens. She has traveled extensively and enjoys bringing the flavors of her travels back to create easy-to-make recipes.