Slow cooking in red wine, French style, brings incredible flavor and tenderness this Red Wine Braised Venison Roast recipe. 
What Is Braising?
Braising is a French cooking technique that combines both dry and wet cooking methods.  Meat is seared before being simmered, low and slow, until it is fall-apart tender.
The searing locks in the flavor and gives the meat a bit of a caramelized crust.
That seared meat goes into a covered pot with lots of aromatic vegetables and a little liquid.
Then it cooks low and slow, working all that flavorful moisture into the meat as it becomes fall-apart tender.
Braising is the perfect cooking technique for tougher cuts of meat. So, we like to turn to it when we have a venison roast that might need a bit of TLC.
(If you don't have venison, grab a beef chuck roast. Any tougher cut of beef is perfect for braising, since the slow cooking method will tenderize it too perfection!)
Slow Cooked Venison in Red Wine
This recipe has become a deer season favorite in our house.
Low and slow cooking is the perfect method for venison, because it gives the meat plenty of time to tenderize. And, the red wine in this recipe not only gives great flavor to the meat, but it acts as an additional tenderizer as well.
That means SUPER tender and flavorful venison roast!

How To Make Braised Venison
The initial prep work isn't too difficult: just a quick sear of the meat and a saute of some veggies.
Then, into the oven it goes. We've cooked roasts from younger deer as short as 1 1/2 hours. But, older deer can benefit from 3-4 hours of braising.
It can be hard to wait that long, because the smell is incredible!
When it's time to eat, get ready for tender meat and caramelized onions in a wine sauce that had mellowed to a robust reduction.
Serving Red Wine Braised Venison
We like to serve our braised venison with potatoes. Good old mashed potatoes or baked potatoes are always a hit. But really, any potato will do.
They give a nice balance to the flavorful roast and are great to soak up the juice!
If you like this recipe, you need to try our Beer Braised Venison Roast recipe too!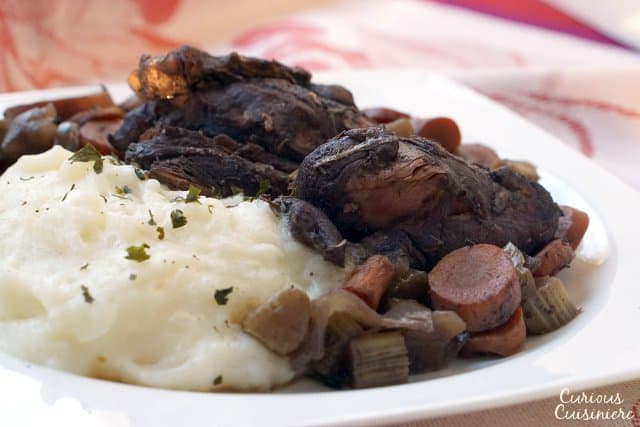 Red Wine Braised Venison Roast
Slow cooking in a French style brings incredible tenderness and flavor to this Red Wine Braised Venison Roast.

Ingredients
1 ½

c

red wine

(any will do, we like Merlot)

2

garlic cloves,

minced

1

Tbsp

thyme

2

tsp

olive oil

1

lb

venison roast,

cut into serving sized pieces (or beef chuck roast)

1

onion,

quartered and sliced thin

4

celery stalks,

chopped

5

carrots,

sliced

1

c

beef stock

(we prefer low sodium)
Instructions
Preheat oven to 350F.

In a medium saucepan, mix the red wine with the garlic and thyme. Simmer, uncovered, over high heat until the wine has reduced by about half.

While your wine is reducing, sear your meat in a large cast-iron skillet, or Dutch oven. Heat 1 tsp of oil over high heat. Salt and pepper the venison and sear on all sides until deep brown. Remove the meat from pan.

Add another teaspoon of oil to the pan and add the veggies. Saute over high heat until the onions are golden, 3-5 min.


Add the beef broth into the pan, stirring to loosen all of the stuck bits in the bottom of the pan.

Return your meat to the pan with the beef broth and vegetables. Add the hot, reduced wine mixture. Cover the skillet or Dutch oven and place it in the oven for 2-3 hours, or until the meat tender.


When the meat is tender, remove your pan from the oven. Let stand 5-10 minutes before serving.

Notes
This recipe from 2012 was updated in October 2017. We made the roast even more flavorful!
---
This is one of the recipes from the early days of Curious Cuisiniere. We've updated our pictures since we first made it, but we've left an original here, in case you've found us in the past and are looking for that old, familiar image.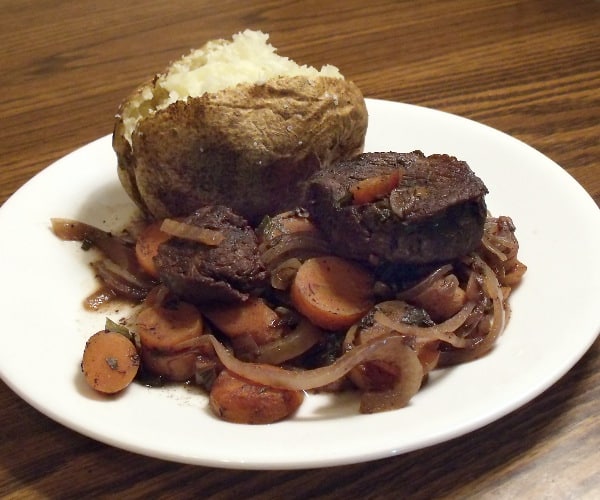 ---
Save
Save
Save
Save
If you liked this recipe, here are some similar dishes you may enjoy!