The classic Canadian dish takes on lemon, oregano and herbed cheese curds in this fun Greek Chicken Poutine fusion recipe.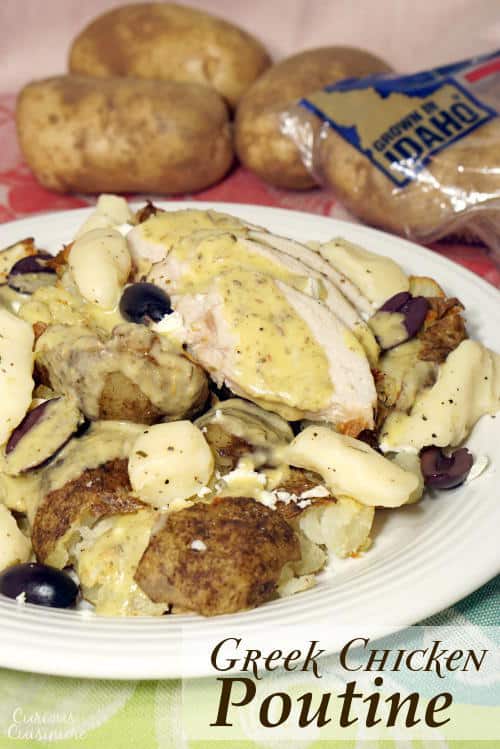 Disclosure: This post is sponsored by the Idaho Potato Commission in conjunction with a social media campaign through Sunday Supper LLC. All opinions are those of the individual bloggers.
Today is a very special day.
Not only is January National Sunday Supper Month, but today, January 10, is National Sunday Supper Day! Gathering the family together for a meal at least once a week is such an important part of creating a strong family community. Especially with our busy lives, it is so important to commit to stopping and spending a meal together at least once a week. So, what are you waiting for? Make family dinner your New Year's resolution this year, and take the Sunday Supper pledge. Who knows where one day a week will lead!
Today, the Sunday Supper Movement is so excited to celebrate this special day and the importance of family meals with Idaho® potatoes and twenty, big, comforting bowls of Poutine. If you followed us on Instagram during last year's Food and Wine Conference, you would have seen this picture from the incredible Poutine Bar lunch hosted by Idaho® potatoes. Since then, we've been dying to create a poutine adaptation ourselves. Today is the day!
What is Poutine?
We're glad you asked! Poutine (pronounced PU-tzine) is a dish that comes from Quebec, Canada. The traditional version is made with French fries, topped with cheese curds and a brown gravy. This diner or pub food is common across Canada and can be found in parts of the Northern US as well.
Legend has it that in the late 1950s, one restaurant owner was asked by a patron to make up a plate of French fries with cheese curds. In disgust, the owner exclaimed, "ça va faire une maudite poutine!" ("It will make a damn mess!")
It might have made a mess, but the resulting dish was so tasty that it grew in popularity. And, the name stuck.
Greek Chicken Poutine
We're taking some creative license today with our Poutine, but that's what makes fusion cooking so much fun!
Our Canadian and Greek fusion starts with a base of smashed russet Idaho® potatoes. These smashed potatoes create a fluffy, yet crispy base, perfect for catching the lemon oregano vinaigrette that we use as our 'gravy' over top of oregano-seasoned roasted chicken and feta cheese.  The combo brings crispy smashed potatoes, salty feta and olives, and a bright and creamy 'gravy' together with juicy chicken and nuggets of cheese curd goodness.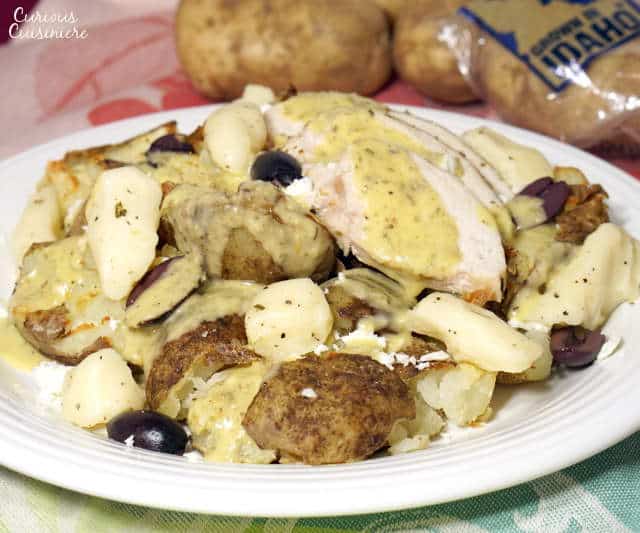 You really can't have Poutine without cheese curds, and we're lucky enough to live in a place where these cheesy nuggets that are a byproduct of the cheese-making process are as common as a brick of cheddar. We chose an herbed white cheddar cheese curd for our poutine, and it paired wonderfully with the Greek flavors. But, if you can't find cheese curds, you can use chunks of mild white cheddar for a similar effect.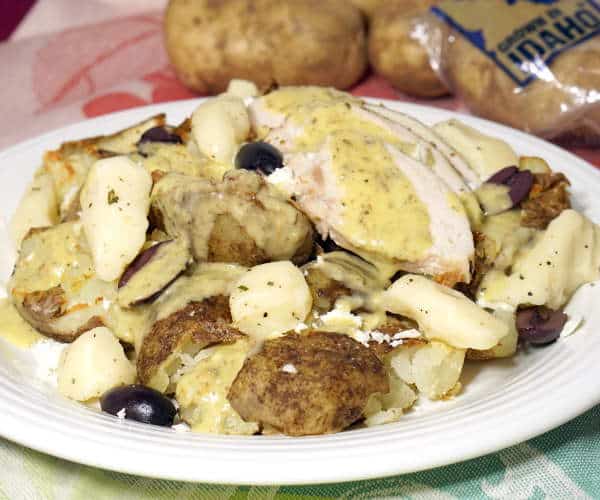 Greek Chicken Poutine
The classic Canadian dish takes on lemon, oregano and herbed cheese curds in this fun Greek Chicken Poutine fusion recipe. We do love this fun fusion dish with Greek flavors!
Keyword:
cheese curds, roasted potatoes
---
Ingredients
For the Potatoes
2 1/2

lbs

small Russet Idaho® potatoes

1

Tbsp

olive oil

(divided)

½

tsp

salt

¼

tsp

pepper
For the Chicken
1

lb

chicken breast

¼

tsp

oregano

¼

tsp

salt

1/8

tsp

pepper
For the Sauce
2

garlic cloves,

peeled and coarsely chopped

1

Tbsp

oregano,

dry

½

tsp

salt

1/8

tsp

pepper

3

lemons,

juiced (roughly ¼ cup)

½

c

olive oil
For the Poutine
¼

c

Kalamata olives,

pitted and sliced

½

oz

feta cheese

4

oz

white cheddar cheese curds

(herbed if you can find them)*
Instructions
Place the potatoes in a pot and cover with water. Bring to a boil and reduce the heat to medium. Boil the potatoes for 30-35 min, until fork tender. Drain the potatoes and place them on 2/3 of a baking sheet that has been drizzled with olive oil. Flatten the potatoes by smashing with a fork or potato masher. Brush the smashed potatoes with a little more oil and sprinkle them with salt and pepper.

Place the chicken breast on the other 1/3 of the baking sheet. Drizzle the chicken breast with olive oil and sprinkle lightly with oregano and salt, and pepper. Place the chicken and potatoes in the preheated oven and bake for 20-23 minutes, until potatoes are crispy and chicken is cooked through.

While the potatoes and chicken roast, make your sauce: in the bowl of your food processor, combine garlic cloves, oregano, salt and pepper. Pulse until garlic is minced. Add the lemon juice and pulse to combine. Slowly add the olive oil through the feeder tube, while the processor is running, to emulsify the sauce. Once it is combined, transfer the sauce to a pourable container for serving.
To create your Poutine
Place the roasted potatoes on a plate. Slice the chicken breast and layer it over the potatoes. Top with sliced Kalamata olives, feta, and cheese curds.

Drizzle the lemon vinaigrette over everything, as desired.

Grab a fork and enjoy!
---
Recipe Notes
*We used shallot and black pepper seasoned cheese curds.
Curious for more poutine recipes? Check out this collection of traditional and non-traditional versions from some of our favorite bloggers! 
Breakfast:
Appetizers:
Main Dish:
If you liked this recipe, here are some similar dishes you may enjoy!