Add some Indian spice to your holiday turkey with this recipe for a bright and flavorful Tandoori Turkey Breast. 
Why do Americans eat turkey on Thanksgiving?
November is here, and with it comes thought of holiday dinners. While in many parts of Europe, turkey is reserved for Christmas dinner, in the States, we start thinking about turkey early: for Thanksgiving.
It is thought that one of the reason turkey became the quintessential meat of the Thanksgiving Day festivities is because a turkey was typically large enough to feed a whole family, without taking much economic impact on the family farm. A chicken would be too small, and they were needed for their eggs. A whole cow would have been over kill, and they were needed for their milk. So, turkey it was. What we do know is that by the time President Lincoln declared Thanksgiving a national holiday in 1863, turkey was the main dish of choice for the celebrations which had been happening on and off in homes throughout the century prior.
While a whole big turkey is nice when you have the hungry masses to feed (or, if you're like us and live for leftovers), sometimes a whole bird is just too much. That's where roasting just a turkey breast can come in handy.
Our Tandoori Turkey Recipe
Instead of a traditional herb or butter rub, we decided to take today's turkey breast in a bit of a different, international direction with the addition of an Indian tandoori marinade.
Tandoori chicken is an incredibly popular Indian and South Asian dish, consisting of roasting chicken that has been marinated in an incredibly flavorful mixture of yogurt and spices. The concept works incredibly well when applied to turkey!
Cooking Tandoori without at Tandoor
Tandoori gets its name from the type of oven that the dish is traditionally cooked in, called a tandoor. The traditional marinade is a mixture of chilies, whole spices, ginger and garlic. The process of making a tandoori marinade is quite the affair first toasting, then grinding, the spices into a fragrant (and potent) seasoning powder.
Since most of us don't have access to a tandoor, we've taken the traditional concept of tandoori and made it easy to execute in your kitchen. The oven works perfectly for roasting, and we've made the spice mix as simple as possible by using pre-ground spices, most of which you probably have already in your pantry.
The result is a bright and flavorful tandoori turkey breast with very little prep work. We loved the complex flavors that the blend of spices brings to every bite of this juicy turkey.
And, the leftovers make for one killer turkey sandwich!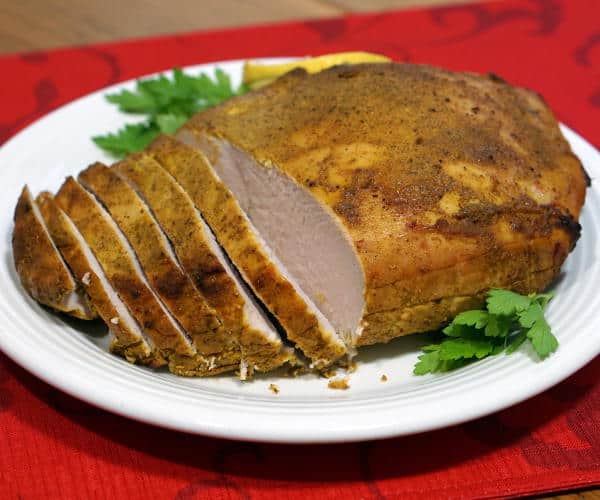 Tandoori Turkey Breast
Add some Indian spice to your holiday turkey with this recipe for a bright and flavorful Tandoori Turkey Breast.
---
Ingredients
For the Marinade
1

cup

plain yogurt

1

lime,

juiced (roughly 2 Tbsp juice)

1

Tbsp

garam masala*

2

tsp

cumin

2

tsp

ground coriander seeds

1

tsp

garlic powder

1

tsp

ground ginger

1

tsp

ground cinnamon

1

tsp

salt

1

tsp

turmeric

½

tsp

cayenne pepper

½

tsp

ground black pepper

½

tsp

fennel seeds,

ground

¼

tsp

ground cardamom
Instructions
Mix all marinade ingredients together. Place the thawed turkey breast in a zip-lock bag. Pour the marinade over the turkey. Seal the bag and massage the marinade into all parts of the turkey breast. Place in the refrigerator for 6 hours or overnight.

When you are ready to cook the turkey breast, remove it from the refrigerator and preheat your oven to 325F. Place the turkey breast on a roasting rack over an aluminum foil lined roasting pan or sheet pan and place it in the oven. Roast for approximately 1 hour and 30 min, checking occasionally to be sure it isn't browning too quickly. If it looks like it is getting too dark, loosely tent it with aluminum foil. The turkey is done when a thermometer inserted into the thickest part of the breast reads 170F.

When the turkey is done, remove it from the oven and tent it loosely with foil. Let it rest for 15 minutes before serving.
---
Recipe Notes
*Garam Masala is an Indian spice blend that can typically be found at any specialty spice shop.
If you liked this recipe, here are some similar dishes you may enjoy!