A Swiss Raclette cheese dinner meets a classic, American sandwich in this Grilled Raclette Cheese Sandwich recipe. Add a twist to your classic grilled cheese with this taste of the Alps!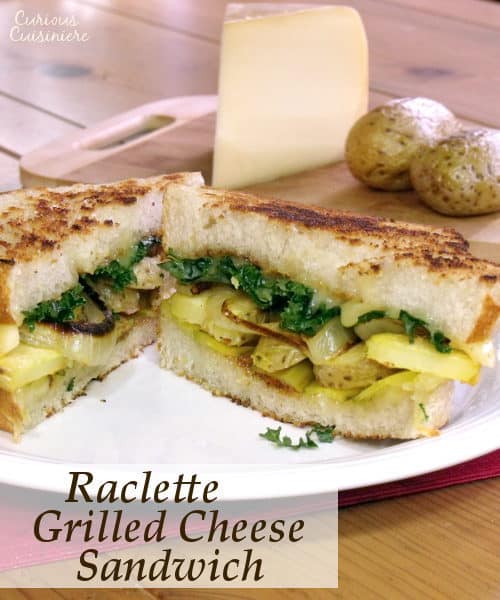 April 12th is National Grilled Cheese Day. (Of course, this comfort-food sandwich has a day of it's own!) And, to celebrate, we have a fun bit of fusion cuisine for you today.
Raclette Cheese
Raclette cheese is a semi-firm cow's milk cheese that comes from both the French and Swiss sides of the Alps. It can be found at specialty cheese shops, where you would ask your cheesemonger to slice you a wedge from the large, 13 lb, wheel.
This slightly nutty cheese has a wonderful flavor, similar to Gruyere. But, its best quality is the way it melts. That's probably why this cheese is most often found center stage as a part of a raclette dinner.
This Swiss/French dining tradition starts with a portion of a raclette wheel that is heated over a heating plate. As the cheese melts, it is scraped off of the wheel and onto your plate of boiled potatoes, pickles, pickled onions, and cured meats.
It's like a melt-and-pour version of fondue, and it is incredibly delicious.
An Epic Grilled Cheese
That's why we've taken the best parts of a Swiss raclette dinner and transformed them into one delectable grilled cheese sandwich.
You see where we're going here: roasted potatoes and caramelized onions, oozy raclette cheese and thick slices of French bread. We've added some kale for a little texture. And, yes, we even threw some dill pickle slices in there for good measure.
Sure, it might sound like a bit of an odd way to go about enjoying a grilled cheese. But, this isn't just a grilled cheese. It's a hefty, toasty, gooey, cheese sandwich that is packed full of the flavors of a traditional raclette dinner.
On The Flip Side
If potatoes, onions, and pickles sound like too much to stuff in your grilled cheese, go ahead and seek out your local cheese shop anyway for a wedge of raclette cheese. It really is a melting beauty and would make a killer grilled cheese, even without all of the 'dinner' add ins.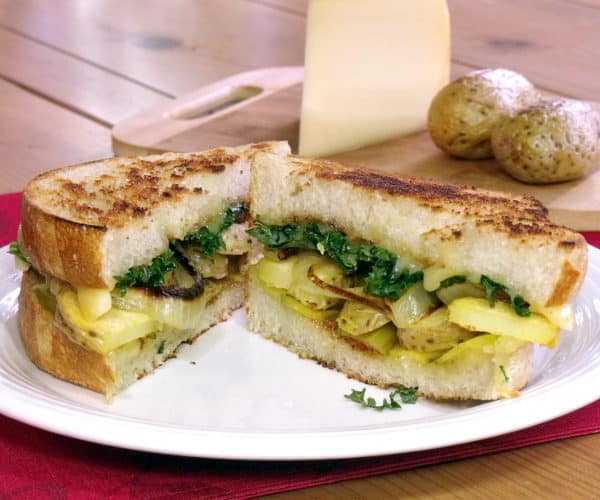 Grilled Raclette Cheese Sandwich
A Swiss Raclette cheese dinner meets a classic, American sandwich!
---
Ingredients
½

lb small

new potatoes,

sliced ½ inch thick

½

medium sweet

onion,

sliced ½ inch thick

1

Tbsp

salted butter,

melted

½

tsp

salt

4

thick slices

French bread

1

Tbsp

salted butter,

softened

6

oz

Raclette cheese

2

dill pickles,

sliced thin

2

kale leaves,

trimmed of the stiff vein
Instructions
Preheat your oven to 425F.

Toss the potato and onion slices with melted butter and salt. Spread mixture onto an aluminum foil lined baking sheet and roast for 20-25 minutes, or until golden and tender, stirring once. Remove the pan from the oven and set aside.

To make the sandwiches, preheat your cast iron skillet or griddle over medium high heat. Butter both sides of the French bread slices and place the bread onto the hot skillet. Reduce the heat to medium and toast the bread on this first side for 3-5 minutes, until golden.

Reduce the heat to medium low and flip the bread slices to their second side. Evenly divide the Raclette cheese slices between all four pieces of bread.

Layer the roasted potatoes and onions on top of two of the pieces of bread.

Once the cheese is melted and the bread is toasted and golden on this second side (about 3-5 minutes), place the pickle slices and a kale leaf on top of the onions and top each sandwich with the other slice of toasted, cheese-laden bread.

Remove the sandwiches from the skillet and serve warm.
---
If you liked this recipe, here are some similar dishes you may enjoy!