Gooey, melted cheese and wine. If you're looking for a fun date night, this traditional Swiss Fondue for two has it all!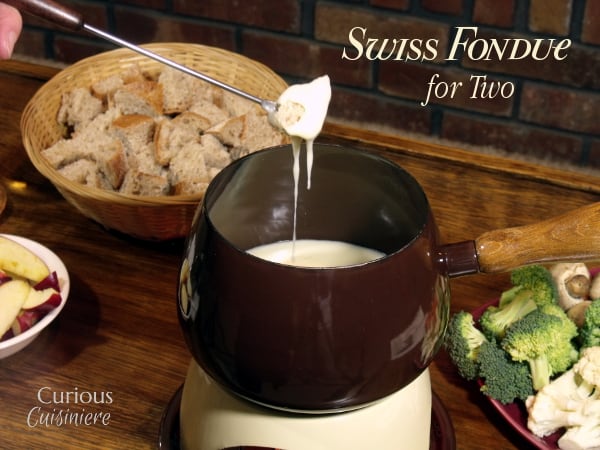 What is more romantic than staring lovingly into your sweetheart's eyes over a pot of gooey, melted cheese and wine? Add an un-corked bottle of wine and possibly a fire roaring in the background, and you've got a date night, or Valentine's Day dinner to remember.
Enjoying Fondue for Two
Funny thing is, fondue for us didn't start as a romantic thing.
While most college apartments were hosting beer-pong tournaments or grilling brats off the fire escape, we were gathering around mountains of cubed bread, an array of wine, and a bubbling pot of cheese.
No joke.
We were just awesome like that.
When Tim and I traveled to Europe, I made sure we stopped at an awesome, hole-in-the-wall fondue place in Montmartre that I had discovered through some natives during my studies there, Le Refuge des Fondues.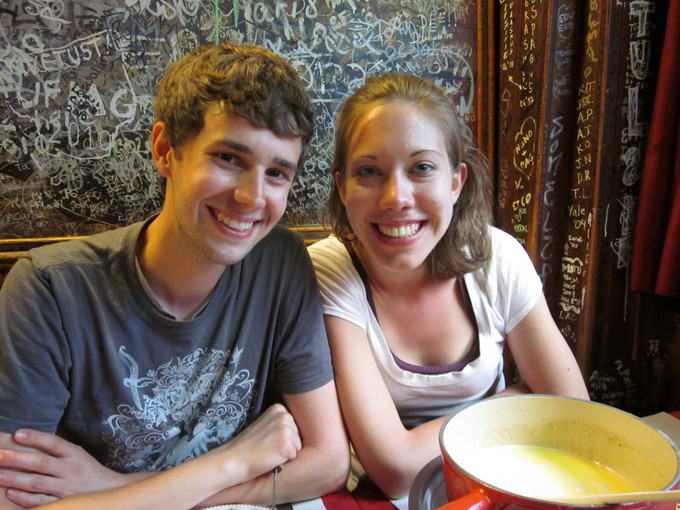 Since we've been out of college and married, we haven't done fondue all that often. So, we decided it was time to break it out for this year's Valentine's Day. It's the perfect dish for two!
What is Fondue?
We'll back things up for just a minute.
Fondue, at its basic, is cheese and wine melted together to create a creamy, delicious dipping sauce. It is traditionally served with cubed French bread. But, read on, because there are so many other possibilities too!
How To Make Traditional Swiss Fondue
The cheeses that give a fondue that traditional Swiss taste are  Emmental and Gruyère.
Emmental is a mild, medium-hard cheese that looks like what Americans would call "Swiss cheese" (aka, it has holes).  Gruyère, on the other hand, is a harder, slightly yellow cheese that is sweet, but slightly salty with a hint of nutty flavors. The combination of these two cheeses makes for an exquisitely creamy and flavorful fondue.
However, don't despair if your budget or grocer don't allow specialty cheeses.
Good old Swiss cheese will work well for your fondue, with just a few adaptations.
First, be extra sure you are getting a decent white wine. We're not talking $25 here either, something in the $10-15 range that is dry or semi-dry. (Sauvignon Blanc or Pinot Grigio are great.) That will help with the flavor.
Second, you'll need to add some lemon juice to the fondue as it is melting. The acid in lemon juice gives extra help to break down the cheese, a necessity for Swiss, which tends to be stringy when melted.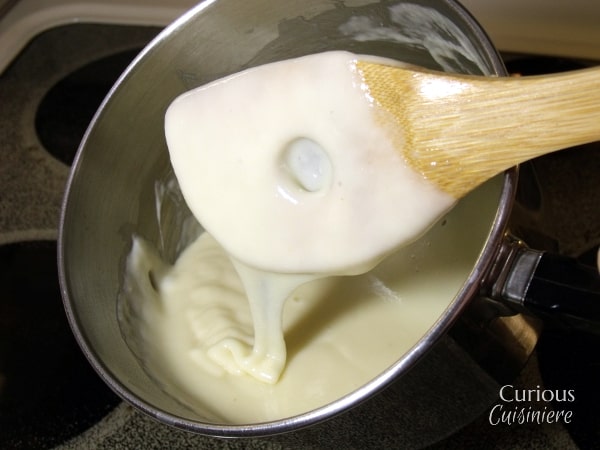 What Is The Spoon With A Hole For?
According to one of my trusted sources on all things French, David Lebovitz, you know your fondue is melted to perfection and ready for dunking when it forms a film across the hole in the center of the spoon.
Now, I've had a spoon with a hole in it for years, and always wondered what its purpose was.
As soon as I read that statement from David, I went to find our holy spoon, only to realize we probably donated it while purging some stuff during the last move. Thankfully, Tim's brother gave us a really nice set of bamboo cooking utensils for Christmas, and lo and behold, there was a holy spoon in the set.
I don't think I've ever been so glad to see a holy spoon in my life.
What can I say. Fondue can make you do crazy things.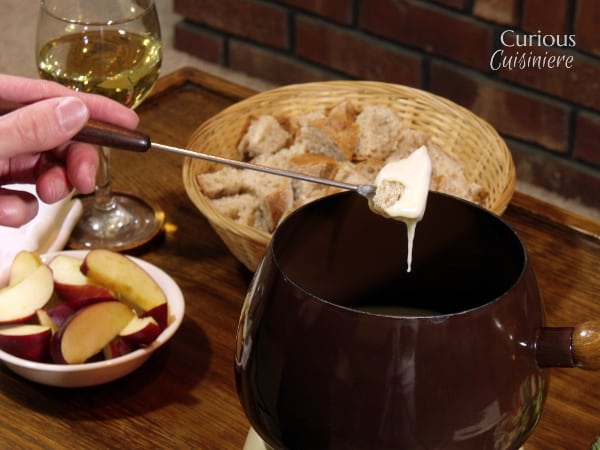 What To Dip In Fondue
Just as important as the cheese are the dippers!
Typically, Swiss fondue is only served with bread. So the bread is a pretty big part of the experience.
It is crucial to use crusty bread, and to cut the bread so that each piece contains some crust. This makes a lot of sense, because those soft, middle-only pieces tend to fall apart when put to the cheesy test.
And, tradition goes, if you drop anything in the fondue pot, you have to kiss the person across from you. Which isn't so bad on Valentine's date night, but could get a bit interesting when out with friends (or strangers).
While really not traditional, I like to serve veggies and fruit with my fondue. All that bread and cheese is so tasty, but adding fruit and veggies to the mix helps avoid the I've-just-eaten-a-whole-pot-of-cheese heaviness. Lightly blanched broccoli, raw cauliflower, and baby mushrooms all go great with the cheese. And, if you're skeptical about trying fruit, give a crisp and sweet apple, a firm and ripe pear, or red grapes a try. You might just be converted!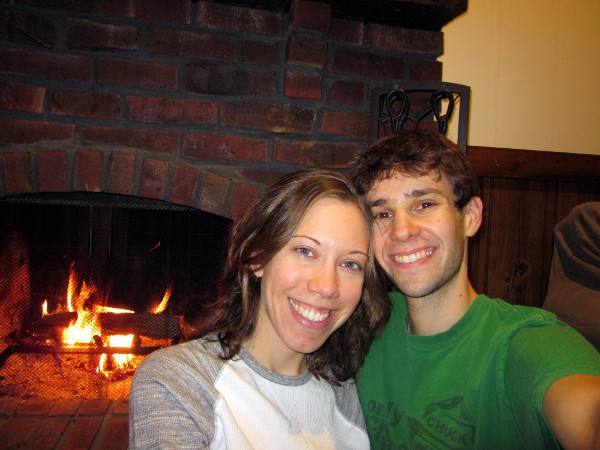 Bon appetit!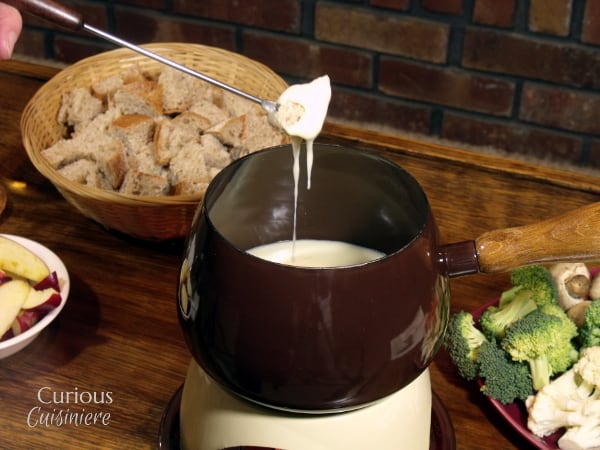 Swiss Fondue for Two
Gooey, melted cheese and wine. If you're looking for a fun date night, this traditional Swiss Fondue for two has it all!
---
Ingredients
1

garlic clove,

cut in half

½

c

dry white wine

(Sauvignon blanc or chardonnay)

1

tsp

lemon juice

(if using Swiss cheese)

½

lb

Emmental and Gruyère

(or Swiss) cheeses, grated

1

Tbsp

cornstarch

Crusty

French bread,

cut into cubes

Other items for dipping*
Instructions
Rub the inside of a medium saucepan with the cut clove of garlic. Discard garlic clove.

Add wine and lemon juice (if using) to the pan. Heat until steaming.

Toss grated cheese with the cornstarch. Add a little of the cheese at a time to the warm wine mixture, stirring until each addition is dissolved before adding more.

Heat the cheese until thick and smooth, over medium heat. Fondue is done when the cheese runs smoothly off the spoon. (Or forms a film over the center of a spoon with a hole in it.)

Transfer fondue to a fondue pot, and light the burner beneath the pot.

Enjoy with your choice of dippers and plenty of white wine.
---
Recipe Notes
*We like lightly blanched broccoli, raw cauliflower, mushrooms, sweet apples, firm pears, grapes, summer sausage, boiled red potatoes, and pickles.
If you liked this recipe, here are some similar dishes you may enjoy!