Our Juniper Crusted Venison Tenderloin recipe brings a deep, peppery heat together with the bright, rustic flavors of juniper. Top it all off with a red wine and mushroom gravy, and you have yourself one elegant dinner. 
What are juniper berries?
Have you ever seen a juniper bush and wondered what was up with those berries?
Maybe you've even picked one for a taste. (Do so with caution, because only certain varieties of juniper are edible.)
Juniper is a common seasoning in northern European cuisine for pork and lamb, and it gives gin its characteristic flavor. But, we found that it pairs incredibly well with venison too.
Contrary to the name, juniper berries aren't actually berries at all. Rather, the juniper berry is to the juniper bush what a pine cone is to a pine tree. What we call a 'berry' is actually a cone that has taken on a spherical shape and bluish hue.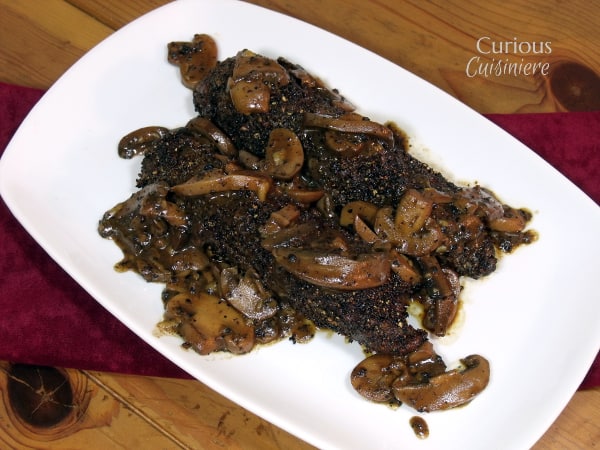 The berries themselves impart a slightly piney flavor when crushed and used in cooking, similar to rosemary, but with more citrus-y overtones. They work very well to accent dishes that have a bit of a smoky flavor to them, which is where they come into play here.
Our Juniper Crusted Venison Tenderloin Recipe
The peppercorns in the crust of this venison tenderloin recipe give quite a deep and smoky, peppery kick, but the juniper works to give a hint of citrus and a more rustic flavor to the meat.
A bit of red wine and mushrooms create the perfect gravy for dipping the meat and to cover the mashed potatoes we served it with.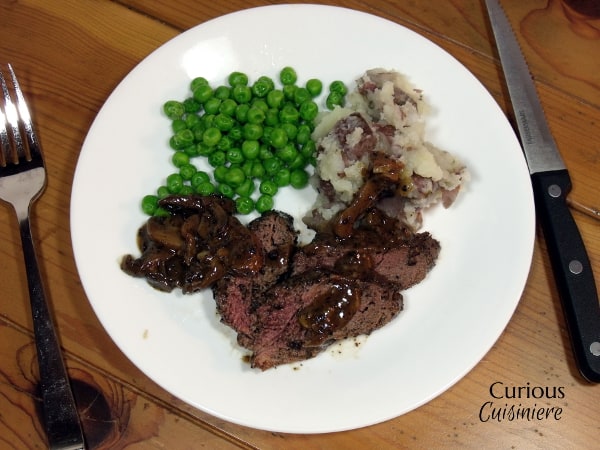 Juniper Berry Crusted Venison
A deep, peppery heat mingles with the bright, rustic flavors of juniper in this unique venison tenderloin dish.
Ingredients
¼

c

juniper berries,

dry, whole

1 ½

Tbsp

whole black peppercorn

1 ½

lb

venison tenderloin

or beef tenderloin

1

Tbsp

butter

½

c

dry red wine

(like Cabernet Sauvignon)

½

c

water

2

(4 oz) cans

sliced mushrooms,

drained

1

Tbsp

flour blended with 1 Tbsp cold water
Instructions
Preheat oven to 400F.

Crush juniper berries and peppercorns using a mortar and pestle (or a rolling pin and a plastic seal-able bag, or a clean spice grinder). Roll tenderloin in the crushed juniper mixture to coat evenly, pressing the spices into the meat.

Heat the butter or oil in a large, cast-iron skillet. Add the venison to the hot fat and sear meat on all sides.

Transfer the pan to the oven and bake for 15 – 20 minutes (depending on thickness of your meat).

Once the meat is done (the juices are running mostly clear), remove the pan from the oven. Transfer the meat to a warm plate and set aside.

Add the water and wine to the hot skillet, scraping the bottom with a wooden spatula to loosen any browned bits. Bring the heat to medium and add the mushrooms.

Add the flour mixture and simmer, stirring, until thickened.

Serve tenderloin topped with the mushroom gravy.
Nutrition
Calories:
222
kcal
|
Carbohydrates:
3.8
g
|
Protein:
35.5
g
|
Fat:
5.2
g
|
Saturated Fat:
1.5
g
|
Cholesterol:
100
mg
|
Sodium:
69
mg
|
Fiber:
0.8
g
|
Sugar:
0.8
g
If you liked this recipe, here are some similar dishes you may enjoy!