A Swedish Sandwich Cake is the perfect centerpiece for a spring celebration. Bright, fresh, and fun to prepare, make this recipe for your next picnic!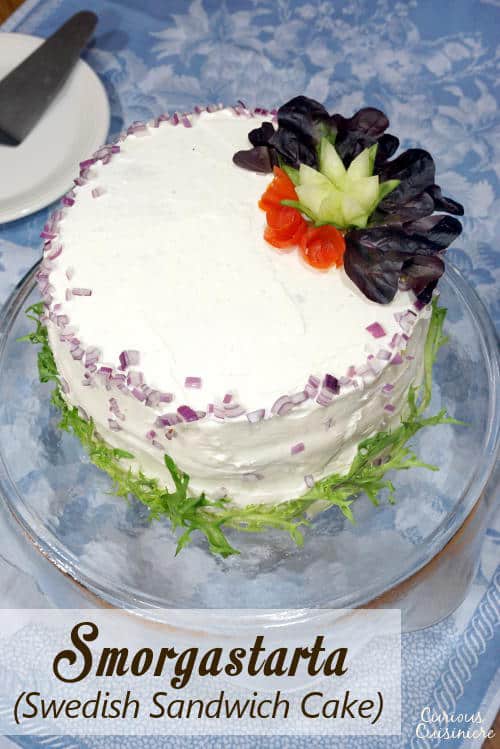 Smorgastarta (pronounced SMORE-gas-TOR-ta) is a Swedish main dish served at spring and summer celebrations. The concept is incredibly simple. It's one huge sandwich. But, who would have thought a sandwich could become quite the impressive centerpiece?
The concept comes from the 1960 and 70s, but it is making a comeback in cafés and at parties. Traditionally, the sandwich would be made up of sliced white or rye bread and filled with creamy, salad-type fillings. We're talking salmon salad, shrimp salad, and liver pâté along with cold cuts and smoked salmon. But really, a sandwich cake is more of a concept, a blank canvas that is ready for whatever creativity you would like to impart upon it.
The Makings Of A GOOD Sandwich Cake
As you can imagine, while the concept is quite impressive, it's easy for a sandwich cake to turn into a nice idea gone bad. The biggest offender of a bad sandwich cake is TEXTURE. There's nothing that turns us off from lunch more than a mushy, soggy sandwich. So, we've combated this in three ways.
The Bread
Use a sturdy bread. We chose a whole wheat round loaf to make a round cake, but you could use regular sliced bread (with the crusts cut off) to create a square or rectangle cake of your desired shape and size by placing the crust-less slices next to each other to create your bread layers.
Circle or square, make sure your bread will hold up to being filled. A soft and fluffy white bread might make a great traditional sandwich, but it will smush under the weight of the sandwich cake layers. Be sure to choose a sturdy wheat or rye bread, one that will hold its thickness.
The "Frosting"
Some recipes will have you "frost" your cake with mayonnaise. There's really nothing we can say to that besides: DON'T!
We use a seasoned whipped cream spread to "frost" our cake. The mixture is spreadable, but stiffer than mayonnaise, and it has a light flavor, kind of like a vegetable dip, adding flavor and texture to the cake.
The other key to the "frosting" is not to go overboard. Each layer of filling is sandwiched between layers of this cream cheese spread. As you spread the mixture onto the bread layers, be sure to spread it THINLY. Thick layers of cream cheese spread (as tasty as the spread is) will result in a multi-layered cream cheese sandwich. And, that is a texture nightmare.
The Fillings
Finally, the fillings. Like we mentioned earlier, the fillings are where you get to let your creativity shine. Sliced vegetables, cold cuts, egg salad, tuna salad, chicken salad. The world is your playground. Have fun!
But, we do have one request.
Think about texture!
DON'T have a layer that is all mushy, squishy ingredients. Mix it up.
Put pecans in your chicken salad. Layer egg salad along with cucumbers. Add water chestnuts or radishes to your salmon or tuna.
Each layer should have an element of crunch. This is the BIGGEST SECRET of a good sandwich cake.
Trust us.
(Oh, and don't go putting lettuce or tomatoes into those layers. Tomatoes are juice, which equals a soggy sandwich. And, if you're not eating that sandwich cake right away, expect your nice crisp lettuce to be wilted by the time you cut into it.)
The Garnishes
Once you get through being creative with your fillings, it's time to have some more fun with the garnishes.
There are plenty of tutorials online on how to make radish roses and all sorts of other vegetable art. And, if you feel so inclined, have a blast and get fancy.
We tried our hands at radish roses and pretty carrot curls, and they were epic fails. So, we went with 'easier' things like cherry tomato roses and cucumber flowers. Even these almost didn't turn out pretty enough to make it onto our cake. (We had a veritable salad of vegetable art attempts when we were done.)
So, with a few tomato roses and one lone cucumber flower, we decided to look to ingredients that were naturally beautiful. Artisan lettuce, herbs, edible flowers, minced red onion, cherry tomatoes, minced colored bell peppers. These are what we would call easy decorations. Nature makes a lot of beautiful things, why not put them on display?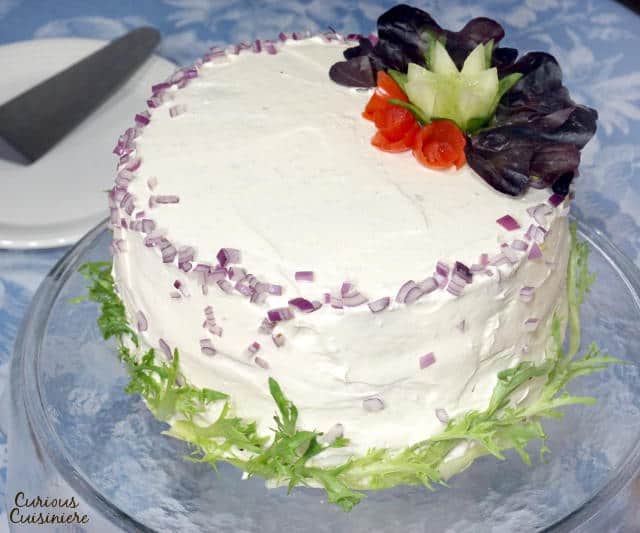 While a sandwich cake might look like a lot of work, let your creativity flow and just have fun with it. The result is a unique party centerpiece and a fun way to celebrate fresh spring and summer flavors.
Smorgastarta (Swedish Sandwich Cake)
The perfect centerpiece for a spring celebration or picnic!
Yield: 1 (7-8 inch) round cake

Ingredients
1

round loaf of bread,*

2 lb
For the Cream Cheese "Frosting"
1

lb

cream cheese

½

c

sour cream

or plain non-fat yogurt

1

tsp

ground white pepper

1

tsp

garlic powder

½

tsp

salt
Filling 1
5

oz

smoked salmon

5

large

radishes,

sliced
Filling 2
3

hard boiled eggs,

peeled and sliced

1

seedless

cucumber,

sliced
Decorations
Artisan/baby lettuce

Fresh parsley or other herbs

Diced

red onion

Cherry tomatoes

Cucumbers

Radishes

Capers
Instructions
Cut the edges from your round loaf to give you 2 inch high sides. Carefully remove the bottom crust and level the top. Slice the round into three even layers. Set the three bread layers aside.

Make the Cream Cheese "Frosting" by beating together the cream cheese, sour cream, pepper, garlic, and salt using an electric hand mixer. The mixture should be soft and spreadable. Set the "frosting" aside.
Make the Cake
Place half sheets of parchment paper around the edges of your platter or cake stand to keep the edges clean. Place one of the bread layers over the parchment paper. Lightly spread the bread with a layer of the cream cheese mixture. Over the cream cheese, place a layer of your first filling, smoked salmon and radish slices.

Spread a thin layer of the cream cheese mixture over one side of the second bread layer and place that layer, cream cheese side down over the filling layer.

Spread a thin layer of cream cheese mixture over the top of that bread layer and cover the cream cheese layer with your second filling, sliced hard boiled eggs and cucumbers.

Spread a thin layer of the cream cheese mixture over one side of the third bread layer and place that layer, cream cheese side down over the filling.

Now it's time to "frost" your cake. Spread a thin layer of the cream cheese mixture over the top and sides of the cake, using a spatula or cake spatula to spread it smooth.

Decorate the cake as desired with vegetable garnishes.

The cake can be served immediately or refrigerated, covered, for up to 24 hours before serving.
Notes
*Alternately, make this cake rectangular or square by using a pre-sliced loaf of bread. Remove the crust from the slices and layer the slices on a platter to form your desired shape.
If you liked this recipe, here are some similar dishes you may enjoy!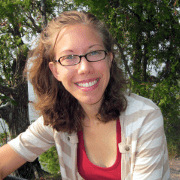 Sarah is one of Curious Cuisiniere's founding duo. Her love for cultural cuisines was instilled early by her French Canadian Grandmother. Her experience in the kitchen and in recipe development comes from years working in professional kitchens. She has traveled extensively and enjoys bringing the flavors of her travels back to create easy-to-make recipes.