They sure know how to enjoy a picnic in South France. This sandwich version of a Salad Nicoise, the Pan Bagnat, is the perfect make-ahead dish to pack along in your picnic basket.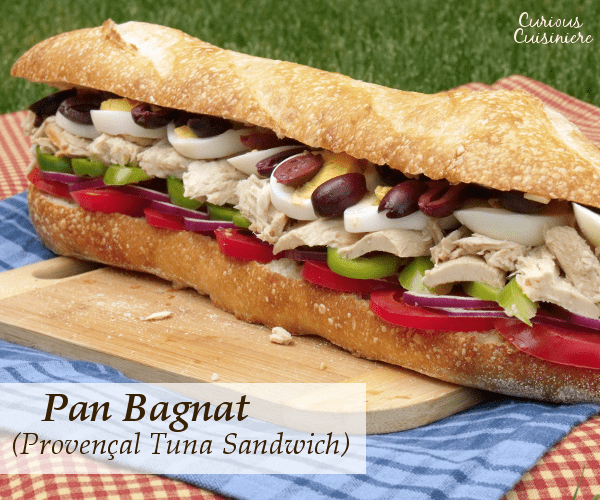 Pan Bagnat: So Much More Than A French Tuna Sub
Pan Bagnat (pronounced pahhn ban-yah) is a sandwich specialty of Nice in the south of France. The name literally means bathed or wet bread, for the way the ingredients soak in and infuse the bread with flavor as it is pressed. In southern France, the sandwich can be found in restaurants and cafés, but it is also common for families to make a pan bagnat in the morning and take it with them on an afternoon picnic.
(As a side note, those of our readers who know some French may be wondering about the use of pan instead of the more common pain for the word bread. Pan is the correct spelling for the word for bread in the Niçard dialect of the Occitan language, or langue d'oc, spoken in southern France and parts of Italy and Spain.)
A Salad In A Sandwich
The pan bagnat sandwich is basically a portable version of a Salad Nicoise.
The bread is brushed with garlic and olive oil and then layered with tomatoes, onions, green peppers, tuna, anchovies, hard boiled eggs, and black olives. It's all the goodness you would find in a classic Salad Nicoise.
We opted to skip the anchovies in our sandwich, because Tim's not a huge fan of them. To pick up on the salty flavor, we went heavy on the Kalamata olives which are as close as we can find to traditional Nicoise olives.
Making Pan Bagnat
In France, it's common to find a pan bagnat made on a slightly hollowed out, round loaf of hearty country bread. The sandwich is pressed to help the layers stay together and then sliced in to wedges for serving.
We made our sandwich in the slightly less common baguette style. And, after using a baguette, we can understand why the people in Nice who make this sandwich often opt for a round loaf. Piling the layers upon layers of ingredients onto a long and skinny baguette becomes a sort of balancing act, and then, cutting the finished sandwich requires a bit of concentration to make sure you're not loosing olives, eggs, and tuna.
Once cut, wrapped, and pressed, the baguette version is incredibly easy to pack and eat however, making it perfect for taking along in individual servings for a picnic lunch.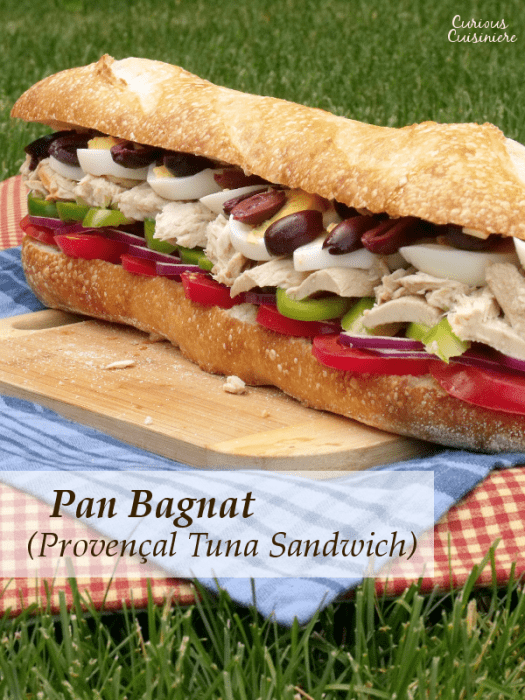 If working with a round loaf of bread, you would wrap and press the sandwich as a whole. The firm, pressed sandwich is much easier to cut into wedges right before serving, making this version great if you need to serve a lot of people at once and have the ability to cut the sandwich as you serve it.
Adapting The Pan Bagnat Tuna Sandwich
Whether on a baguette or in a round, both sandwiches are equally delicious and equally as adaptable to what ingredients you have on hand.
Add anchovies for their salty punch if you like, or leave them off. Throw in some red pepper or cucumber if you have it on hand. Or, swap the red onion for white or scallions if you prefer.
Just make sure you have a good anchor of garlic, olive oil, tomatoes, a fish of sorts (tuna, anchovies, or even salmon), and hard boiled eggs. These are the staples that give this sandwich its classic flavor.
Choosing Tuna For A Pan Bagnat
Traditional recipes will have you use tuna that is packed in olive oil, because Mediterranean cooks love their olive oil.
However, in the States, it can be difficult to find quality tuna packed in olive oil, so we decided to go with a solid packed tuna in water. That way, we could be sure about the oil we were adding and control the amount.
If you have a trusted version of tuna packed in olive oil, give that a try for a more authentic version of the sandwich.
A Great Make-Ahead Sandwich
The longer this sandwich sets (up to 24 hours) the better it gets, which is another reason it is a wonderful sandwich to make ahead and take along for a picnic or packed lunch.
Where would you take it?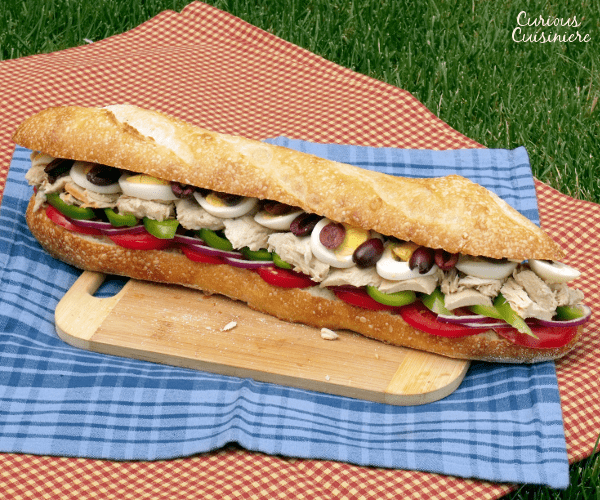 Pan Bagnat (Provençal Tuna Sandwich)
This sandwich version of a Salad Nicoise, the Pan Bagnat, is the perfect make-ahead dish to pack along in your picnic basket.
Ingredients
3

Tbsp

olive oil

3

garlic cloves,

minced

½

tsp

salt

¼

tsp

ground black pepper

1

16-18 inch

French baguette

1

large

tomato,

sliced

¼

red onion,

sliced

½

green pepper,

sliced

1

(12 oz) can

solid white tuna,

in water or oil

2

hard boiled eggs,

peeled and sliced

12-15

Kalamata olives,

halved

2

oz

anchovies

(optional)
Instructions
In a small bowl, mix together olive oil, minced garlic, salt, and pepper. Set aside to infuse the oil for 5-10 minutes while you prepare the other ingredients. (This could be done up to 12 hours ahead of time to really get a punch of flavor into the oil.)

Slice the baguette length-wise, all the way through, creating two long halves.

Drizzle the garlic infused olive oil over the two halves of the bread. Layer the tomato slices, red onions, and green pepper slices over one of the halves. Continue layering the tuna, sliced eggs, olives, and anchovies (if using).

Top the sandwich with the second half of baguette. Press the sandwich firmly to help keep the ingredients in place and cut the baguette into four even pieces.

The sandwich can be eaten immediately, but for the traditional, pressed version that is great for taking on picnics, wrap each piece tightly in plastic wrap and place it under some sort of weight (a cast iron pan, a can of tuna, a plate weighted down with some bags of beans). Press the sandwich for at least 30 minutes, or it can be refrigerated and pressed for up to 24 hours. The longer the sandwich sets, the more the flavors will infuse. Let the sandwich come to room temperature before serving.
---
More recipes for a picnic from some of our favorite bloggers:
If you liked this recipe, here are some similar dishes you may enjoy!