Salade Nicoise is a hearty, protein packed salad full of eggs, tuna, olives and veggies. Perfect for those chillier spring days.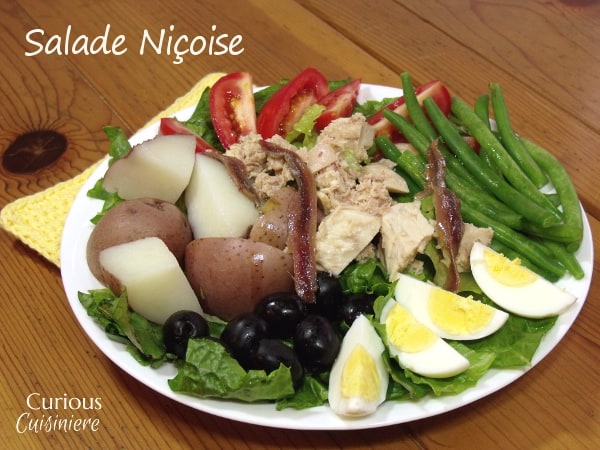 French Salad Nicoise
Salade Nicoise is one of those classic dishes that never looks the same. You'd think there would be some set of standards, but every chef likes to put their own variation on it, and everyone has their own opinion about what a 'true' Salad Nicoise should be.
Sometimes you'll see green beans, maybe fava beans.
Olives? Artichoke hearts? Lettuce and anchovies?
No lettuce at all?
A Salad from Nice, France
Salade Nicoise hails from the south of France, Nice (pronounced NEECE), just along the Mediterranean. It is a region that is known for their markets and fresh produce, making this a salad that is perfect for those first days of spring, when you're longing for fresh vegetables and warmer temperatures.
Being from Nice means that the core of this salad should speak to the region: black olives, anchovies, tomatoes, and French beans.
Variations On Salad Nicoise
Salade Nicoise is a beautiful one because it is so full of different colors, shapes and textures of the fresh produce. Being a market salad, traditionally, it does not contain any cooked ingredients.
But, you will still commonly find variations that include boiled potatoes, boiled eggs, and steamed beans. Other additions could include fava beans, artichokes, bell peppers, cucumbers, and crisp lettuce.
Even the tuna that many people associate as a must for Salade Nicoise, is simply a common adaptation.
The dressing is (almost) always a classic Provencal French Vinaigrette with garlic and a little mustard.
Making Our Salad Nicoise Recipe
We opted to broaden the spectrum with our Salade Nicoise today and included boiled potatoes and steamed green beans (forbidden in traditional French versions). We also included tuna and eggs, which are more widely accepted additions.
We arranged everything on a bed of crisp Romaine which provided a nice base and a delightful crunch.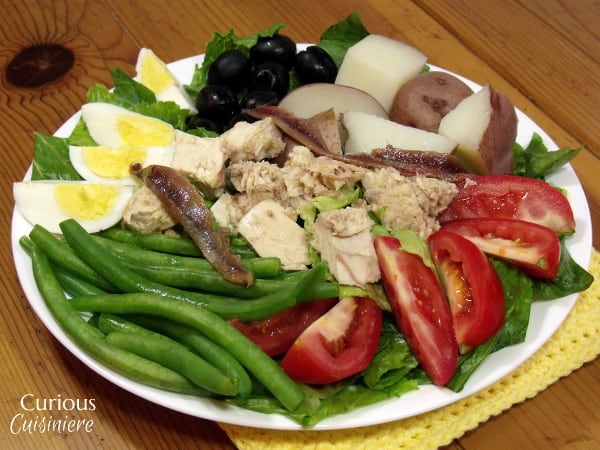 Using Anchovies In Salad Nicoise
Let's talk a minute about those anchovies.
For us Americans, most of the time anchovies are a big NO! The tinned versions are just too chewy and salty for our palates. But, I'd encourage you to face your fear for the sake of this salad. We're channeling the vibes of the Mediterranean coast after all!
Good anchovies are very hard to come by (we're still looking), but the tinned, oil-packed version will still work.
First, rinse them well. That will take away some of the saltiness. Pat them dry and then chop them up. In small pieces, they add nice bursts of texture and flavor to the salad. If you are an anchovy fan and prefer them whole, more power to you.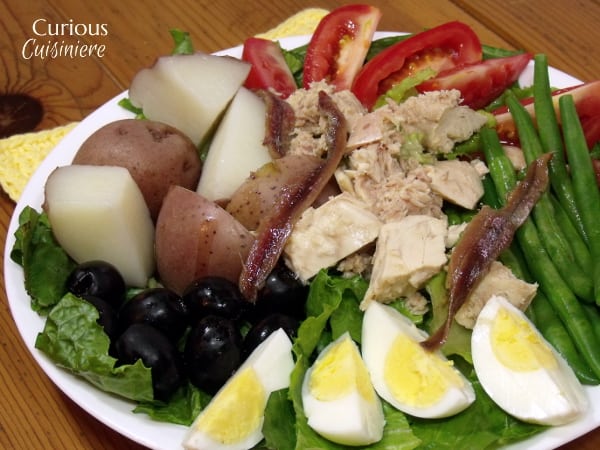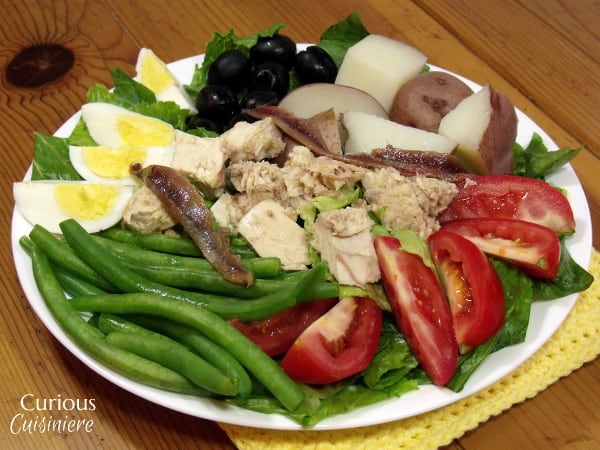 Salade Nicoise
Salade Nicoise is a hearty, protein packed salad full of eggs, tuna, olives and veggies. Perfect for those chillier spring days.
---
Ingredients
For the Vinaigrette
¼

c

extra virgin olive oil

3

Tbsp

white wine vinegar

2

tsp

Dijon mustard

1

shallot,

minced

1

garlic clove,

crushed

2

Tbsp

fresh parsley,

chopped

½

tsp

salt

1/8

tsp

ground black pepper
For the Salad
1

lb

red or new potatoes,

scrubbed and halved

½

lb

fresh green beans,

trimmed

4

hard boiled eggs,

peeled and quartered

½

lb

Roma tomatoes,

quartered

1

bunch

romaine lettuce,

washed and chopped into bite-sized pieces

½

c

olives

(Nicoise if you can find them)

4

oz

tuna,

solid, water packed, drained

2

oz

anchovies,

chopped small (optional)
Instructions
For the Vinaigrette
Mix all vinaigrette ingredients in a small bowl. Set aside to let the flavors meld while you prepare the salad.
For the Salad
Place the potatoes in a medium saucepan and cover with water. Bring to a boil and simmer 15 minutes, or until tender when pricked with a fork. Drain the water. Cover the potatoes with cold water to let them cool slightly. Drain before using.

Place the green beans in a medium saucepan with 1 inch of water. Bring the water to a boil and steam the beans for 1-2 minutes, until they are brightly colored, but still crisp. Drain the boiling water and cover with beans with cold water to keep them from cooking further. Drain before using.

To construct the salad, place a bed of chopped romaine on your serving platter. Arrange the boiled potatoes, steamed green beans, eggs, tomatoes, olives, tuna, and anchovies over the romaine. Drizzle the vinaigrette over the salad just before serving.

Serve with a crusty French baguette.
---
If you liked this recipe, here are some similar dishes you may enjoy!