Layered baked ratatouille is an elegant and easy way to enjoy this classic French dish of zucchini, summer squash, eggplant, and tomatoes.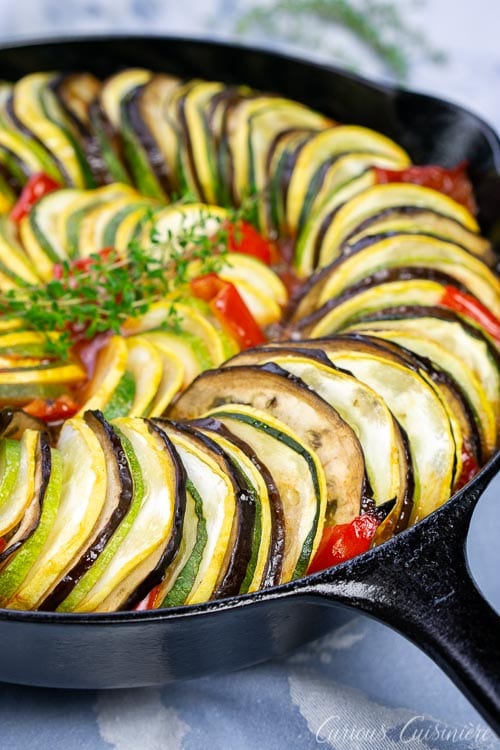 What is ratatouille?
Ratatouille is a French peasant dish that originated in south France, in the Provence region. The original ratatouille was a simple vegetable stew that farmer's wives would make to use up their summer harvest.
The word ratatouille comes from the French verb "touiller" meaning "to toss" or "stir up". This speaks to the original way of making the dish, in which all the vegetables were tossed or stirred together as they cooked.
There are many ways to make ratatouille. Some recipes have you cook each ingredient separately before mixing them together for a final cooking, like in this stove-top ratatouille version.
Other versions skip the separate cooking and give you a quick stew by simply throwing everything in a pot. You'll find this in our easy skillet ratatouille that we serve over pasta!
Still other, more modern recipes will create an elegant presentation by layering rounds of vegetables together to be baked. This is the version we are talking about today.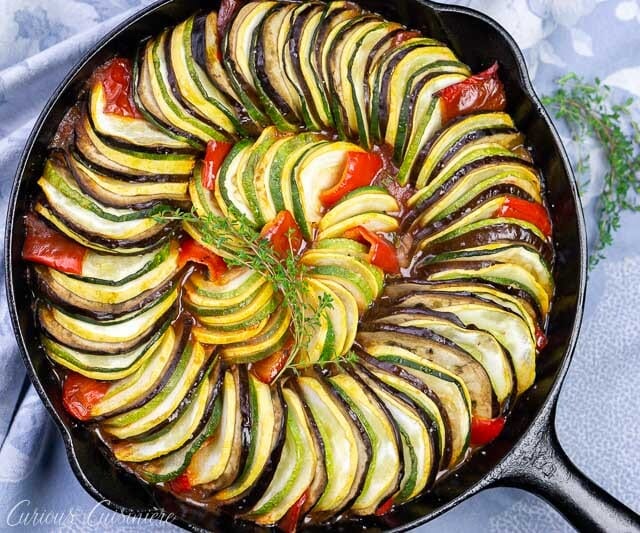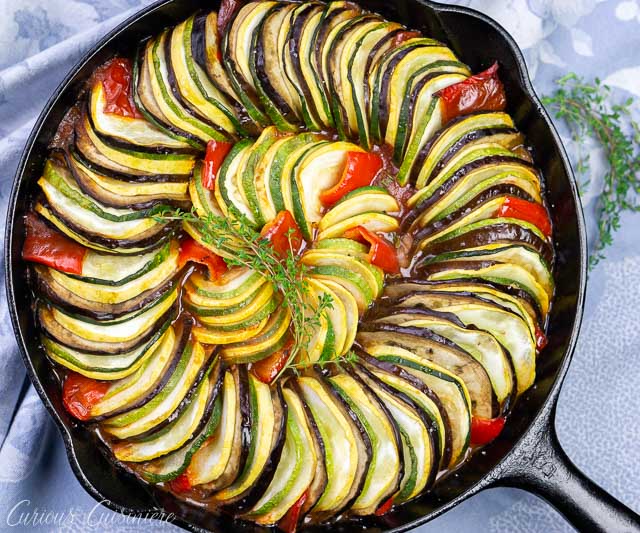 What is ratatouille made of?
You'll find a bit of a difference in early recipes for ratatouille and more modern ones (after the 1930s). Surprisingly to us today, eggplant doesn't typically appear in the early recipes. But more modern recipes tend to have an ingredient list that looks something like this:
tomatoes
garlic and onions
zucchini (and/or summer squash)
eggplant (aubergine)
herbs
As an interesting tidbit, tomatoes and zucchini were introduced to Europe from the Americas and eggplant is actually native to India. So this dish's origins could only go back as far as around the 1600s, when those vegetables made their way to European soil.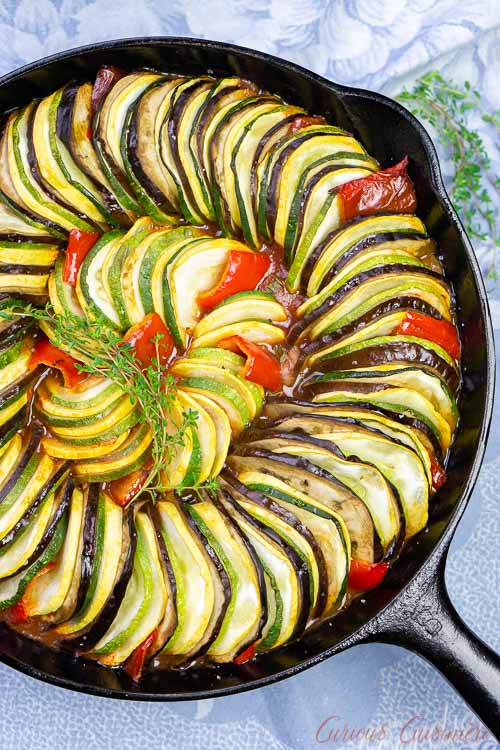 Our layered baked ratatouille recipe
The concept of a more elegant presentation of ratatouille has been popularized by fancy French restaurant chefs and the 2007 Disney-Pixtar movie of the same name.
We can't get enough of this combination of ingredients, and whether they're stewed, sauteed, or baked in the oven, the results are still delicious.
What we love about this layered baked ratatouille is that, for such a simple dish, it looks so fun and elegant. This is the perfect dish to serve at a dinner party, whether as a side or as a vegetarian main dish.
Should you peel eggplant for ratatouille?
This is a very personal question. Some recipes recommend it, other's don't.
For our layered ratatouille today, we don't advise peeling the eggplant. We find that the purple eggplant skin gives a nice contrast to the zucchini and summer squash.
Honestly, even when we make other versions of ratatouille, we never peel our eggplant. But, that's because we like the added texture it gives to the stew.
If you're not a fan of the texture of the skin, then for the more stew-like versions of ratatouille, you may wan to think about peeling your eggplant.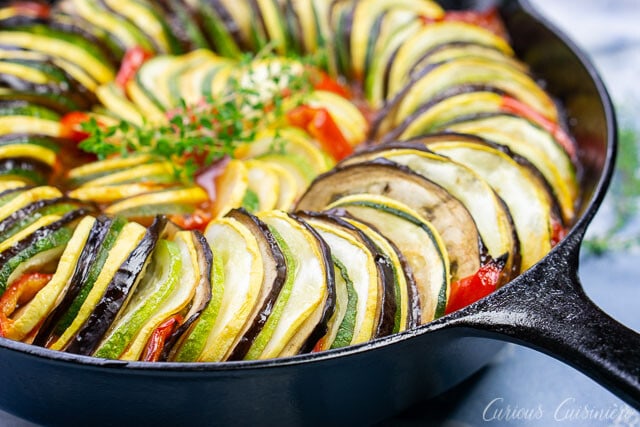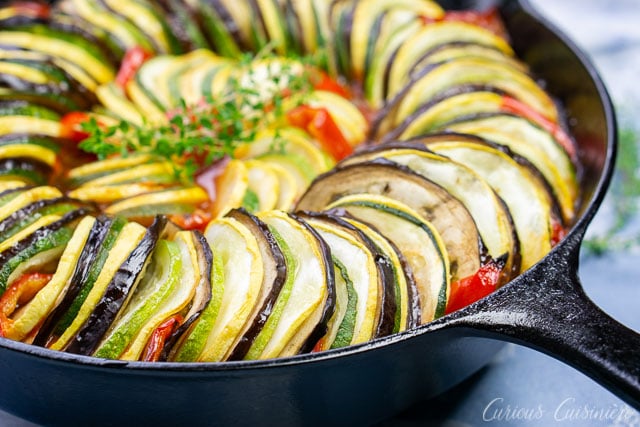 What do you serve ratatouille with?
Ratatouille is an incredibly versatile dish. It can be served as an appetizer, main dish, or side dish. It can be served hot or cold. (And some even swear that it's better second day.)
It does make a great side dish to go along with a grilled meat or fish, making it the perfect late summer dish, when all the produce is ripe.
It is also a wonderful dish to serve as a meal in itself over pasta, rice, or polenta, with some crusty bread, or as a filling for savory crepes.
Can ratatouille be made in advance?
Ratatouille is a dish that is typically great to make ahead. But we do find that this baked ratatouille, with it's elegant presentation, is best served the day it is made. Leftovers refrigerate really well and are almost better the second day after the flavors of the herbs have had time to really infuse the veggies.
Since ratatouille can be served hot or cold, you don't even need to heat up your leftovers!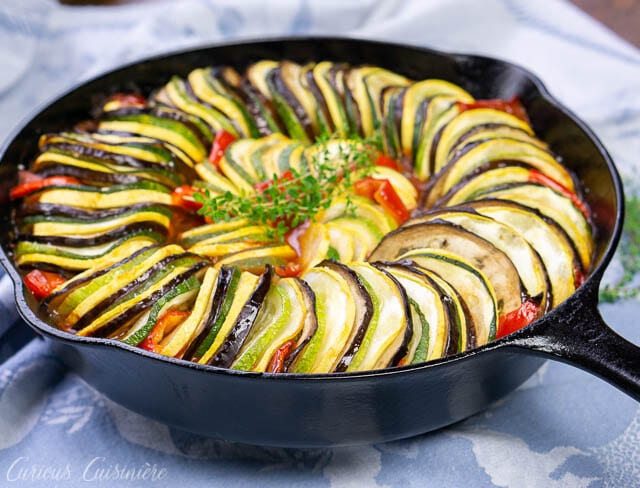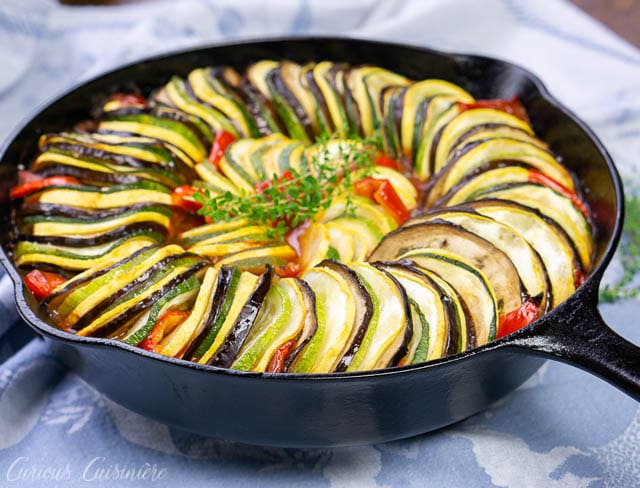 More French Provençal recipes to try
With its use of fresh vegetables and Mediterranean flavors, recipes from the Provence region in the south of France are wonderful to experiment with in the spring and summer. Here are some other recipes to try!
Yield: 1 (9 inch) skillet
Layered Baked Ratatouille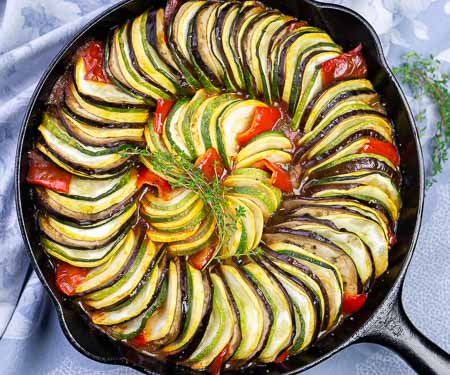 Layered baked ratatouille is an elegant and easy way to enjoy this classic French dish of zucchini, summer squash, eggplant, and tomatoes.
Total Time
1 hour
30 minutes
Ingredients
2 c (16 oz) crushed tomatoes
2 Tbsp tomato paste
1 small onion, minced
3 cloves garlic, minced
1 Tbsp fresh thyme leaves (or 1 tsp dry) (plus more for sprinkling)
½ tsp salt (plus more for sprinkling)
¼ tsp pepper (plus more for sprinkling)
2 medium zucchini, thinly sliced*
2 medium yellow squash, thinly sliced*
2 small eggplant, thinly sliced*
2 red bell peppers, stemmed, seeded and cut into 1" squares
Olive oil
Parmesan cheese, to top (optional)
Instructions
Preheat your oven to 375F.
Spread 1 Tbsp olive oil in the bottom of a 9 inch cast iron skillet**. In a small bowl, mix the crushed tomatoes, tomato paste, onion, garlic, thyme, salt and pepper. Pour the mixture into the base of your skillet.
Layer the sliced vegetables vertically around the skillet, packing them as tight as you can. (We find that it is easier to layer the zucchini, squash, and eggplant in the skillet and then go back in and tuck the red peppers within the layers after the other vegetables have been filled in.)
Season the top of the vegetables with additional salt, pepper, and thyme. Drizzle with more olive oil.
Place the skillet in the oven and bake for 45 minutes or until bubbly and the vegetables are softened and starting to brown slightly.
Garnish with Parmesan cheese, if desired.
Notes
*For presentation, look for eggplant, zucchini and summer squash that are roughly similar in size and shape, this makes layering them together in the skillet much easier.
** When using a 9 inch skillet, you will likely have some sliced vegetables leftover. These are great to add to a stir fry. This dish can also be made in a 10 inch skillet, but you may want to add an extra cup of crushed tomatoes to the bottom layer.

Nutrition Information:
Yield:
5
Serving Size:
1/5 of recipe
Amount Per Serving:
Calories:

165
If you liked this recipe, here are some similar dishes you may enjoy!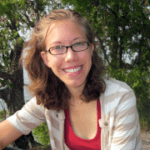 Sarah is one of Curious Cuisiniere's founding duo. Her love for cultural cuisines was instilled early by her French Canadian Grandmother. Her experience in the kitchen and in recipe development comes from years working in professional kitchens. She has traveled extensively and enjoys bringing the flavors of her travels back to create easy-to-make recipes.