Petits Farcis are a classic dish from the south of France. These cute, sausage stuffed zucchini make for an elegant main dish that is sure to impress.
Provencal Petits Farcis
This month we have been exploring the Mediterranean flavors of Provençe, the region that sits right along the Mediterranean Sea at the southeastern border of France. It is a region that is known for the French inspired Mediterranean flare in its cuisine, using lots of vegetables, olives, and olive oil. It is also a region known for its rosé wine.
Petits Farcis (pronounced peh-TEE faR-si) is a classic dish from this region. The name literally translates to 'little stuffed.' Little stuffed vegetables, that is. This is one of those classic dishes that everyone seems to have a different variation and version that they call their own. The most common is to stuff the vegetables with a sausage mixture that includes the innards scooped out from the vegetables to be stuffed.
Little Stuffed Vegetables
In Provençe it is most common to find Petit Farcis made up with tomatoes, onions, and/or round zucchini. However, you might also find eggplant, green peppers, or even potatoes stuffed and baked in a similar manner.
It is a dishes that can easily be adapted to what you have on hand or what can be found at the market that week. Each adaptation is equally as elegant and impressive in presentation.
Our Provencal Sausage Stuffed Zuccuini Recipe
For our Petits Farcis, we found some of the traditional Nicoise round zucchini at the market, and we just had to take advantage of the situation by focusing our dish around them.
Ideally, we're looking for vegetables that are around 3 inches in diameter, making them perfectly sized for a main course, but not so big that they won't cook evenly. If you can't find round zucchini to stuff, this dish works equally well with long zucchini that have been cut in half, lengthwise, and hollowed out to create a boat for stuffing.
Pairing Provencal Food with Wine from Provence
The wine we found from Provence to pair with our dish was a Chateau Mirval Coteaux Varois en Provençe Clara Lua 2008.
Coteaux Varois is the central wine region of Provençe. It is a sheltered region, surrounded by mountains, which create a cooler climate than most of the regions along the Mediterranean.
Our wine was made of 95% Rolle, a common white wine grape of the region (more well known by its Italian name, Vermentino), with 5% Grenache, giving the wine a beautiful golden color that fell somewhere between a white and a rosé. The flavor of the wine was full of beautiful citrus notes with a slight nuttiness that rounded out the flavors. We served it slightly chilled, and its full body of flavors exploded on our palates. We would have been happy campers just sitting and sipping on our glasses all night long.
Unfortunately, even though we had an incredible dish and a beautiful wine, the pairing did not work as well as we were anticipating. The acidity of the wine would have been much better suited for a dish with lighter flavors, like a fish, or something with a buttery smoothness. The salt and intense flavor from the sausage in the zucchini stuffing was simply too strong, turning the wine's full body flat and the brightness of the zucchini bitter.
Funny enough, we ate our leftover petits farcis the next night with the remainder of the bottle of the Cremant Brut Rosé that we paired with our Cherry Clafoutis. While the brut paired fairly well with the clafoutis, we were surprised at how delicious it was when paired with the stuffed zucchini. Sometimes the food and wine throws you a curve ball, but because of our discovery, we've been inspired to experiment with some other full-flavored, slightly salty foods paired with sparkling brut wines.
So, even though our initial pairing didn't work out, the elements were both incredible on their own, and we have learned quite a bit, not just about Provence, but also about wine pairing. What more could you ask for?
Petits Farcis (Provencal Sausage Stuffed Zucchini)
Petits Farcis are a classic dish from the south of France. These cute, sausage stuffed zucchini make for an elegant main dish that is sure to impress.
Yield: 6 stuffed mini zucchini
Ingredients
6

(3 inch) round

zucchini *

2

slices

whole wheat bread,

crumbled

¾

c

milk

1

tsp

olive oil

1

onion,

chopped

4

garlic cloves,

minced

1

lb

sausage

(pick your favorite)

2

tsp

thyme

1

tsp

basil

4

bay leaves,

crushed

Salt and pepper

(to taste)

2

egg,

lightly beaten
Instructions
Preheat your oven to 350F.

Cut the top ¼ inch off of the zucchini and set the hats aside. Remove the innards from each zucchini, being careful to leave at least a ¼ inch intact around the edges to create a bowl for stuffing. Dice the zucchini innards and set aside in a bowl (these will be used in the filling). Place the hollowed out zucchini in a buttered baking dish. Set aside.

Place the crumbled bread slices in a bowl and cover with the milk. Set aside to soak.

In a large saucepan, heat oil over medium heat. Add onion and garlic and sauté until the onion begins to soften, 2-3 minutes. Add the sausage, thyme, basil, and crushed bay leaves. Sauté until the sausage is cooked, 3-5 minutes.

Drain the bread and add it to the sauté pan along with the diced zucchini and cook for 15-20 minutes, until most of the moisture has evaporated. Remove the mixture from the heat. Taste it for salt and pepper and add as necessary. (The amount of salt and pepper needed will vary depending on the type of sausage that you use.)

Add the beaten eggs to the stuffing mixture and mix well.

Fill the zucchini bowls with the stuffing and replace the tops over the stuffing. Cover the dish with aluminum foil.

Bake the dish for 30 minutes. Remove the aluminum foil and continue baking until the zucchini is tender and easily pricked with a fork, 15-30 minutes more.
Notes
*This can also be made with large, long zucchini, simply slice the zucchini length-wise and scoop out the insides to create a boat for stuffing.
Nutrition
Serving:
1
g
|
Calories:
378
kcal
|
Carbohydrates:
17
g
|
Protein:
23.1
g
|
Fat:
24.7
g
|
Saturated Fat:
7.9
g
|
Cholesterol:
121
mg
|
Sodium:
656
mg
|
Fiber:
5.2
g
|
Sugar:
7.9
g
---
Explore the wines of Provence through the pairings of these great bloggers!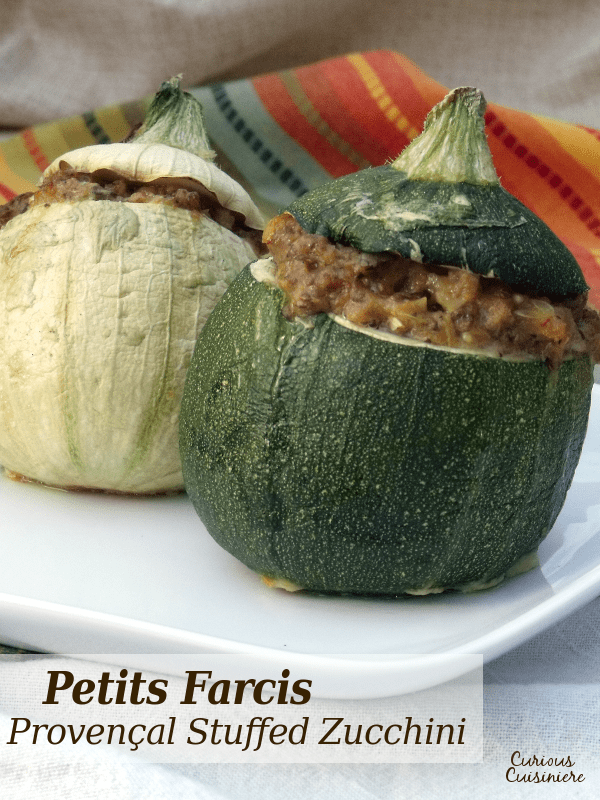 If you liked this recipe, here are some similar dishes you may enjoy!