Our Cherry Clafoutis is a light, French, cherry dessert that brings together whole, fresh cherries in a slightly sweet, eggy filling.
Creamy, Dreamy Cherry Clafoutis
The first bite of this cherry clafoutis instantly transported me back to the streets of Paris when I was a student there in college. This was it. This was the mystery dessert I picked up on a whim from a corner bakery and have been searching for ever since.
Clafoutis, pronounced kla-foo-TEE, comes from the Limousin region in the center of France. The word comes from the verb clafir which means 'to fill' since the batter is filled with cherries. Black cherries are the traditional fruit used in the dessert, but as the dish has gained popularity in the US, it is common to find many other fruits used. Technically speaking though, a clafoutis only refers to the cherry version of this dessert. If any other fruits are used, the dish is then properly called a flaugnarde.
Traditionally, the cherries are left un-pitted because cherry stones release a subtle almond flavor when baked. But, leaving the pits in does make eating the dessert a bit tricky, so we decided to remove the pits and bring the almond flavor into the dish with a splash of almond extract.
The end result plays the line between a baked custard and a dense, eggy cake, bringing rich flavors and an incredible moistness together in every satisfying bite.
Making Our Cherry Clafoutis Recipe
For such an elegant and exquisitely flavored dish, you would think it would be difficult to put together. But, in reality it is the most simple of dishes.
Simple ingredients, blended together to form a thin batter and poured over fruit. That's all!
Serving Clafoutis
In our opinion, clafoutis is best served immediately, while still warm. We loved the slight sweetness of it plain, but it is common to find it topped with powdered sugar, cream, or ice cream. Store any leftovers in the refrigerator for 2-3 days. Leftovers can be eaten cold or reheated slightly. (And, we won't judge you if you break out a slice for breakfast!)
Pairing Clafoutis with Brut Rose Wine
We went a bit out on a ledge with our wine pairing for this dessert and opted for a sparkling brut rosé. The bottle we chose was a Gérard Bertrand Crémant de Limeaux Brut Rosé. The wine comes from the Languedoc-Roussillon region in the south of France. This particular wine was fascinating to us because it is dedicated to Thomas Jefferson, who was apparently quite the fan of Limeaux sparkling wines. The wine had a beautiful color that perfectly complemented the cherries in the clafoutis.
The term Crémant" (pronounced cray-mawn) was initially used to signify a wine with more delicate bubbles than a traditional sparkline wine. It is also used to denote a French sparkling wine that is made outside of the Champagne region of Franc and/or a sparkling wine made from grapes other than the classic Champagne grapes.
It probably isn't a typical wine you would drink with a dessert, however we found it to be incredibly refreshing. The bubbles work nicely to cleanse and refresh the palate between bites. The sweetness from the clafoutis brightened with wine and smoothed out the crisp finish, making it an incredibly fun wine to pair with the dessert. Serve this wine slightly chilled at around 50ºF for best flavor.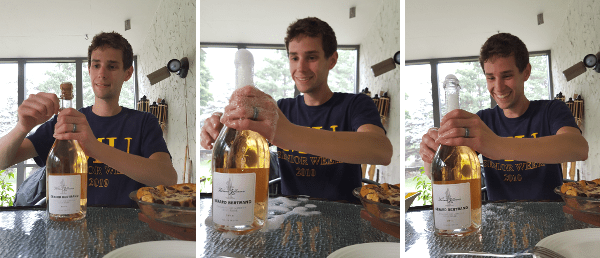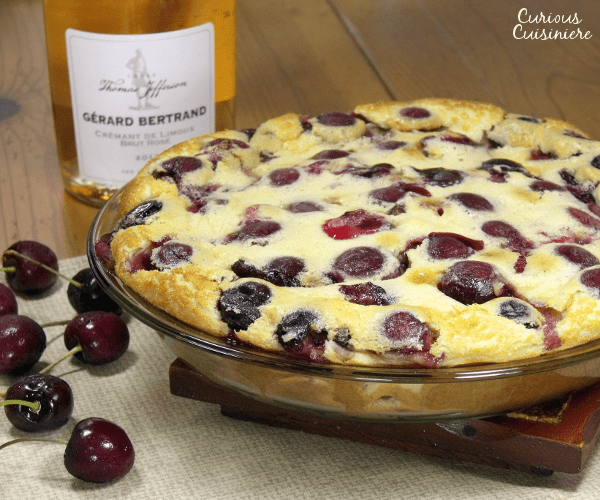 Cherry Clafoutis
Our Cherry Clafoutis is a light, French, cherry dessert that brings together whole, fresh cherries in a slightly sweet, eggy filling.
Yield: 1 8" pie pan or 8x8 baking dish
---
Ingredients
2

c

sweet cherries,

whole, pitted

1/3

c

sugar

1/8

tsp

salt

4

eggs

1

c

milk

2

Tbsp

salted butter,

melted

½

tsp

pure almond extract

½

tsp

pure vanilla extract
Instructions
Preheat your oven to 350F.

Arrange the whole, pitted cherries in a buttered 8"pie dish or 8x8 baking pan.

Place the remaining ingredients in the bowl of your food processor and blend until smooth. (The batter will be thin.) Pour the batter over the cherries in the prepared pan.

Bake the clafoutis for 45-50 minutes, until puffy and set in the center.

Remove the clafoutis from the oven and serve immediately, while it is still warm. (Don't be concerned if the beautiful dome on the clafoutis starts to deflate as it cools. That is quite normal.)
---
---
Celebrate America's July 4th holiday and France's Bastille Day (July 14) with some French and American wine pairings!
David of Cooking Chat started this event in June of 2014, and every month since then this group of wine and food lovers have had a great time! For more background, check out the original post announcing Wine Pairing Weekend. You can see the full list of past and upcoming #winePW events here.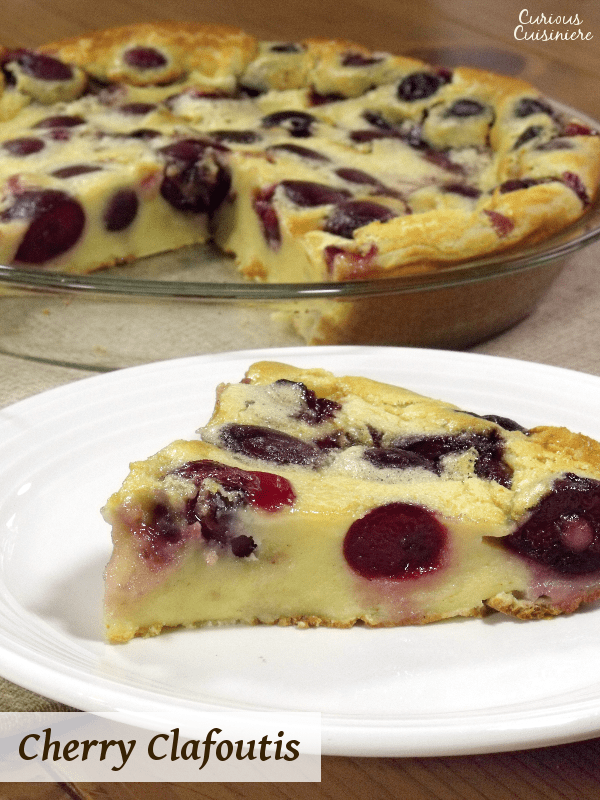 If you liked this recipe, here are some similar dishes you may enjoy!