If you like this dish, sign up for our newsletter to get tasty, cultural inspiration straight to your inbox. Where will you travel this week?
Our creamy, lightened up Chocolate Pots de Crème are the perfect dessert for a decadent, yet light, treat to share with someone special.
Much More Than Chocolate Custard
"Now, this is NOT chocolate pudding."
That was Tim's response as he dove into his Pot de Crème, and he was quite right. While these little custards have a similar texture and flavor to pudding, they aren't the same.
French Chocolate Pots de Crème
To make chocolate pots de creme, a pudding is a heated mixture of sweetened milk that is thickened with a starch (typically cornstarch).
Pots de Crème are a custard, meaning they are a mixture of sweetened milk and eggs. Custards are typically baked, and it is the eggs that causes them to set, giving them their spoon-able quality.
Now, the French don't have a word for 'custard' (which to those in Wisconsin might be considered a linguistic foul with as much as we love the frozen version of custard up here), so they call these little desserts 'Crème' or 'cream' instead.
Pots of cream.
It sounds so dainty. And rich. And delicious.
Making Easy Pots De Crème Lighter
You will find Pots de Crème ranging in sweetness and richness depending on the baker. Since their ingredients include cream and egg yolks, you can easily find yourself in for quite a decadent little treat, which is why they come in such small servings.
We've lightened up our Pot de Crème just enough by using fewer egg yolks and a mixture of skim milk and cream. The result is a smooth custard that is not overly heavy and brings a lot of rich chocolate flavor.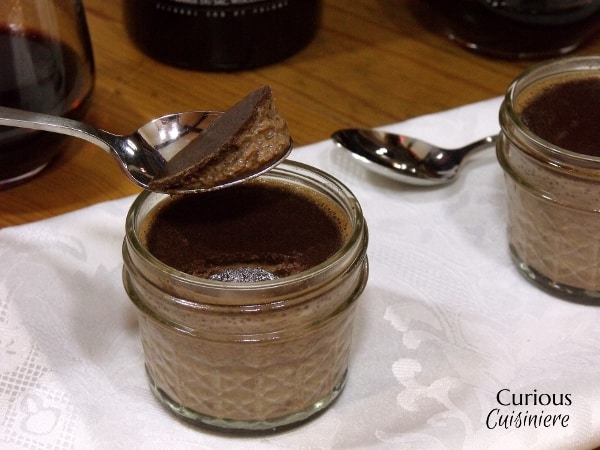 Pairing Chocolate with Port Wine
This lightened up version is perfect if you're pairing your Pot de Crème with a Port Wine, like we did for this month's Wine Pairing Weekend.
Today we are featuring the American Port Wine from Wollersheim Winery in Prairie du Sac, Wisconsin, near Madison.
Port Wine is typically a sweet red wine that is often served as a dessert in itself. Its sweetness lends it to a natural pairing with dessert items like chocolate and berries.
We found Wollersheim Winery's Port to be incredibly smooth with a lot of juicy, berry flavor. We really enjoyed that much of the sweetness and richness felt very fruit forward, unlike some Ports we have tried which are simply sweet. The berry notes and heavier feel of the wine on our tongue made it a perfect complement for the smooth chocolate custard.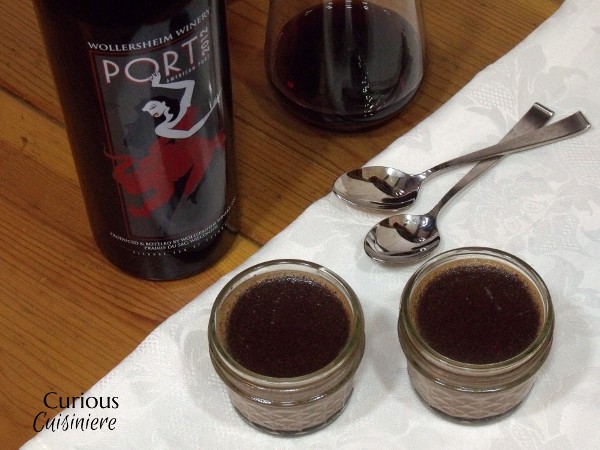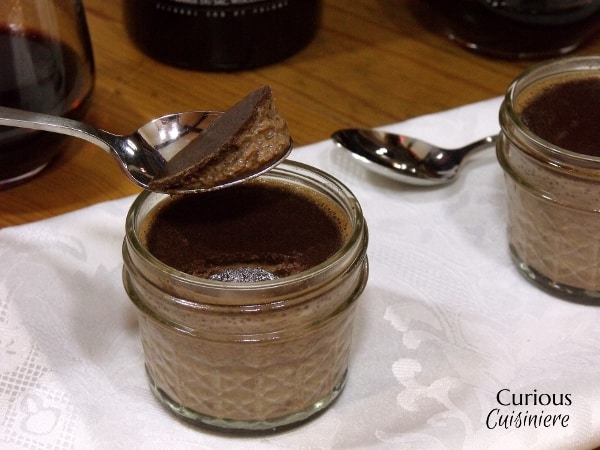 Chocolate Pots de Crème
Make these Chocolate Pots de Crème ahead of time to give them time to set up in the refrigerator.
Yield: 6 (4 oz) jars of custard
---
Ingredients
4

oz

semi sweet chocolate chips

2

tsp

cocoa powder

1 ½

c

skim milk

½

c

heavy cream

2

eggs

2

egg yolks

¼

c

sugar
Instructions
Preheat your oven to 325F.

In a double boiler (or the microwave on VERY low heat), melt your chocolate chips. Stir often until just melted. Add cocoa powder and stir until smooth. Remove from the heat.

In a medium saucepan, heat milk and cream over medium heat until the mixture beings to steam and small bubbles form along the sides of the pan, 5-7 min.

Slowly pour the warm milk into the melted chocolate, mixing constantly to dissolve the chocolate and create a smooth mixture.

In a large mixing bowl, beat eggs, yolks, and sugar by hand with a wire whisk until smooth. (Do not use an electric hand mixer to beat your eggs; it will bring too much foam into your custard, giving your pots the wrong texture.)

Pour the hot chocolate milk mixture into the beaten eggs, whisking constantly as you pour.

Using a fine mesh sieve, strain the mixture into a 4 cup glass measuring cup with a spout. Pour the custard into 6 (4 oz) ramekins or glass jars.

Place the filled jars into an 8x8 baking dish and fill the baking dish with 1 inch of water. (Baking the pots in a water bath helps the custard to cook more evenly.)

Place the baking dish with the jars of custard into the oven and bake for 25-30 minutes. When the custard is done, it should jiggle only slightly in the middle, and feel mostly set up.

Carefully, using tongs, remover the jars from the water bath to cool on a wire rack.

After 10-20 minutes, cover the jars and place them in the refrigerator for 4 hours or up to 2 days.

Serve chilled.
---
---
Celebrate Valentine's Day with romantic food and wine pairings!
David of Cooking Chat started this event in June of 2014, and every month since then this group of wine and food lovers have had a great time! For more background, check out the original post announcing Wine Pairing Weekend. You can see the full list of past and upcoming #winePW events here.
If you liked this recipe, here are some similar dishes you may enjoy!