Don't reach for that pudding cup! This rich an Fudgy Chocolate Pudding takes less than 30 minutes to make at home with pantry staples.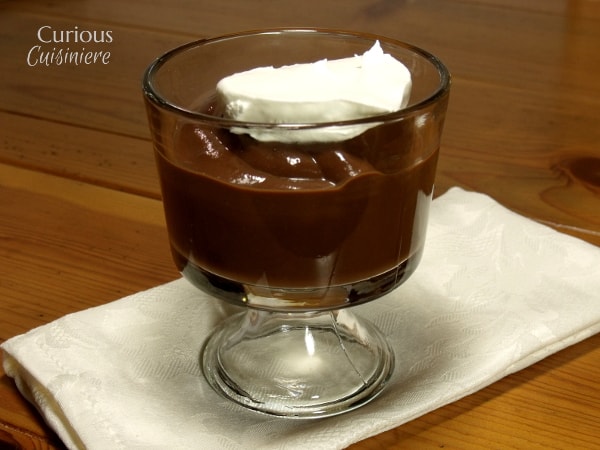 While driving home from work the other day, I was seized with an uncontrollable desire for chocolate pudding.
I can't tell you the last time I had eaten chocolate pudding.
But, there it was.
It was the only thing I really wanted for dinner.
Making Old Fashioned Chocolate Pudding
So, when I got home, I cracked open one of our old school Betty Crocker Cook Books – the one with pictures of wives cooking in their pearls and with captions like "A good wife is waiting at the door with a cocktail when her husband comes home from a long day's work".
(I promise you, I'm not kidding here.)
But, where better to look for a classic recipe, than in a old school cook book?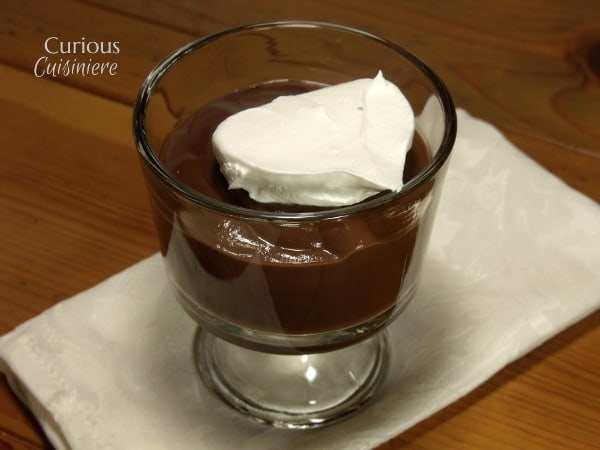 How To Make Homemade Chocolate Pudding
This easy chocolate pudding recipe is for a basic cornstarch thickened pudding. If you've ever made a cooked custard, then you're pretty much there.
A little bit of cooking. A tempered egg. And some simmering to thicken.
Less than 30 minutes later and you have warm, delicious, thick, fudgy chocolate pudding.
Why would you reach for that pudding cup when you can have a bowl of this?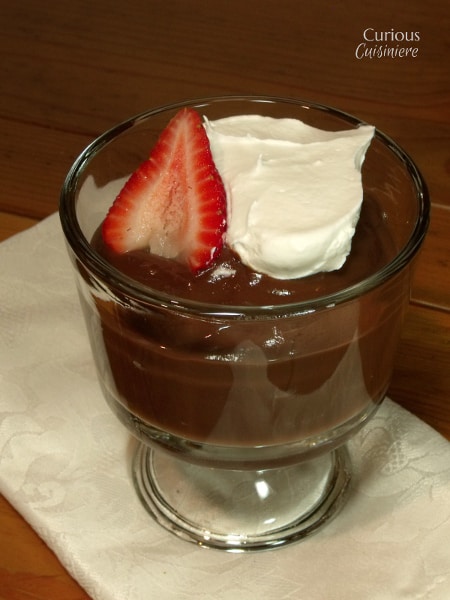 I may not have had a cocktail in hand when Tim came home from work, but, there was chocolate pudding.
For him, that just might have been better.
And, we may have eaten strawberries dipped in warm pudding for dinner that night.
Just maybe.
Fudgy Chocolate Pudding
This rich an Fudgy Chocolate Pudding takes less than 30 minutes to make at home with pantry staples.
Yield: 3 c
Ingredients
½

c

sugar

½

c

cocoa powder

2

Tbsp

cornstarch

½

tsp

salt

2

c

milk

2

egg yolks,

beaten slightly
Instructions
In a medium saucepan, mix together sugar, cocoa, cornstarch, and salt.

Turn heat to medium, and gradually stir in milk. Cook, stirring and scraping the bottom constantly, until the mixture begins to thicken and boil.

Boil for 1 minute, then remove pan from heat.

Place egg yolks in a small, heatproof bowl. Slowly add 1 cup of the hot mixture to the egg yolks, stirring constantly. (This will temper the egg yolks so they do not cook instantly when added to the pudding.)

Pour egg mixture into the hot pudding.

Return to heat and boil 1 minute, stirring and scraping the bottom of the pan constantly to prevent sticking and burning.

Serve immediately or let cool and serve chilled.
If you liked this recipe, here are some similar dishes you may enjoy!