Pastel de queijo are Brazilian cheese pastries that could be described as a mozzarella stick, a fried empanada, and a cheese egg roll, all in one delicious package. This appetizer and street food is something all cheese lovers definitely need to try!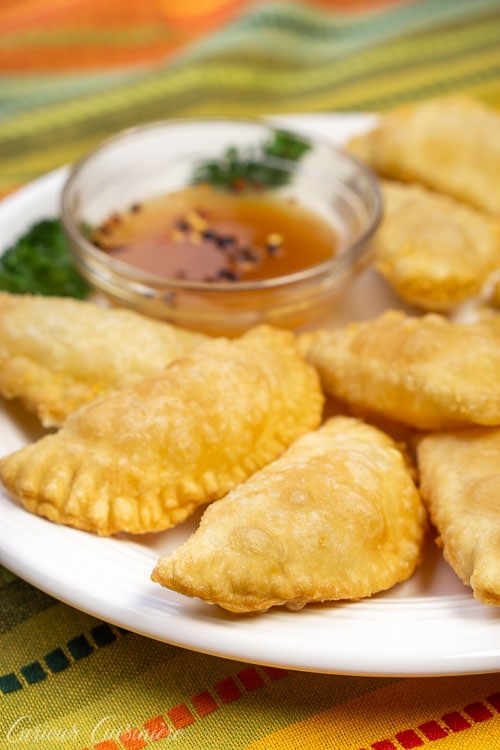 What is a Brazilian pastel de queijo?
A Brazilian pastel is a street food or appetizer that is kind of like a deep fried empanada that is made with a thinner dough, closer to the thickness of a wonton wrapper.
So, if you can imagine a cross between an empanada and a Chinese egg roll, you're getting close to the idea of a Brazilian pastel.
In Brazil, you'll find pastel (plural: pastéis) sold everywhere you can find street food, and more. They're common market food, a perfect appetizer at a bar, and there are even shops called pastelaria that only sell pastel.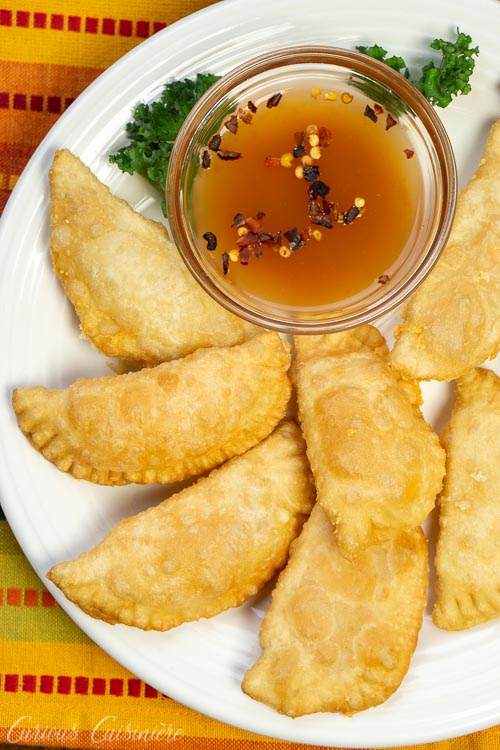 Where did pastel come from?
There are two versions of the story of the origin of pastel, and, not surprisingly, both start in Asia.
Pastel either originated from the Chinese egg roll or the Japanese goyza dumpling.
Did you know that Brazil is home to the largest Japanese population outside of Japan?
There were a number of waves of Japanese immigrants starting in 1908 and resurging after WWII. During this period of mass immigration, there was often hostility towards the Japanese in Brazil, so it was common for the Japanese to open their own pastelrias and try to pass as Chinese.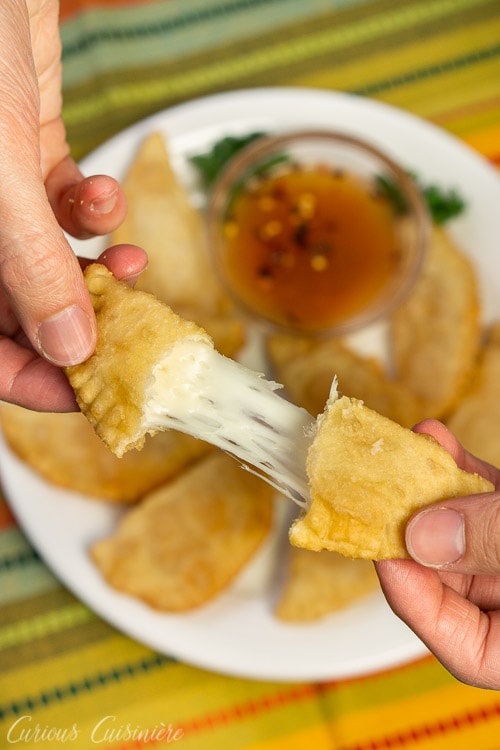 What are common pastel fillings?
As you could imagine for such a well-loved pastry, you can find MANY different fillings for pastel. Both sweet and savory!
Some of the most common savory fillings include:
cheese
hearts of palm
chicken and a creamy cheese
beef
Common sweet fillings include:
mild white cheese
chocolate and banana
But these fillings are just the beginning. Bars and pastelaria are always coming up with fun new filling flavors. Think of pastel as a vehicle for appetizer and street food creativity!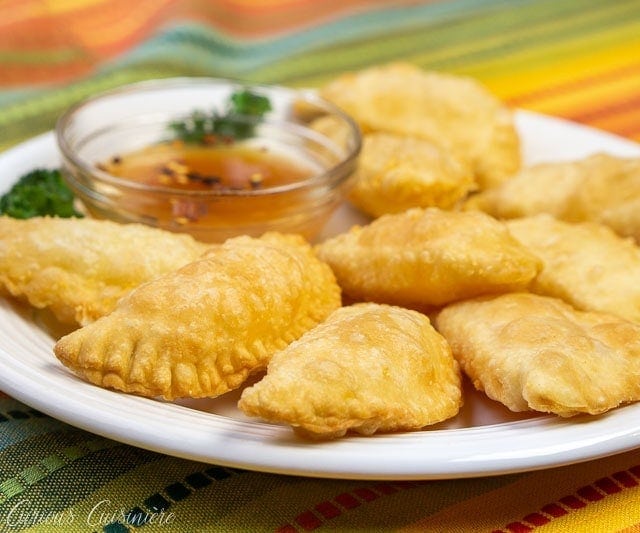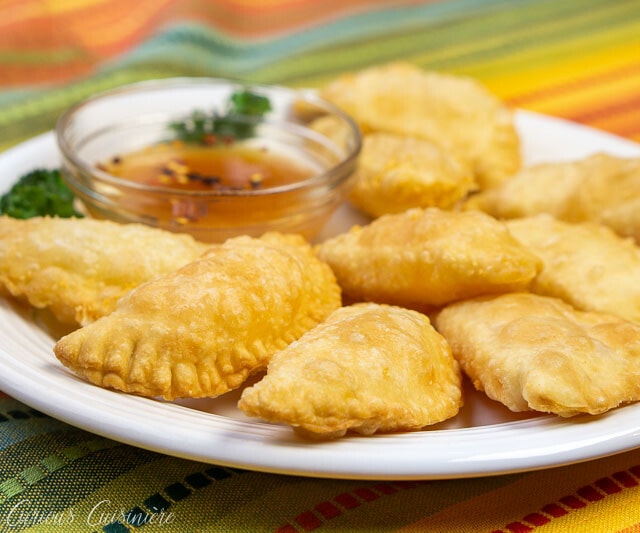 What do pastel look like?
Pastel can come in a number of shapes and sizes.
Commonly at bars you will find these pastries shaped in a half circle, like a familiar empanada, except smaller. The small, half circle shape makes these the perfect appetizer for munching with a drink.
If you're looking for pastel at a market or pastelaria to enjoy as a street food, you will often find them larger, more hand-sized and rectangular shaped. This version is definitely heartier and the perfect on-the-go meal.
What do cheese pastel taste like?
While pastel may look like an empanada, the texture is quite different. The dough is rolled much thinner than a traditional empanada dough, so when it is fried, it crisps up quite nicely, to a similar texture to that of an egg roll or crab rangoon.
While you can use any number of fillings, cheese pastel taste like a mozzarella-filled, fried egg roll meets a cheesy empanada.
So basically, pure, cheesy, goodness!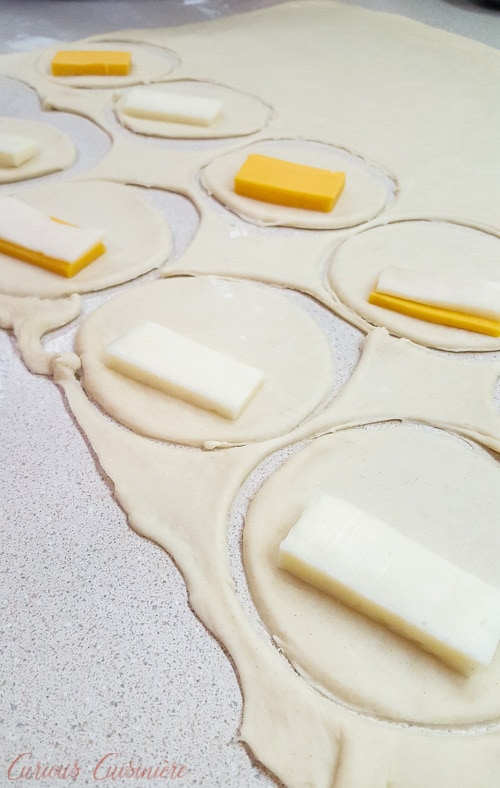 How to make pastel dough
Pastel dough is quite easy to make. It starts with a simple dough of flour, salt, water and oil. However there are a couple ingredients that do make it unique.
Pastel dough also includes vinegar and alcohol. These two ingredients add a light flavor to the dough and make the dough bubble up when it fries, giving it a characteristic appearance and extra crunch.
The alcohol typically used in pastel dough is a Brazilian white sugar cane alcohol called Cachaça. Cachaça differs from rum in that it is made from fresh sugar cane juice, while rum is made from molasses.
If you can't find Cachaça, white rum or simply white vodka would be an acceptable substitute.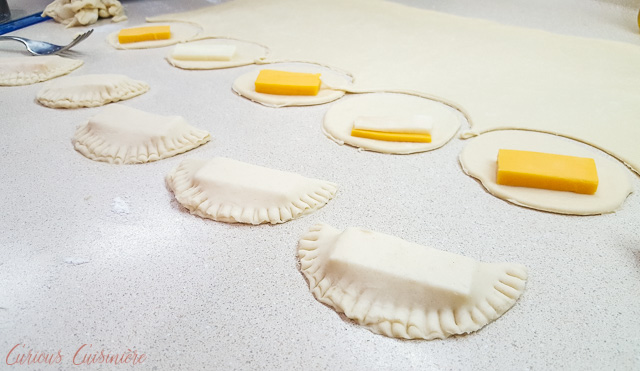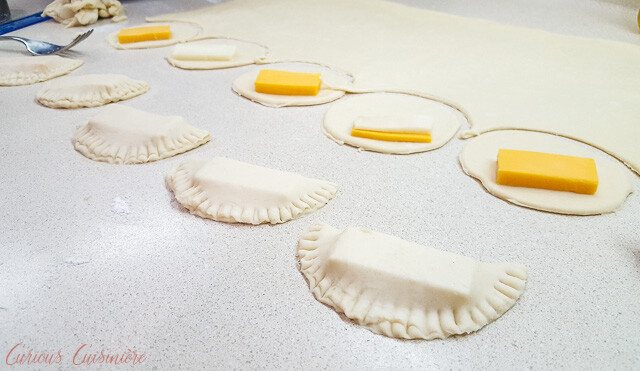 And, it's worth noting, that since we will be frying these pastéis, the small amount of alcohol in the dough will cook out before they are served.
After mixing the dough and kneading it to a very smooth consistency, it is important to let it rest for 30 minutes to 1 hour, so that the gluten can relax enough that it can be rolled super thin. (We're talking 1-3 mm!)
Can you freeze pastel de queijo?
Brazilian pastel de queijo are best if eaten as soon as they cool down from the deep fryer.
If you'd like to prepare them ahead of time (because this recipe does make quite a few), the best method is to get them just ready to go into the fryer and then freeze them in a single layer on a parchment-lined baking sheet. (Much like you would egg rolls or ravioli.)
Once frozen solid, you can transfer them to an airtight container or zippered bag and store them in the freezer for 3-4 months.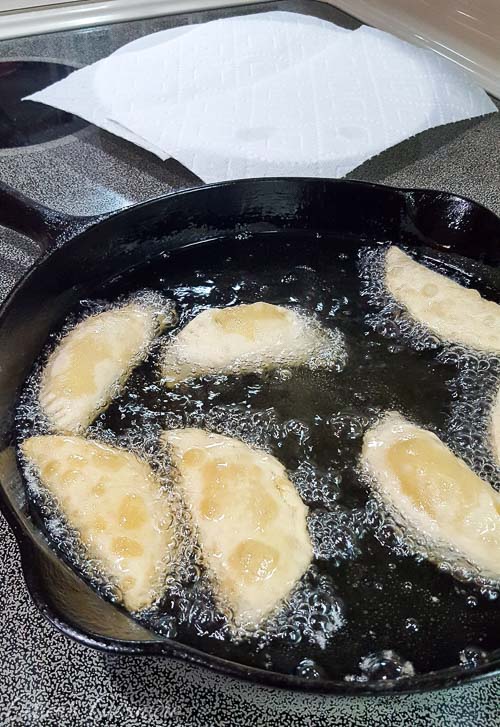 When you are read to fry some up, just heat your oil and fry from frozen. (Being careful about oil splatters, because very cold things tend to cause extra oil sputtering.)
How to serve pastel
With so many fillings and so much flavor, pastéis don't need much in the way of accompaniments. Apart from a refreshing drink, of course.
They are, however, most often served with some hot sauce as a condiment.
Sparkling wine and cheese pastel pairing
While it is most common in Brazil to serve pastel with an ice cold beer or sugar can juice, we found them to be the perfect pairing with a Brazilian sparkling wine.
Did you know that Brazil is actually quite a well-kept secret for the quality of their sparkling wines?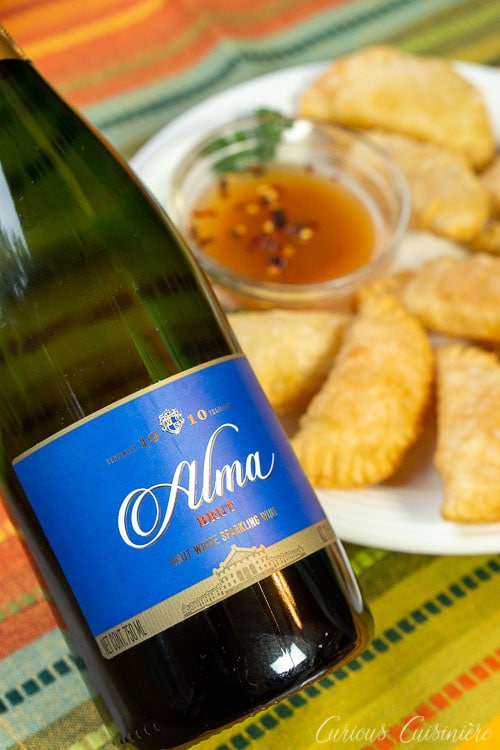 Disclosure: We were provided a sample of the wine mentioned below. As always, all opinions are our own.
Sparkling wine in Brazil
We paired our pastel de queijo with an Alma Salton sparkling wine. The wine was quite light and crisp with notes of citrus and green apple.
Although labeled as a brut, it was definitely on the sweeter end for a brut. However, this may make it more appealing for a wider audience.
The sparkler paired well with the cheese pastel, cleansing the palate well after each rich and cheesy bite.
This wine is definitely a good appetizer choice for a party or special occasion. And at $5 a bottle, it is a great value sparkling wine that would appeal to a wide audience.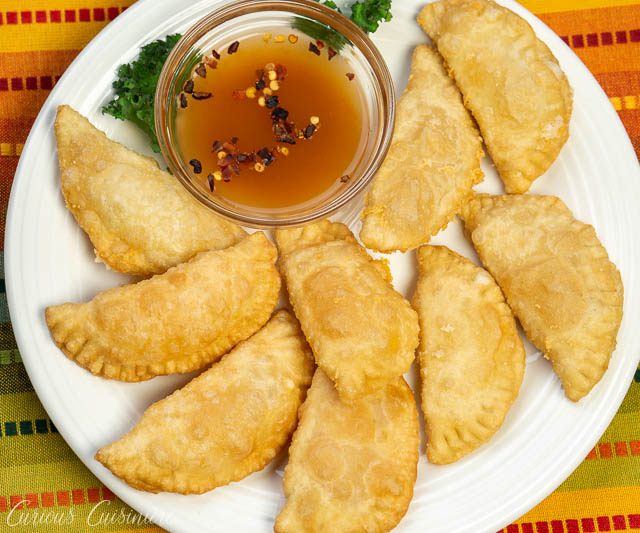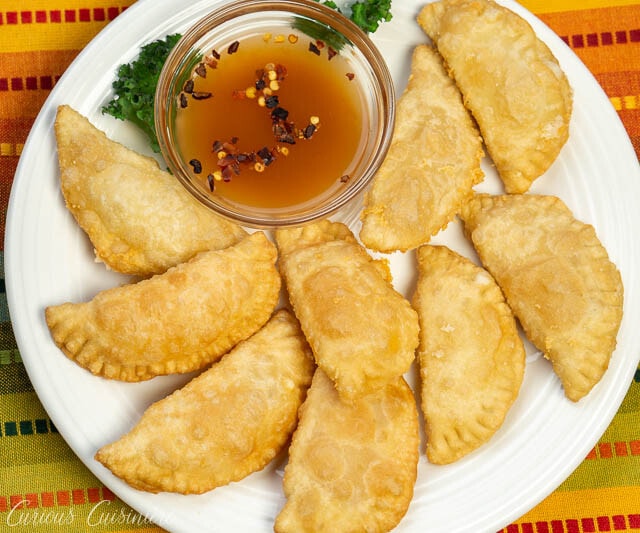 Yield: Roughly 50 pastel (Cut at 3 ½ inches, after frying shrunk to about 3 inches)
Brazilian Pastel de Queijo (Cheese Pastries)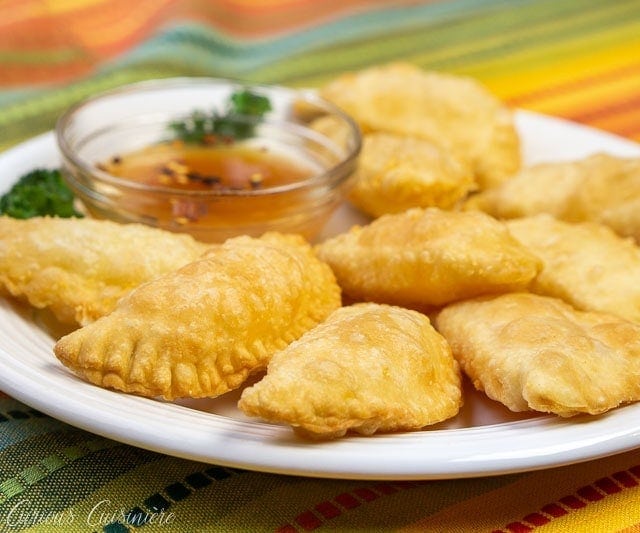 Pastel de queijo are savory Brazilian cheese pastries. This appetizer and street food is something all cheese lovers definitely need to try!
Dough Prep and Rest Time
40 minutes
Rolling and Filling Time
1 hour
Total Time
1 hour
55 minutes
Ingredients
For The Pastel Dough
3 ½ - 4 c all-purpose flour
1 egg, lightly beaten
1 Tbsp salt
1 c water
2 Tbsp vegetable oil
1 tsp white wine vinegar
2 Tbsp Cachaça (or white rum or vodka)
Vegetable oil for frying
For The Cheese Filling
8 oz soft and melt-able cheese (mozzarella, cheddar, provolone, etc), sliced or cubed
Instructions
For The Pastel Dough
In a large bowl, mix together 3 ½ c flour and salt. Add the water, egg, oil, vinegar, and alcohol to the flour mixture and mix well.
Once the dough starts to come together, transfer it to a floured surface and knead until the dough is very smooth and elastic (5-7 minutes), adding extra flour as needed to keep the dough from sticking to your hands or the counter.
Cover the dough with a tea towel and let rest for 30 minutes - 1 hour.
To Make The Pastéis
Divide the dough in half. Roll out one half as thinly as you can (aim for 1-2 mm thick).
Using a round cookie cutter (we used a 3 ½ inch cutter), cut circles in the dough.*
Place a couple cubes of cheese in each round of dough.
Fold the dough over the filling to create a half circle. Press the edges of the pastel tightly closed using a fork, to seal the filling in. (If you are having trouble getting the edges to seal, or if your dough has set out for a while and started to dry, simply dip your finger in some water and use it to moisten the edges of the dough.)
Continue rolling out the dough and filling it, until all the dough has been used. Heat a deep skillet (or saucepan) with enough oil to cover the pastéis (roughly 1-2 inches). Heat the oil to around 350F, but not smoking.
Fry the pastéis until golden and crispy, turning once, being careful not to over-crowd your cooking oil. Frying time will vary depending on how hot your oil is, but it should take from around 1 - 3 minutes a side.
Transfer the pasteis to a paper towel-lined plate and serve as soon as possible!
Notes
*You could also use a knife or pizza cutter to cut the dough into squares or rectangles. And, technically, pastéis can be any size you would like.
Recommended Products
As an Amazon Associate and member of other affiliate programs, I earn from qualifying purchases.
---
This pairing is a part of this month's Wine Pairing Weekend (#WinePW on social media) hosted by Susannah of Avvinare and Wines of Brasil.
If you're curious to learn more about wines from Brazil, have a look at these other delicious pairings!
If you liked this recipe, here are some similar dishes you may enjoy!