These Argentinian cheese and quince empanadas have a delicate, crispy crust filled with quince paste and a layer of cheese. They are a delicious mixture of sweet and savory that goes well as a snack or as an appetizer.
Empanadas in Argentina
Empanadas are very popular across South America.
The crust varies from country to country as does the filling. (Take these Bolivian chicken empanadas and these Chilean beef empanadas, for example.)
Argentina has an amazing array of pastries that are consumed every day with a hot drink called mate.
Mate is an infusion prepared with yerba mate leaves, which is served in a small round cup called mate, cuia or porongo. This tea is drunk through a metal straw with a wider end, with small holes that let the tea in.
Drinking mate is an Argentinian ritual. It's about friendship and about sharing.
The host serves mate, takes the first sip, serves it again and passes the cup to the next person.
When you return the cup, you don't say "thank you," as that means you are all done.
Mate is served with different kinds of pastries. Many have dulce de leche, guava paste or quince paste.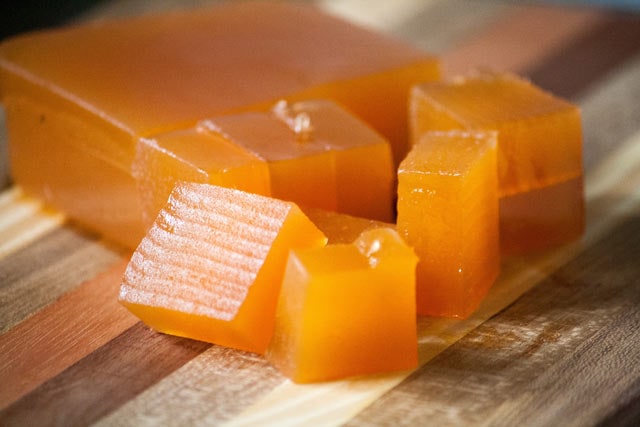 Quince Paste
In Argentina, quince is an autumn fruit that is cooked before eating.
The fruit has a golden yellow flesh with a delicate honey aroma. But its flavor is very tart, and thus it is most often consumed in jams, jellies or as a paste.
Quince have a high pectin content that makes them very appropriate for these kinds of preparations.
Quince paste is made by cooking down the fruit with sugar until a thick mixture forms. This mixture is then cooled in a container. Once cooled, it's sliced and enjoyed with cheese or in different desserts.
Quince paste or quince cheese is available in many Latin stores in the US.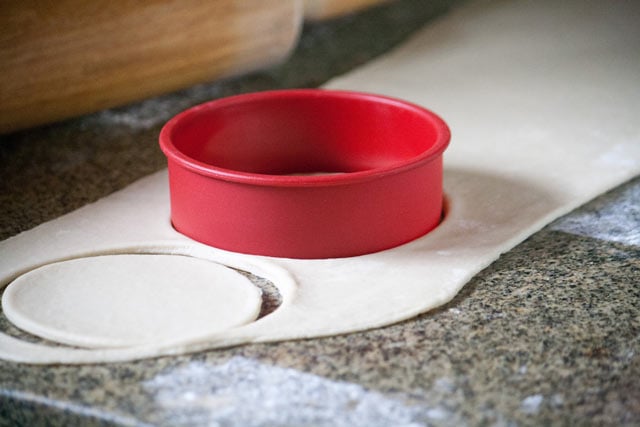 Empanada Dough – Making False Puff Pastry
For these empanadas, the dough is rich and buttery.
This pastry is often called "false puff pastry".
I find puff pastry a little bit difficult to make (maybe because I live in a hot and humid country), but really enjoyed and found this false puff pastry really easy to make.
All the ingredients need to be at room temperature. The dough has just a few ingredients and comes together in no time.
Once the dough is done, roll it into a long rectangle. Spread some butter and then sprinkle some cornstarch. I think this is the trick that makes it so easy to make.
Once, you've spread butter and folded the pastry, you do it one more time. It goes in the fridge until you are ready to fill and bake.
How To Assemble Quince and Cheese Empanadas
Before you assemble these empanadas, make sure you have your quince paste and cheese ready.
Roll out the dough into a long rectangle, making sure it is wide enough that your round cutter will fit just fine. Cut circles with your cutter, fill and seal empanadas.
Once you've done this, you can bring all the leftover pieces together, by stacking them and rolling the dough again. Place it in the fridge until chilled again, and then re-roll and cut more circles.
The other option (If you don't want to re-roll your scraps) is to brush those little pieces with egg wash and sprinkle with some sugar. Bake them and enjoy them with your coffee.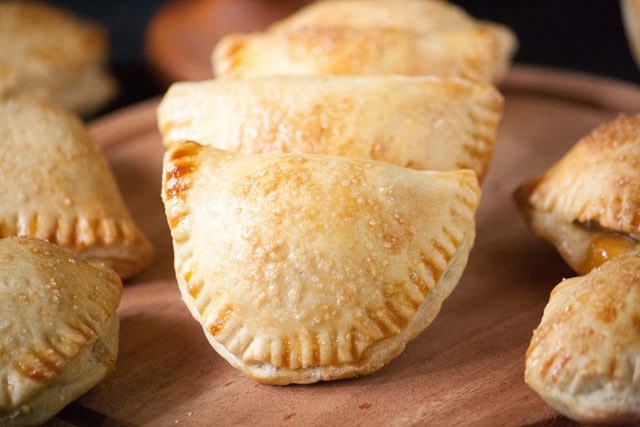 Cheese for Quince Empanadas
Goat cheese is very popular in Argentina. It's semi-firm, as it is stored for 3 to 4 months after making it.
In the US you can replace the traditional Argentinian goat cheese with goat's milk gouda cheese or just go with a mild, semi-firm cheese that you have on hand, like mozzarella, provolone, or gouda.
Just make sure when you make the empanadas, you have the delicious sweet and savory combo of the cheese and quince paste in each bite!
(And if you're looking for more cheese-filled pockets, you'll want to try these Brazilian cheese pastries.)
Yield: 8 (4 inch) empanadas
Empanadas de Membrillo (Argentinian Quince and Cheese Empanadas)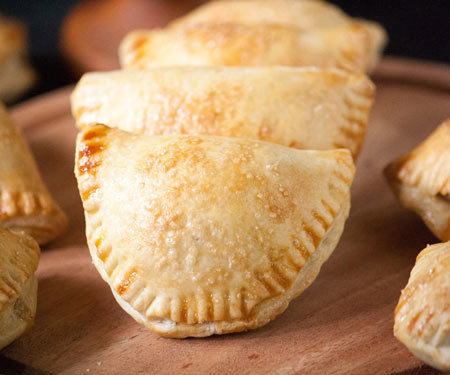 These Argentinian cheese and quince empanadas have a delicate, crispy crust filled with a sweet and savory mixture of quince paste and cheese.
Total Time
1 hour
20 minutes
Ingredients
For the Empanada Dough
2 cups flour
1/4 teaspoon salt
1/4 cup butter, at room temperature
1/2 cup + 2 tablespoons water, at room temperature
3 Tablespoons butter, at room temperature
2 Tablespoons cornstarch
For The Filling
4 slices mozzarella cheese, cut into 1-inch squares
1 egg, beaten, for egg wash
2 Tablespoons sugar
Instructions
For The Empanada Dough
In a medium bowl, add flour, salt, 1/4 cup room temperature butter, and water. Mix with your hands until the dough comes together.
Knead the dough for 3 to 5 minutes, or until it becomes soft.
Roll the dough into a long rectangle (three times as long as it is wide). The dough should be 1/4 inch thick. Straighten up the sides with your hands and try to keep the edges as square as possible.
Spread 1.5 Tablespoons of soft butter over the dough with a spatula. Sprinkle 1 Tablespoon of cornstarch over the butter.
Fold the bottom third of the long edge of the pastry up, then the top third down. Turn the dough so that its open edge is facing to the right. Roll the dough again into a long rectangle. Spread the rest of the butter over the dough and sprinkle it with the rest of the cornstarch. Repeat the folding as above.
Chill dough for 40 minutes or up to 2 days.
To Make The Empanadas
Preheat your oven to 400F.
Stack the cheese slices together and cut them into 1-inch squares. Use 2 to 3 squares per empanada.
Cut your quince paste into 1-inch cubes.
On a floured surface, roll the pastry into a long rectangle, 5x24 inches. Using a 4-inch round cutter, cut disks in the dough (about 8).
Place 1 quince cube in the middle of each pastry round and a few pieces of cheese over it.
Seal each empanada by pinching the edges together with your fingers.
Place filled empanadas on a baking sheet. Use a fork to crimp the edges and finish sealing the empanadas.
Brush the empanadas with egg wash and sprinkle with some sugar.
Bake for 25 minutes, or until golden brown.
Notes
Empanadas can be kept for up to 5 days in the refrigerator.
Empanada dough can be frozen for up to 3 months.
Recommended Products
As an Amazon Associate and member of other affiliate programs, We earn from qualifying purchases.
If you liked this recipe, here are some similar dishes you may enjoy!