With a crispy-sweet crust and a juicy chicken filling, Empanadas de Pollo, Bolivian chicken empanadas, are a great recipe for your next get together. Serve them with a hot drink in the winter or with a fresh lemonade in the hot summer days.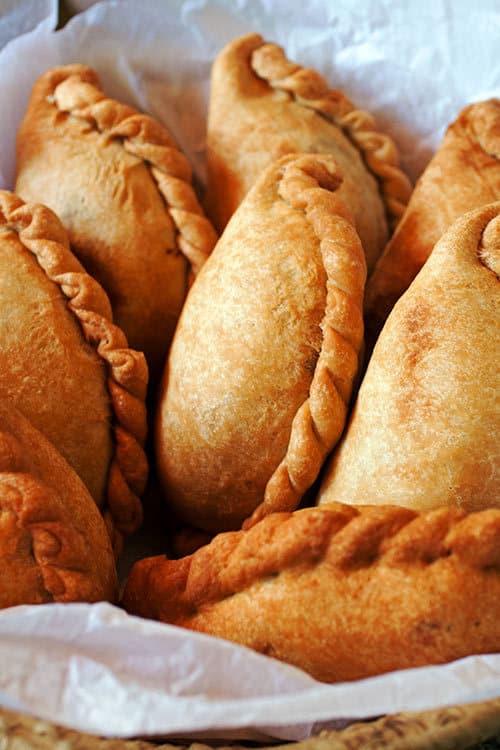 Empanadas came with the Spanish conquerors to many South American countries.
Each country then developed their own way of making these hand pies. Some sweet, some savory and others a mix of both.
Bolivian Empanadas
The crust for Bolivian empanadas tends to be a little bit sweet and crispy, and even though they're fried, they're not oily.
There is such a variety of fillings: beef, chicken, charque (salted dehydrated meat), cheese, and plantains, to mention a few.
Last time I had chicken empanadas in Bolivia, my aunt served them for breakfast with a cup of Bolivian hot chocolate (dried chocolate pods, ground to make a paste).
It was such a treat!
Bolivian empanadas are really a labor of love. They take time. It´s not a complicated recipe, just many little steps to get amazing bites.
Make the filling and the dough ahead of time or get together with a friend to help you make these delicious empanadas.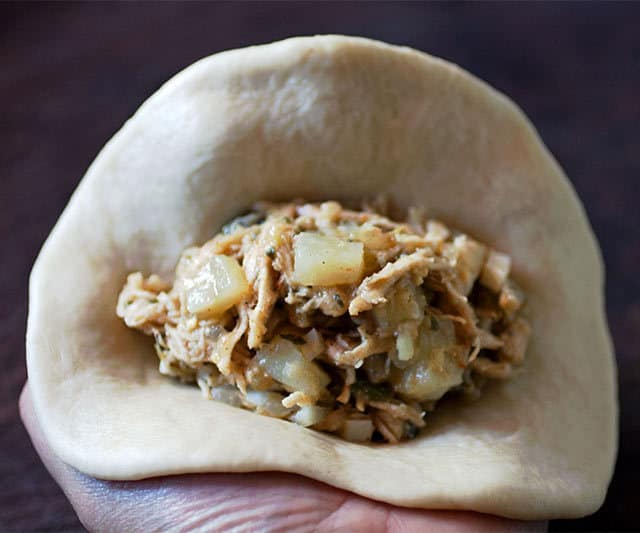 What Is In A Chicken Empanada Filling or Jigote
For these chicken empanadas we're using shredded chicken. Remember to save 2 cups of the broth for the final step!
The ingredients mentioned in the recipe card are the most common ones to mix in with your chicken.
chicken
potatoes
onion
garlic
parsley
hard boiled eggs
green olives
raisins
My boys dislike peas, so I didn't add any. But if you like them, add 1 cup of frozen peas along with the rest of the vegetables.
If you want to save some time, use frozen potatoes and peas and let them cook with the chicken, broth and the rest of the vegetables.
Traditionally, eggs and olives are added right before sealing each empanada. For our recipe, we're chopping these 2 ingredients into small pieces and adding it to the filling. Because eggs tend to break or disintegrate easily, we'll add them towards the end, right before chilling the filling.
This empanada filling or jigote can be made up to 3 days before frying the empanadas. Because it's kind of juicy, you need to keep it chilled.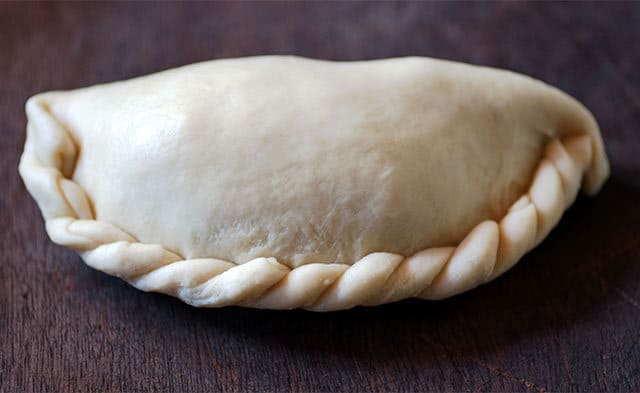 How To Make Empanada Dough
The dough for empanadas tends to be a little bit hard to knead.
It's a stiff dough.
The trick is to cover it or keep it in a clean plastic bag and let it rest. Or, if you have a stand mixer, use the hook attachment to make this step easier.
Baking in different countries, I've noticed that flour absorbs liquids in different ways. If you´re making this recipe in the US, you might need 2 to 4 tablespoons more water. If your dough is too wet, add 1 to 2 tablespoons of flour.
Once you form the individual balls of empanada dough, you can keep them in the refrigerator for up to 4 days. Let them stand at room temperature for 30 minutes before rolling into discs.
How To Fill And Seal Empanadas
Because these chicken empanadas are fried, is very important to seal them properly.
I like to put some of the filling into a small bowl, that way I can keep the rest of it chilled.
Start rolling your dough into a circle (you don't need to flour your counter or rolling pin).
Then, place the empanada disc in the palm of your hand.
Use a spoon to fill the empanada. Leave enough room around the edges to seal them.
Bring edges together and pinch all the way around.
Starting at one corner, press the dough with your thumb and index finger, fold the corner over the edge making a triangle and press again. Continue all the way around.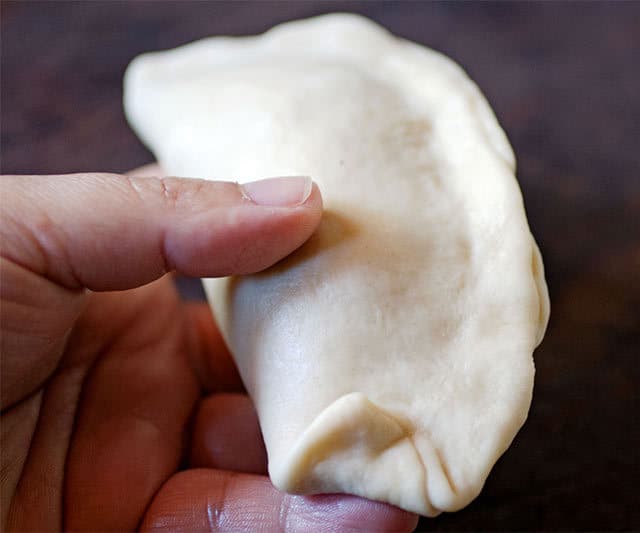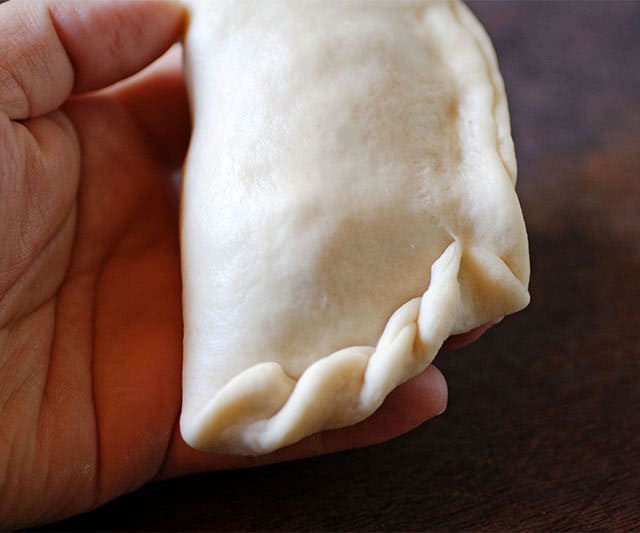 Frying Bolivian Chicken Empanadas
Once you have filled and sealed about 6 empanadas, you can start heating up the oil.
Use a big/deep pot or a wok.
Heat the oil at medium-low for about 3 minutes.
Add 2 or 3 empanadas at time and fry for a total of 5 minutes.
Place them on a paper towel and enjoy.
Once fried, these empanadas keep well in the fridge for up to 2 days.
Reheat them in the microwave for about 1 minute before serving.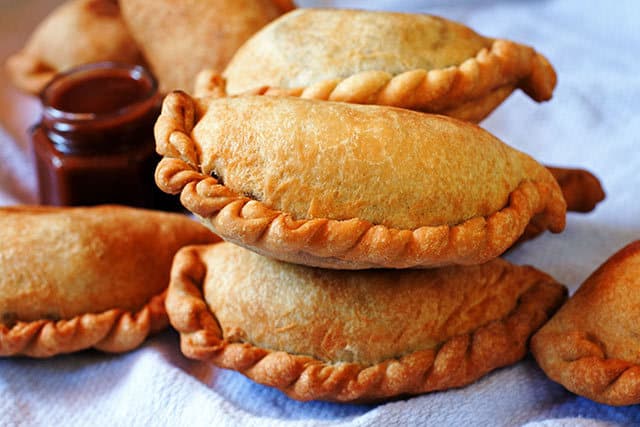 How To Serve Bolivian Chicken Empanadas
Bolivian empanadas are delicious snacks.
Traditionally fried empanadas are served at 10 in the morning or 4 in the afternoon with your favorite drink.
I prefer mine with a cup of coffee. Others prefer theirs with hot chocolate. In the summer, they are wonderful with fresh fruit juice: lime juice, tamarind juice, lemonade, or with soft drinks.
Because empanadas do take time to make, I like to serve them as main meal with some salad.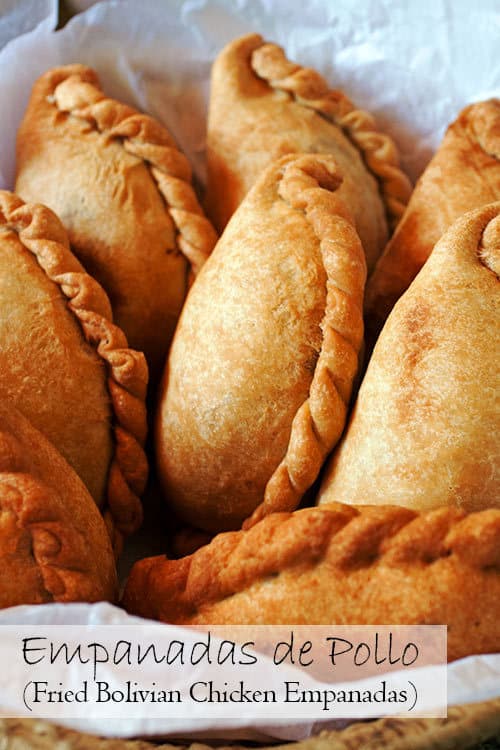 Empanadas de Pollo (Bolivian Fried Chicken Empanadas)
With a crispy-sweet crust and a juicy chicken filling, these Bolivian empanadas are served as a mid-morning or afternoon snack.
Yield: 18 (6 inch) empanadas
Note: The filling for these empanadas needs to cool before filling the dough. The filling can also be made ahead of time and stored in the refrigerator for a day or two.
Ingredients
Filling:
1.7

lb (666g)

chicken breast

2

medium

potatoes,

diced (about 1lb/500g)

2

tablespoon

vegetable oil

1

onion,

minced

2

cloves

garlic,

minced

4

tablespoon chopped

fresh parsley

1

green pepper,

diced

1 ½

tablespoon

oregano

¼

teaspoon

cumin

½

teaspoon

ground black pepper

2

teaspoons

salt

2

teaspoons

cayenne pepper

(if desired)

3

hard boiled eggs,

diced

½

cup chopped

green olives

½

cup

raisins

2

cups

chicken broth

1

tablespoon

unbleached all-purpose flour
Dough:
8

cups (1kg)

unbleached all-purpose flour

1

cup (226g)

butter or lard,

softened

¾

cup (150g)

sugar

1

teaspoon

salt

1 ¾

cup

water

6

cups

vegetable oil

(for frying)
Instructions
For The Chicken Filling
In a big saucepan add chicken breast and enough water to cover the chicken. Cook until chicken is tender. Let it cool enough to handle and shred it. Reserve 2 cups of the broth.

Add potatoes and water to a medium saucepan and cook until tender when pierced with a fork. Drain the potatoes and set aside.

In a large saucepan, add 2 tablespoons of oil and sauté onions, garlic, parsley, and green peppers over high heat for about 2 minutes.

Add the reserved broth (2 cups), shredded chicken, potatoes, oregano, cumin, salt, pepper, cayenne pepper, and green olives. Bring to a simmer and sprinkle 1 tablespoon of flour, stirring constantly. Cook for 3 minutes on medium heat. Remove from heat and add raisins and diced eggs. Give it a gentle stir.

Refrigerate until cooled completely, about 4 hours or overnight.
For The Empanada Dough
In a big bowl, add flour, butter, sugar and salt. Using your fingers or a pastry blender, mix until crumbly.

Add water and mix until the dough comes together. Keep the dough in a zip-lock bag for 10 minutes.

Knead the dough until smooth.* Add 1 to 2 tablespoons of water if the dough seems dry. Let the dough rest in a zip-lock bag for 20 minutes.

Divide the dough into 18 equal portions. Roll each portion into a ball. Let it rest in a zip-lock bag for 5 minutes.
Assembling Empanadas
Roll and assemble one empanada at a time.

Using a rolling pin, roll balls into a circle, 6 inches in diameter.

Hold the empanada disk in the palm of your hand and place 1/4 cup of chilled filling. Making sure the filling doesn't touch the edges.

Fold the dough in half over the filling. Pinch the edges together all the way around to seal the empanada.

Starting at one corner, press the dough with your thumb and index finger, fold the corner over the edge making a triangle and press again. Continue all the way around.

Using a wok, heat the oil on medium-low. About 320 F. Fry empanadas for 5 minutes (2.5 min. each side) 2 or 3 at a time.**

Drain over paper towels.

Serve hot.
Notes
*The dough can be mixed and kneaded in a stand mixer with the dough hook attached.
**These empanadas can also be baked at 400F for 20 minutes.
If you liked this recipe, here are some similar dishes you may enjoy!