Chilean Empanadas de Pino are flavorful beef empanadas filled with unexpected ingredients like raisins, olives, and hard boiled eggs. These make a great meal on the go and are perfect for a make-ahead meal!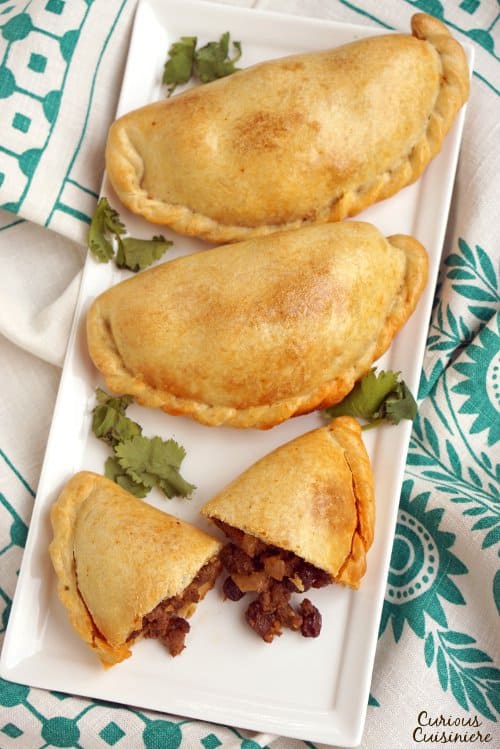 What Is Traditional Chilean Food?
One of our readers from Chile noticed that we haven't ventured much into Chilean food here at Curious Cuisiniere.
She made an interesting point that many visitors to Chile think their national dish is Chili con Carne (Spanish for "chili peppers with meat"), which actually originated in San Antonio, Texas.
A far cry from Chile, South America.
It's time to start setting the record straight and giving Chile credit for the many tasty dishes that locals know and love.
So, we took on the challenge. The first dish that we tackled were Empanadas de Pino, one of the most classic Chilean empanadas.
Baked Empanadas de Pino
You find variations on empanadas throughout Latin and South America. (Like pumpkin empanadas, Bolivian chicken empanadas, and Argentinian quince and cheese empanadas.)
Chile is no exception.
While there are a number of different kinds of empanadas made in Chile, empanads de pino, filled with ground beef, onions, raisins, black olives, and hard boiled eggs, are the most popular.
The filling might seem a bit strange to those of us in the States, but we see this combination often in South American cooking (for example this Venezuelan bread and these Colombian stuffed potato balls).
The raisins add a light sweetness to the beef that perfectly complements the smoky (and sometimes spicy) filling. The olives give a fun salty burst and the hard boiled eggs add a fun creamy element.
Seriously, there's a reason that empanadas de pino are one of the most popular types of empanadas in Chile!
Chilean Empanada Dough
We LOVED working with the dough for these Chilean empanadas.
It is a unique dough preparation, with warmed milk and butter being added to egg yolks and flour.
This creates a silky-smooth dough that is SO easy to work with. You don't even have to let the dough rest before rolling it out. (However, if you do, that's fine too. Just be sure it's covered.)
The resulting crust is sturdy, yet tender and flaky (but not quite as flaky as pie crust). It holds the hefty filling so well, and breaks with a satisfying crunch from the egg wash.
How To Seal Empanadas
One of the most important things when making empanadas is making sure they are sealed tightly. Particularly with these larger empanadas de pino that are really heavy on the filling. If you don't have a good seal, then your chances are higher that the empanadas will burst during cooking. (Which isn't the end of the world, but they just don't look as pretty.)
We found that moistening the dough with a little water and then folding the edges over worked very well to get a good seal.
We used a traditional repulgue seal. It can take a few tries to get the hang of the repulgue, so check out our video on how to seal empanadas for a visual. Then, give it a try!
Freezing Empanadas
One of the wonderful things about empanadas is that they freeze so well.
Simply freeze the egg-washed empanadas in a single layer on a baking sheet, until they are solid. Then transfer them to an air-tight container to store in the freezer for up to 6 months.
To cook from frozen, let the empanadas thaw on a baking sheet for 30 minutes before baking at 350F for 35-40 minutes, until bubbly and golden.
Empanadas de Pino (Chilean Beef Empanadas)
Yield: 12 (5 ½ inch) empanadas
Ingredients
For The Empanada Filling
1 ½

tsp

oil

2

onions,

minced

1

lb

ground beef

(85% lean)

1

Tbsp

paprika

1

tsp

cumin

1

tsp

salt

1

tsp

ground black pepper

1

tsp

chili powder

(more if you want spicy empanadas)

¼

c

beef broth

(we prefer low sodium)

¼

c

raisins

1

Tbsp

unbleached all-purpose flour
Putting The Empanadas Together
24

black olives,

drained

3

hard boiled eggs,

peeled and quartered

1

egg yolk beaten with 1 Tbsp milk

(for egg wash)
Instructions
For The Filling
Heat oil in a large saute pan. Add the onions and saute over medium heat until softened, 2-3 minutes.

Add the meat, cumin, paprika, salt, pepper and beef broth. Cook until the meat is cooked through, 5-7 min.

Add the raisins and flour. Cook until thickened slightly and saucy, not soupy, 1-2 min.

Taste your filling and adjust the salt and chili powder as desired.

Let cool slightly before filling the empanadas. (Or prepare the filling ahead of time and refrigerate overnight.)
For the Dough
Heat the milk in a small saucepan over medium heat until warm. Add the salt and shortening to the milk. Let the mixture cool slightly and add the eggs. Mix until combined.

Place 4 cups of flour into a large bowl. Mix this warm milk mixture into the flour. Add the remaining 1 cup of flour as needed until a soft dough forms.

Knead the dough with your hands until it is soft and easy to handle, 2--3 minutes.

Roll the dough into a long snake and divide in into 12, evenly sized sections (golf ball size). Roll each section into a ball.
To Make The Empanadas
Roll each ball into a circle ⅛ inch thick (6 inches diameter). Place 1/3 cup of filling in the upper half of each round. Place 2 olives into the filling and add ¼ of a hard boiled egg. Moisten the edge of the pastry with a little water and fold the dough over the filling, pressing the edge firmly, then twisting or crimping to seal.

Place on an ungreased baking sheet and brush with egg wash.

Bake in preheated 350F for 30-35 until golden. Serve hot.
Notes
To Reheat: Bake at 350F for 15 min.
To Make Ahead: The filling can be made ahead of time and refrigerated for up to 2 days before using. 
To Freeze: Freeze the egg-washed empanadas in a single layer on a baking sheet, until they are solid. Then transfer them to an air-tight container to store in the freezer for up to 6 months.
To Bake From Frozen: Let the empanadas thaw on a baking sheet for 30 minutes before baking at 350F for 35-40 minutes, until bubbly and golden.
If you liked this recipe, here are some similar dishes you may enjoy!