Crispy, flatbread Turkish pizza, Lahmacun, is fun to eat and a great recipe for a party, since everyone can top their own as they desire.
What is Lahmacun?
Lahmacun is also known as Turkish Pizza (or Armenian Pizza). It brings a cracker thin crust together with a flavorful (and sometimes spicy) minced meat topping.
While lahmacun (pronounced LA-ha-MA-chewn) may look like pizza, it is very different. There is no cheese. It is traditionally spicy. And, the dough is SUPER thin. It's also eaten rolled up, burrito style.
It might not be the first think that comes to your mind when you think of pizza, but like Polish Pizza, Turkish pizza is the perfect street food. It's super portable but also incredibly flavorful and satisfying.
How to eat Turkish Pizza
While the dough and thin layer of topping are important to lahmacun, the toppings for Turkish pizza are just as important. What makes lahmacun a fun meal for a party, is that everyone can top it according to their tastes.
Onion, tomato, lettuce, parsley, and lemon are all common garnishes to put atop Turkish pizza. (The most common being the combination of fresh parsley, tomato slices, and a generous squeeze of lemon juice.)
Once the pizza is garnished, it is rolled up (burrito-style) and the devouring can begin. Don't worry if your lahmacun doesn't roll perfectly. The ideal crust is crispy, so it should crackle and give you a bit of an uneven roll.
Our Lahmacun Recipe
Our lahmacun recipe might look a little intimidating because of the long list of ingredients and steps. But, trust us. The ingredients come together super quickly and the steps just take a lot of words to write out the process.
Actually, one of the things that we loved about the lahmacun was how incredibly easy it was to make.
The part that we found most tricky about making lahmacun was stretching the dough thin enough. The dough needs to be as thin as you can get it without tearing, so that it crisps up nice and quick in the oven.
After a couple of tries, we found that the best way to create the perfect, thin crust was to roll the balls of dough out to a comfortable 5×7 inch rustic oval. (Rustic is the key here, lahmacun don't have to be incredibly precise.)
After topping this 5×7 oval with a nice. even layer of topping, we then transferred it from our work surface to a piping hot baking sheet that we had just taken from the oven.
As you remove your dough from your work surface, it is common for it to stretch a bit. So, we used that stretching to our advantage, and carefully and deliberately stretched the dough (to roughly 7×10 inches) as we transferred the pizza to the baking sheet.
As we stretched the dough, the layer of topping stretched with the dough, taking it from an even layer to the nice and rustic, thin layer that we were looking for.
This method of stretching the dough with the toppings resulted in a nice and thin crust that crisped up perfectly and still supported the thin layer of filling.
It was for topping, rolling, and crunching right into!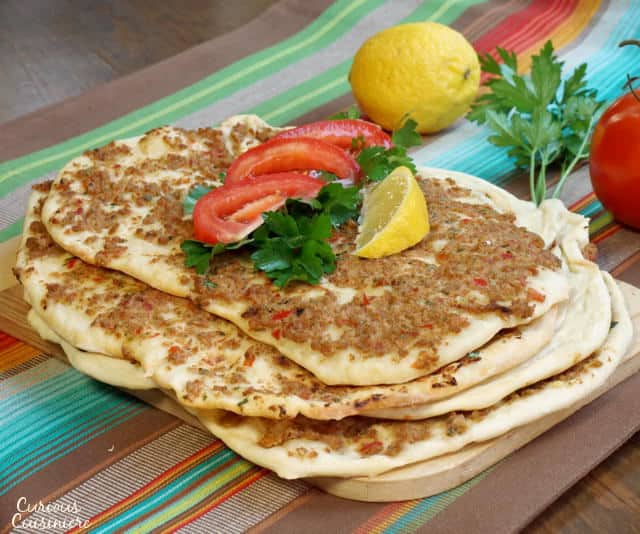 Lahmacun (Turkish Pizza)
Each batch of lahmacun takes roughly 10 minutes to bake. We baked ours two at a time.
Yield: 12 lahmacun
Ingredients
For the Flatbread
1 ½

tsp

salt

1

Tbsp

active dry yeast

1 ½

Tbsp

olive oil

1- 1 ¼

c

water,

warmed to 90F
For the Topping
1

green pepper

1

red pepper

1

onion

1

tomato

2

garlic cloves

¼

c

fresh parsley

½

lb

ground beef

(85% lean) or ground lamb

1

Tbsp

olive oil

1 ½

tsp

tomato paste

1

tsp

paprika

½ - 1

tsp

red pepper flakes

1 ¼

tsp

salt

¼

tsp

ground black pepper
For Serving (as desired)
Fresh parsley

1

lemon,

cut into wedges

2

tomatoes,

sliced

Lettuce

1

sweet onion,

sliced
Instructions
For the Flatbread
Mix the flour and yeast in a medium bowl. Add the salt and mix well. Add the oil and mix until well distributed.

Add ¾ c of water and mix well. Continue adding a little water at a time until the dough starts to come together.

Turn the dough out onto your counter and knead until a soft and supple dough forms, 3-5 minutes.

Cover the dough with a damp tea towel or plastic wrap and let it rest for 30 min-1 hour.
For the Topping
Process the peppers, onion, tomato, garlic, and parsley in your food processor in batches according to its size. Once the veggies are finely pureed, transfer them to a fine mesh sieve placed over a bowl. Lightly strain the veggie mixture of excess juices. (Reserve the juices for later.)

Place the vegetable puree in a large bowl along with the raw ground meat, olive oil, tomato paste, paprika, red pepper flakes (according to your heat preference), salt, and pepper. Mix well until a soft paste forms. (If the mixture looks dry, add a splash of the reserved vegetable juices to the meat mixture.)

Cover the meat mixture and let the flavors develop for 30 min.
Putting It All Together
Near the end of your resting/rising time, preheat your oven to 450F.

Knock back the dough and divide it into 12, roughly even pieces. Roll each piece into a ball.

Once your oven is preheated, place a baking sheet into the oven to preheat.

On a lightly floured surface, work with two balls of dough at a time. Roll each ball out to roughly 5x7.

Spread a scant ¼ c of filling over top of each piece of dough, spreading the filling with your hands or a rubber spatula to cover the entire piece of dough and pressing the filling into the dough. (The topping shouldn't fall off when you go to move the dough.)

Remove the preheating baking sheet from the oven and transfer the topped pieces of dough onto the hot baking sheet. Stretching the dough to a very thin sheet of roughly 7x10 inches as you transfer it.

Return the baking sheet to the oven and bake the pizzas for 9-11 minutes, until the edges are starting to turn golden brown.

While the first two are baking, make two more pizzas.

When the first two pizzas are done, transfer them onto a wire cooling rack, and place the next two pizzas onto the hot baking sheet. Continue rolling, topping, and baking, until all your pizzas have been made.
For Servings
Top the warm lahmacun with parsley, tomatoes, lettuce, or onion and a squeeze of lemon juice, as desired. Roll the pizza up and enjoy!
If you liked this recipe, here are some similar dishes you may enjoy!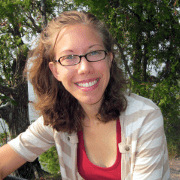 Sarah is one of Curious Cuisiniere's founding duo. Her love for cultural cuisines was instilled early by her French Canadian Grandmother. Her experience in the kitchen and in recipe development comes from years working in professional kitchens. She has traveled extensively and enjoys bringing the flavors of her travels back to create easy-to-make recipes.