When most people think pizza, they think Italy, but Flammkuchen, the crispy and smoky German pizza, is definitely worth your time!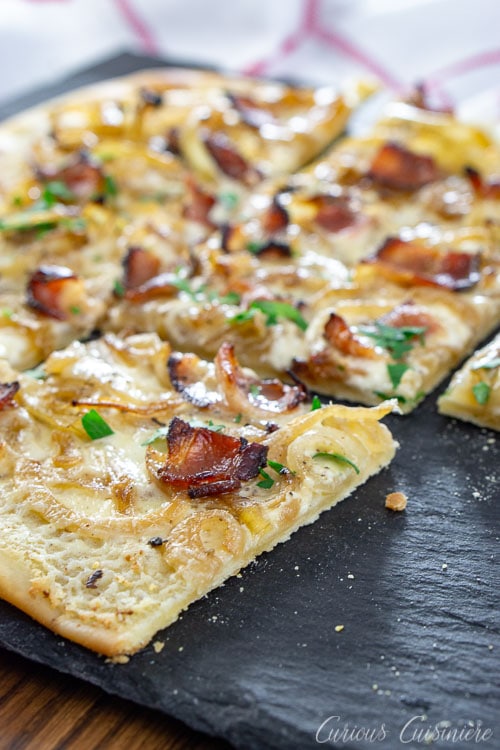 We do love a big slice of saucy, mozzarella-laden, classic, Italian pizza. But, it's also fun to explore the way that pizza has taken on a life of its own in regions outside of Italy.
Like this specialty of Alsace, France and South Germany: Flammkuchen (sometimes spelled Flammenkuchen).
What is Flammkuchen?
Flammkuchen (pronounced flam-KOOK-en) comes from South Germany and the Alsace region of France (along the southwestern French-German border).
Translated 'flame cake,' flammkuchen were originally used by bakers to test the temperature of their ovens. A bit of dough was taken and rolled flat, topped with crème fraîche, and baked in the wood-fired bread oven for a few minutes.
The amount of time it took for the flammkuchen to bake to nearly-blistered crispness told them the oven's temperature. If the flammkuchen came out just right, then the ovens were ready to bake their bread!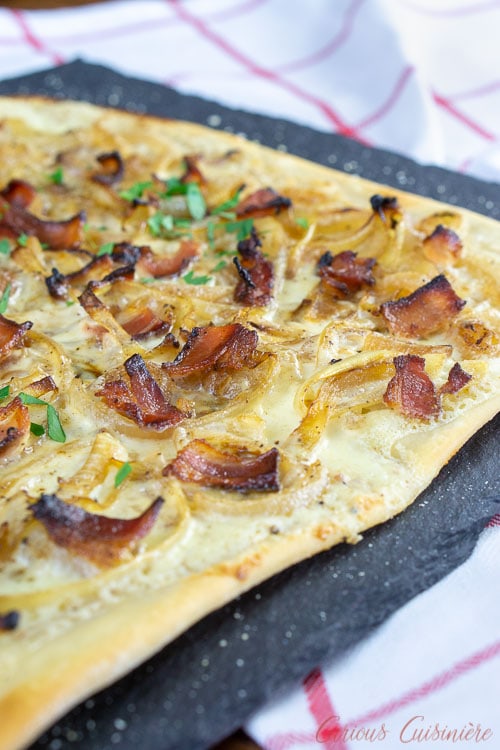 Crispy Thin Crust Pizza
Thin and crispy crust pizza lovers, this pizza is for you!
Flammkuchen is characterized by its incredibly thin, crisp, and blistered crust.
We're talking cracker-like here folks.
What Is Crème Fraîche?
Rather than a tomato sauce, the dough for flammkucken is spread with crème fraîche (KREHM fresh), a thick, French, soured cream.
Crème fraîche is less sour than American sour cream, so if you can't find crème fraîche, we recommend using plain, strained yogurt. (Yogurt is naturally thinner than crème fraîche, so we strain it through a fine mesh sieve or cheesecloth to thicken it to a more proper consistency.)
When the crème bakes with the crust, it creates a slightly tart, creamy contrast to the crust's crispness.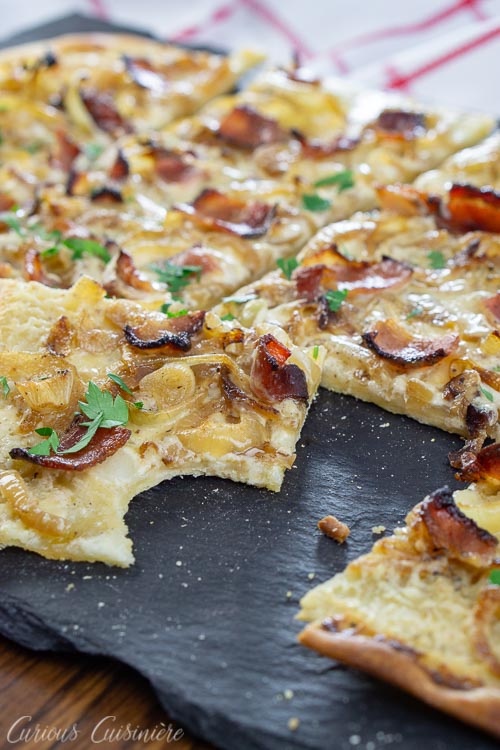 Bacon and Caramelized Onion German Pizza
While you can use any toppings that you like for you flammkuchen, the most traditional combination includes bacon and caramelized onions. These are seasoned only with a bit of nutmeg and black pepper.
Other common variations include
gruyère (or Swiss) cheese
mushrooms
Munster cheese
You can even find sweet versions of flammkuchen that are typically made with apples, cinnamon, and a sweet liqueur.
We went for the classic caramelized onion and bacon version today. Because, really, how can you go wrong with those toppings?
Crisp, creamy, smoky, with a hind of caramelized sweetness.
This pizza makes for a perfect light dinner or appetizer.

Our Flammkuchen Recipe
As far as making pizza goes, this flammkuchen recipe is fairly straightforward.
The dough is a simple mixture of flour, salt, water, and oil that mixes together well and kneads nice and smooth. (Kneading to a smooth dough is important because you want your dough to be able to stretch out nice and thin.)
While the dough rests, it's time to prepare the toppings.
Mix the crème fraîche and nutmeg for your 'sauce'.
Saute up some bacon.
Caramelize some onions in the bacon grease.
Then, it's time to stretch the dough. We like to stretch it right onto a baking sheet, that way once it is stretched, we don't have to move it and risk tearing the dough.
Finally top and bake 'till crispy!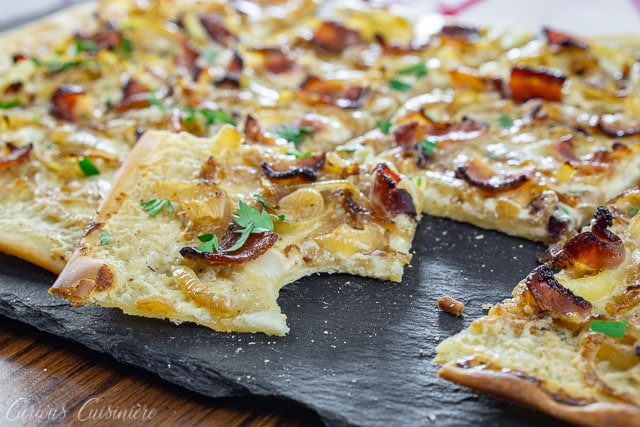 More Pizza Recipes To Enjoy
Pizza around the world has taken on some fun twists. If you're a pizza lover, give these other variations a try too!
And, for your classic Italian pizza, you'll love our quick and easy pizza dough or our whole wheat bread machine pizza dough recipes.
Yield: 1 (11x16 inch) pizza
Flammkuchen (German Pizza)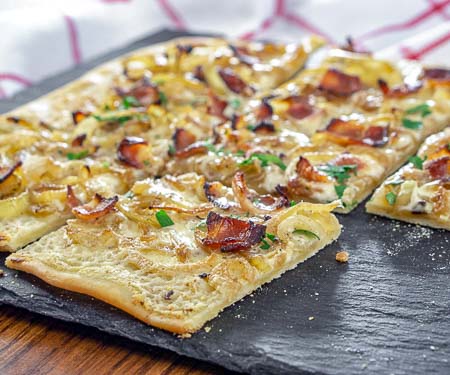 When most people think pizza, they think Italy, but Flammkuchen, the crispy and smoky thin crust German pizza, is definitely worth your time!
Ingredients
For the Dough
2 c unbleached all-purpose flour
½ tsp salt
½ c water
2 Tbsp olive oil
For the Toppings
1 c crème fraîche, or 1 c Greek yogurt, or slightly over 1 c plain yogurt, strained *
¼ tsp nutmeg
¼ lb bacon, diced
2 onions, halved and sliced thin
ground black pepper (to top)
Cornmeal (for the pan)
Instructions
Preheat your oven to 500F.
In a large bowl, mix together flour, salt, water, and oil. Mix until a dough begins to form, the turn the dough out onto a lightly floured surface and knead until it is soft and smooth, 3-5 min. Set the dough aside and cover it with a towel.
In a small bowl, mix together crème fraîche and nutmeg. Set aside.
In a large sauté pan, sauté bacon over medium high heat, until it is cooked about halfway to crisp, 2-4 minutes. Remove the bacon (keeping the grease in the pan) to a paper towel lined plate. Set aside.
Place the sliced onions into the hot bacon grease and sauté over medium heat, stirring occasionally, until caramelized, 10 min. Remove the pan from the heat.
Roll and stretch the dough out into a rectangle, roughly 11x16 inches. Place the dough onto a large baking sheet that has been generously dusted with cornmeal.
Spread the crème fraîche mixture over the crust, leaving just a little bare crust border. Distribute the caramelized onions over the crème fraîche, and sprinkle the bacon over the onions. Finish everything off with a dusting of black pepper.
Place the baking sheet with the pizza into the oven and bake for 15-20 minutes, until the pizza is crisp and the edges are starting to darken.
Remove from the oven, cut, and serve immediately with some good wine.
Notes
*To strain your yogurt, place it in a couple layers of cheesecloth in a fine mesh sieve over a bowl for 20-30 minutes.
Want to convert to WEIGHT measurements? Have a look at our ingredient conversion guide.
Nutrition Information:
Yield:
4
Serving Size:
1/4 of recipe
Amount Per Serving:
Calories:

853
---
We love this recipe so much, and we make it often. So, we've updated our pictures since we first shared it on Curious Cuisiniere. But we've left some original images here, in case you've found us in the past and are looking for that old, familiar image.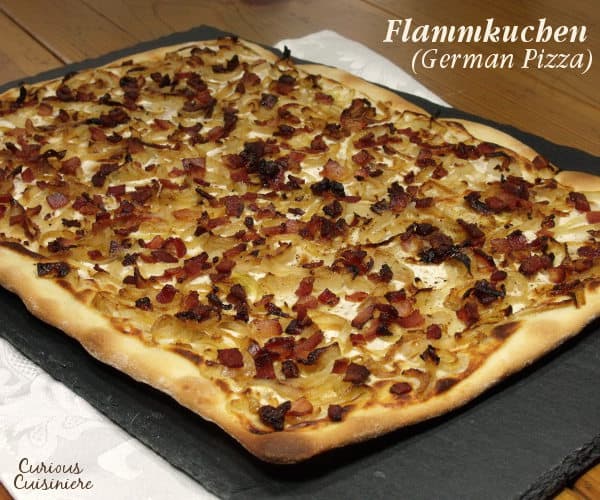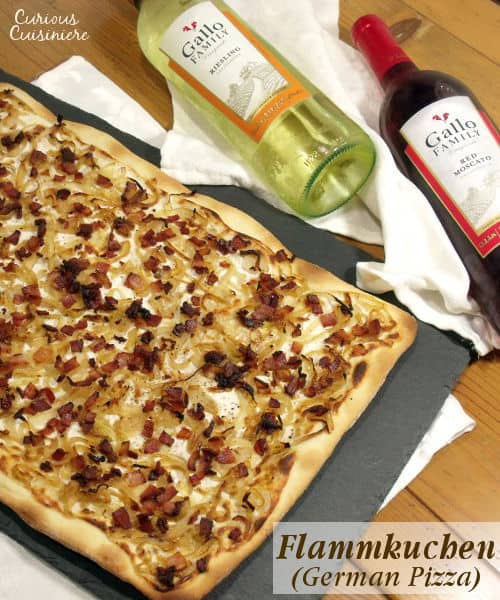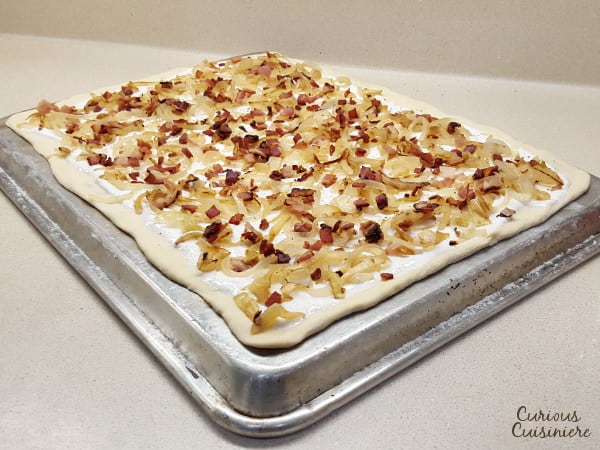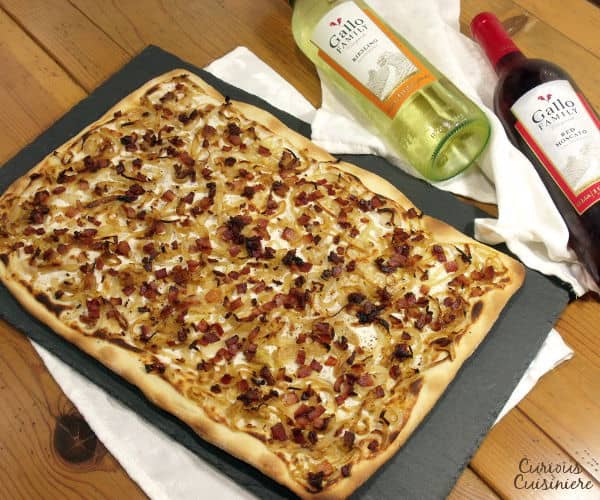 If you liked this recipe, here are some similar dishes you may enjoy!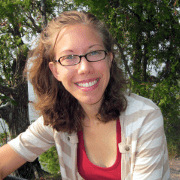 Sarah is one of Curious Cuisiniere's founding duo. Her love for cultural cuisines was instilled early by her French Canadian Grandmother. Her experience in the kitchen and in recipe development comes from years working in professional kitchens. She has traveled extensively and enjoys bringing the flavors of her travels back to create easy-to-make recipes.