The traditional Polish street food, Zapiekanki, are reminiscent of a French bread pizza, but their toppings are what give them a Polish flare.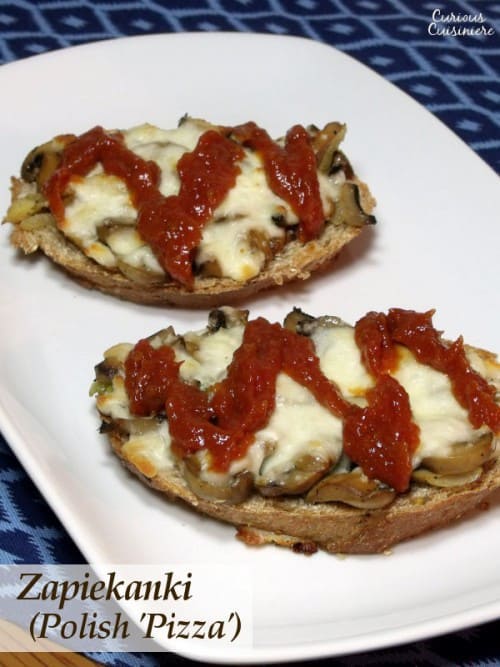 Zapiekanka (pronounced zah-pay-KAN-kah) (plural: Zapiekanki) comes from the polish word zapiekać, meaning "to scorch" or "to roast." It is a traditional Polish street food of a halved baguette topped with mushrooms and cheese. They are oven-toasted until crispy and then topped with ketchup.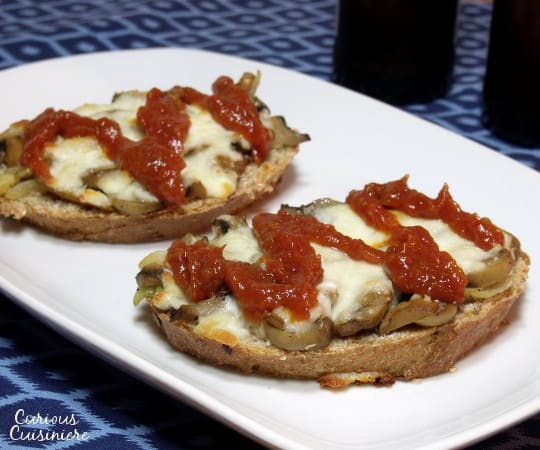 Breaking with tradition, we used slices of French bread rather than a halved baguette. The simplicity of the mushroom and onion filling with smooth mozzarella cheese paired surprisingly well with the ketchup, for an incredibly tasty meal.
(By the way, if you want to check out the Zapiekanki we ate on the streets of Poland, check out our pictures on our About Us page!)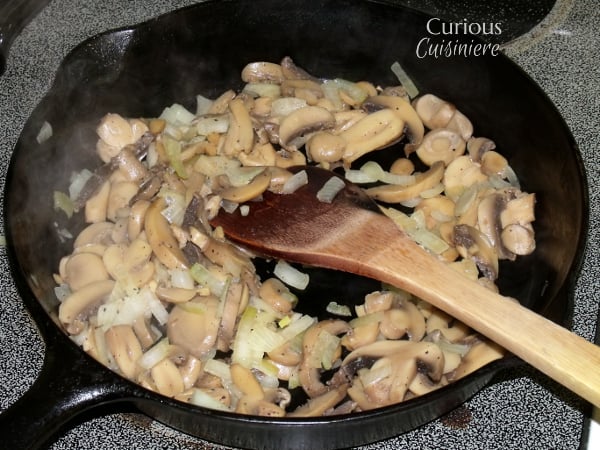 Zapiekanki (Polish 'Pizza')
Author:
Sarah | Curious Cuisiniere
Ingredients
1 tsp canola oil
½ onion, diced
1 (4 oz) cans sliced mushrooms
Salt and pepper to taste
½ French baguette, halved (or 4 slices of a French bread loaf)
1 c part-skim mozzarella cheese
Ketchup to top
Instructions
Preheat oven to 400°F.
In a large, non-stick frying pan, heat oil. Add onions and mushrooms and sauté for 5 min, until soft. Season to taste with salt and pepper.
Place baguette halves (or bread slices) on a baking sheet. Top with mushroom mixture and cheese.
Bake 10 minutes, until the cheese is melted and golden brown.
Top with ketchup to serve.
Nutrition Information
Serving size:
SERVES 2
Calories:
584
Fat:
16.1g
Saturated fat:
8g
Carbohydrates:
78.8g
Sugar:
5.7g
Sodium:
1134mg
Fiber:
4.2g
Protein:
31.8g
Cholesterol:
31mg
If you liked this recipe, here are some similar dishes you may enjoy!