This Szarlotka recipe combines a thick layer of apples with a dense, cake-like crust and a crumble topping, to create a Polish apple pie that is sure to be a fall favorite.
As American as Apple Pie?
Think again.
Maybe if you're thinking of a classic double crusted apple pie, like our Brandied Apple Pie, then we can claim the American title, but Polish cuisine gives American apple pie a good run for its money.
While in Poland, we ate the most unique apple cake we have ever tasted. (The one on the left below.)
Towards the end of our trip, we searched for another taste of that Polish apple cake, and only came close with the version on the right.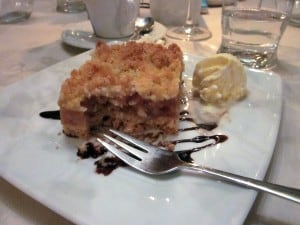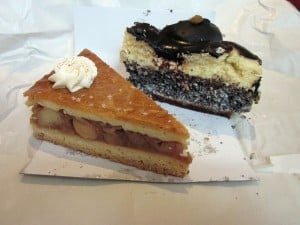 Even in Poland, szarlotka varies tremendously from one baker to another.
Some have a filling that is just apples and spices, while others include raisins and still others feature almonds.
Some have a meringue topping, while others boast a crumble on top, and others have a whole second layer of cake!
When searching for recipes to make our Polish apple pie, the number of ways to make Polish apple cakes and Polish apple pies left us with a lot of options to sort through.

Polish Apple Cake or Polish Apple Pie?
Technically, you won't find 'pie' in Poland the way we think of it in the States
However, we're calling this apple dessert a pie, because it has a layer of apple filling, simiar to what you would find in a pie.
As you can see from the pictures, the "pie" itself is more of a layered cake or crumble with an apple pie filling.
Translating from Polish to English can be a bit tricky to land on the correct word, and the variations on szarlotka are so vast that one may not even look like another.
But, there is a whole different category of Polish desserts devoted to actual apple cake, called Placek z Jablka. Which is more of a slicing cake studded with apples. (More similar in style to this German apple cake.)
Hopefully, one day we'll tackle this treat too!
While there are a lot of variations of Szarlotka (pronounced shar-LOT-ka), a few things remain the same.
The apple filling of this dessert is definitely less sweet than what Americans think of as 'apple pie filling'. It is typically just apples and spices. And, if any sugar is added in, it is only in small amounts.
The cake also isn't overly sweet, which really lets the flavor of the apples and the contrasting textures shine through.

Our Szarlotka Recipe
We tried to mirror our Polish apple pie after the first pie we tasted while in Poland: the one with the dense, cakey bottom crust and the crumbly top.
This means that, for our szarlotka recipe, the bottom "crust" is a cross between a dense cake and a thick shortbread. It is only lightly sweet to really let the sweetness of the apples shine through. And it's consistency adds a wonderful, hearty texture to the pie.
To make the pie, the bottom crust is baked alone first and then topped with a warm apple and cinnamon mixture.
The top "crust" is a second layer of the same dough as the bottom crust that is crumbled or grated over top of the cake to give it a fun texture.
The double crust creates a wonderful combination soft and crisp textures to surround the ample center of spiced apple goodness.
This pie is a serious slice of apple heaven!

Serving Szarlotka
You will want to let this dessert cool completely before serving.
The apple mixture firms up as it cools, giving the pie more structure so that it holds up nicely when sliced.
You can make this apple pie in the morning to serve with dinner, but we find it best if szarlotka is made a day ahead of time.
Overnight, the moisture from the apples steeps into the crust, softening it and infusing it with a sweet, cinnamon apple flavor.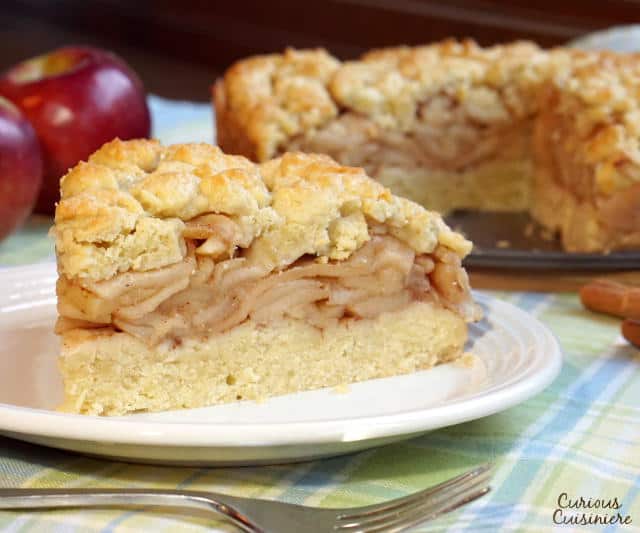 Yield: 1 (9 inch) round pie)
Szarlotka (Polish Apple Pie)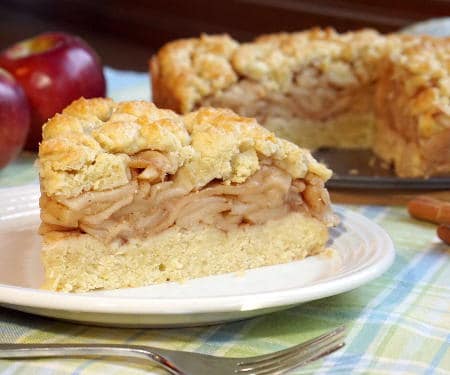 This Szarlotka recipe combines a thick layer of apples with a dense, cake-like crust and a crumble topping, to create a Polish apple pie that is sure to be a fall favorite.
Bake this apple pie in a 9" round spring-form pan for great presentation and easy serving. No spring-form pans laying around? Try it in a 9x9 baking dish or 9" diameter casserole dish with at least 3 inch high sides.
Ingredients
For the Crust
½ c sugar
2 tsp baking powder
1 c (1/2 lb) salted butter, softened
4 eggs
1 tsp pure vanilla extract
3 Tbsp milk
For the Filling
2 lbs firm baking apple, (Gala, McIntosh, or Pink Lady), peeled, cored, and sliced
2 lbs soft baking apple, (Braeburn, Red Delicious, or Fuji), peeled, cored, and sliced
2 tsp cinnamon
Instructions
For the Crust
Preheat the oven to 350F.
In a large bowl, mix together the flour, sugar, and baking powder. Cut in the butter, using a pastry blender or a fork, until the mixture resembles coarse crumbs.
Mix in the eggs and vanilla extract until the mixture is evenly moist.
Add the milk, 1 Tbsp at a time, mixing with your hands after each addition until a firm but slightly sticky dough forms. (Add extra milk if necessary.)
Turn the dough onto the counter and knead a few times, quickly (it may stick to the counter a bit) to finish bringing the dough together.
Divide the dough into two pieces, roughly 2/3 and 1/3 of the dough. Wrap the smaller section in plastic wrap and place in the freezer for 30 minutes, while you continue working. Press the larger section into a greased 9" spring form pan.
Bake the bottom crust in the preheated oven for 15 minutes, until it is puffy and starting to turn golden around the edges. When the crust is done, remove it from the oven to a cooling rack.
For the Filling
While the bottom crust is baking, mix the apples and cinnamon in a large sauté pan or large pot. Heat the apples over medium-high heat and sauté for 5-7 minutes, until the apples soften slightly and the mixture becomes fragrant. Remove the mixture from the heat.
Putting It All Together
Spread the warm filling over the warm crust. (It will look like you have A LOT of apples. Don't worry; they cook down.)
Take the last 1/3 of the crust out of the freezer and grate it over the apple filling using a cheese grater (or crumble it over top of the apples using your fingers).
Place an aluminum foil lined baking sheet in the oven on the rack below where the pie will go, to catch any dripping from the spring form pan.
Return the pie to the oven and bake for 40-45 minutes, until the top is golden.
Cooling and Serving
Remove the pie from the oven and let it cool completely on a cooling rack.
Once the pie is cool it can be served or covered lightly with plastic wrap and left on the counter overnight, to be served the following day. (This pie is great when made a day ahead of time, because the flavors develop and the crust softens overnight.)
Notes
This pie can be stored, covered, on the counter for up to 2 days. After 2 days, store any leftovers in an air-tight container in the refrigerator.
This recipe was updated it in October 2016. We made a few tweaks to make the pie even better. Enjoy!
Nutrition Information:
Yield:
8
Serving Size:
1 slice
Amount Per Serving:
Calories:

127
This is one of the recipes from the early days of Curious Cuisiniere. We've updated our pictures since we first shared it, but we've left some originals here, in case you've found us in the past and are looking for that old, familiar image.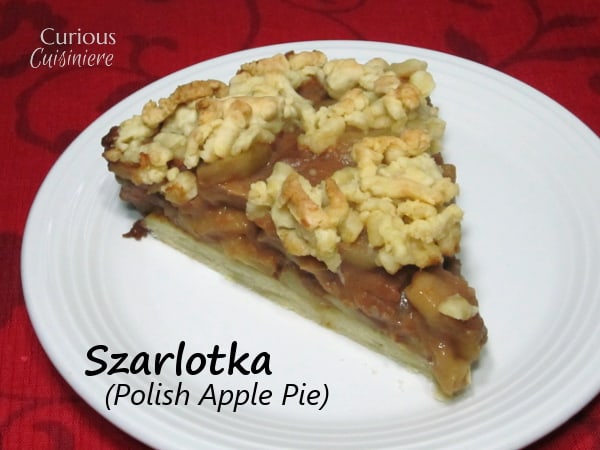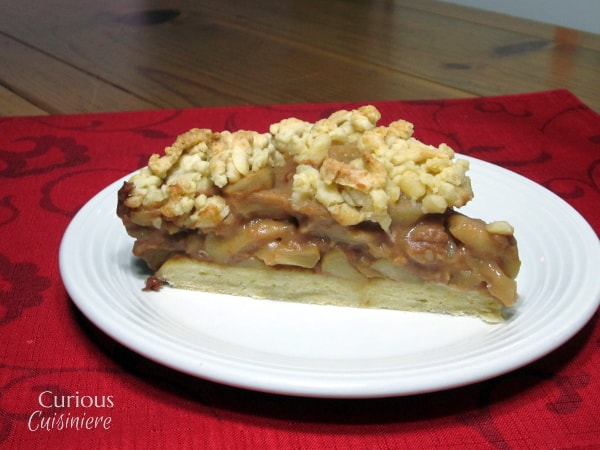 If you liked this recipe, here are some similar dishes you may enjoy!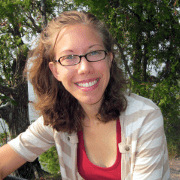 Sarah is one of Curious Cuisiniere's founding duo. Her love for cultural cuisines was instilled early by her French Canadian Grandmother. Her experience in the kitchen and in recipe development comes from years working in professional kitchens. She has traveled extensively and enjoys bringing the flavors of her travels back to create easy-to-make recipes.